Blizzard veröffentlichte am 29.09.2020 auf ihrer Homepage weitere Informationen für den vierten Teil der Diablo-Reihe. Wir haben für euch die wichtigsten Neuigkeiten zusammengefasst.
Neben neuen Fertigkeiten und Skill-Systemen soll das neue Diablo IV auch wieder Hardcore-Gamer gerecht werden. Zudem wird intensiv an einer Balance zwischen der Stärke eines Helden und den zusätzlich verbessernden Waffenattributen gearbeitet.
Änderungen bei den legendären Items
Mit den bisherigen Erfahrungen in Testversionen und dem Feedback von Spielern wird es weniger Gewichtung für legendäre Items geben. Die Stärken eines Spielers sollen im Vergleich zum Vorgänger Diablo III wieder mehr auf die Fähigkeiten des Charakters ausgelegt werden.
Ein Beispiel zu den übertrieben starken Items in Diablo III seht ihr hier:
Bildquelle: Blizzard
Das könnte euch auch gefallen:
Quartalsupdate zu Diablo IV Interface und Kannibalen
Neues Fertigkeiten-System
Das Talent- und Fertigkeiten-System in Diablo IV bekommt mehr Tiefe. Sowohl die Talent-Bäume (welches bei der Zauberin tatsächlich ein Baum ist) als auch das Fortschrittssystem für Fertigkeiten sollen komplexer werden.
"Spieler haben bislang kaum Gründe gehabt, ihre Punkte überhaupt auszugeben", so Blizzard. "Der neue Skill-Tree wird somit aus einer Mischung an Optionen bestehen, bei denen man bei Weitem nicht alle zeitgleich freischalten kann.
So könnte das Fertigkeiten-System der Zauberin aussehen: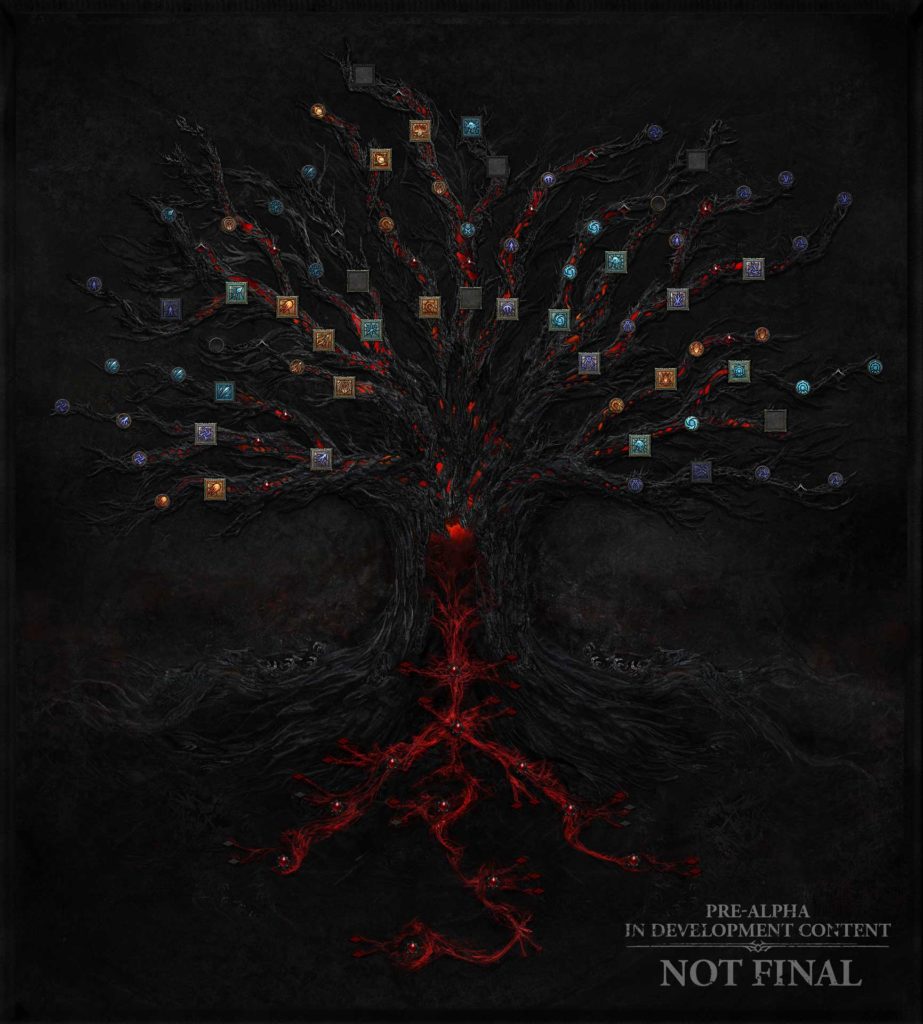 Bildquelle: Blizzard
Nach Abschluss des Hauptspiels hat man theoretisch erst etwa 30-40 % der Knotenpunkte freigeschaltet.
Langzeitfortschritte für Dauerspieler
Blizzard ist sich bewusst, dass es vor allem für die treuen Diablo-Fans mehr Motivation geben muss, das Spiel länger zu spielen. Somit wird das neue Action-Rollenspiel mehr Tiefe und Wiederspielwert bieten als das Paragon-System in Diablo III.
Das Paragon-System war dazu da, dass Spiel nach Erreichung des eigentlichen Höchstlevels (Level 60) zu erweitern. Bessere Drops und stärkere Gegner wurden somit in die Erweiterung bis Level 100 eingeführt.
Nach dem Prinzip "Easy to learn, hard to master", wollen die Entwickler jetzt auch den Hardcore-Spielern wieder entgegenkommen.
Wann kommt Diablo IV?
Bislang gibt es noch keine offiziellen Bestätigungen, wann Diablo IV herausgegeben wird. Mit hoher Wahrscheinlichkeit werden wir für genauere Details auf die im Februar 2021 stattfindene BlizzConline warten müssen.
Weitere Information könnt ihr auch auf der offiziellen Website nachlesen!
Was glaubt ihr? Wird Diablo IV wieder ein Hit oder ein Flop? Schreibt es uns auf Facebook, Twitter oder Discord!
Gebt uns auch gerne Feedback zu unserer Website!

Source: Read Full Article