Wizards of the Coast has announced a new Secret Lair collection, this time focusing on some of the most powerful women in Magic's history. Secret Lair Drop Series: International Women's Day 2020 will include five borderless, full-art cards featuring new artwork, developed by an entirely female team.
One #MTGSecretLair drop, five iconic MTG characters. Happy #IWD2020, everyone! Wizards will donate $25 per unit sold benefiting World Association of Girl Guides and Girl Scouts, a Charity of Choice of International Women's Day.
Details here: https://secretlair.wizards.com/us/product/601986/secret-lair-international-women-s-day-2020 …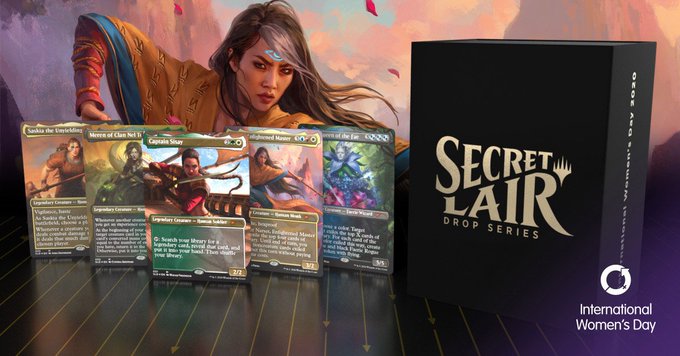 Every card in the Drop Series will feature alternate artwork from some of Magic's most celebrated artists. This includes Mila Pesic, Livia Prima, Cynthia Sheppard, Anna Steinbauer, and Magali Villeneuve. Those who purchase the Drop Series will also receive a code for digital sleeves featuring Saskia the Unyielding for use in MTG Arena.
Who's in the Secret Lair Drop Series
Every card revealed in the new Series is a powerful, popular Commander. They all see frequent play in both casual and competitive games. Both Meren of Clan Nel Toth and Narset, Enlightened Master are powerful Commanders. That said, Captain Sisay is close behind them.
Saskia the Unyielding is unique in being one of only several four-color Commanders. Meanwhile, Oona, Queen of the Fae is popular for her explosive milling mechanic.
According to Wizards of the Coast, they are "proud to celebrate International Women's Day—honoring the social, economic, cultural, and political achievements of women around the world". Wizards of the Coast will make a $25 donation to the World Association of Girl Guides and Girl Scouts for each unit sold, not just for every purchase. This is good news because players will be able to purchase up to 15 of the series.
Earlier this year, Wizards of the Coast released Secret Lair set: Year of the Rat, which celebrated the 2020 Lunar New Year. Also released was Secret Lair: Theros Stargazing, which focused on the Gods of Theros.
Secret Lair Drop Series: International Women's Day 2020 will be available at 9 a.m. PST on March 8. This coincides nicely with International Women's Day. The Drop Series will only be available for 24 hours but can be purchased for $49.99 at the Secret Lair site.
Excited for more unique Secret Lairs? Drop a comment below about what you would like to see in Magic's Secret Lair.
Source: Read Full Article