Skillshot Media has announced its partnership with NACE to bring $16 million in scholarships. This strategic deal will bring esports to the forefront of college programs, creating opportunities for countless students.
In an official release, The National Association of Collegiate Esports (NACE) goes into detail on what the partnership means for colleges. As a nonprofit membership association, their goal is to bring collegiate varsity esports to students all over North America. As Skillshot has recently been working on developing an esports center, this partnership is a perfect way to continue contributing to the esports community as a whole.
Breaking News: NACE Announces Strategic Partnership with Skillshot Media.
Partnership with @SkillshotMedia, esports infrastructure provider and agency, to support collegiate competition, event production, and rights commercialization.https://nacesports.org/nace-and-skillshot-strategic-partnership/ …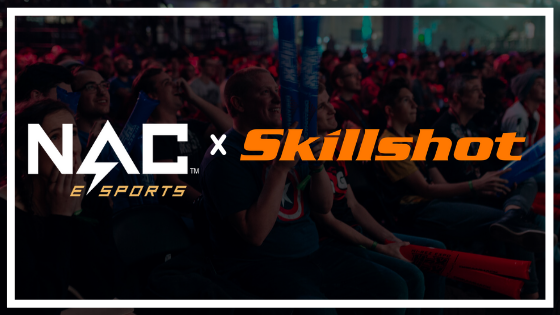 In the release, Skillshot shares what the partnership will bring. "[NACE] today announced their strategic partnership with Skillshot Media, esports infrastructure provider and agency, to offer collegiate competition, event production, and rights commercialization." This also means they intend to bring more opportunities for students interested in pursuing a career in esports.
Skillshot and NACE providing tools for success
Skillshot CEO Todd Harris explains what they hope to achieve. "With our infrastructure, production capability and publisher relationships we aim to provide value to participating schools, the competing teams, and also importantly our partnered game publishers."
NACE currently has over 200 member universities, and they contribute over $16 million in annual scholarships. As of today, they account for over 90% of esports programs across North America. NACE Executive Director Michael Brooks shared his excitement about the news. "We are thrilled to offer more game titles and more live events, including collegiate Fortnite this spring and many more games to come in the fall."
Helping students move forward
Since Skillshot Media produces professional competitions throughout the country, this partnership will continue growing the college esports scene. Students will a chance at earning scholarships and also participate in events related to their interests in esports. They will also have access to these resources and tools up until graduation.
Finally, NACE and Skillshot have an upcoming Spring 2020 Fornite and CS:GO collegiate competition. The event is planned to take place at MomoCon in Atlanta on May 23. Overall, this new scholarship program is one of many that will bring opportunities to students all over the country.
Source: Read Full Article