A much-beloved series of television shows, books, and more, Game of Thrones has been a high-fantasy pop culture juggernaut since the original show aired on HBO in 2011. Though the original series is over, a combination of longtime die-hard fans and the new spinoff show, House of the Dragon, keeps it in the public eye long after.
You'd be hard-pressed to find someone who didn't watch and enjoy Game of Thrones, and if you're buying a gift for the fan in your life, you've got a lot of options out there. Here are a couple of our favorite Game of Thrones holiday finds.
House (Surname) Hanging Keyholder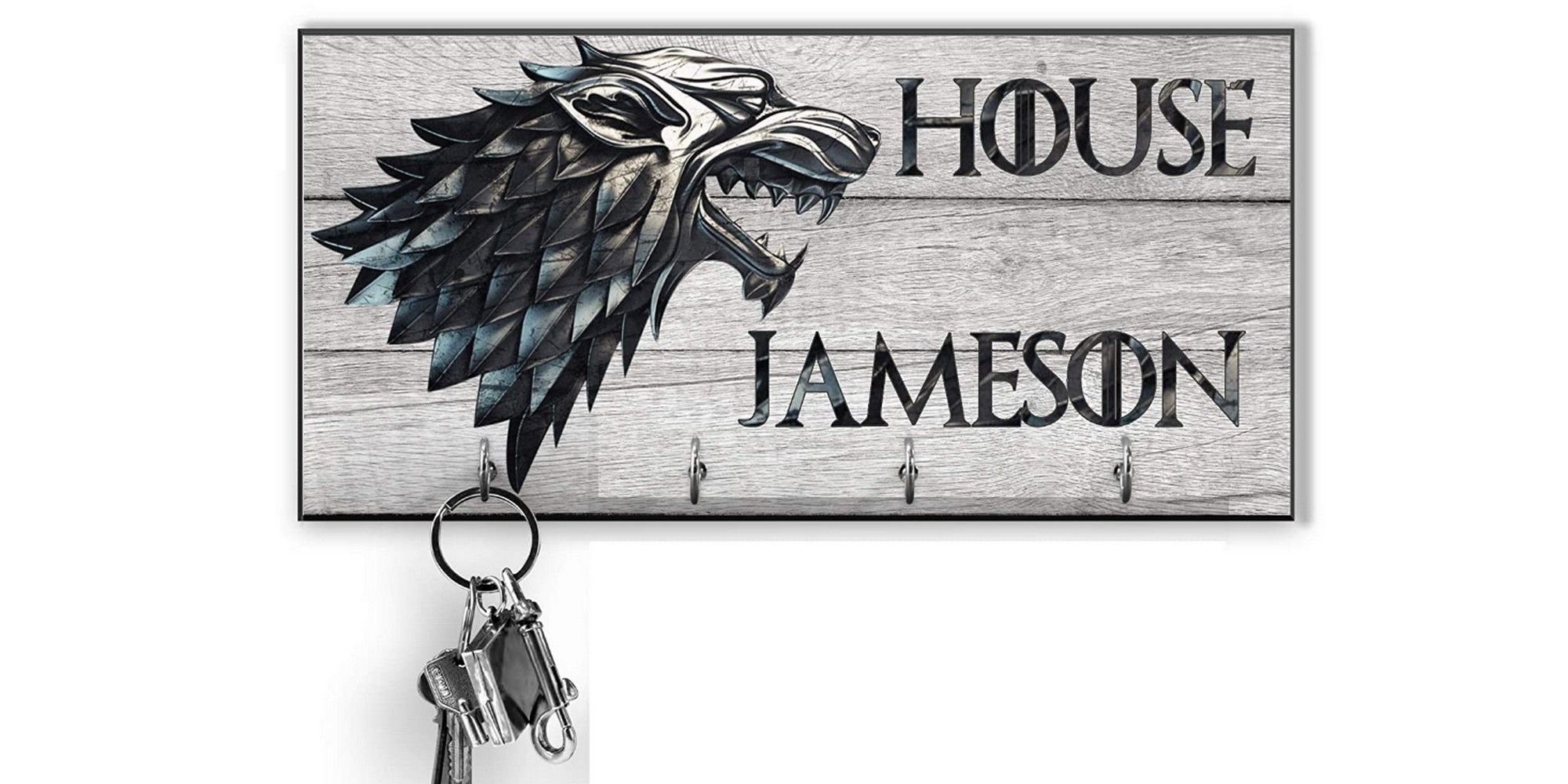 With so many prominent families across Westeros in the series, characters are referred to as being from House Their-Last-Name. And with so much emphasis on family names in the series, give your favorite GoT fan a hanging key holder for their home, personalized with their own last name.
Though each one features the wolf symbolic of House Stark, the hanger is available in a number of color schemes and styles. You can even add their first name to it for extra personalization if you so choose! The wooden key hanger holds four sets of keys and comes with all hardware required to hang it on their wall. Any adventure is better with organization!
Get it on Amazon here!
Vinyl Record Wall Clock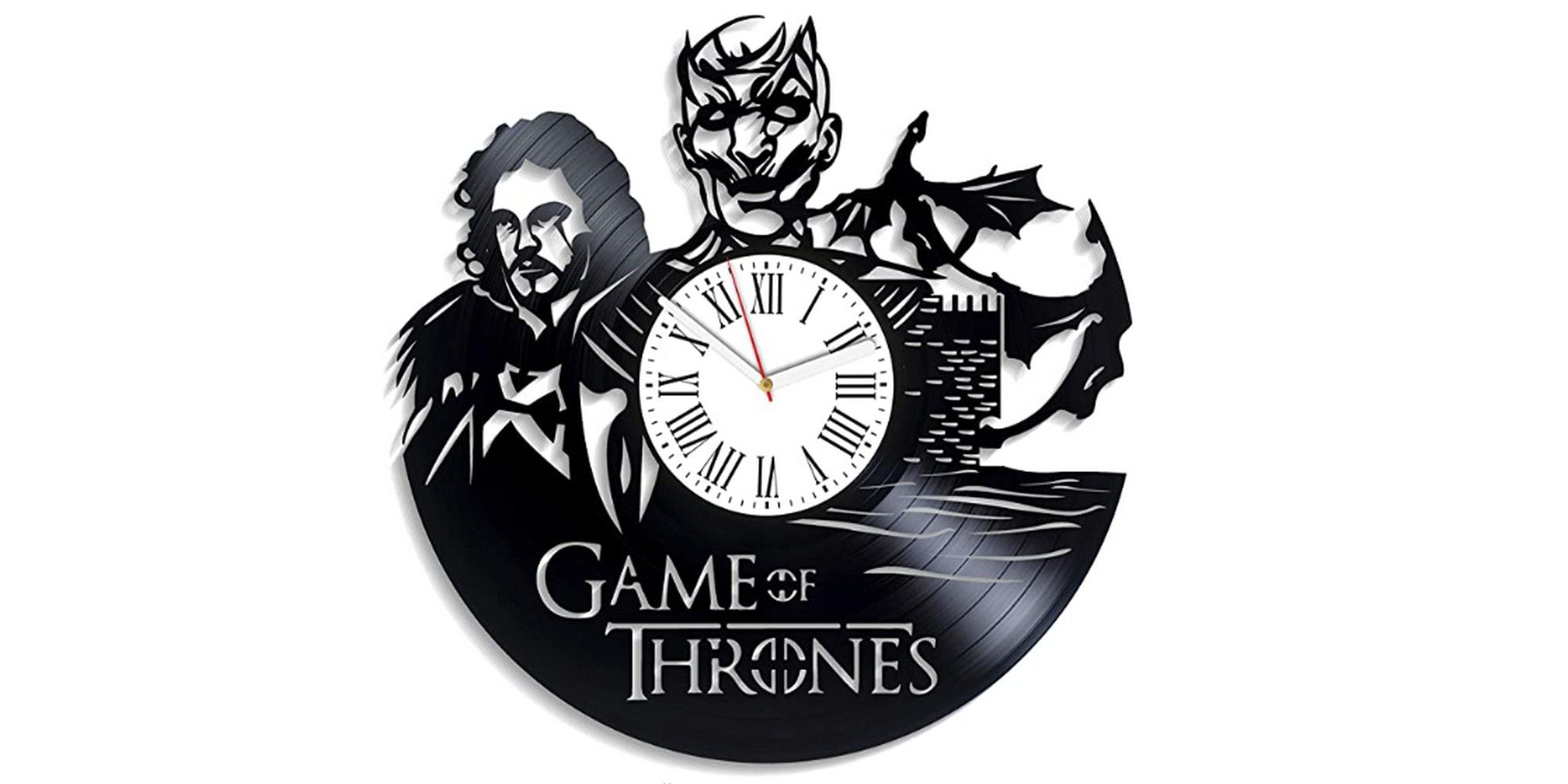 Though it's always time for trouble in Westeros, the Game of Thrones fan in your life might need to know what time it actually is, making this vinyl record wall clock a great idea for any collector. This particular clock features Jon Snow, the Night King, and one of the dragons, perfectly capturing the main characters and happenings of the series.
Made of vintage vinyl records and requiring only two AA batteries to operate, this clock is 12" in diameter and looks great in any fan's home or office. The series' timeline might be a bit confusing, but real time doesn't have to be.
Get it on Amazon here!
Hodor Door Stopper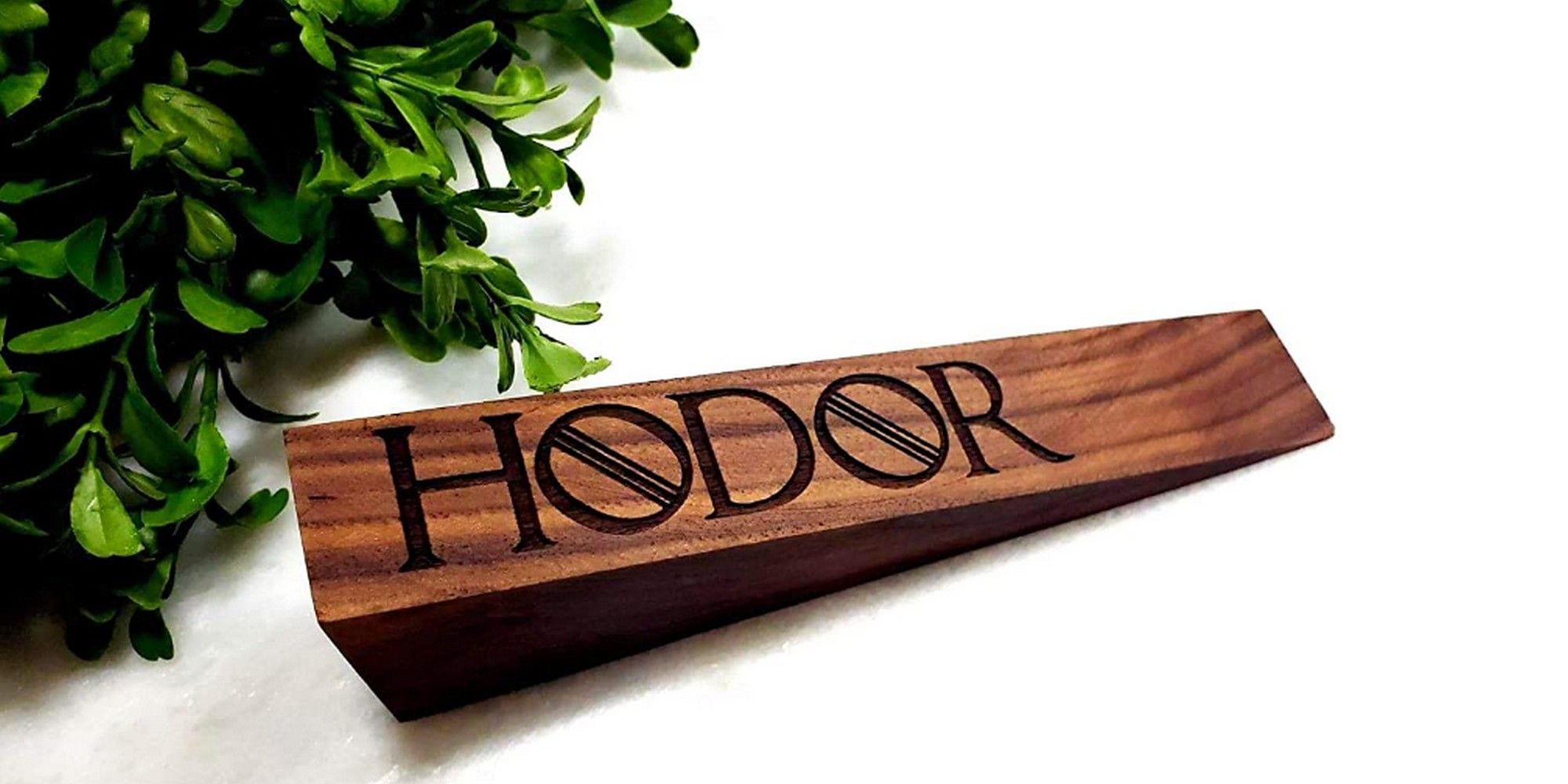 If you've not watched Game of Thrones, then you might not understand why the fan in your life is liable to burst into tears when they open this gift. We won't spoil the show for you here if you haven't seen it, but just know this seemingly innocuous gift comes from a pivotal, tender moment in the series. Just trust us on this one…
Made entirely of walnut wood, this doorstopper is engraved with the name Hodor, Bran Stark's guardian. It fits under most standard doors if they're going to use it functionally, but it's also an excellent collector's decoration as well.
Get it on Amazon here!
"I Drink And I Know Things" Decanter And Glasses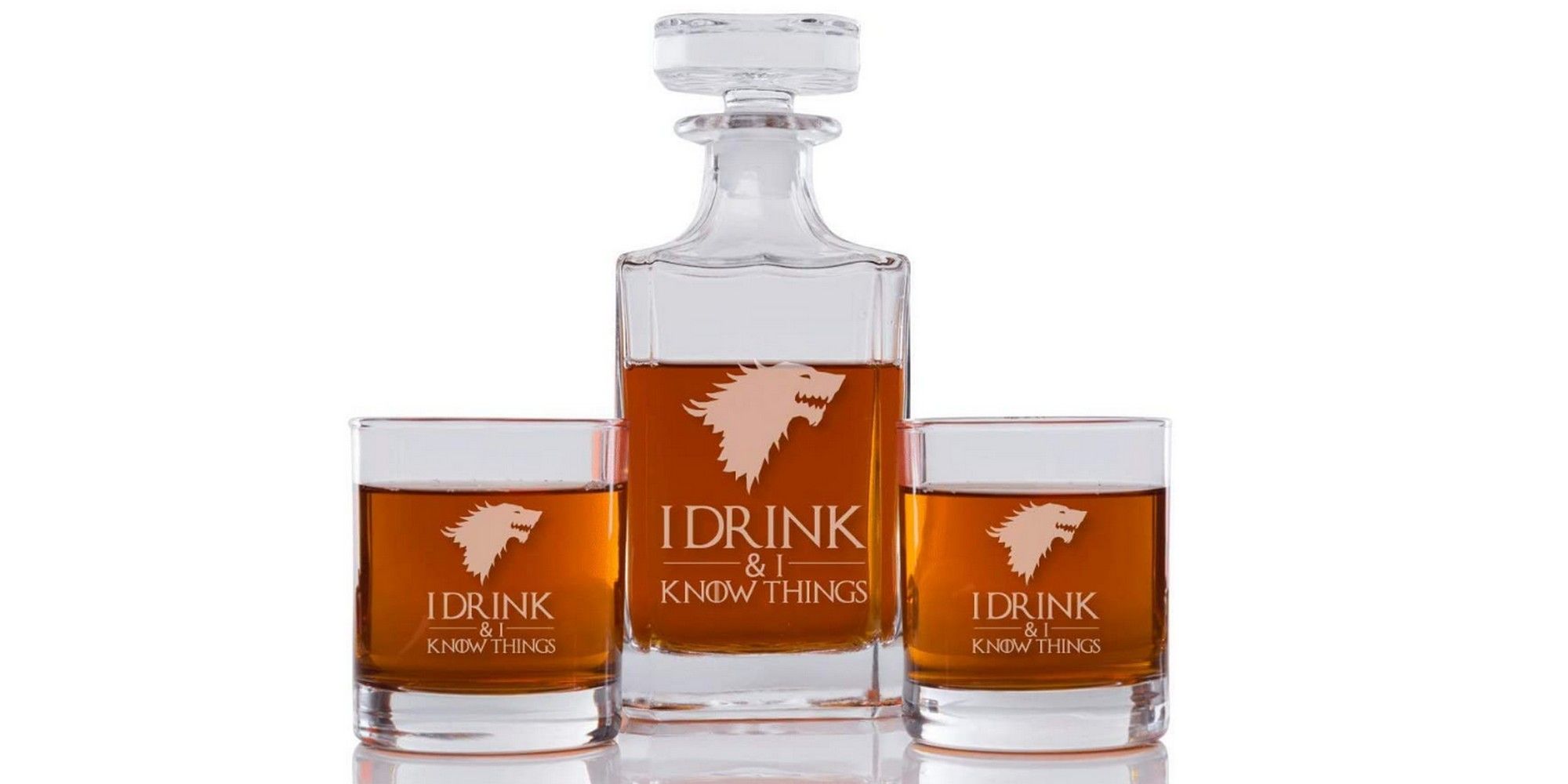 Tyrion Lannister is one of the most well-known characters from Game of Thrones, renowned for his quick wit and even faster thinking. When asked how he knew something about dragons, Tyrion's response became one of the most-quoted lines from the series: "That's what I do: I drink, and I know things."
That means these dishwasher-safe glass decanter and drinking glasses can give the fan in your life a chance to enjoy both things at once! The decanter is 9" tall and holds 26 ounces of liquid, so pair this with a nice bottle of something for the perfect package.
Get it on Amazon here!
Engraved Game Of Thrones Music Boxes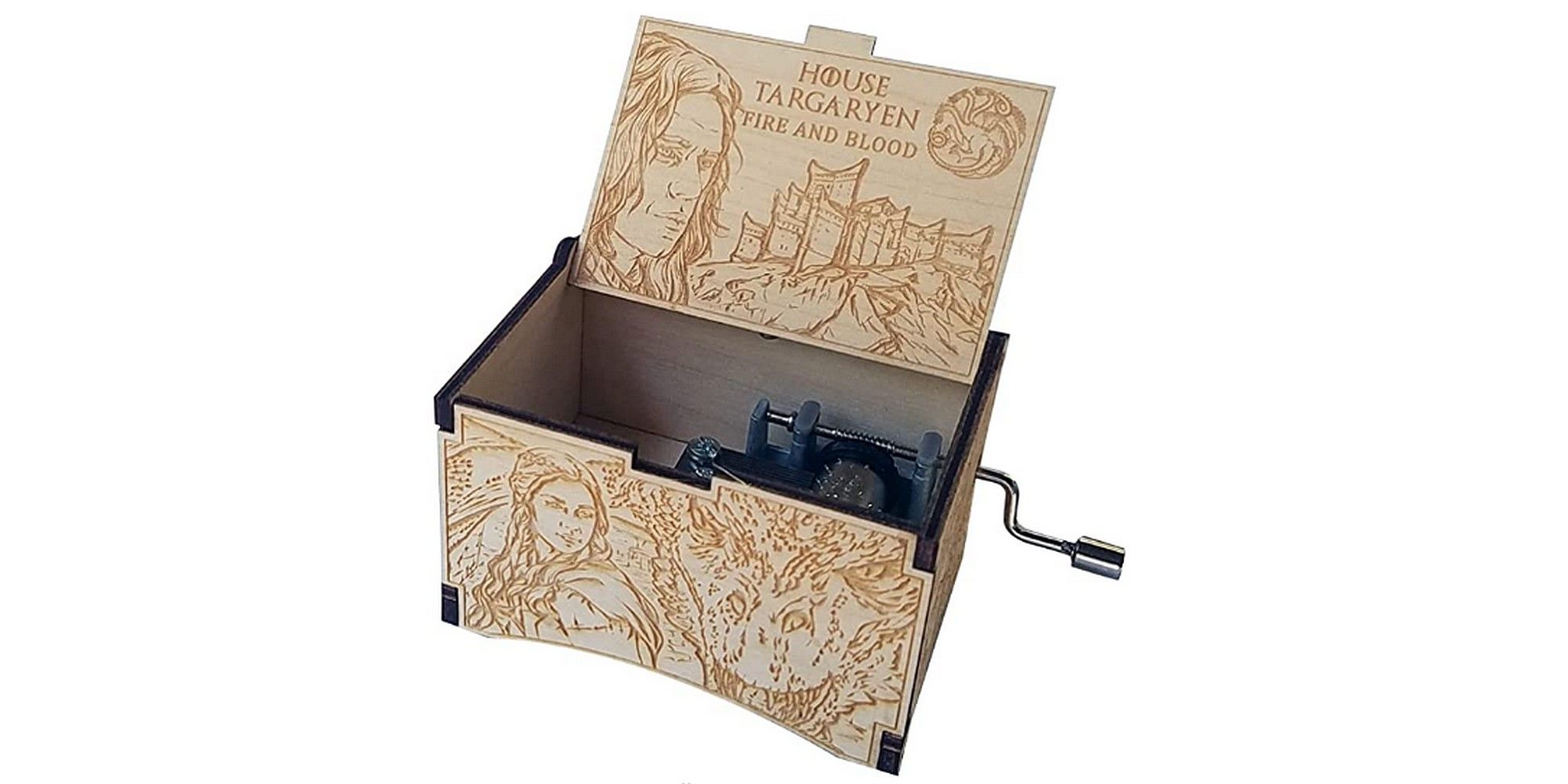 Even if you've never seen an episode of Game of Thrones, we'd bet you know the tune to the show's theme song. Serving as the appropriately epic intro to each episode, the daunting tune is enough to get any fan excited for what's ahead.
The boxes are about the size of a credit card. They're available in 19 different designs from the series and are decorated on the front, back, and sides. The crank inside will play the theme song for roughly 30 seconds after it's spun.
Get it on Amazon here!
Sculpted Dragon Egg Candles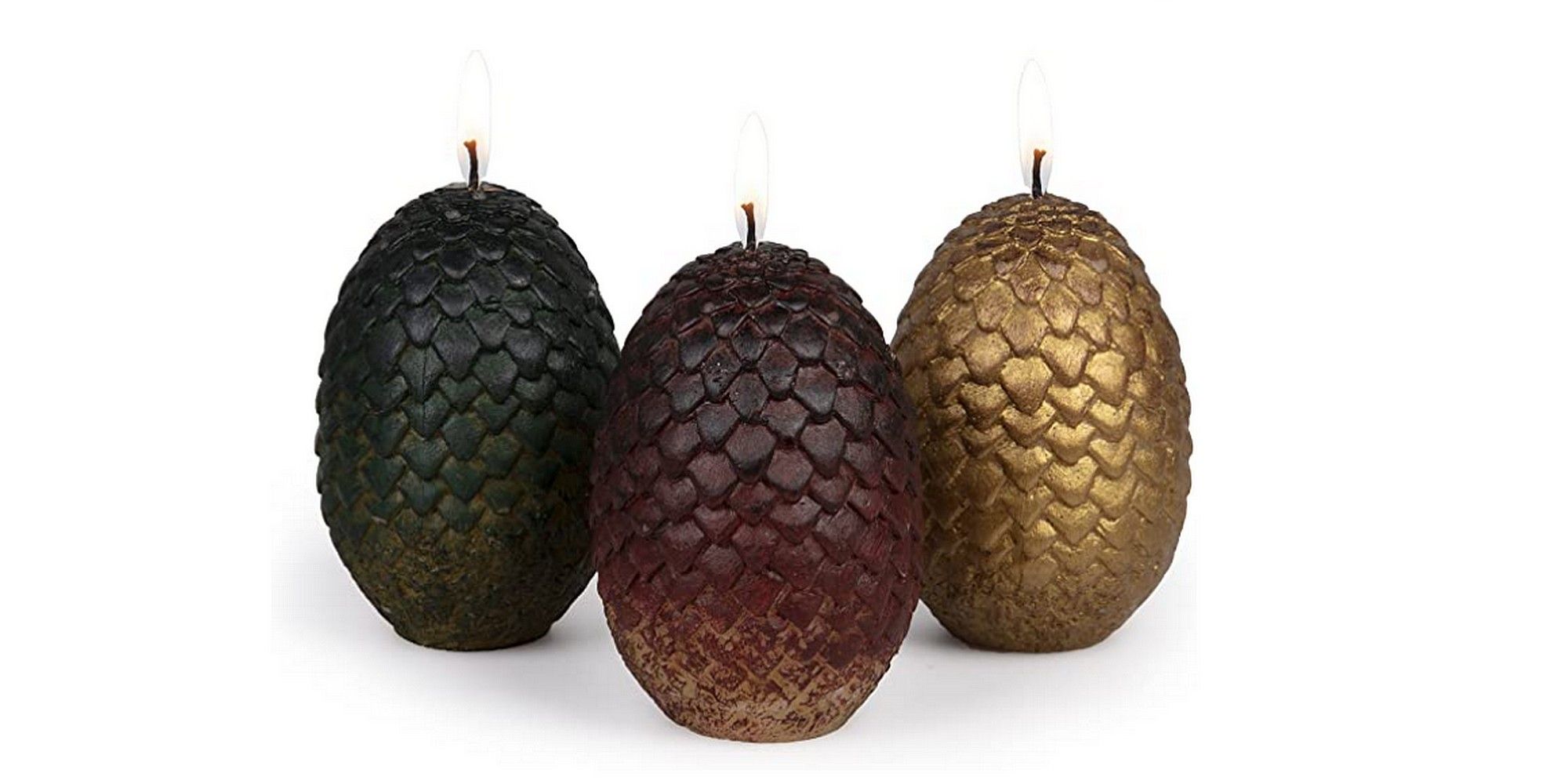 Daenerys Targaryen, a character easier to remember than it is to pronounce, is renowned in the show as being the "Mother of Dragons." The end of the first season of the show saw Daenerys engulfed in flame with her three dragon eggs, and not only did she survive the fire, but the eggs hatched into the three dragons that are completely pivotal to Daenerys' mission.
And with these molded candles burning for up to 18 hours, the fan in your life can watch almost two entire seasons of the show before they burn out! Though there are tragically no dragons in the eggs, the fan in your life will love these all the same.
Get it on Amazon here!
"The Night Is Dark" Makeup Bag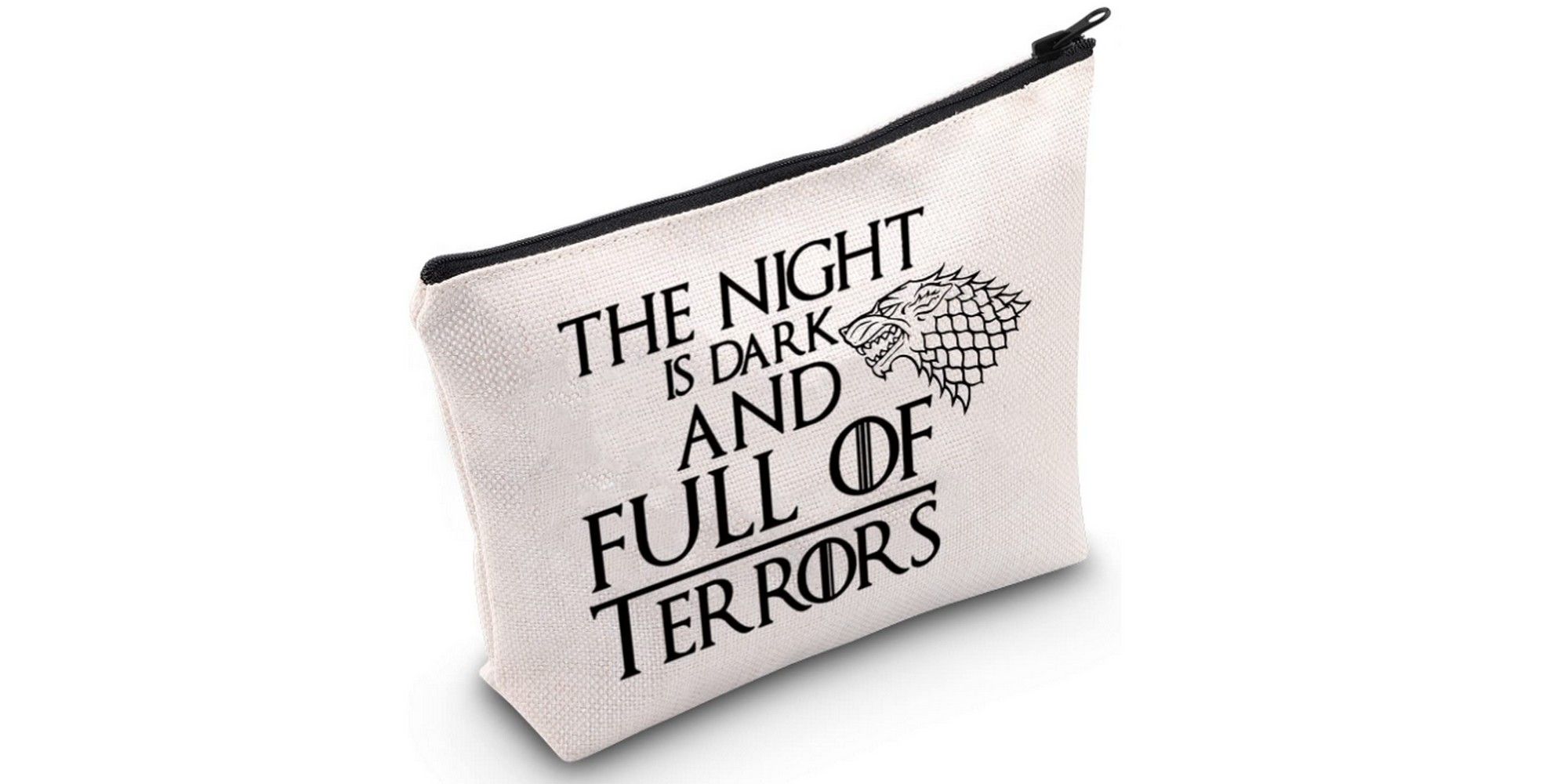 Available in either black or white, these canvas makeup bags are a must for any fan who knows how true the statement on them can be. The expression comes from Melisandre, a priestess who can foresee what's to come for the characters of the show, and it deals with her belief in the Lord of Light.
Becoming something of a catchphrase for practitioners of the in-universe religion, you hear the quote many times throughout the series. With this 9"x6.66" bag, the fan in your life will be any terror the night might throw at them – even if that's just some smudged eyeliner.
Get it on Amazon here!
The Iron Throne Statuette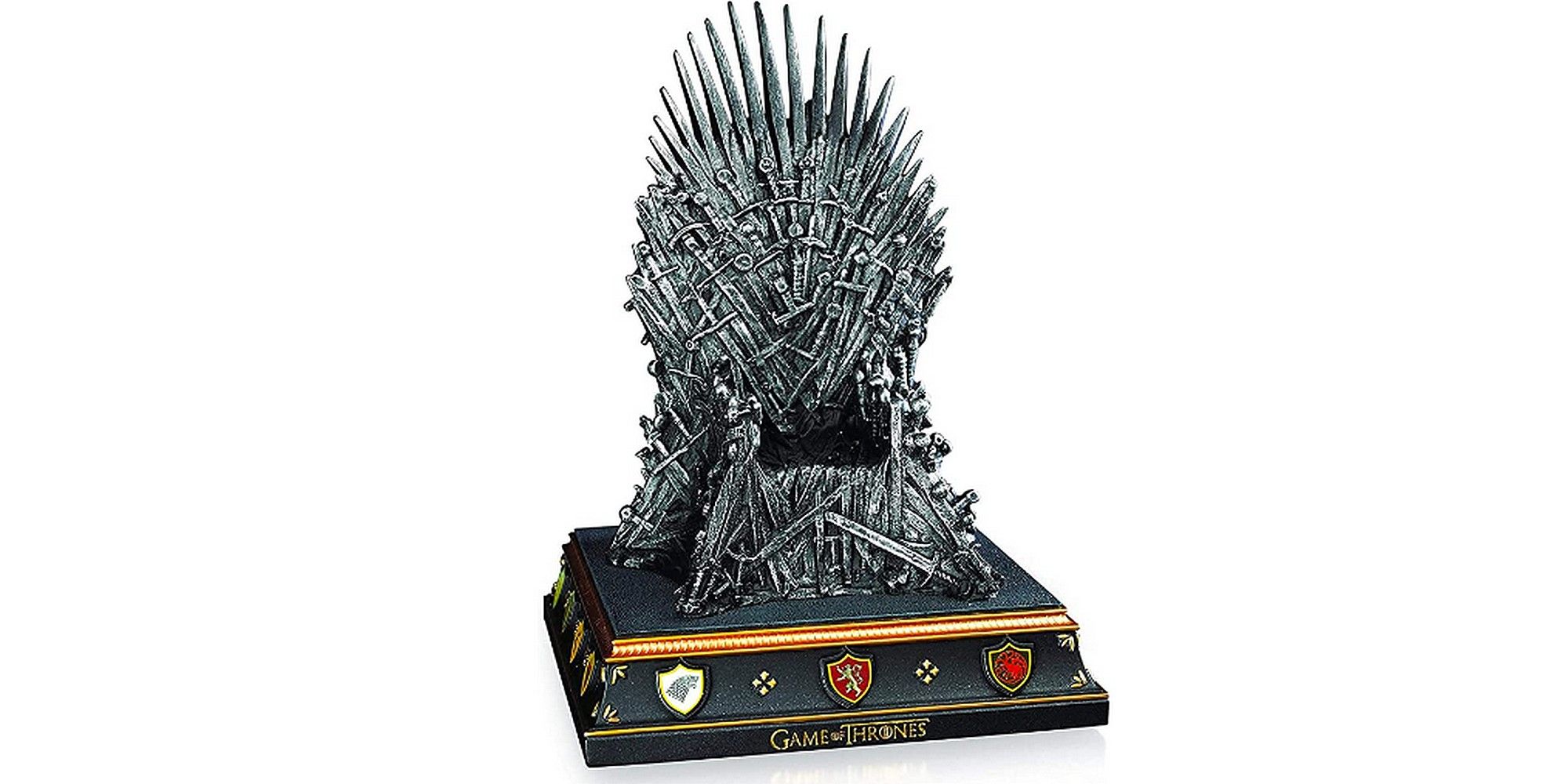 There's perhaps no symbol more recognizable to the Game of Thrones series than the Throne itself – the Iron Throne. Not only does the term refer to the seat itself, but it's a moniker for the family in control of Westeros as well. In the show, the Iron Throne is made of 1,000 swords and knives, but to keep the fan in your life safe, this miniature model is made of hand-painted polyresin instead.
Standing about 8" inches tall and decorated with the family crests and sigils from all the houses of Westeros, this officially-licensed collector's item will look great on anyone's shelf. The detail is astonishing and the paint really looks like forged metal, so don't make your Game of Thrones fan fight for the Iron Throne – gift it to them instead.
Get it on Amazon here!
We hope you like the items we recommend and discuss! TheGamer has affiliate and sponsored partnerships, so we receive a share of the revenue from some of your purchases. This won't affect the price you pay and helps us offer the best product recommendations.
Source: Read Full Article