We're nearly in December and you know what that means — even less time to get your Christmas shopping done! Thankfully, we are here to help, so if you have a Marvel fan to buy for, we've got some great suggestions right here.
Whether you've got a die-hard comic fan on your hands or someone who has learned to love the Marvel universe more recently with the addition of all the great Disney+ shows in the past year, we've got ideas for all ages and all price ranges.
Marvel Villainous: Infinite Power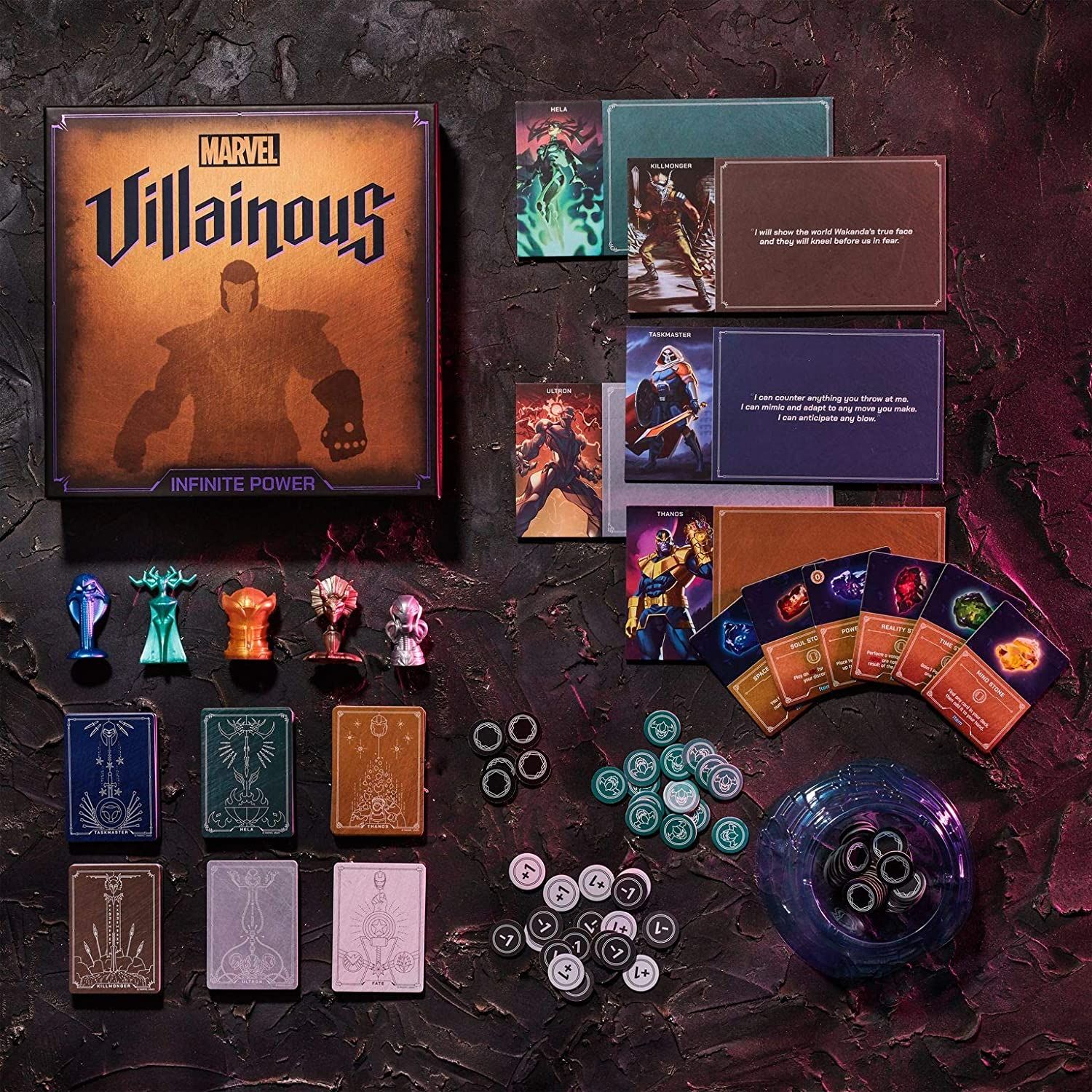 Everyone loves a good board game at Christmas, so why not pick up a new game to play with family and friends this holiday. Ravensburger's Marvel Villainous: Infinite Power lets you step into the role of one of five villains — Thanos, Hela, Ultron, Taskmaster, or Killmonger — with the aim of trying to fulfill their dastardly plans using their unique powers, and all while thwarting the attempts of some of Marvel's greatest heroes. As well as trying to achieve your own objectives within your villain's domain, you can try and sabotage the other villains by using certain cards from the Fate Deck.
This game can be played with two to four players, well, as many players as there are villains really, so if you pick up the expansion, you could play with even more people. The Marvel Villainous Mischief & Malice expansion is available separately and adds Loki, Madame Masque, and M.O.D.O.K! — this can be played alongside the main game or as a standalone game by itself. You can read our review of the Mischief & Malice expansion here.
Get it on Amazon here!
Miss Minutes Plush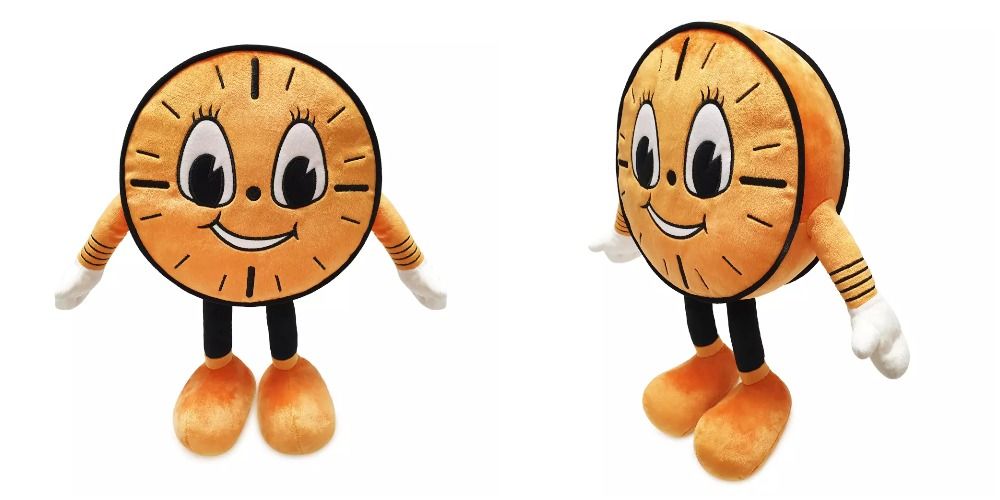 It's hard not to fall in love with gimmecky mascots from our favorite franchises… unless it's Jar Jar Binks, of course. Earlier in the year, fans fell in love with the Loki Disney+ series as not only did it give us more Tom Hiddleston, more Loki, and a front-row seat to the start of the multiverse, but it also introduced us to Miss Minutes. This adorable little clock mascot was a fan-favorite from her very first appearance, so any Loki fan is sure to love this plush of the sassy little southern clock.
The Miss Minutes Plush is available for pre-order from the Disney Store.
Marvel Funko Pops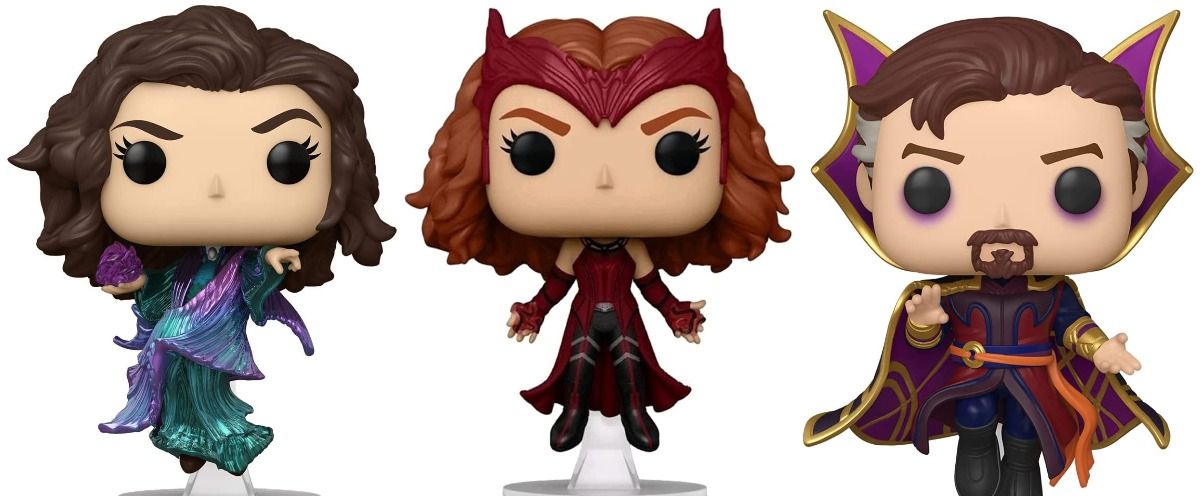 There are Funko Pop figures for everything these days, so it's no surprise that with the wealth of Marvel content we've had over the past year, there's plenty of new Pops to line your shelves. Whether it's one of the Disney+ series, such as Wandavision or The Falcon and the Winter Soldier, or one of the new films, such as Black Widow, whatever your friend and family member likes — there's a Pop for it. Get them their favorite to decorate their room with.
Get it on Amazon here!
Marvel Funkoverse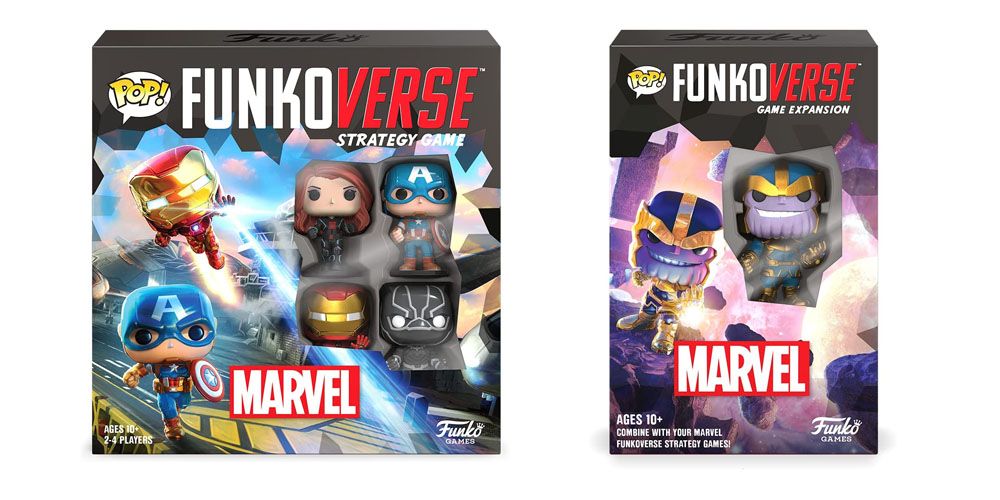 What if you want to treat your favorite Marvel fan to something that combines two of their favorites — board games and Funko Pops? Look no further, because Funkoverse is the perfect choice! This game includes Iron Man, Black Widow, Captain America, and Black Panther, so pick your favorite hero and get ready to use their special abilities, such as Iron Man's Repulsor Blast, to one-up your competitors as you play to win. There's lots of replay value as the game offers multiple modes, such as Scrimmage and Siege, and it's great fun for the whole family. You can read our review of Marvel Funkoverse here.
Marvel Funkoverse can be played as a stand-alone game or combined with any other Funkoverse game. You can also pick up the Funkoverse: Marvel Expansion that features Thanos and allows you to join in the race to get all of the infinity stones!
Get it on Amazon here!
Marvel What If…? Bobble-Heads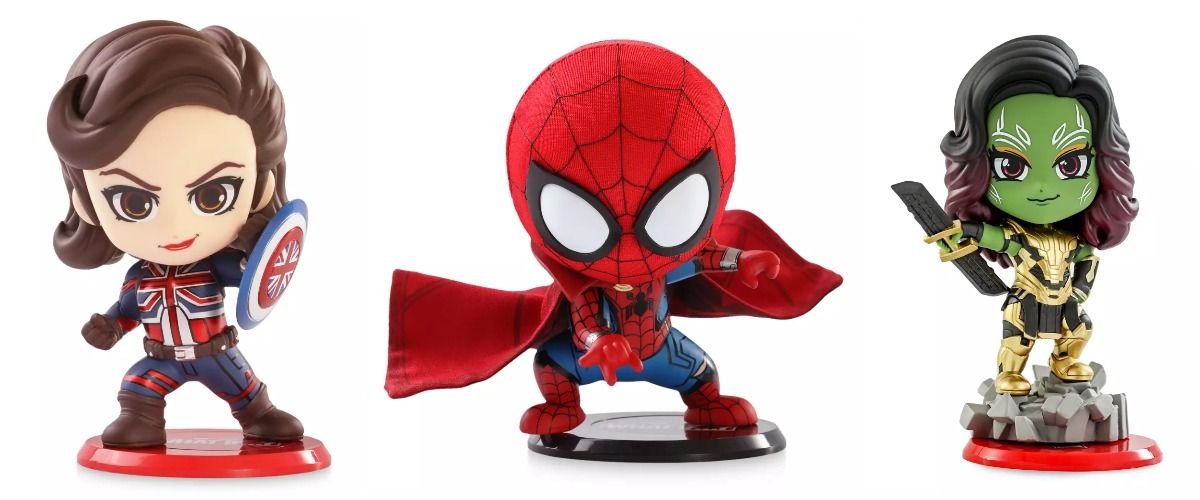 The Marvel What If…? animated TV series gave fans a glimpse into alternate timelines in the Marvel multiverse, giving us new versions of our favorite heroes to fall in love with. What if… Captain Carter Were the First Avenger gave us an even more kick-ass Peggy Carter while What If… the Watcher Broke His Oath? gave us a variant of Gamora who killed Thanos. If someone on your Christmas list is a What If… ? fan, pick their favorite character and snag them a rather cool bobble-head to grace their shelves!
You can purchase Marvel What If…? Bobble-Heads from the Disney Store.
Funko Marvel Battleworld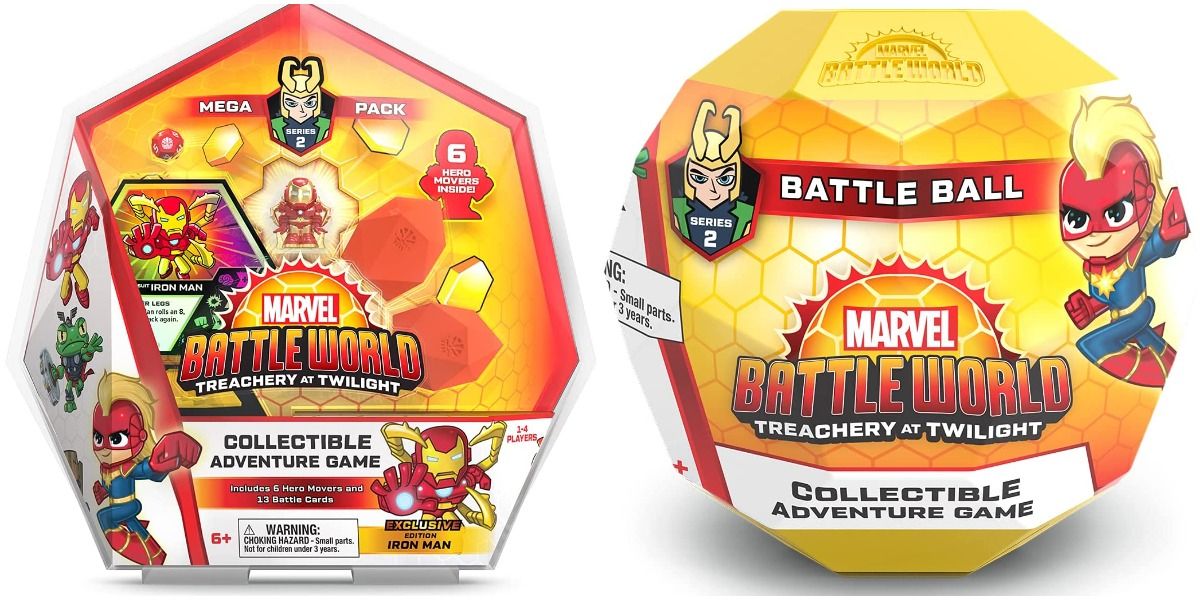 If you're looking for a stocking filler for a Marvel fan, check out these Funko Marvel Battle World Treachery at Twilight adventure game and additional Battle Balls. This is a super fun Marvel game that's suitable for younger players — games are short and sweet, normally 15-30 minutes long, and the game is suitable for anyone six and above. The Treachery at Twilight pack gives you six hero movers and 13 battle cards, but if you opt for a battle ball, it has two characters, which is enough to get you started — so whichever you start with, you've got enough to play.
This series offers everything that kids love — collectibles, the element of surprise as you never know who you're going to get, their favorite Marvel characters, and a fun board game they can play with others. This cute little game is easy to understand and you'll find yourself wanting to collect them all! You can read our review of Marvel Battleworld here.
Get it on Amazon here!
Loki Agent of Asgard: The Complete Collection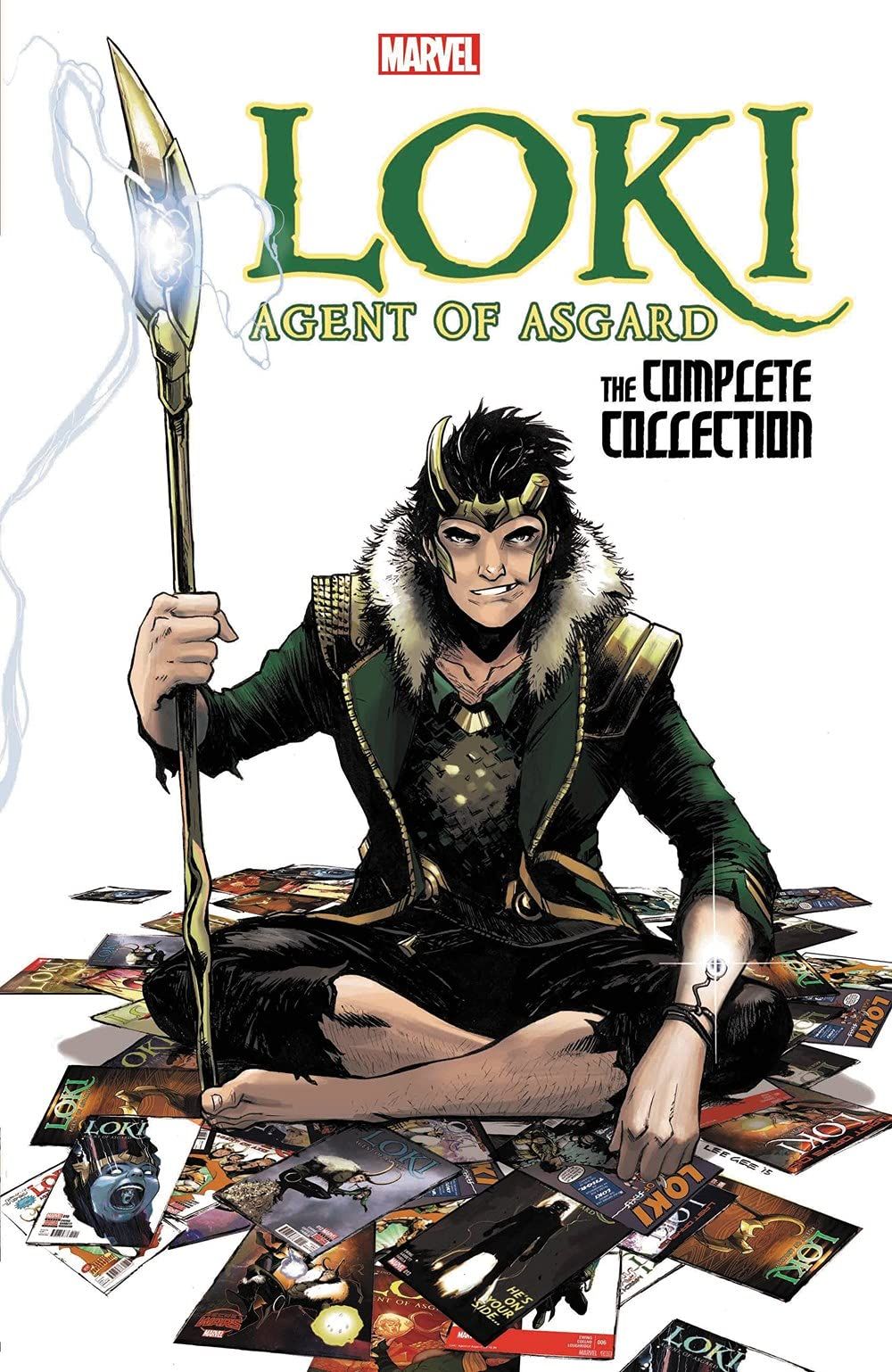 If you have a Loki stan in your life that didn't get enough of a Loki fix earlier in the year with the Disney+ series, why not pick up the Loki Agent of Asgard: The Complete Collection for them? This graphic novel was released earlier in the year and is filled with all sorts of mischief, schemes, and fantastic typical Loki shenanigans.
Get it on Amazon here!
Something Wild! Marvel Infinity Saga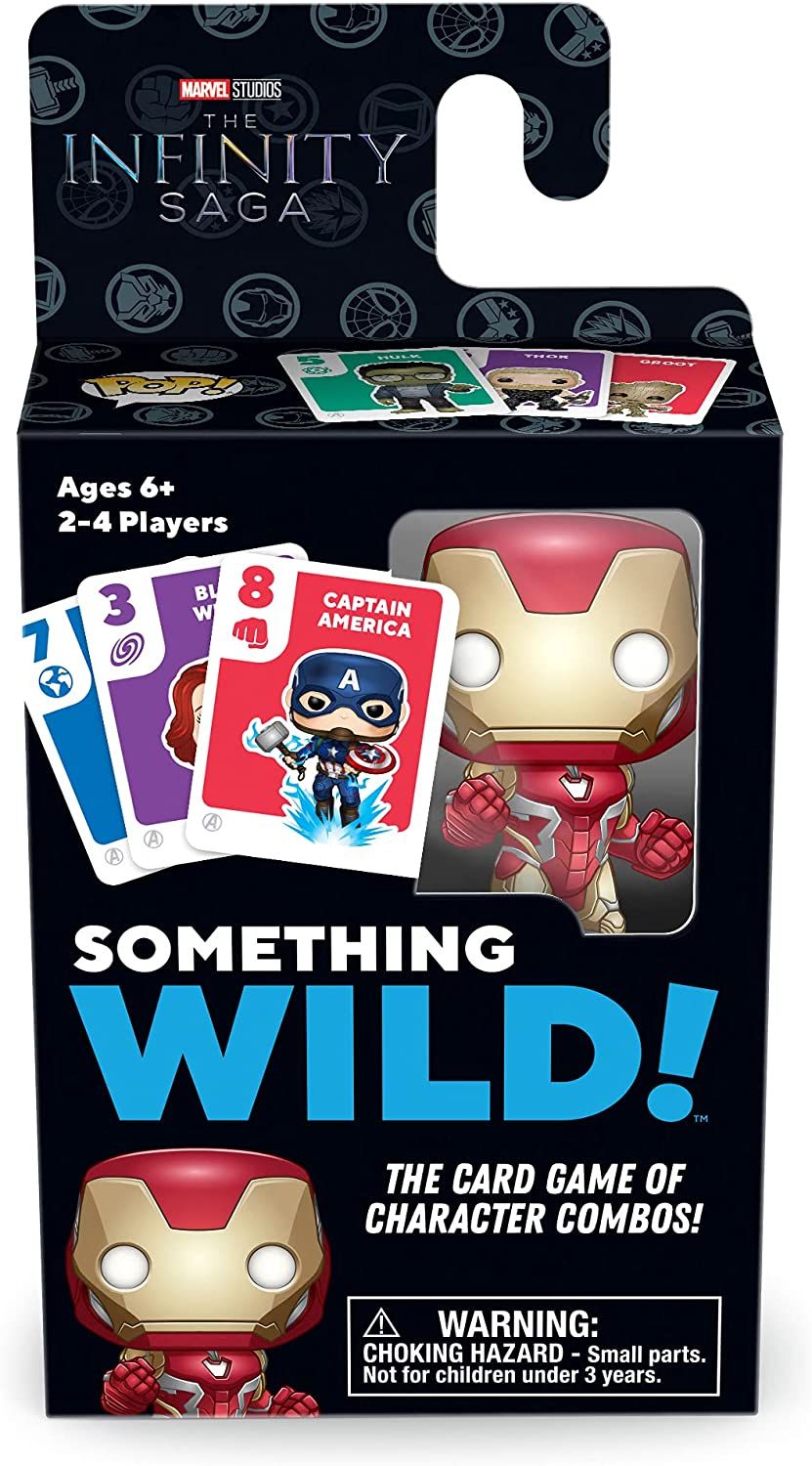 Another great choice for a fun little stocking filler is the Something Wild! card game. This series comes in a range of characters and franchises, but if you're looking to buy for a Marvel fan, look no further than the Marvel Infinity Saga version. This game is a great choice for younger Marvel fans and is suitable for anyone aged six or above.
Each game can be played rather quickly, so you don't have to worry about any little ones losing interest, and it's very easy to get to grips with so youngsters won't find it too difficult. Collect and create sets/runs of cards to score points and beat your friends and family. Even if you think you're losing, the special Power Cards can easily turn the tide in your favor, so don't give up!
Get it on Amazon here!
Source: Read Full Article