A weapon that players often form an attachment to in Assassin's Creed Valhalla is a hammer. The way it combines speed with attack damage is enviable, not to mention that Eivor looks amazing doing it. It might be your weapon of choice or one you are considering using, which is why it is a good idea to see all of the options available to you.
There are five hammers for you to choose from, and not all are created equal. Some can be found in the game while others must be bought, but at the end of the day, you are guaranteed to find at least one hammer to enjoy. One thing to keep in mind is that your stats will differ depending upon your skill tree!
5

War Hammer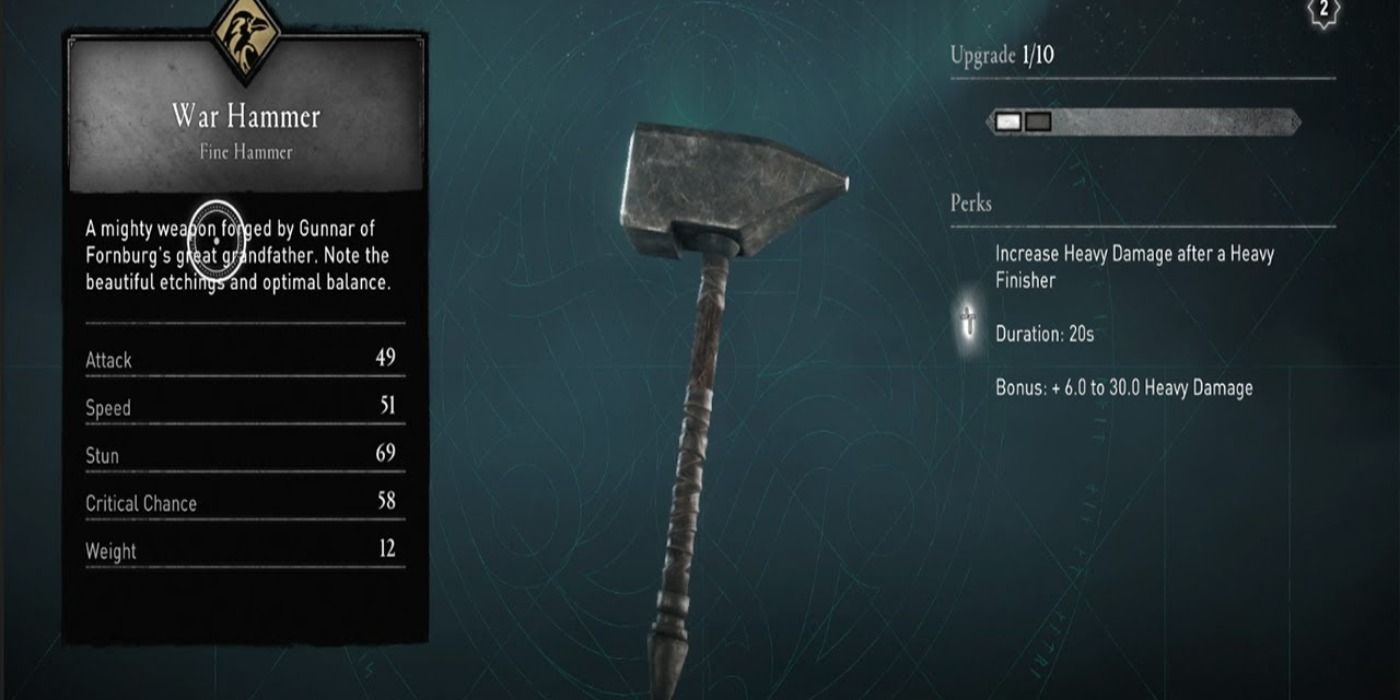 The War Hammer is only a Fine Hammer, and it is one of the first weapons you can attain in Assassin's Creed Valhalla. You can find it in Rygjafylke, Norway at a location called Marauder's Den, which is in the southwest corner of the map. You can locate the chest on a hanging platform, which is fairly easy to reach, even for beginners to the series.
This hammer's stats are not great, but for early in the game, it is not bad seeing as you don't have much to choose from. The perk does make it worth it as it increases your heavy damage for 20 seconds after completing a heavy finisher.
Stats
Attack: 49
Speed: 51
Stun: 69
Crit-Pre: 58
Weight: 12
4

Blacksmith's Hammer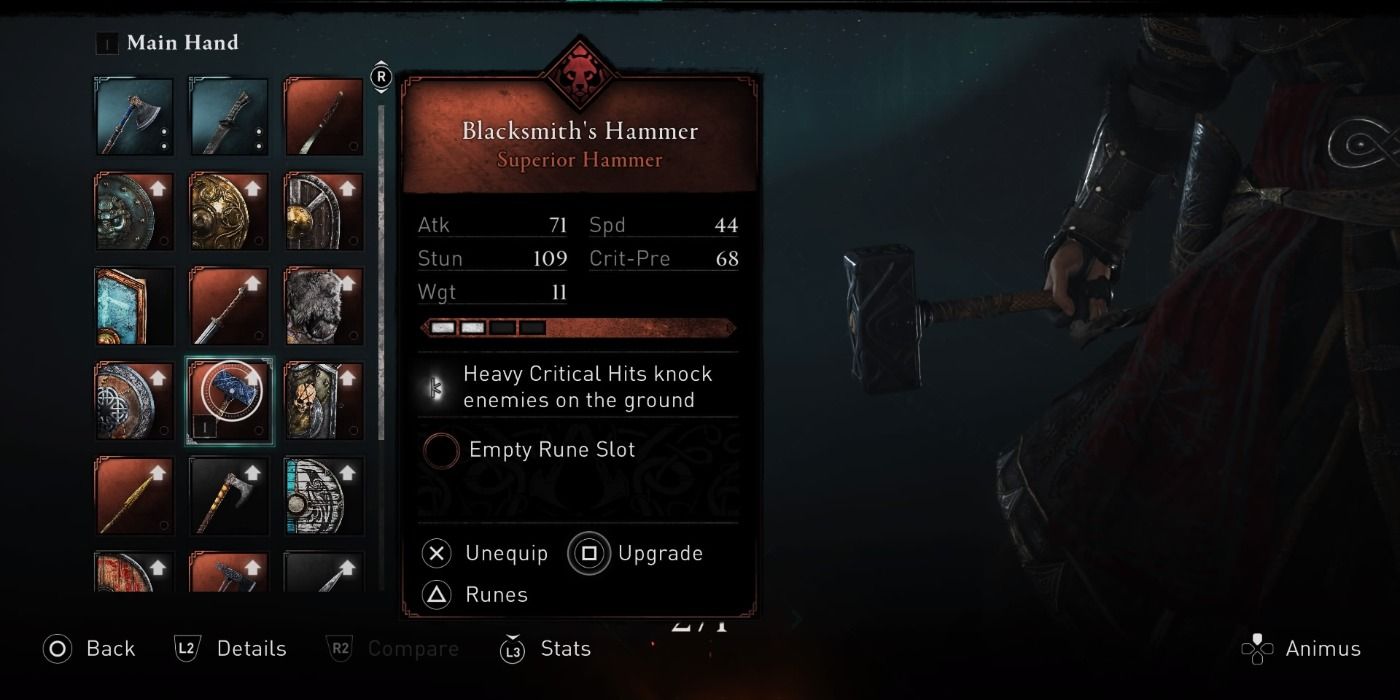 When you travel to Lunden this piece of gear will become available to you, and you won't regret seeking it out. It can be found in Bodilsburg Garrison on the east side of the city, but you must attain a key to unlock the chest. The chest is inside of an old church and you have to head to the second floor in order to reach the attic where this chest is hiding.
The stun potential of this weapon is why so many players crave to have it in their possession, and it will help you fight harder zealots early on. The perk this gives to its users is that a heavy critical hit guarantees that enemies will be knocked on the ground.
Stats
Attack: 71
Speed: 44
Stun: 109
Crit-Pre: 68
Weight: 11
3

Mournful Cry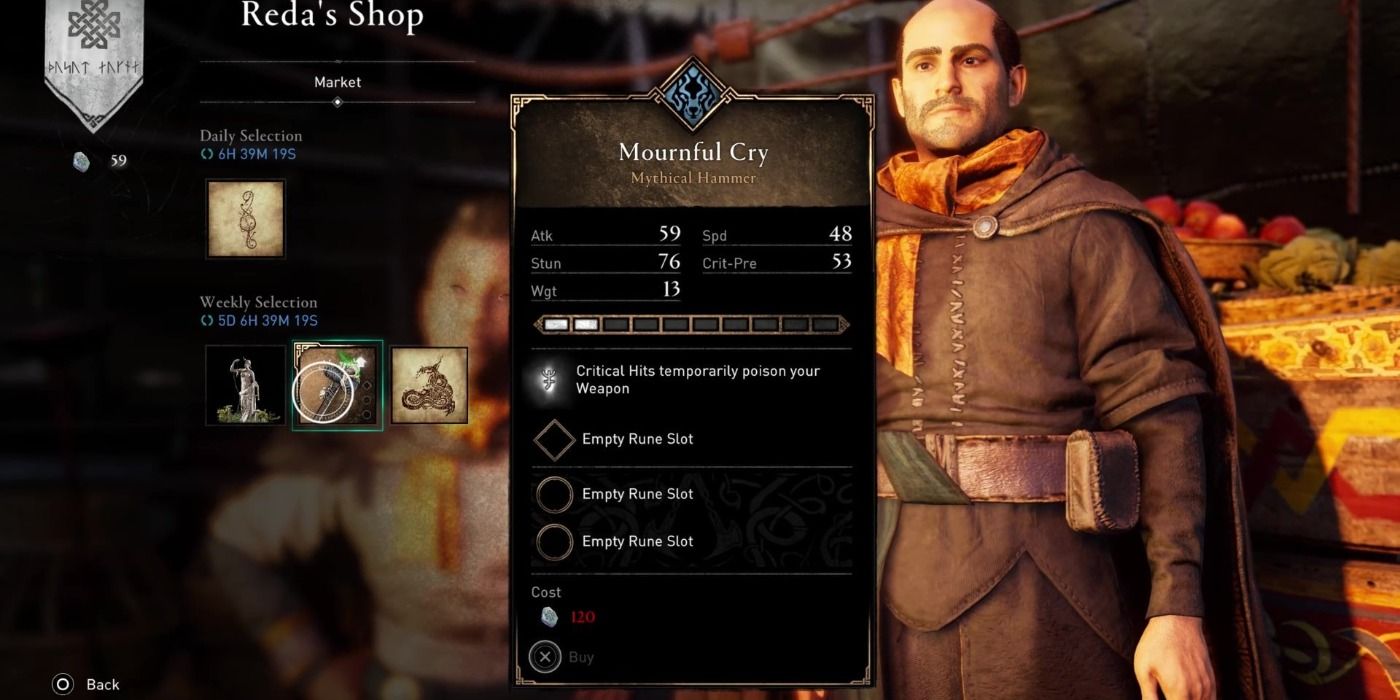 You will want to save up your opals if you decide you want to try out this mythical hammer. It will cost you 120 opals, so it is worth your while to do some side quests or take a few of Reda's contracts in order to stack up so you can afford it when it's finally in stock.
It is a bit heavier than some other hammers in the game, but it is the perk it has which makes it so desirable. If you perform a critical hit it gives you a chance to poison your weapon and deal even more damage to your enemies rather than wasting an ability. Players love to use this when facing bosses in the game as it allows them to deal constant secondary damage to them through poison which slowly chips away at their health.
Stats
Attack: 59
Speed: 48
Stun: 76
Crit-Pre: 53
Weight: 13
2

Mjolnir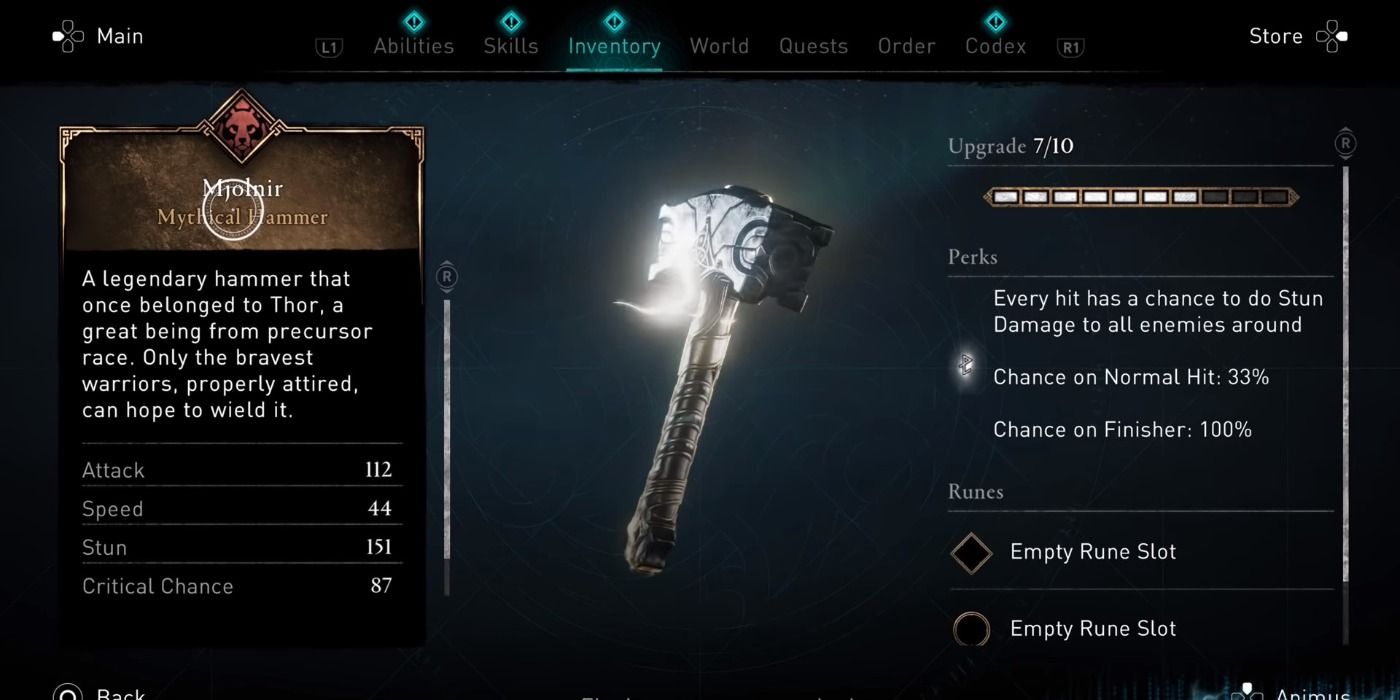 Mjolnir is a weapon that is the final piece of Thor's Armor Set, so you know it has to be good due to its connection to Norse mythology. You have to collect all of the other pieces of the set first, which this guide explains how, and finish the story before you can attain this hammer. It is found in the northern part of Norway in a spot that is only accessible once all of these other conditions have been met.
It is by far the best hammer in the game, and if you plan on playing the future DLCs for this game then it is worth finding it. The perk it has gives every hit a chance to do stun damage to all nearby enemies, and it is guaranteed when performing a finisher.
Stats
Attack: 112
Speed: 44
Stun: 151
Crit-Pre: 87
Weight: 10
1

Ukonvasara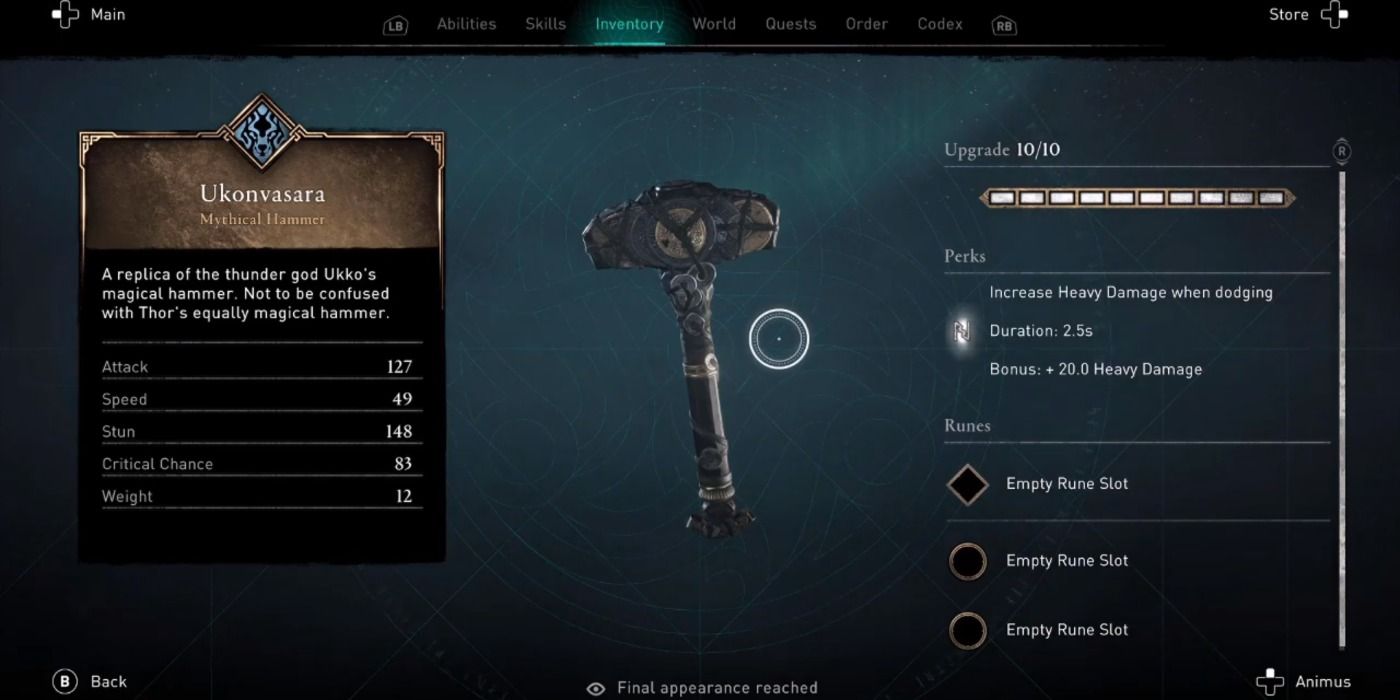 This hammer can be bought using Helix Credits, and if you enjoy using hammers then you might consider doing this. It is one of the game's microtransactions, and can't be acquired at Reda's shop, but players have been raving about the strength of this weapon.
The biggest thing about it is the perk it provides as it increases your heavy damage when dodging. This only lasts for 2.5 seconds, but if you use dodging as your primary combat strategy then this hammer is for you. It is not as strong as Mjolnir, but you can buy it at any point in the game, unlike the latter which can only be attained after you finish the story.
Stats
Attack: 127
Speed: 49
Stun: 148
Critical Chance: 83
Weight: 12
Next: The 10 Best Armors In Assassin's Creed Valhalla
Guides
Assassin's Creed Valhalla
Rebecca O'Neill is a reader and writer based in Ohio, near the heart of the CLE. She enjoys starting fires in her kitchen and collecting pins when she's not writing for Valnet, Inc, as an Organic List Writer. She writes for her blog, Creative Measures, and works towards the completion of her fantasy novel.
Source: Read Full Article