Quick Links
Bachelors And Bachelorettes Of Coral Island
Coral Island is more than a sandy shore and some mystical trees. As you go about your daily tasks, a friendly host of faces are there to help you on your journey to becoming a fruitful farmer in no time. Making friends – and a few friends with benefits – does take some grafting, however.
You won't want to confuse twin sisters Suki and Alice, and lovable yet laconic Rafael might take some sanding down to reveal the soft heart beneath his brash outer shell. Here is a look at some key faces about town – and which ones you can cosy up to later on.
Shopkeeper Characters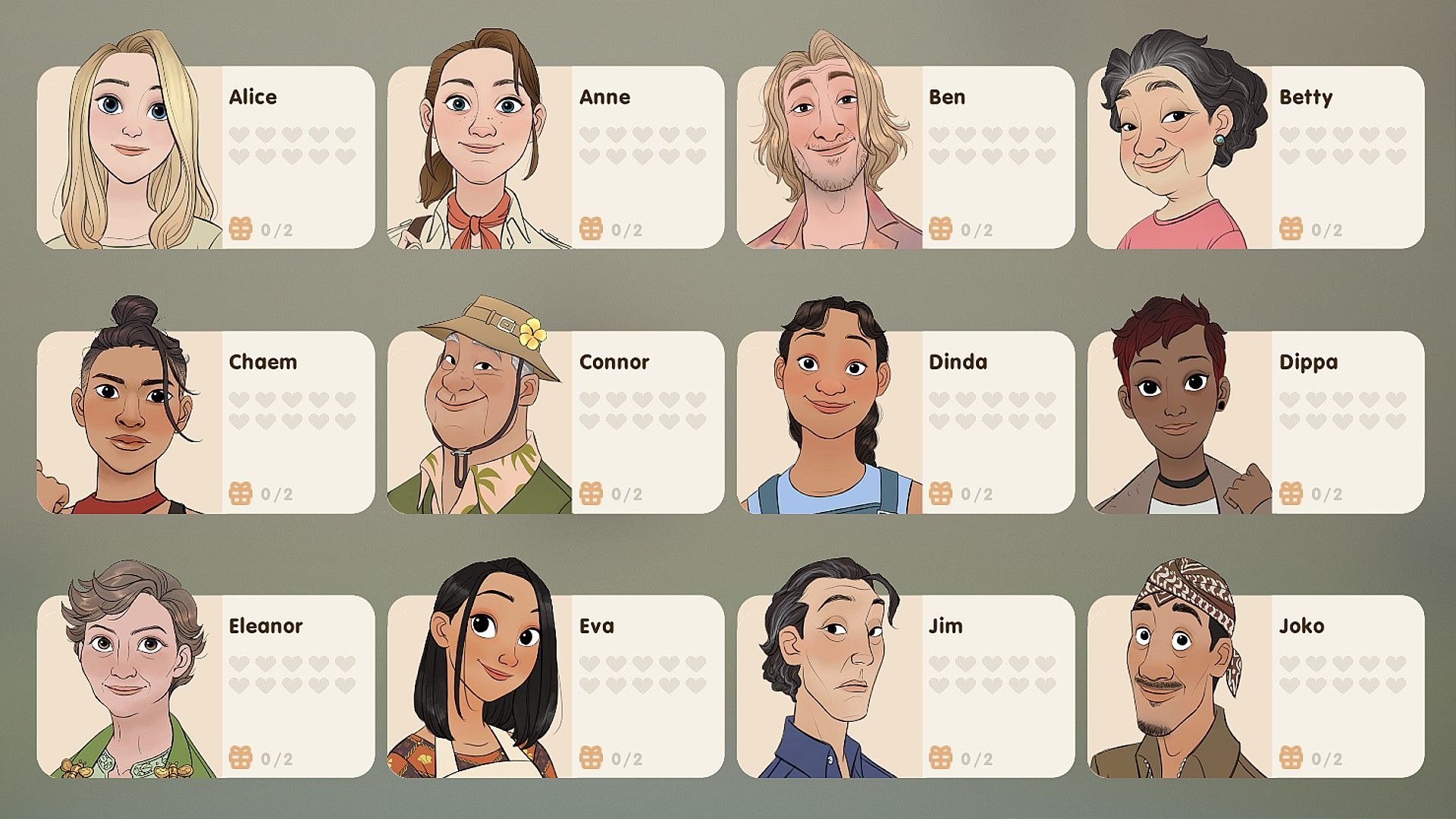 There are 70 NPCS on Coral Island, including a handful of shopkeepers or tradespeople who sell their wares or services from the comfort of specific stores.
The one you'll interact with the most in the early stages is probably Sam, the General Store owner. He is your main man for buying seeds, selling produce, and picking up some freshly baked bread.
Dinda and her husband Joko are the resident Carpenters of Coral Island. You'll visit them to make some upgrades to your house and build additional structures on your farm, including a barn and stables.
Ling is a marine biologist based at the Lab. Bring her some kelp essence to upgrade your farming equipment, such as your sprinklers.
Frank runs the tavern with his romance-able brother Noah. Visit them to sink a few pints and get to know them better.
Mayor Connor is a pretty cool guy, having hung up his shopkeeping boots long ago in favour of running for office. He is one of the first people you meet, and it's he who will show you to your new digs when you first arrive at the island.
How To Raise Friendships On Coral Island
Give gifts to the villagers
Chat with everyone every day
Bachelors And Bachelorettes Of Coral Island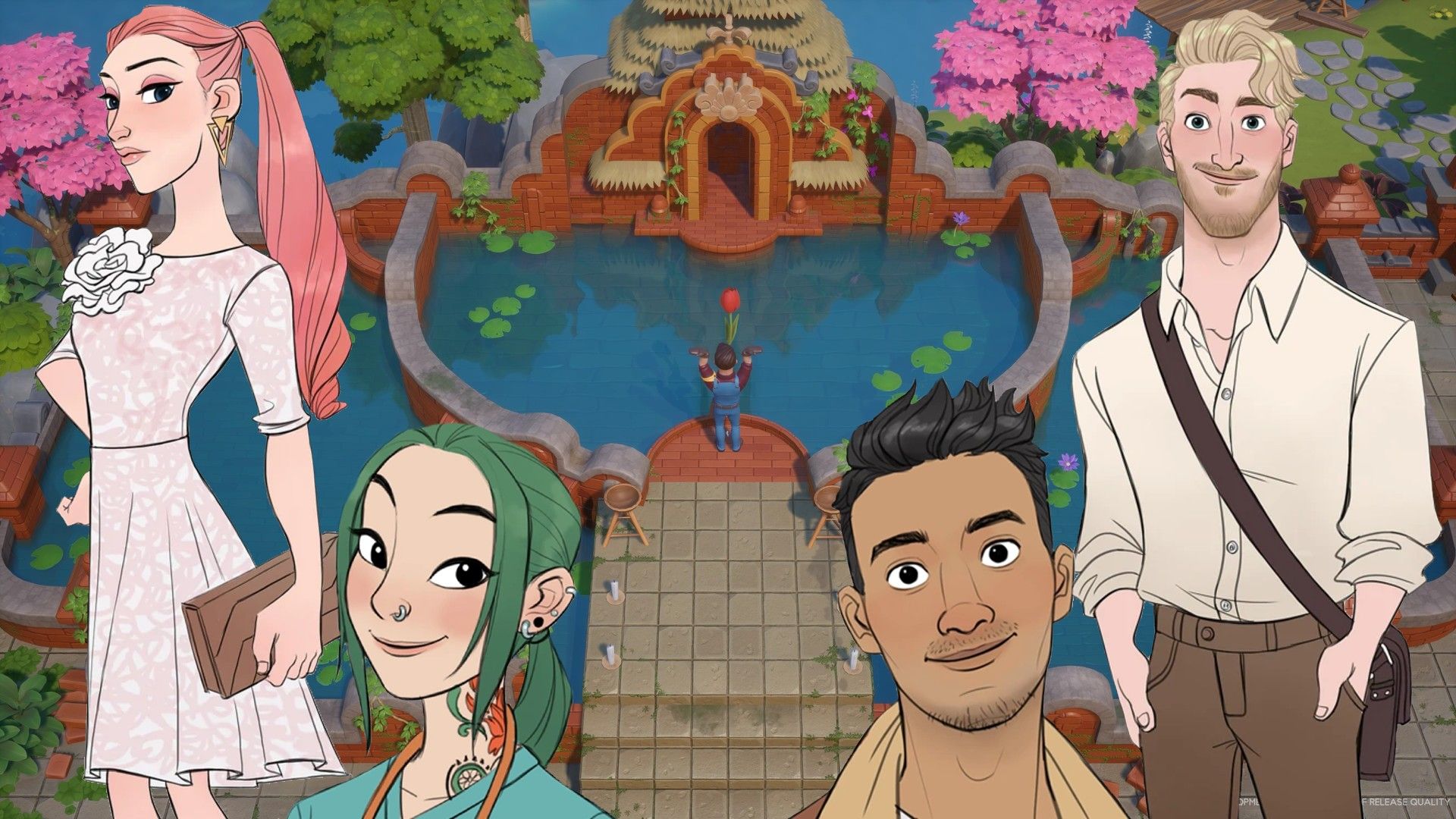 If your farm is feeling a bit lonely, there's a glimmer of romance on the horizon should you wish to go there.
With 22 romance options – both male and female – you can date, get married, and even have two children! You can be married to up to two people at a given time, but you can only date people seriously one at a time.
Here's a look at all your potential beaus:
Character
Home Or Occupation
Gift Likes/Dislikes
Alice
Runs the Coral Inn; found on the beach frequently
Likes: green smoothie, minced jackfruit pie, almond oil, olive oil, dye

---

Hates: pizza

Lily
Found near the Lake and Library; lives with her family
Likes: bonsai, kimchi, onigiri, omurice, cheese, wine, sunflower

---

Hates: diamonds

Macy
Photographer; lives in the Inn
Likes: pizza

---

Hates: pickles

Yuri
Medic; found at the Clinic
Likes: fish sandwich, green curry, lobster

---

Hates: flowers

Eva
Baker (Sam's General Store); found baking bread there daily and lives at the Inn
Likes: red velvet cake, cookies, orchids

---

Hates: garlic

Leah
Lives at The Mansion just off the main square
Likes: Pearls

---

Hates: mushroom, fish, coffee

Nina
Doesn't live on the island, but frequently visits her holiday home on the Beach
Likes: banana fritters, bouquet of flowers

---

Hates: raw banana, tomato soup

Zarah
Lives on her boat, and frequently sails to the other end of the island when she isn't there
Likes: rambutan, azurite crystals

---

Hates: roasted chestnuts

Suki
Runs the Inn with her sister, Alice
Likes: green smoothies, daffodils

---

Hates: pizza, pineapple upside-down cake

Millie
Yuri's roommate on Garden Lane; works at the Library
Likes: veggie ramen

---

Hates: fish

Kenny
Works and lives at the Ranch
Likes: vegan taco

---

Hates: cheese

Noah
Works and lives at the Tavern
Likes: durian, gnocchi, sunny-side up eggs

---

Hates: metal bars

Rafael
Works and lives at the Blacksmith's
Likes: onyx

---

Hates: salad

Pablo
Works and lives at the Blacksmith's
Likes: sweet potato poutine

---

Hates: durian

Surya
Works at the Lab with Ling as a marine biologist
Likes: wild mushroom polenta, pink diamonds, golden pearls, rainbow wool, black roses

---

Hates: milk, seeds, trash

Luke
Owner of the electronics store; lives behind the Vineyard with his family
Likes: wine, ratatouille

---

Hates: seashells

Scott
Archeologist; lives on Main Avenue, found at the Tavern on weekend evenings
Likes: nodes, egg custard

---

Hates: flowers (tulip, violets)

Theo
Fisherman; found fishing at the Lake
Likes: yellow moray eels, fish tacos, coconut, snow drops, bamboo shoots

---

Hates: beer, wine, milk

Ben
Lives in his caravan and runs the Caravan Store near the Hot Springs
Likes: bananas, mushrooms, green tea

---

Hates: clam chowder, sea mushrooms, soy beans, sugar cane

Charles
A doctor at the Clinic alongside Yuri
Likes: strawberries, diamonds, falafel, cookies, blueberries, burritos

---

Hates: flowers

Wakuu
Lives at the Observatory
Hates: green smoothies
Mark
Lives near the Lake
Likes: shiitake mushrooms, tomato soup, hot cocoa, egg custard

---

Hates: hot peppers, goat's cheese
Source: Read Full Article