Quick Links
Pontiff Sulyvahn Overview
Bosses in Dark Souls 3 are essential checkpoints in the game, and defeating them will allow you to make progress. One such boss is Pontiff Sulyvahn, who appears in the Irythyll of the Boreal Valley. An ally of Aldrich and a former sorcerer, Pontiff Sylyvahn is a mandatory boss you'll need to clear.
Each boss will reward you with Souls and weapons or armors once they are defeated, which is a nice bonus to being able to continue your journey through the world.. Here is all you need to know about Pontiff Sulyvahn.
Pontiff Sulyvahn Overview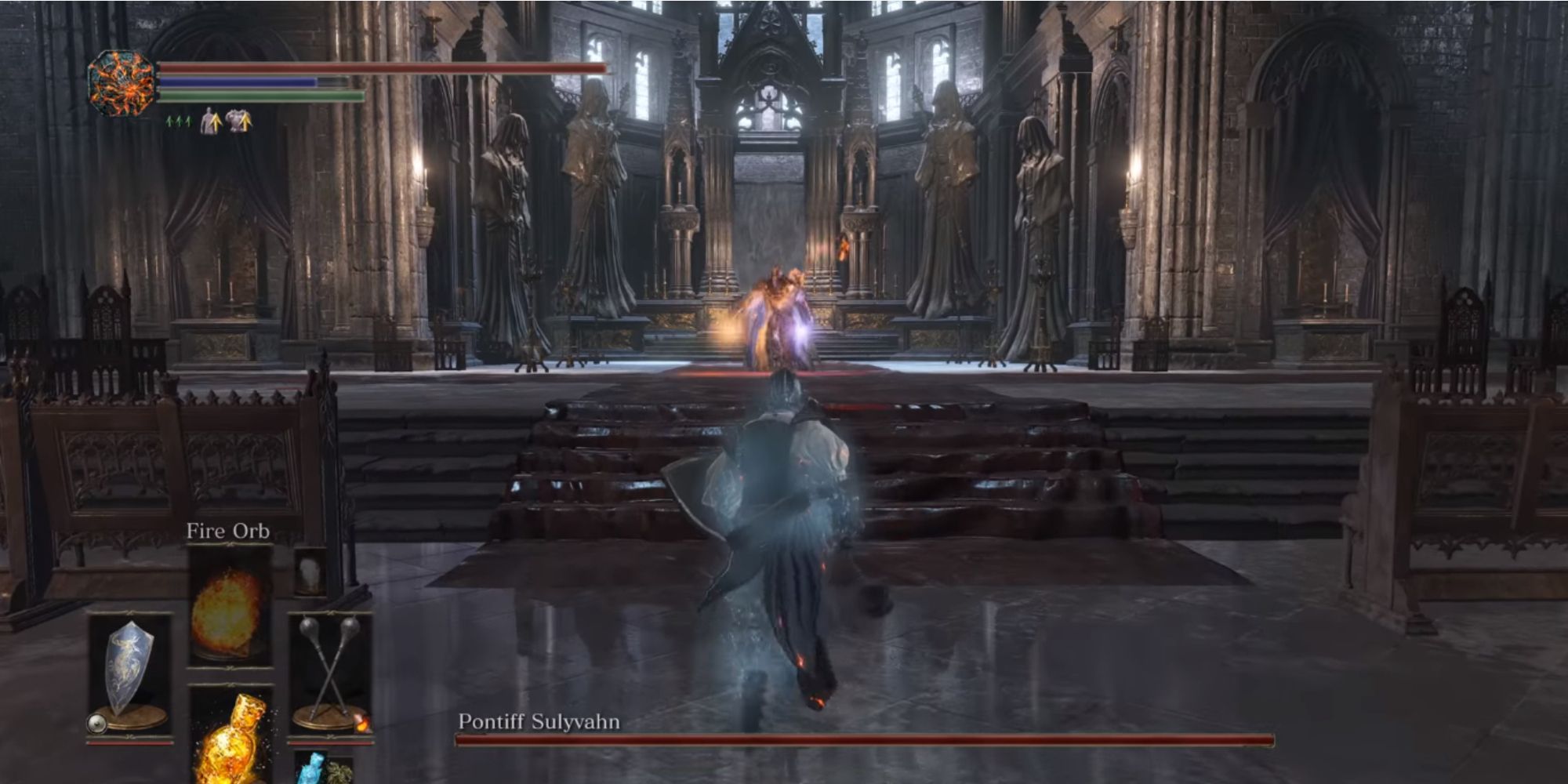 Pontiff Sulyvahn Overview
Location
Irithyll of the Boreal Valley
Optional
No
Drops

28,000 Souls
Soul of Pontiff Sulyvahn

Weak To
Pontiff Sulyvahn is a boss located in Irithyll of the Boreal Valley. The boss is not optional, and you will have to defeat him in order to proceed further. To reach Irithyll of the Boreal Valley, you must defeat High Lord Wolnir and go through the doorway out of his area.
Defeating Pontiff Sulyvahn will get you the Soul of Pontiff Sulyvahn, which you can use to get the Greatsword of Judgment or Profaned Greatsword by transposing it at Firelink Shrine.
To acquire the Transposing item, you will need to defeat the Curse-Rotted Greatwood boss in Undead Settlement. Once you do that, you will get the Transposing Kiln. At Firelink Shrine, you can give this Kiln to Ludleth so that he enables Soul Transposition.
There are a lot of possible Summonbale NPCs for this fight. You can summon Black Hand Gotthard, whose summon sign is near the boss gate. You can also summon Londor Pale Shade if you are completing Yuria's and Yoel's questline. The summon sign is near the statue to the right of the boss gate. Anri of Astora can also be summoned for this fight. The summon sign is again near the statue.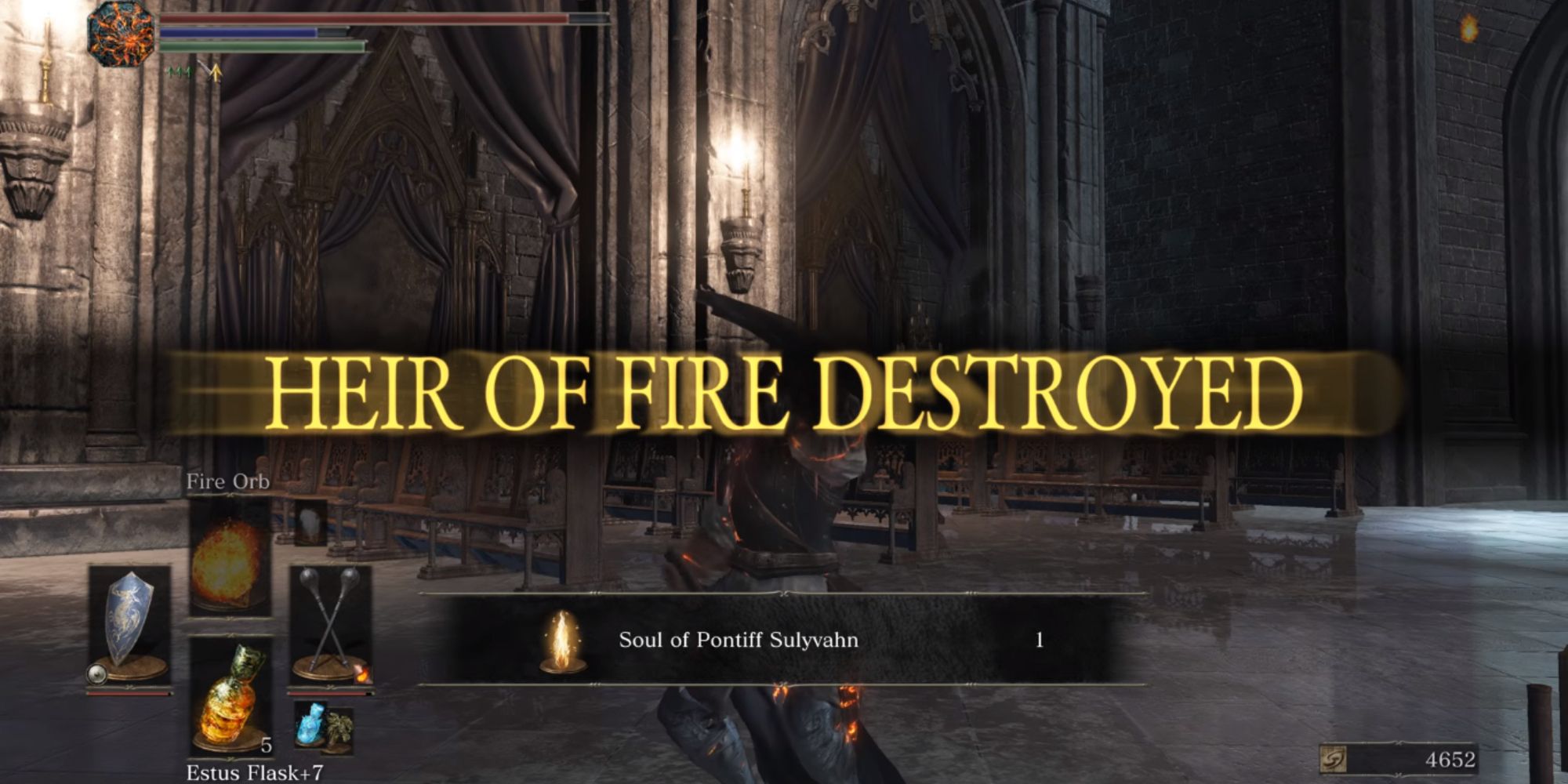 Return to Quick Links
Pontiff Sulyvahn Attacks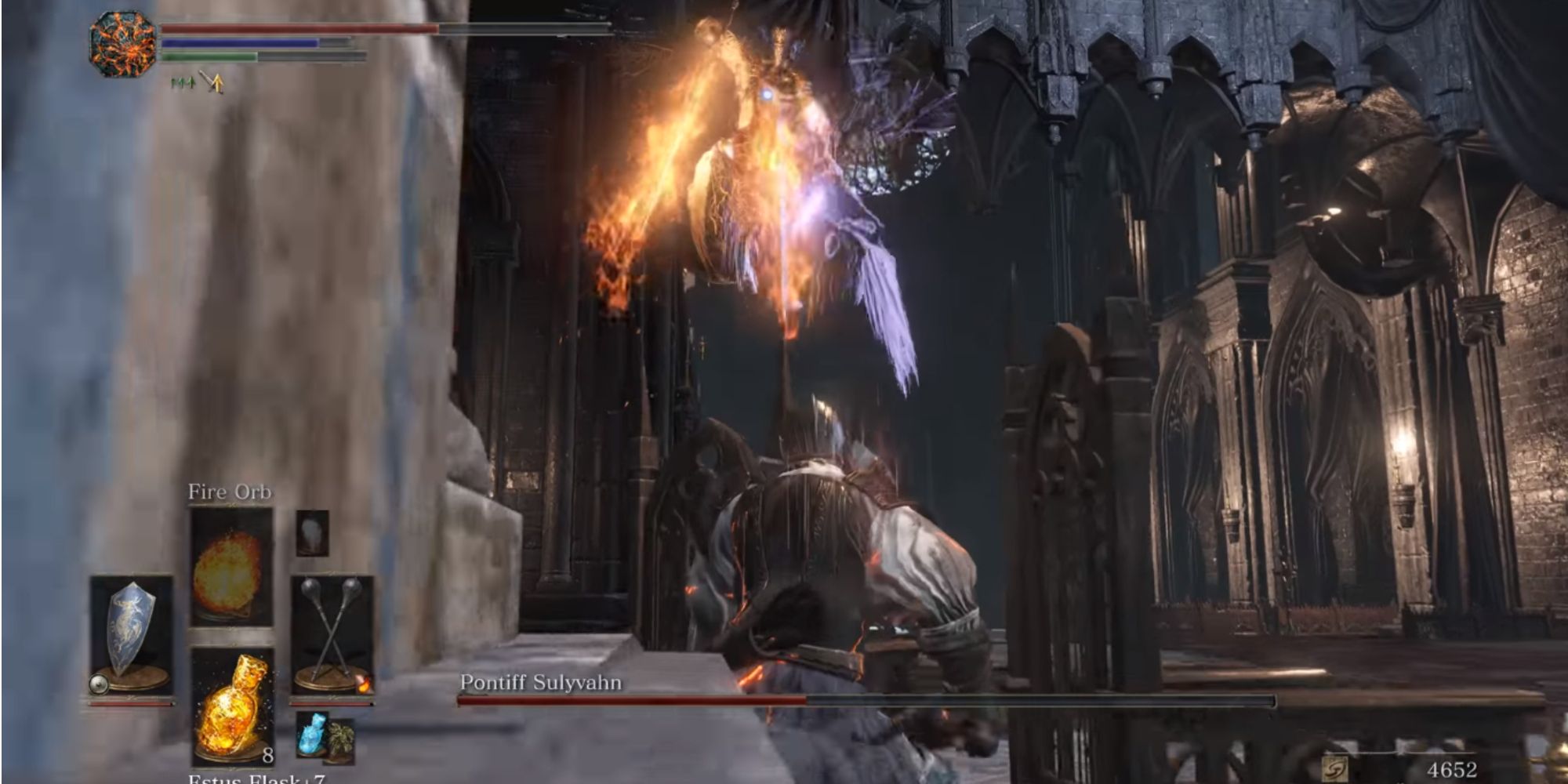 Pontiff Sulyvahn has two phases with unique moves that are difficult to understand at first sight. Some of his attacks can be parried, allowing you to deal massive damage if successful.
Fire Swipe
The boss lunges forwards with his fire sword and attempts to attack you. This has a high range, but sometimes Sulyvahn will decrease its range and follow up the fire swipe with an attack from his magic weapon.
Backward Slash
If you are behind the boss, Sulyvahn will either use his fire or magic sword to attack you. Which weapon he will use to attack depends on where you are standing behind him.
Stab Attack
Sulyvahn spins his weapon around and stabs the player with his magic weapon after a few seconds.
Sweep Attack
Pontiff Sulyvahn swings his weapon from left to right multiple times before performing a deadly sweep attack. This attack has a small range but is delayed, so do not go in close.
Soul Spear
Sulyvahn summons a Soul Spear and throws it at the player.
Jumping Crus
Sulyvahn jumps up in the air and lands back on the ground dealing great AOE damage.
Soul Wave
Sulyvahn uses his magic weapon to create a Soul Wave that has a small radius.
Return to Quick Links
Strategy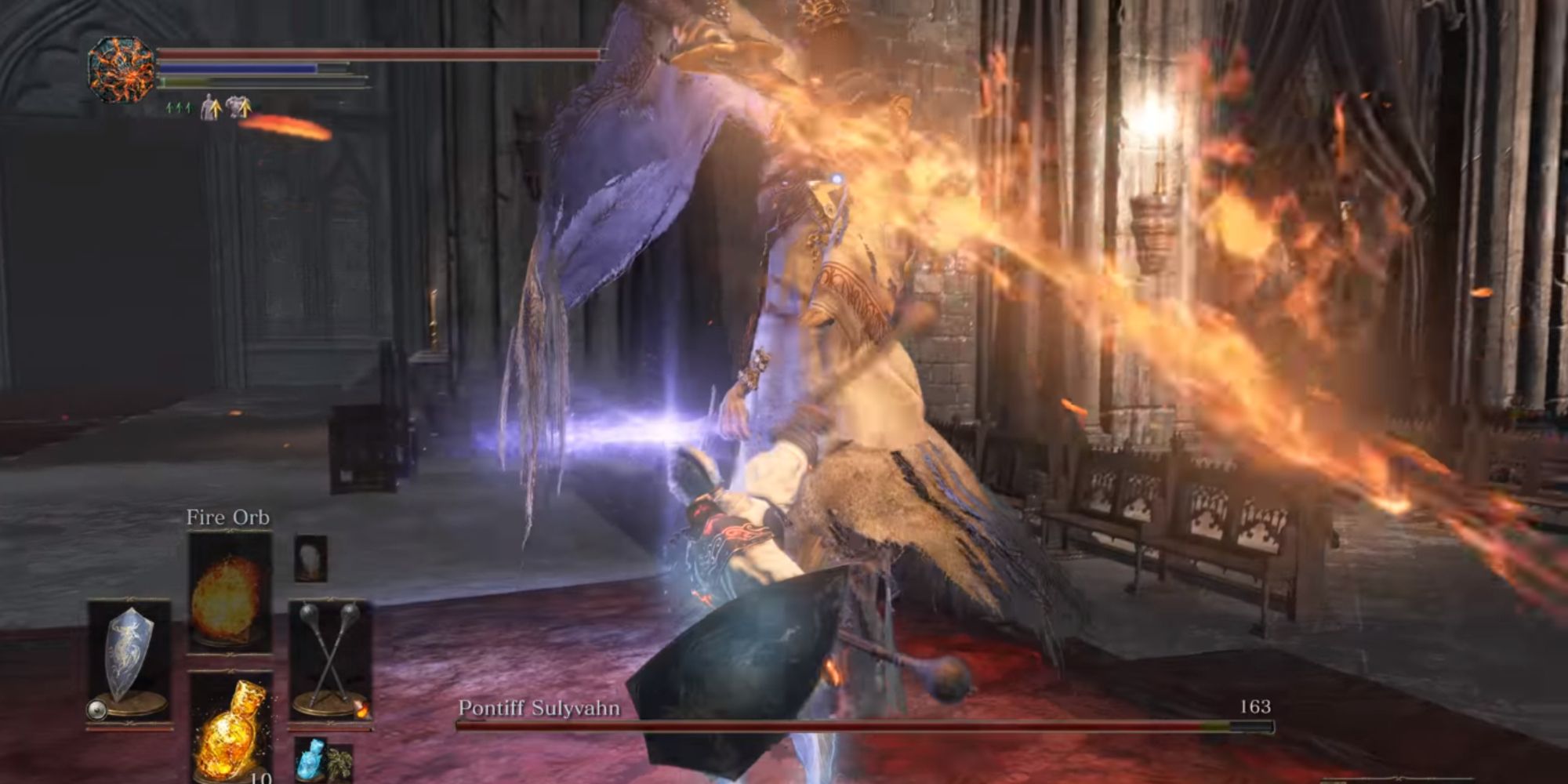 Pontiff Sulyvahn has a very aggressive playstyle, and most of his attacks do not give you much of an opening. You will need good stamina recovery items in order to dodge his attacks and counter-attack. Chloranthy Ring and Ring of Favor are good rings that increase total stamina and recovery.
Having the Grass Crest Shield equipped is also ideal. Even if you do not want to use the shield, you can dual-hand your weapon and still get the effects of the shield.
The overhead attacks and dual sword attacks can be parried if the timing is right. This will lead to Sulyvahn being staggered and allowing you to land a critical attack. The first attack Sulyvahn does as you enter the fog gate is a guaranteed parryable attack, and can start your fight off well.
The boss is quite weak against Fire, so pyromancy is a great choice . If your Pyromancy Flame is upgraded high enough, you will deal a lot of damage with spells like Great Choas Fire Orb. During the second phase of the fight, ranged users like Sorcery and Pyromancy users should keep their distance and move around as much as they can while casting the spells. Sulyvahn will attack the player with his clone making it harder to follow their movements.
The clone the boss summons does not have that much health. If you can manage to take out the clone using your spells, then the second phase will become much easier. Most of his attacks can be dodged by rolling backward or right. The boss uses a few seconds to summon the clone in his second phase. Being a ranged spell user allows you to constantly spam your spells while he is doing this.
Return to Quick Links
Source: Read Full Article