In its now three years since release, the Nintendo Switch put couch multiplayer back on the map. Switch owners are free to play deep single-player games at home, as launch game The Legend of Zelda: Breath of The Wild exemplified, but the system's portable nature makes it ideal for bringing to friends' houses. Or at least it would, if it weren't for that clunky dock.
That's the argument made by the team behind Dongii, a new Kickstarter project that aims to release a third-party Switch dock that fits in your pocket. The Dongii is a little larger than a USB drive and fits on the end of an included fast charger (included at certain backer tiers). The unit has one USB port, one USB-C port, and one HDMI port. This allows it to act as a charger for multiple devices, of course, but also allows you to stream Switch gameplay to TV just like Nintendo's official dock. It just comes in a much more convenient package.
Dongii Does It
Dongii sent a review unit to TheGamer ahead of its Kickstarter campaign. After some time with it, the best thing we can say is that it does its job. And that's not meant in a disparaging way. The Dongii is a legitimate Nintendo Switch dock. The console itself had no trouble recognizing that it was docked despite not actually sitting in a dock. Whether it was tested with Pokémon Shield, Assassin's Creed III, or Smash Bros. online gameplay, it streamed to the television with the same quality and speed as the original dock.
The functionality of Dongii doesn't stop there, however. Those willing to put in $10 extra into the Kickstarter will get a Dongii unit that has bluetooth. This allows the user to connect it to a pair of wireless headphones. That means a setup where one charges, plays, and uses bluetooth headphones is possible – this is great for those who play their Switch in bed before sleeping.
The Dongii Kickstarter page also boasts more versatile options for the device thanks to its varied ports. One of the more intriguing ideas is the ability to broadcast one's smartphone or laptop to a bigger screen using the USB-HDMI capabilities of the device. TheGamer didn't do extensive testing with this function, but it does serve as a nice option on top of the Nintendo Switch capabilities. It's also just a straight-up fast phone charger, which is always nice to have.
If Only It Were Better For Smash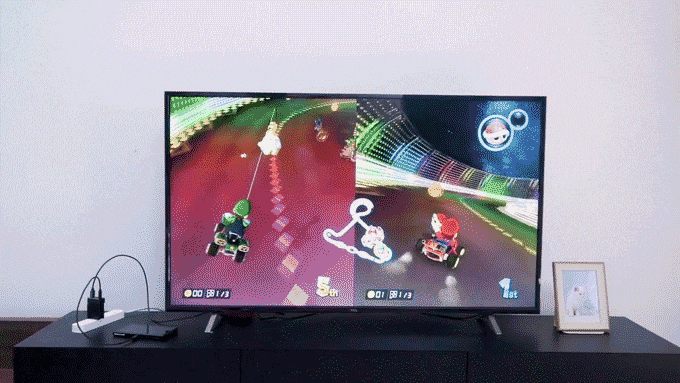 There is one thing Dongii doesn't do as well as the Nintendo brand Switch dock, and that's support several controllers. When playing on a television, the Dongii's HDMI port and USB-C ports are filled. That leaves the one standard USB port available. As any Super Smash Bros. Ultimate player will immediately know, that's not enough.
Many Smash players prefer the GameCube controller, which is usable on Switch thanks to a special adapter that requires two USB ports. Since the Dongii doesn't have two USB ports, it won't be replacing the Nintendo dock in the Smash community. That feels like a huge missed opportunity, as Smash is one of the main games requested at parties. The person who constantly brings Smash to friends' houses would be ideal Dongii customer, if only the product actually fit their need.
Well Worth Your Coins
At the time of this writing, the Dongii has already doubled its funding goal on Kickstarter. So, clearly, the lack of GameCube controller support isn't stopping too many backers. That makes sense, because the Dongii is still a smaller, better Switch dock. It takes up less space, travels well, and gives the Switch some much-needed wireless headset support. It's honestly one of the most impressive Switch accessories in existence, and Nintendo should really be taking notes.
A Dongii with charger was provided to TheGamer for this review. Its Kickstarter campaign is now active and ends April 2, 2020.
Source: Read Full Article