It took a long time, but I'm happy to see how diverse gaming products have become over the last few years. Growing up, the only color options for gaming equipment were jet black or neon green with RGB lighting. The one-size-fits-all approach to peripherals made a lot of people feel excluded from gaming for far too long, but more and more that seems to be a relic of the past. Even I, a typical gamer male, wouldn't mind a little style and color for Pete's sake. When DXRacer reached out for a review of its new Craft Series of gaming chairs, I jumped at the opportunity. Finally, someone has figured out how to make a gaming chair that doesn't look like it was ripped out of the cockpit of a race car. I love the style and personality of DXRacer's Craft Series, and even though they're designed for smaller frames, they're bound to be a lot more attractive to anyone that doesn't want to look like a gamer on Zoom calls
DXRacer may not be the first gaming chair brand you think of, but it's come a long way since we first started reviewing chairs in early 2020. Early models couldn't quite match up to studiness or material quality of something like a Secretlab or AndaSeat, but these days only the most discerning eye would really be able to see differences between them. All the chairs in DXRacer's Craft Series have three-way adjustable arm rests, tilt control, resistance and height adjustment, lumbar support, and 135 degree recline – just like Secretlab's Titan Evo. You won't find the removable armrest caps or the magnetic headrest, and the leather has a slightly different texture, but otherwise the two chairs are fairly comparable.
Where the DXRacer Craft Series stands out is in its designs. The seven chairs in the craft series have bold color schemes and original artwork, embroidered into the leather for style and resilience over time. Each model, except for the all-black Classic, features artwork on both sides, patterned sides and base panels, and a unique memory foam pillow with built-in cooling gel that really works. Aesthetics are up to personal taste, but I love the variety of the Craft Series and I prefer the original artwork over something licensed from a game anyway.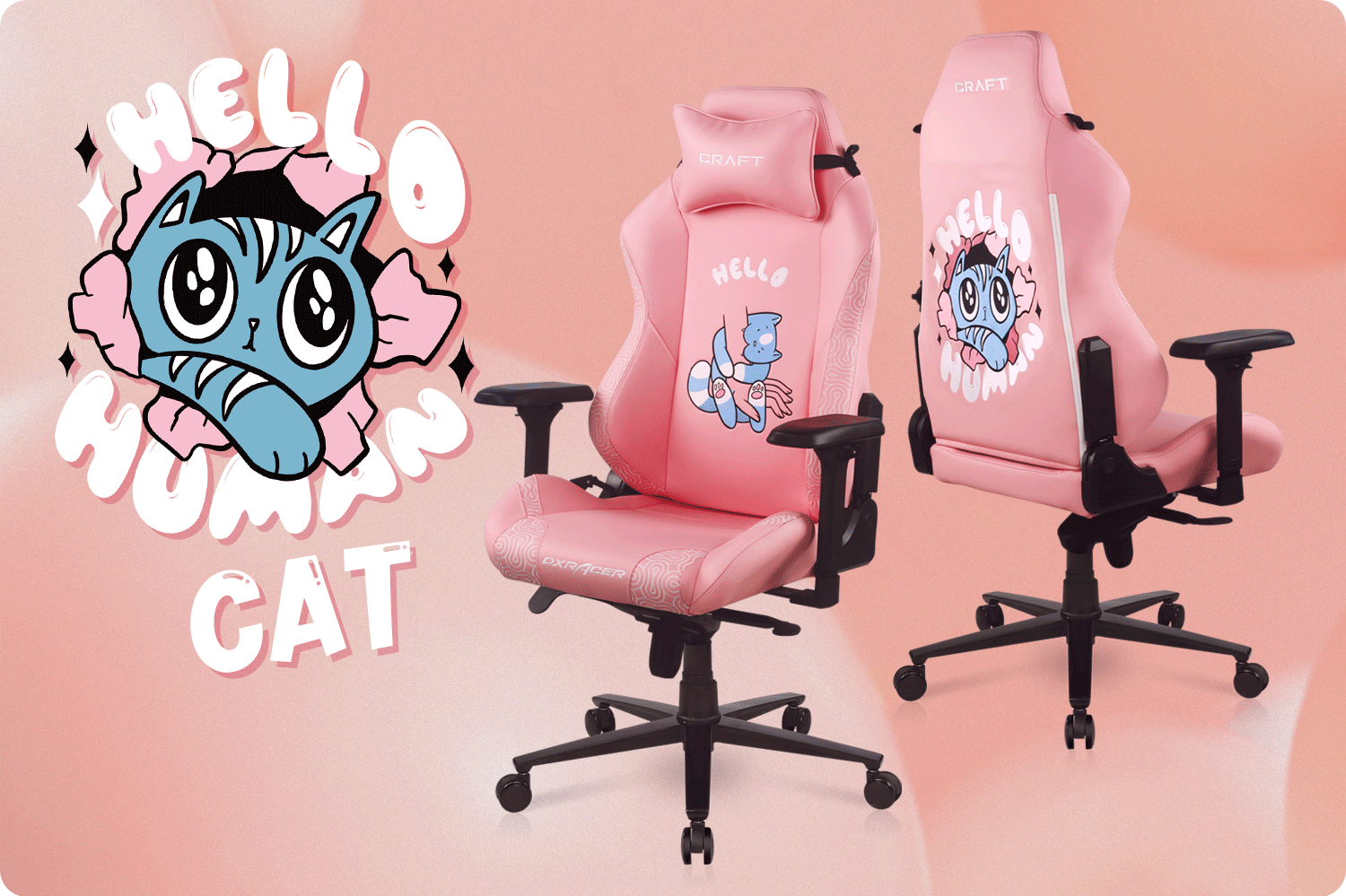 Big and tall people may be disappointed to learn that the Craft Series is designed for bodies up to 5'7 and under 200lbs. Since I'm neither of those things, I chose the pink Hello Human Cat chair so my partner could do the testing for me. Once we got it unpacked and built – which was a straightforward process that took no more than 15 minutes – I was pleasantly surprised to find it was a reasonable size for my 6'1, 220lb frame as well. I like the extra width of the Titan, but I could work with this smaller chair too.
The Hello Human Cat chair is even better looking in person because of the clear attention to detail DXRacer has paid to the design, build, and finish. The stitching is immaculate all the way around even after two months, and the cushions are just as firm as the day we got it. I also appreciate that the shade of pink DXRacer chose is a perfect match Razer's Quartz Pink gaming series. My partner has the keyboard, mouse, and headset, and the chair looks like it fits in perfectly with the entire set.
I only have a couple of complaints about the build but both are relatively minor. The curved sides of the seat cushion are padded, but they're hollow on either side, making me feel like they'll eventually wear out. Compared to the Titan Evo, which is solid all the way through the seat, the DXRacer feels a little bit cheaper. I also don't love the loops that hold the headrest in place. You have to run the straps of the headrest through elastic loops on either side to prevent it from moving. This means the headrest isn't adjustable and the black straps/elastic bands clash with the rest of the design a bit.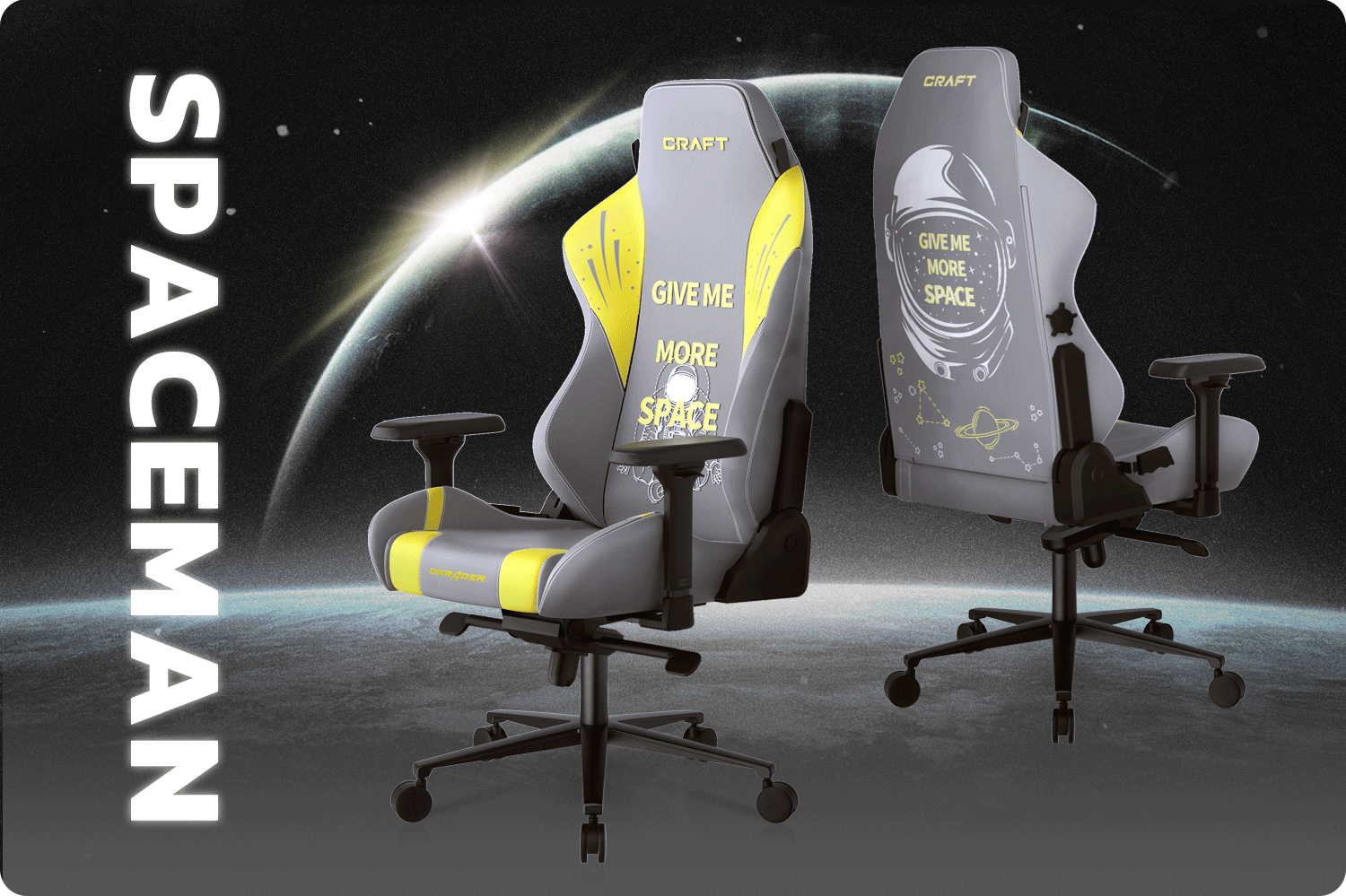 As long as you're not looking for the biggest gaming chair, it's easy for me to recommend DXRacer's Craft Series. The Koi Fish model has a beautiful and intricate embroidered design on the back if you're looking for something a little more artsy, and the yellow Rabbit in Dino chair is absolutely adorable. At $479, you're getting a great value too, at least compared to Secretlab. Check out the official DXRacer site to see the full Craft Series collection.
Source: Read Full Article