It's time to spend your gold bars before they reset when the next season starts.
Gold bars are still a fairly recent in Fortnite's Battle Royale mode, even though it's already a currency in Save The World.
Since it's still such a fresh addition, some fans might not know that once the new season of the game starts, these bars will all be gone. This means that gold bars will reset, so no matter how many you've collected over these past few months, they're going to go back to zero unless you spend them.
Epic Games has announced that since it's the last week of the season, NPCs on the island have increased their Exotic Weapons stock. They've also put a great discount on them, so everyone can get a taste of these cool and exciting weapons.
On the bright side, if your squadmate has decided to buy themselves an Exotic Weapon, it'll be no issue for you to get one as well. However, the probability of seeing more opponents carrying these weapons is much higher. Especially given the fact that everyone will be trying to get the most out of their gold bars while they can.
So, you may be wondering where you should be spending your gold bars. And, also, how can you complete the 'Purchase an Item from a Character' challenge for the 15th week of Season 5.
Thankfully, a content creator from the Fortnite community (EveryDay FN) has made this awesome map that shows all the characters on the Battle Royale map that sell items that will count towards this quest.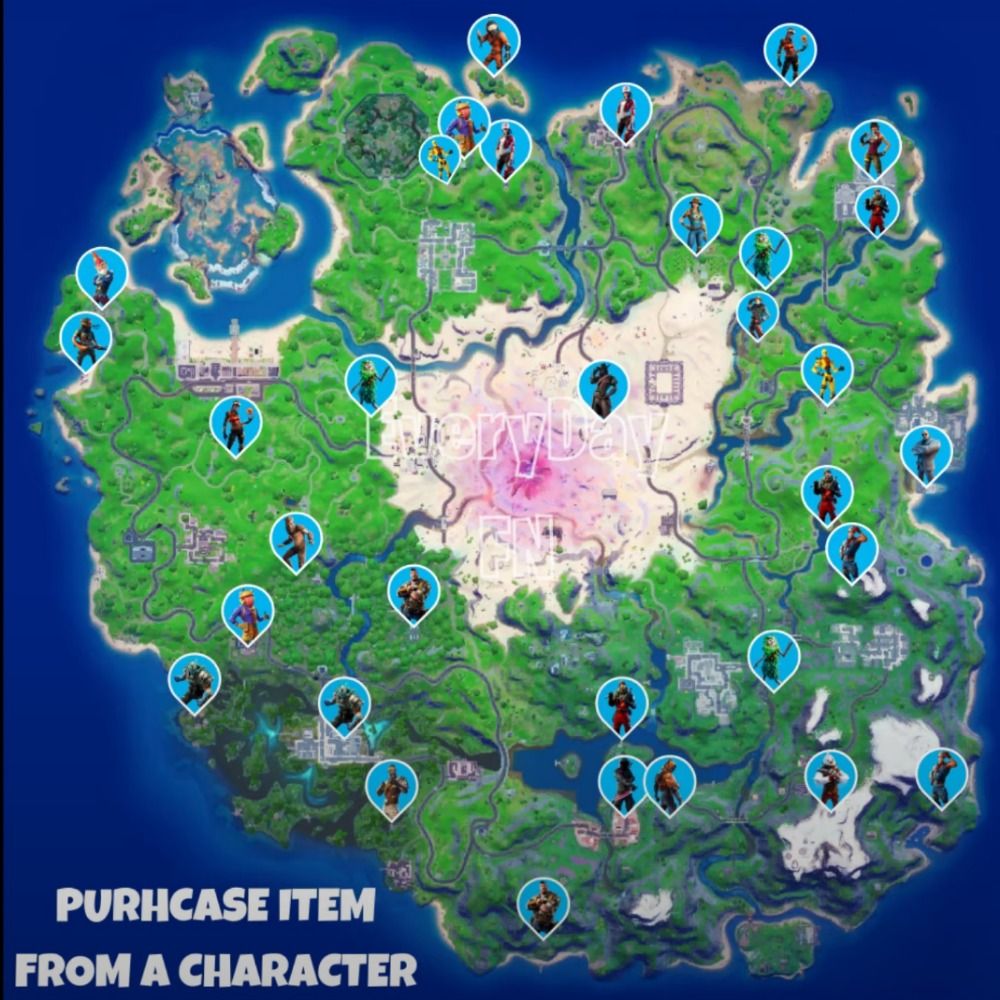 All of the items these characters sell will count towards the challenge. It doesn't matter if it's an Exotic Weapon, materials, ammo, or consumables. So, just head over to one of the locations marked on the map above and do some trading. Gold bars in exchange for whichever item you want the most.
Exotic Weapons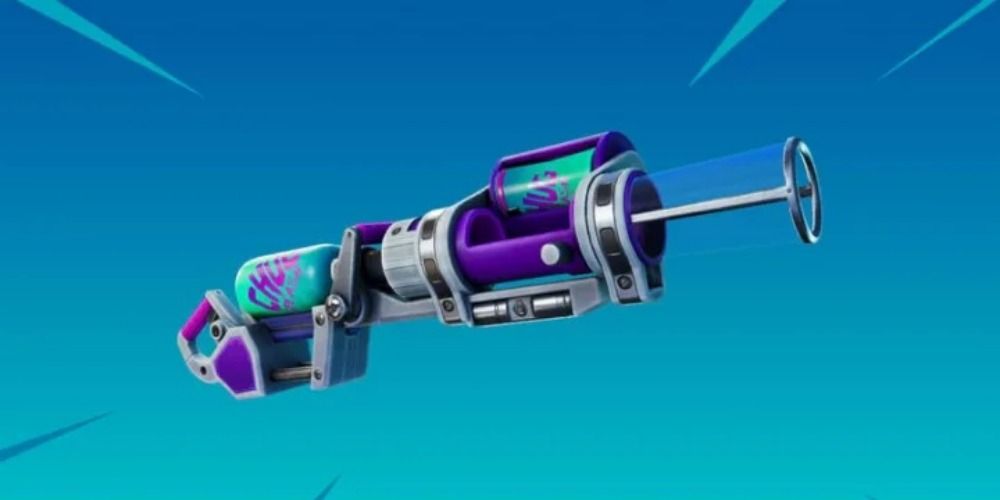 If you'd rather spend your gold bars on some more exclusive items, you can purchase Exotic Weapons from a few specific NPCs. Exotic is a new type of rarity in the game. These are special weapons that can only be obtained in a specific way, in this case, bought from NPCs. You cannot obtain them in chests or supply drops, for example.
So, if you want to spend the gold you have on the weapons, here is a list that will let you know which Exotic Weapon is available and which character sells it.
Boom Sniper Rifle – Splode
Burst Quad Launcher – Fishstick
Chug Cannon – Remedy
Dragon's Breath Sniper – Blaze
Hop Rock Dualies – Deadfire
Storm Scout – Mave
Night Hawk – Grimbles
Shadow Tracker – Reese
The Big Chill – Snowmando
The Dub – Dummy
These are extremely powerful weapons. Although NPCs have increased their stock for them, they are very rare as you need to go to a specific location on the map in order to acquire one, and you will only keep it for the duration of the match you're playing.
NEXT: Fortnite: Where To Find All Week 15 XP Coins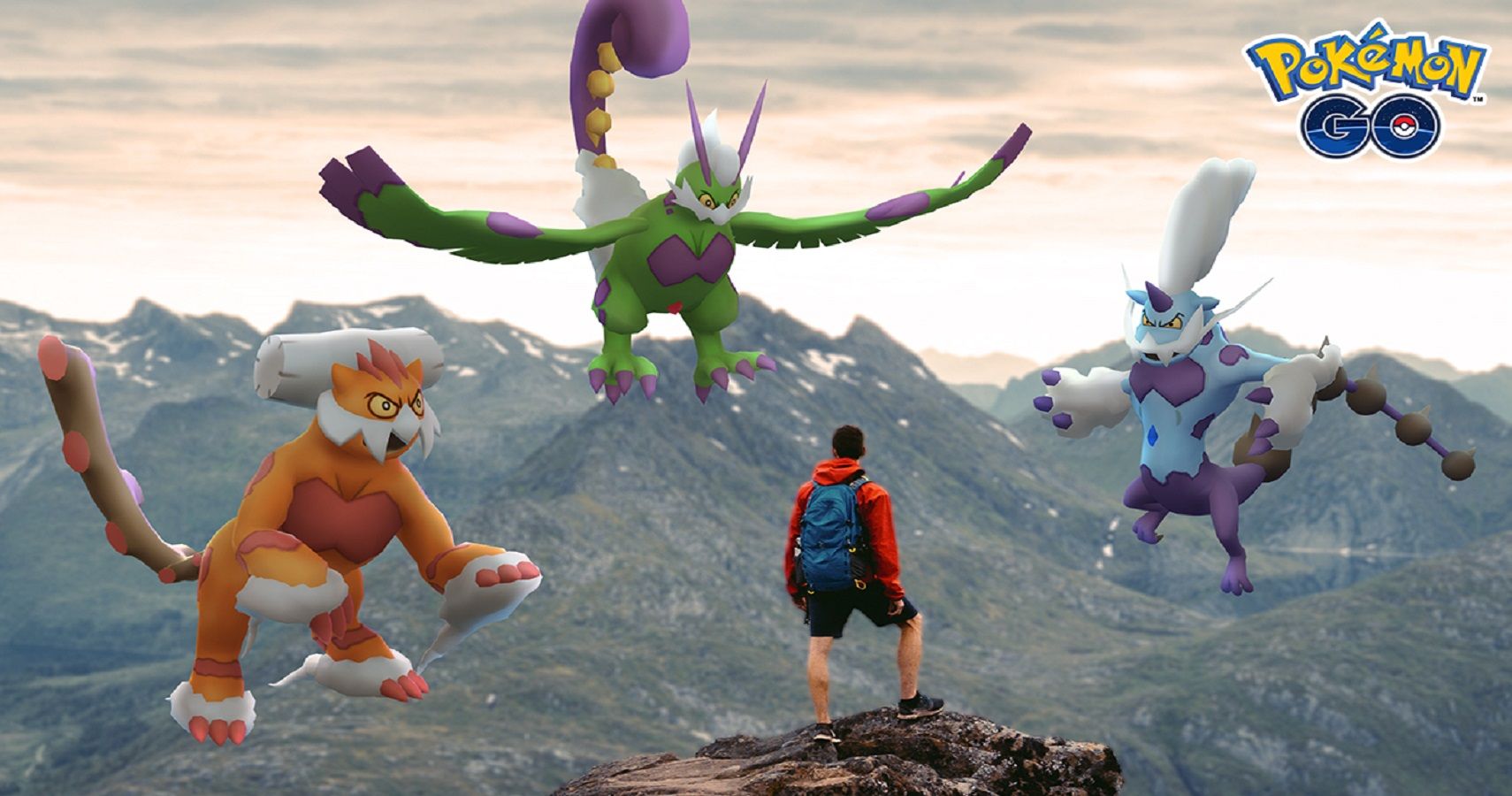 Ashely Claudino is a translator, writer, and above-all someone with a lot of love for video games. She has a Translation degree, which she obtained at the University of Lisbon in 2020. During her internship at the National Museum of Natural History and Science, she worked as a translator and editor. Now, Ashely translates indies for fun and writes about video games.
Source: Read Full Article