Four Syphon Filter games have been rated by the Game Rating and Administration Committee of Korea for PS4 and PS5 and are likely to be included with PS Plus Premium.
Last month, Sony announced that it was going to be making some changes to its PlayStation Plus service, offering higher tiers that add more content, including legacy games from the PS1, PS2, PSP, PS3 via streaming, and PS4. We haven't heard too much about what sort of games might be included in the service, but we might have just got our first look thanks to the Game Rating and Administration Committee of Korea.
As reported by Gematsu, four Syphon Filter games were rated by the Game Rating and Administration Committee of Korea earlier in the week. The four games are Syphon Filter, Syphon Filter 2, Syphon Filter: Dark Mirror, and Syphon Filter: Logan's Shadow. The first two Syphon Filter games were originally released on the PS1, while Dark Mirror and Logan's Shadow debuted on the PSP.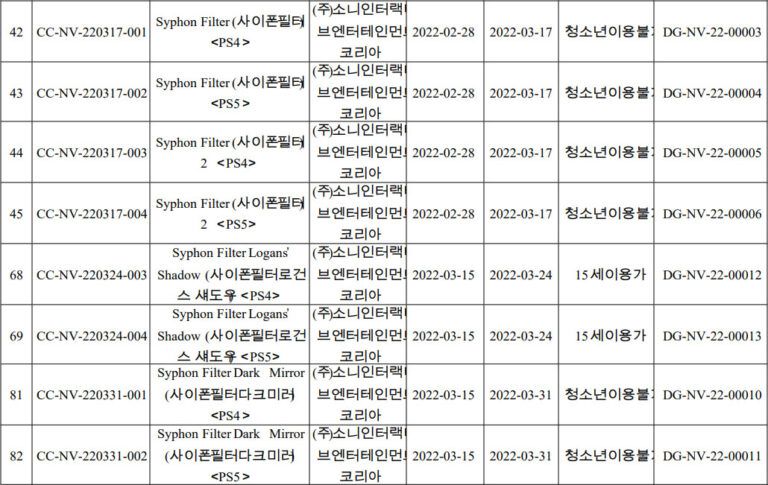 Considering PS Plus Premium is planned for release in June, it's likely that Sony is preparing the games behind the scenes right now, and we'll likely see more legacy games getting reviewed by rating boards over the next few weeks. It's not clear if the games will be made available outside of PS Plus Premium at any point, but for now it seems like they'll only be found on the new Premium service.
Interestingly, despite having a good handful of the Syphon Filter games, there are still a few from the series that are missing from the listing. Both the PS1's Syphon Filter 3 and the PS2's Syphon Filter: The Omega Strain aren't included in these ratings, implying that they might be missed out from the service altogether.
This would be especially confusing considering both Dark Mirror and Logan's Shadow, which have been rated by the Korean board, were released after Syphon Filter 3, which means that there could just be a canonical part of the series left out altogether.
Source: Read Full Article