Well, dang. The follow-up to the much-ballyhooed Gloomhaven was always going to be a Kickstarter success but on this scale? That's truly amazing.
For fans of traditional tabletop games, Gloomhaven, of course, needs no introduction. It's a dungeon-crawling fantasy adventure reminiscent of the likes of Dungeons and Dragons, in which parties of bold adventurers set out on a quest to eradicate evil. There are character classes, special abilities and… well, you know how this sort of thing goes.
Gloomhaven is critically acclaimed and a huge fan-favorite lauded for its tactical depth, complexity and the incredible quality of the game's cards, pieces, and general build. This one was a real labor of love on Isaac Childres' part, and it shows in every inch of the beautiful, terrifying world he has brought to life.
If you're a little green and unsure about diving into this complex world, the upcoming Gloomhaven: Jaws of the Lion may be for you. As Gizmodo reports, this standalone release is aimed at more casual, newer players, promising to be more accessible and less intimidating for newcomers than these games often can be. If you're already a huge fan, on the other hand, you might be more interested in supporting the sequel, Frosthaven, which… well, doesn't need any more support at all, by the looks of it.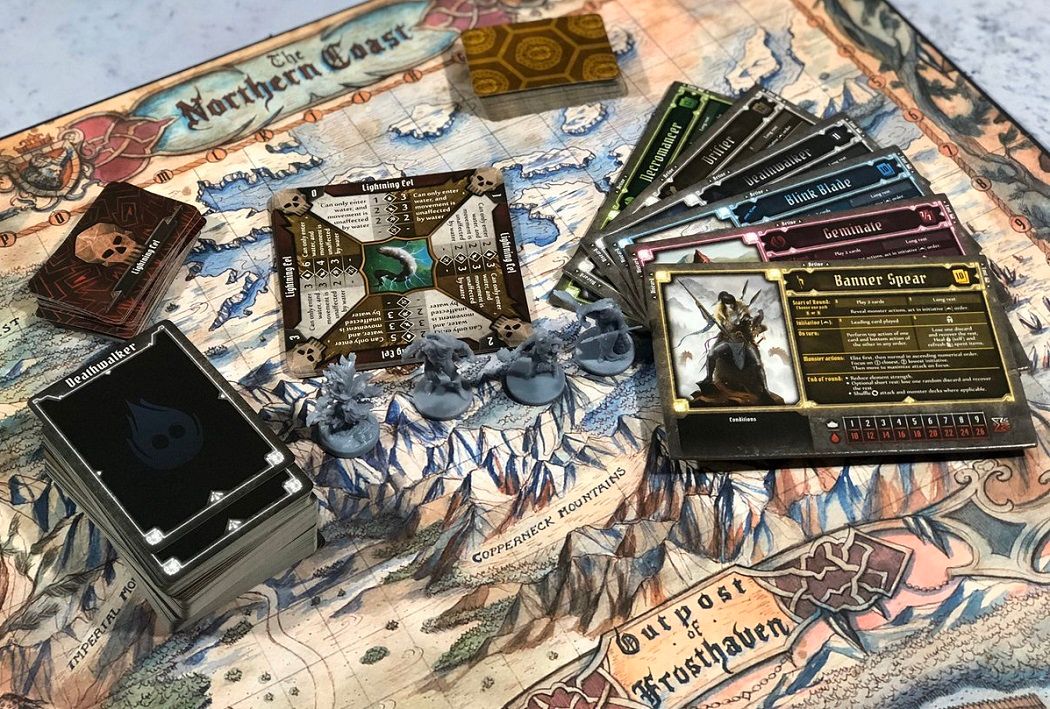 Frosthaven, as the name suggests, takes place in a frozen province to the north. This barren, unforgiving land needs brave adventurers to settle, collect resources and begin a thriving community (Frosthaven features new mechanics centered around this whole concept) or die horribly and violently to their many enemies in the attempt.
Sound like fun? Guess it does, because the Kickstarter campaign absolutely exploded. Going live at the end of March, Frosthaven had a goal of £403,903 (around $500,000). Within a few hours, backers had already given a total of $2.8 million and Childres posted his first update on the page:
Wow. Wowowowow WOW!", he wrote. "Umm, trying to stay cool here, but you all CRUSHED IT. $2.8 million and CLIMBING RAPIDLY. a big thank you to everyone for turning the launch of Frosthaven into a massive success. You are all superlative people!

We've got a lot of cool stuff planned over the course of the next month, so I hope you hang around to participate in the party. First off all, we will have a new big announcement every day of the campaign, starting tomorrow, so I hope you at least check in for those. I am particularly excited about what tomorrow's announcement will bring!
At the time of writing, the Kickstarter is just shy of $5 million. With 30 days still to go, there's no telling just how high it may climb. Gloomhaven fans, you know what to do. Hop on board, enjoy the updates, get involved with the daily puzzles and generally get very excited indeed.
Source: Read Full Article