Gran Turismo 7 sees the return of the classic license system. Unlike some of the other latest games in the Gran Turismo series, you actually need to get some of the licenses to progress through the game, as some sections will be blocked off until you complete them. The International B license is the third license you can complete, and it's where things start to get serious.
Completing the licenses rewards you with credits and a new car (potentially two new cars if you achieve gold in them all). The cars are the Toyota GR Supra Race Car '19 if you pass them all, and the Porsche Taycan Turbo S '19 if you get all golds.
National B License Lessons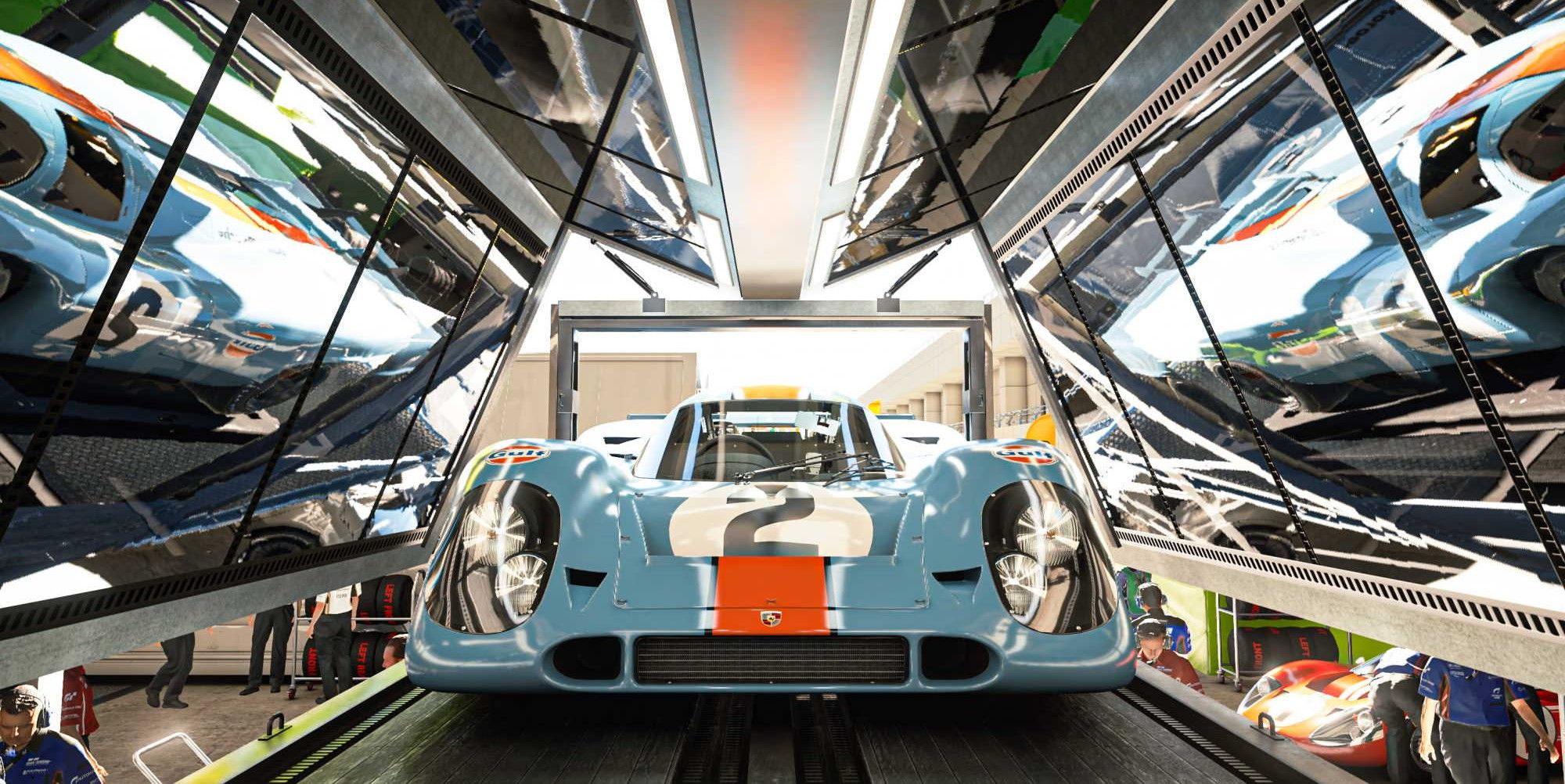 | Lesson | Tips On How To Complete | Car Used |
| --- | --- | --- |
| IB – 1 Racing Line: Intermediate | The final corner at Willow Springs is an extremely long hairpin that just keeps coming, meaning that understeer is a real issue here. The trick to getting gold is to ensure that your entry speed is so spot on that, just after you turn in, you can hit the throttle and power out of the corner without slowing down again or understeering off the track. | Chevrolet Corvette C7 |
| IB – 2 Racing Line: Intermediate 2 | This is the strange chicane that is on the back straight at Daytona. The actual line you need to take isn't entirely obvious here, as you are turning onto a large area of concrete run-off, but it is otherwise fairly easy to find your braking point. You can also get away with cutting the exit of the chicane a smidgen, which can save some time. | Ferrari F430 |
| IB – 3 High Speed Corners | This is a tricky sequence of corners where your time relies on how well you take the long hairpin. Throttle control is key here as having to slow down or speed up too many times will kill your time – especially as you exit the hairpin and go into the sharp left-hander. | Lexus RC F |
| IB – 4 Urban Tracks | The only difficult thing here is that if you tap a barrier you fail immediately. Watch out for the final chicane, as it's a bit tighter than it seems. | Nissan R34 GT-R |
| IB – 5 Dirt Driving: Intermediate | Driving on dirt in Gran Turismo 7 is really not a great experience, as the game really is about the tarmac variety of racing. But, we must pass this test to obtain the license. While there's a temptation to slide using the handbrake here, this will actually slow you down if not done correctly, so only do it if you're using a wheel and have some practice in drifting. | Mitsubishi Evo V |
| IB – 6 Cornering In The Wet: Intermediate | The set of corners here is easy taking the normal racing line. However, as the BMW is rear-wheel drive since 1989 and this is a wet track, it's likely to oversteer. Watch that throttle and if you're struggling, turn the traction control up. | BMW M3 |
| IB-7 Racing Line: Intermediate 3 | Finally. The Nordschleife! This is the Kleines Karussell section, which has a banked left-hander and then an off-camber long right. Make sure to take the tightest line possible with the left-hander (following the concreted section), then take the final corner as smoothly as possible. The Porsche has some understeer so watch your speed too. | Porsche Taycan Turbo S |
| IB-8 Consecutive Corners: Intermediate | This is what is known as a "multi-apex" corner, in that there are four angles to this right-handed hairpin. You should be lightly touching each apex if you are following the correct racing line, and you need to maintain a consistently fast speed as possible if going for gold | Mercedes-AMG C 63 S |
| IB-9 Corners With Elevation Changes | Alsace is an utterly bizarre circuit in Gran Turismo, which essentially has the layout of a Hot Wheels track. This test involves taking a long right-handed hairpin which has a massive drop as you crest over the hill, meaning you will need to lay off the throttle mid-corner to ensure you don't oversteer. | BMW 3.0 CSL |
| IB-10 Applying The Racing Line | Fairly easy final exam, this one. Follow a smooth racing line, and you'll be fine. Watch out through the first corner's tunnel as it tightens, and you'll fail if you tap the wall. The right-handed square turn has a blind crest so watch where you put the car and don't accidentally understeer. | Nissan R32 GT-R |
When driving a rear-wheel drive car, throttle control is absolutely crucial to how well you take a corner as they are designed to hit the power as quickly as possible. Practice with rear-wheel drive is crucial to mastering how they handle, so do this if possible.
Source: Read Full Article