There's nothing more excitable than an alien firearm that talks to you; just ask Borderlands. But High on Life takes the little gun's musings to a whole other level, one filled with vulgar banter and witty commentary. Squanch Games has delivered another zany romp leaving many players splitting their sides over the colorful nature of its characters and visuals.
Throughout your journey combating the evil alien G3 cartel (who seek to use humans as their own personal intoxicants, however that works), you will likely recognize a lot of the voice talent that went into creating this comedic spectacle. Fans of the ultra-popular TV series Rick and Morty and one of its co-creators, Justin Roiland, are sure to feel right at home with most of the cast.
10/10

Justin Roiland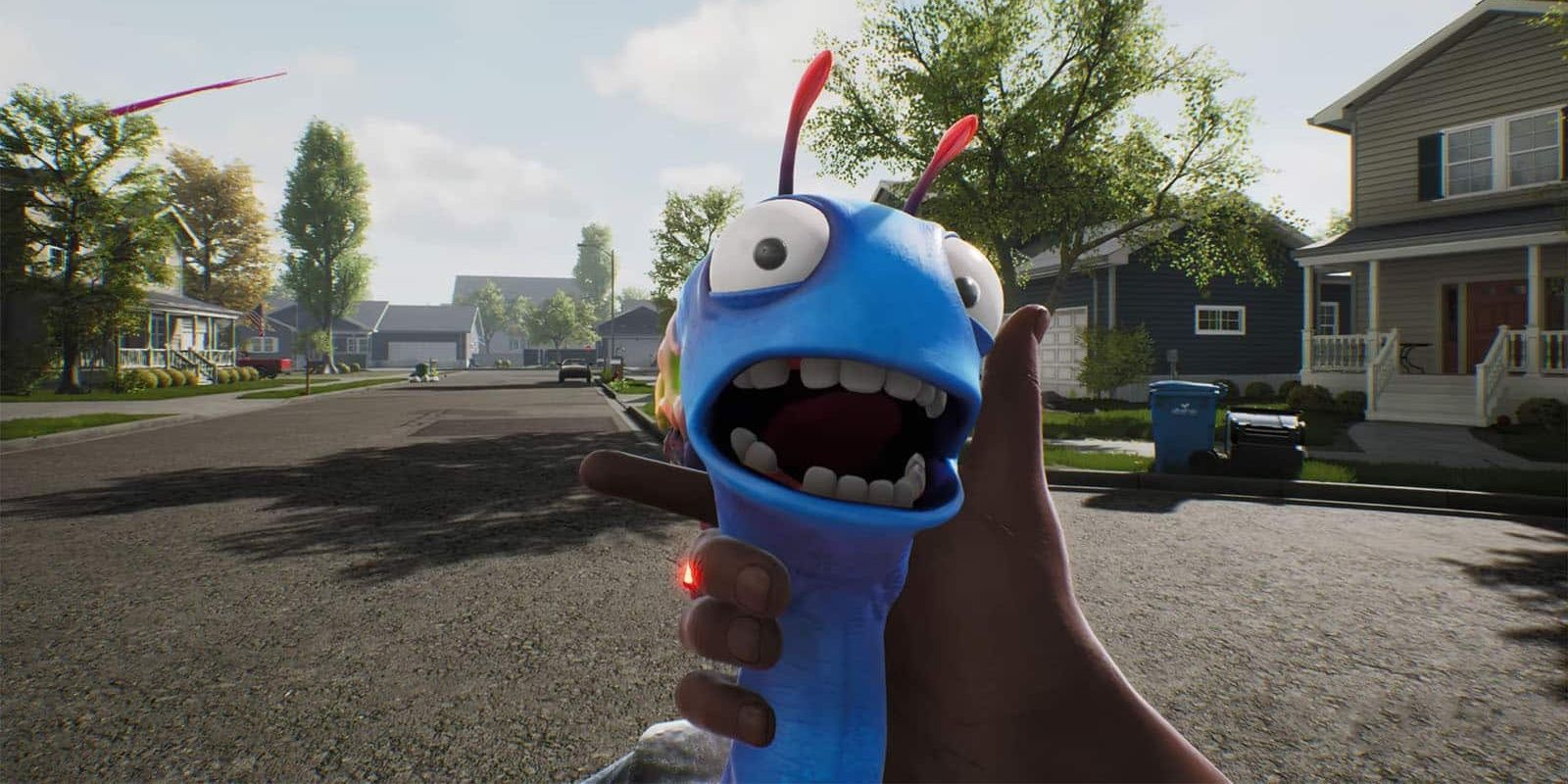 Of course, the man himself receives top billing in his own work. Justin Roiland provides the voice for the deadly little chatterbox, Kenny, that you hold in your hands for much of the adventure. Roiland is a mainstay in most of his creations, including his portrayal of the loose cannon, Rick, and his anxious grandson, Morty, in the series Rick and Morty.
Roiland is the founder of Squanch Games, so you might also recognize him as the voice of Trover in the 2019 game Trover Saves The Universe. He has also provided vocal talent for a litany of other productions, including Robot Chicken, Adventure Time, Smallfoot, and Netflix's Invader Zim: Enter the Florpus, among others.
9/10

J.B. Smoove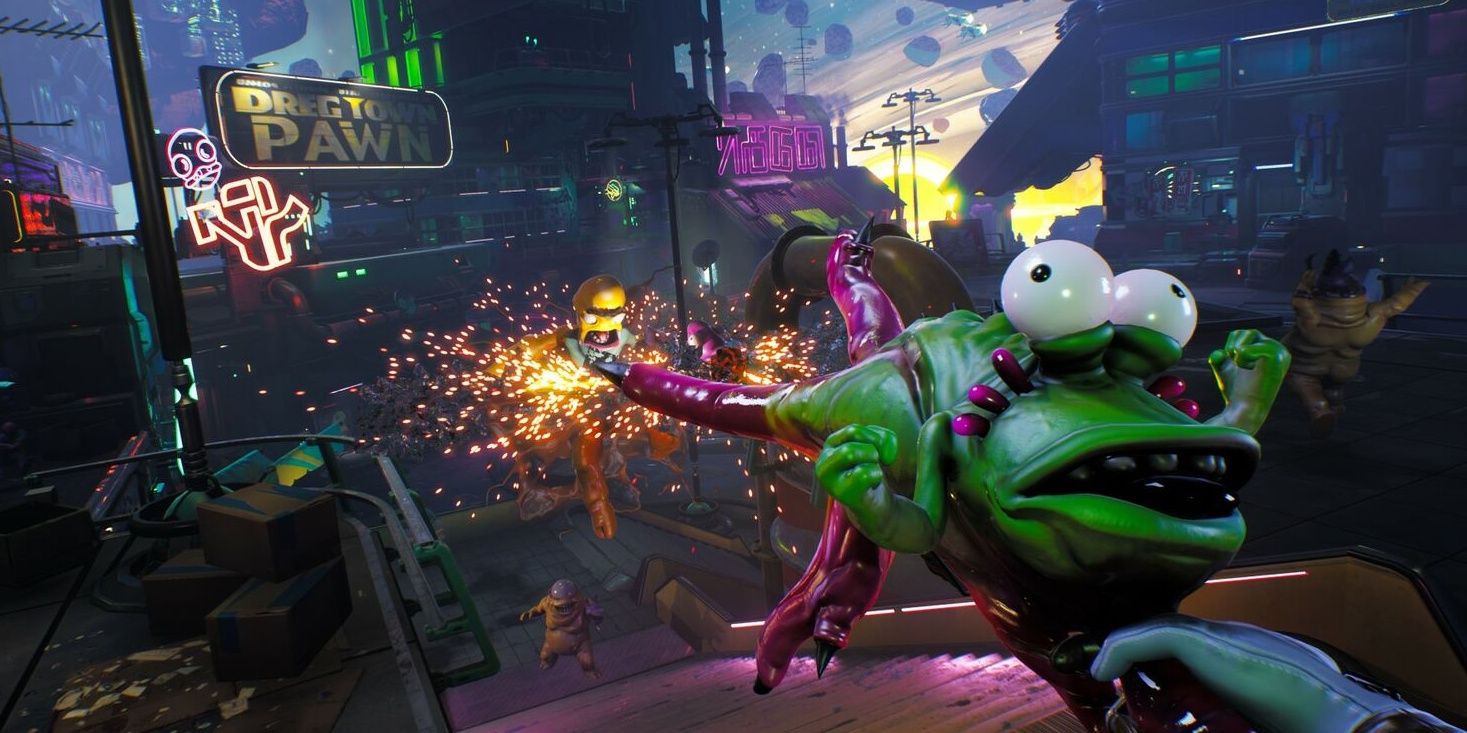 Kenny is far from the only talking weapon in your arsenal. Gus, a raucous shotgun of sorts, will enter your life at a certain point in your wild adventure. He's voiced by actor J.B. Smoove.
Smoove has a uniquely identifiable voice. The actor has lent his talents to many popular animated productions, such as the Harley Quinn show, where he plays Frank, Poison Ivy's talking plant. He's also taken on live-action roles, such as his performance as one of Peter Parker's teachers, Mr. Dell, in the most recent Spider-Man films. Smoove has countless credits to his name.
8/10

Betsy Sodaro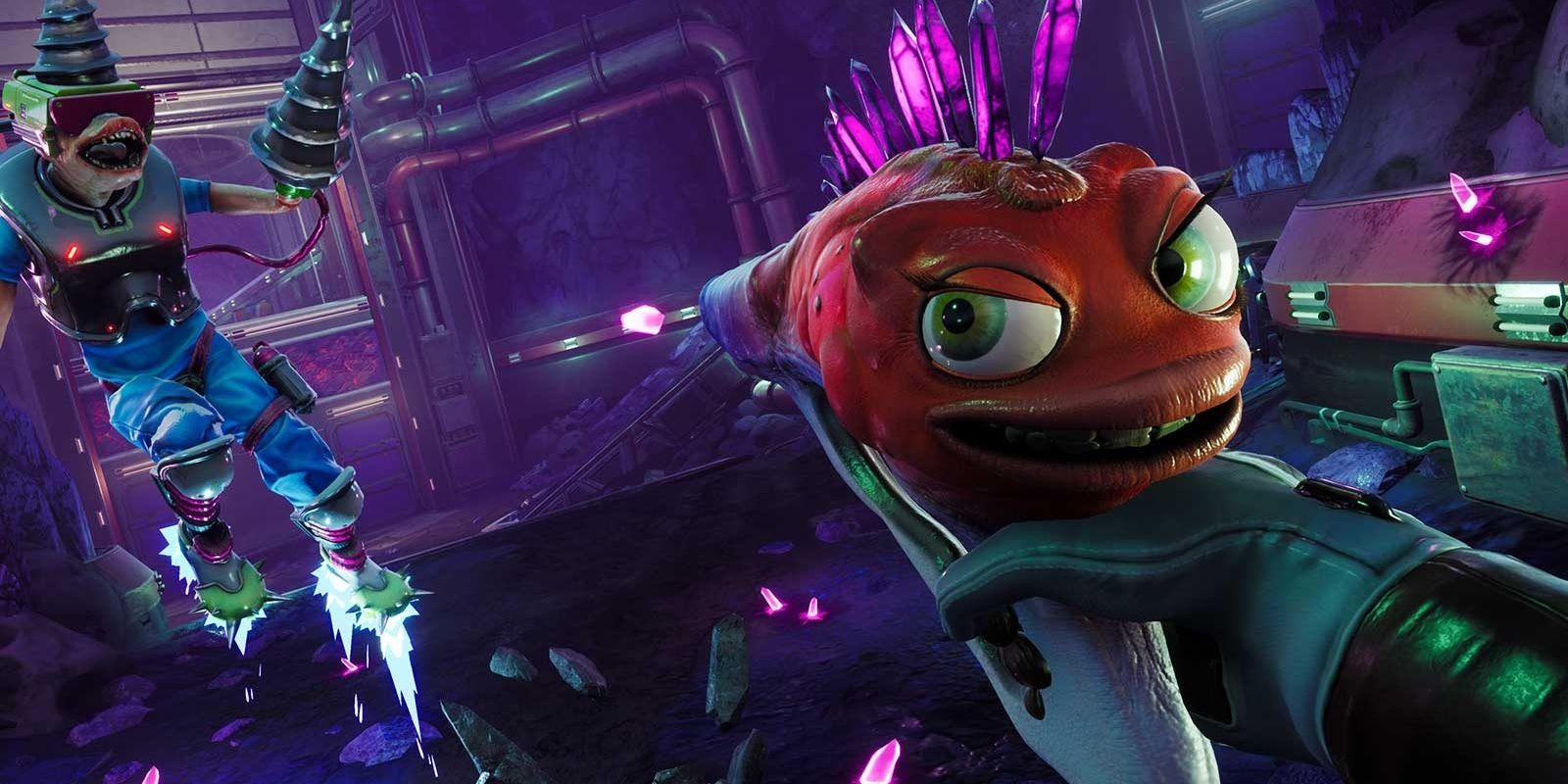 Betsy Sodaro is the voice behind the quick-fire pistol we all know as Sweezy. This feisty handgun can be used to humorously boss around the little moplet office workers if your heart so desires to witness Sweezy in all her cantankerous glory.
Like J.B. Smoove, Sodaro has enjoyed a broad range of work between both live-action performances and voice acting. She's appeared in multiple streaming series and films, including Ghosts, Hubie Halloween, and Superstore. Sodaro is also the voice of Clampers Buttonwillow in Trolls 2: World Tour and has held roles in series like Bob's Burgers and Kung Fu Panda: The Paws of Destiny.
7/10

Tim Robinson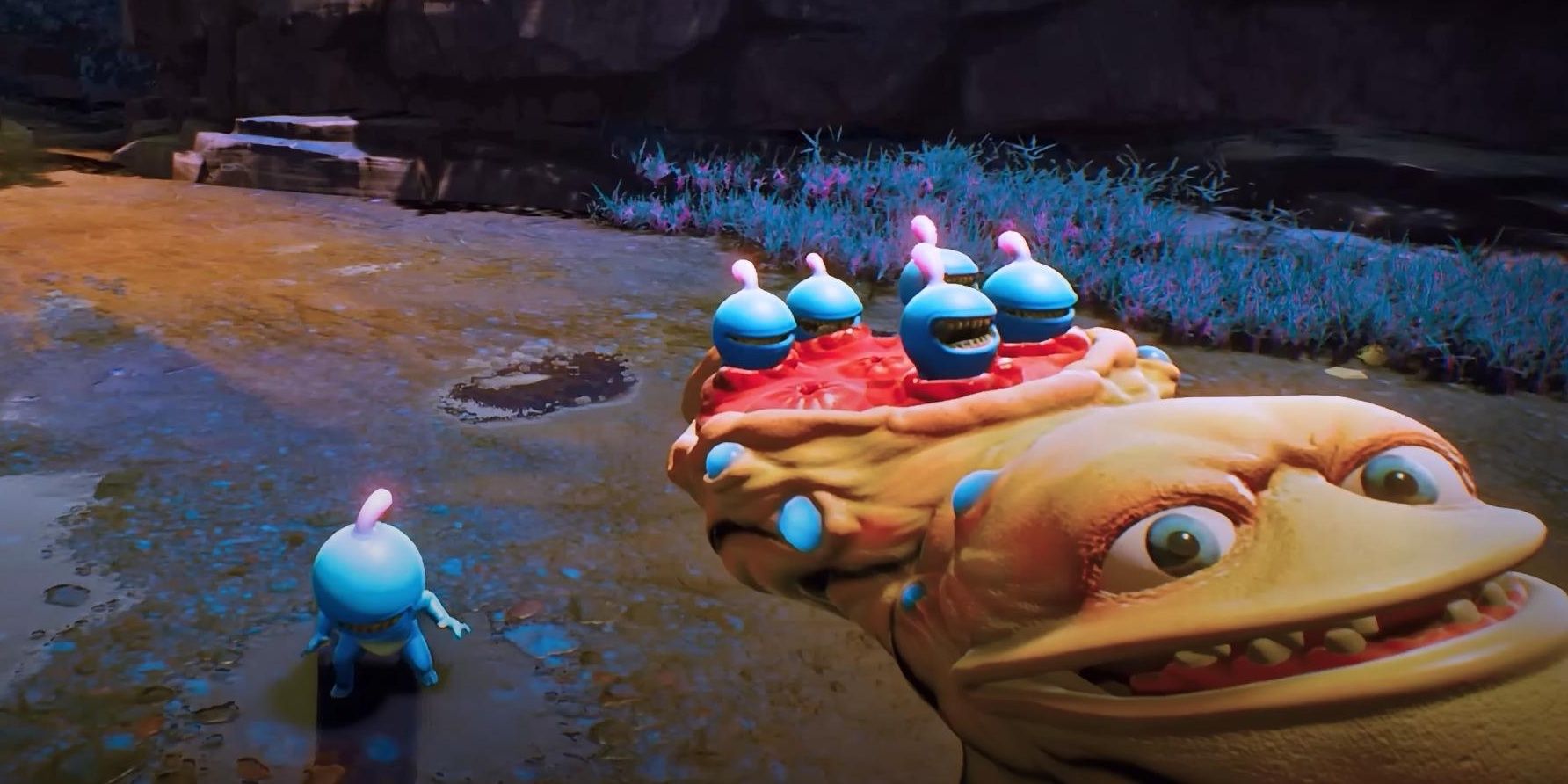 Comedy lovers may need no introduction to this next actor. Tim Robinson voices perhaps the wackiest gun in the entire game: Creature. This weapon doesn't blast bullets at your enemies; it fires its own babies, who then attack targets.
Robinson is no stranger to weird comedic ventures such as this. After a stint on Saturday Night Live, Robinson would lead a healthy career appearing in shows like Detroiters, Our Cartoon President, and his very own Netflix production: I Think You Should Leave with Tim Robinson.
6/10

Michael Cusack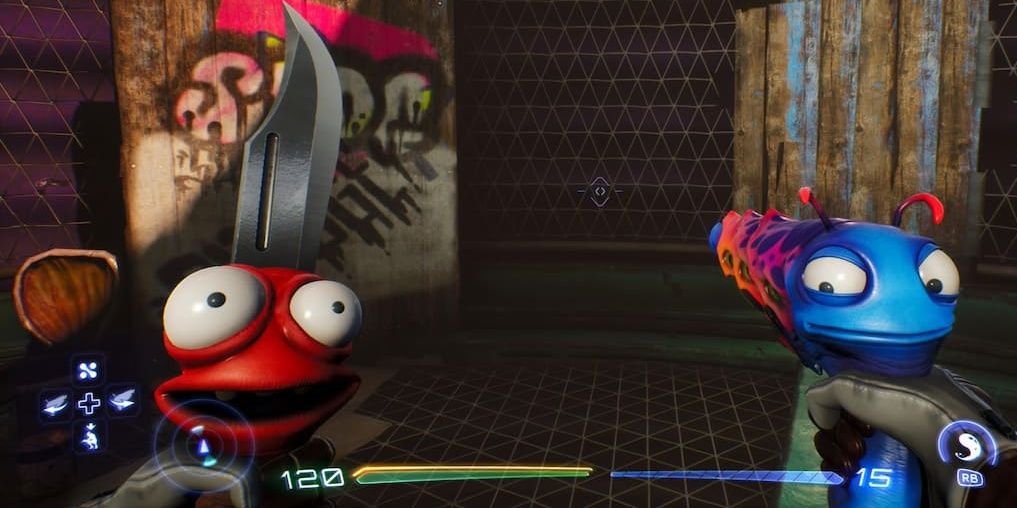 After beginning your journey with Kenny, the second weapon you receive in the game isn't a living gun. It's a stab-happy knife named, appropriately, Knifey. This murderous bugger, voiced by Michael Cusack, will tempt you in the worst ways to plunge into serial killer mode.
As a voice actor, Cusack has performed in a host of animated projects in the past, many of which aren't meant for youngsters, much like High on Life. He's provided voices for The Cyanide & Happiness Show, YOLO: Crystal Fantasy, and Smiling Friends, among others.
5/10

David Herman
In High on Life, you will insert yourself into the role of a bounty hunter, mostly because the supposed real bounty hunter, Gene Zaroothian, would rather loaf around on your couch. Still, Gene offers a bit of guidance in your quest to fight aliens. Mr. Zaroothian is voiced by the inimitable David Herman.
For long-time comedy fans, Herman is instantly recognizable as Michael Bolton from 1999's Office Space. He's also played roles in other comedic adventures over the years, including Dude, Where's My Car? and Idiocracy. But he's mostly turned to voice acting, holding lengthy recurring roles in Futurama, King of the Hill, Beavis and Butt-Head, Brickleberry, Disenchantment, and Bob's Burgers.
4/10

Laura Silverman
What would a youthful adventure into alien fantasy be without an older sister to dress you down and keep you grounded? Laura Silverman provides the vocals behind the player's obnoxious older sister, Lizzie. Somehow, she seems to handle being uprooted from her Earthly life (literally) fairly easily.
Silverman is recognizable for other voice acting performances, including a lengthy run on Bob's Burgers. And, if her name is any indication, she is the older sister of the famous actress and comedian Sarah Silverman. She's held live-action roles in The Sarah Silverman Program, Nurse Jackie, The Comeback, and Santa Clarita Diet, among others.
3/10

Steve Agee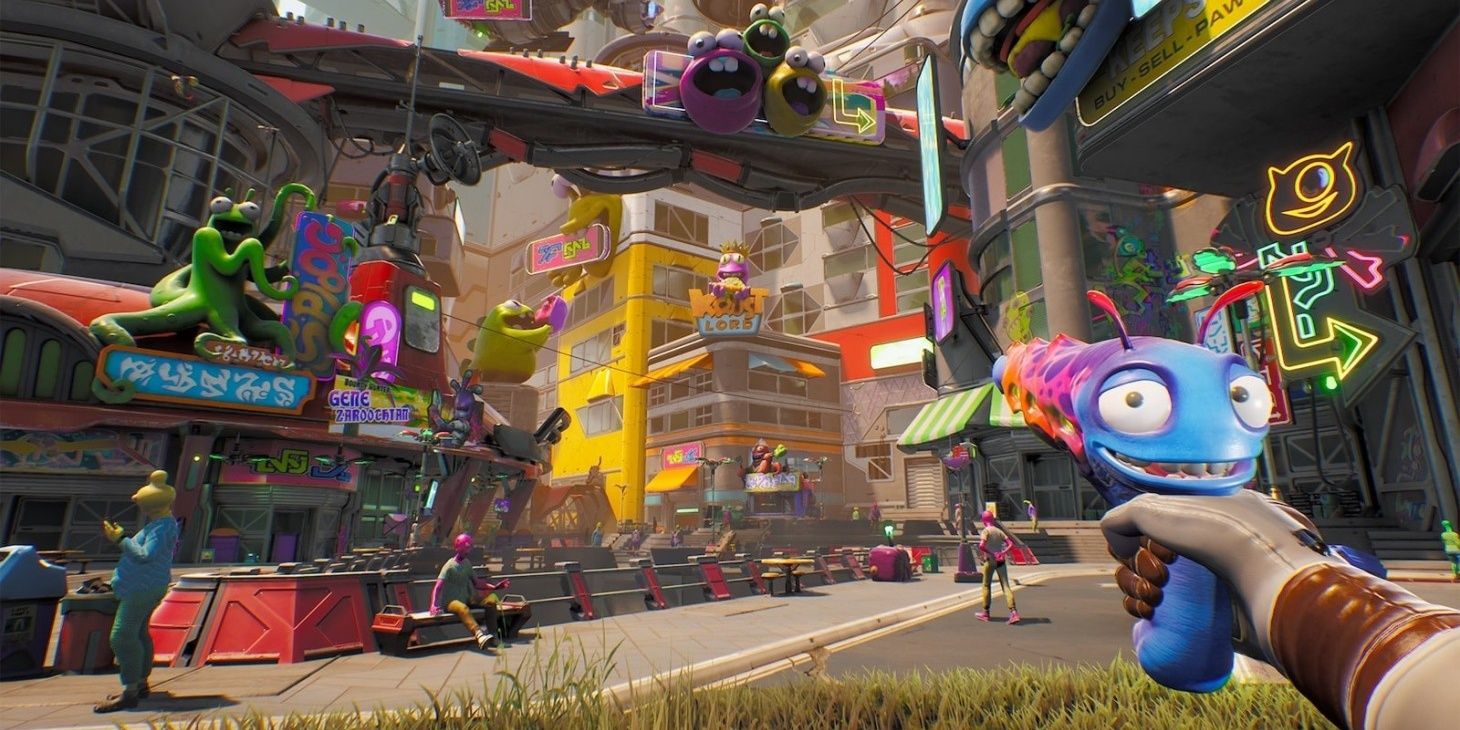 The world of High on Life is filled with NPCs who provide a sense of a living ecosystem. They also often add to the humor at play with their observations and quips to the player in passing. Steve Agee provides the vocals for some of these voices throughout the world. While he doesn't play the role of any top-billing character, he's a talent that might surely be recognized once you hear his voice.
Agee recently had a healthy run as John Economos on the HBO series Peacemaker. This DC production was a continuation of his appearance in James Gunn's The Suicide Squad. John Economos is a standout in the series alongside John Cena when it comes to comedy. He also appeared in Squanch Games' previous entry, Trover Saves the Universe, playing the role of Downgrade Donny.
2/10

Thomas Middleditch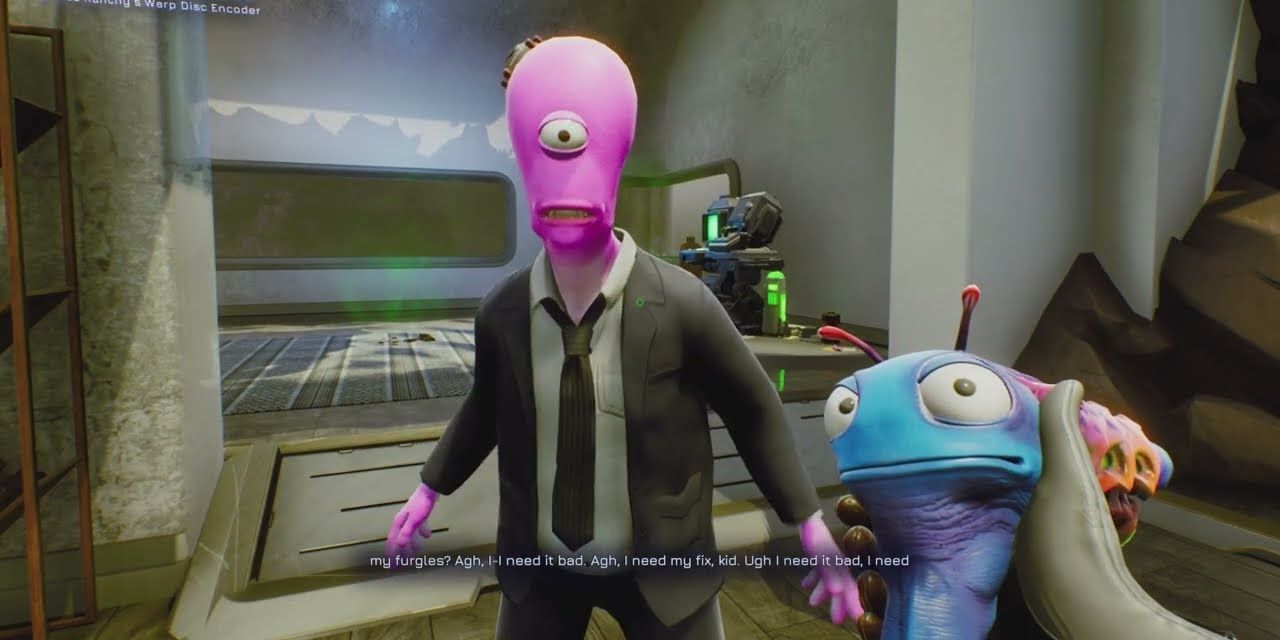 If you've played through the game, then you probably know who Ranchy is. He's the purple alien that is having a withdrawal from his drug of choice, furgles. This wild businessman is voiced by Thomas Middleditch.
Of course, Middleditch was the Verizon guy, so you likely saw him plastered on your screens for some time, thanks to Verizon commercials. But Middleditch has also held roles in big Hollywood productions, including Godzilla: King of the Monsters, The Wolf of Wall Street, and Zombieland: Double Tap. He's also a voice actor with credits for Bob's Burgers, DC League of Super-Pets, and even Captain Underpants: The First Epic Movie.
1/10

Kevin McDonald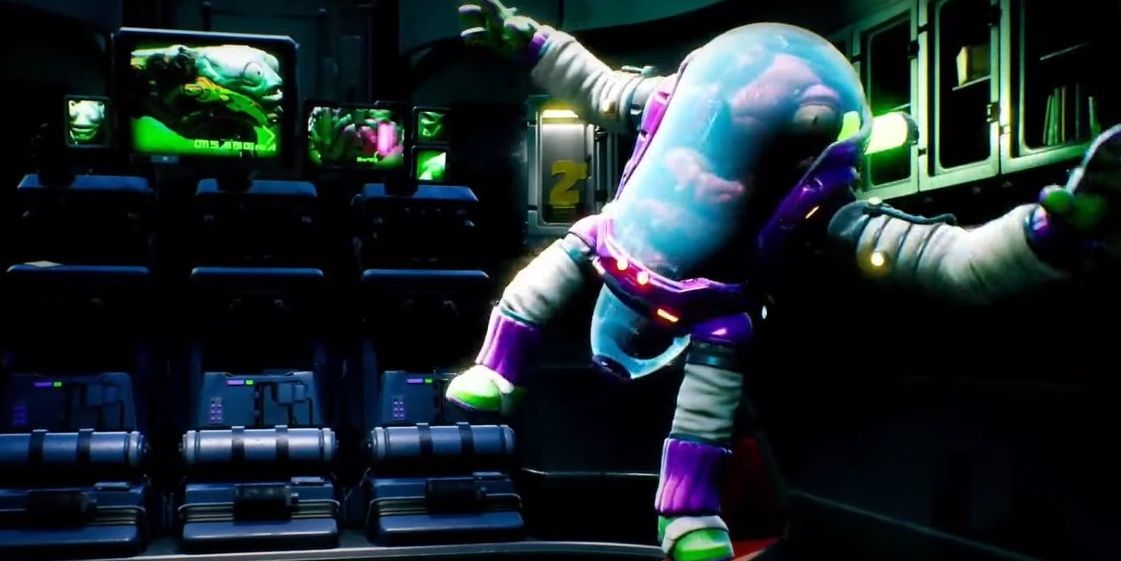 You know Dr. Giblets – perhaps, the easiest bounty to collect in the game. Investigating the good doctor takes far more time than confronting him. Kevin McDonald is the voice behind the ill-fated doctor. While his time is short, McDonald also voices another fellow located in the Saloon.
From a comedy standpoint, fans might recognize him from The Kids in the Hall. As a mainstay of the series, he not only was a central figure in the original run from 1988-2011, but he is also in the Amazon Prime revival of the show as one of the five main cast members.
Source: Read Full Article