Quick Links
Search For Heroic Games Launcher
Log In To Epic Games From Heroic
Alternatively, Manually Install Epic Games
Traverse The Epic Games Files
Because the Steam Deck's desktop operating system is Linux based, you're generally unable to play certain games that are heavily supported by Windows, or whose anti-cheat systems aren't compatible. Most non-Steam games aren't compatible with Linux, but there are ways around this. What about Epic Games and other launchers?
Instead of installing Windows 10 on your Steam Deck to be able to access your Epic Games collection, you can either install it through Heroic Launcher, or in regular desktop fashion. Regardless of the method, you'll have to turn some files inside out to be able to launch games from Epic. Read on!
Switch To Desktop Mode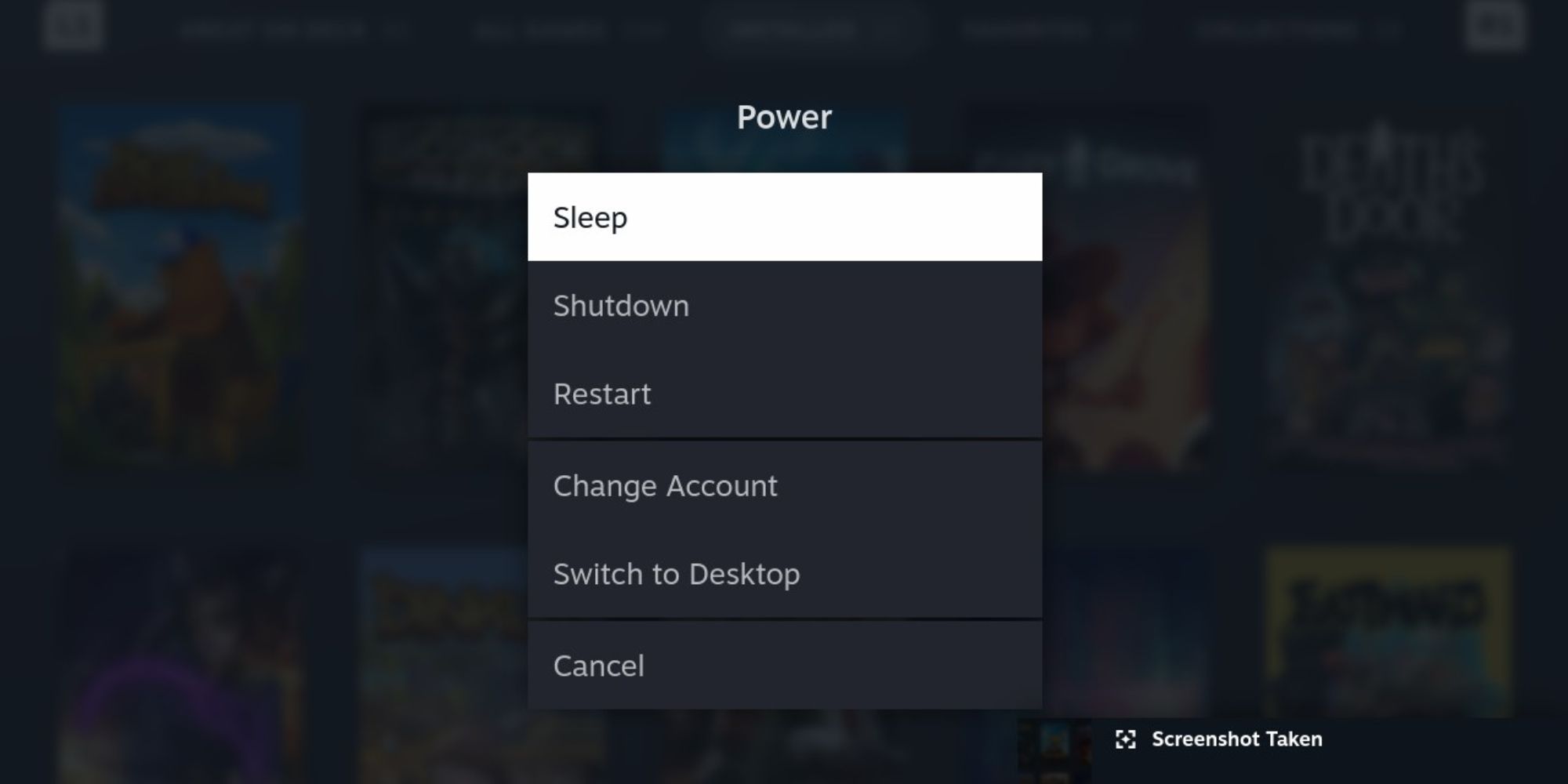 Steam button
Switch To Desktop
Firstly, switch to desktop mode. Press the Steam button and scroll down to the Power menu, then select "Switch to Desktop". While in Desktop Mode, make sure you have the desktop application for Steam running in the background. Without it, you won't be able to utilize the Steam keyboard or use the other non-desktop designated buttons for gaming.
Search For Heroic Games Launcher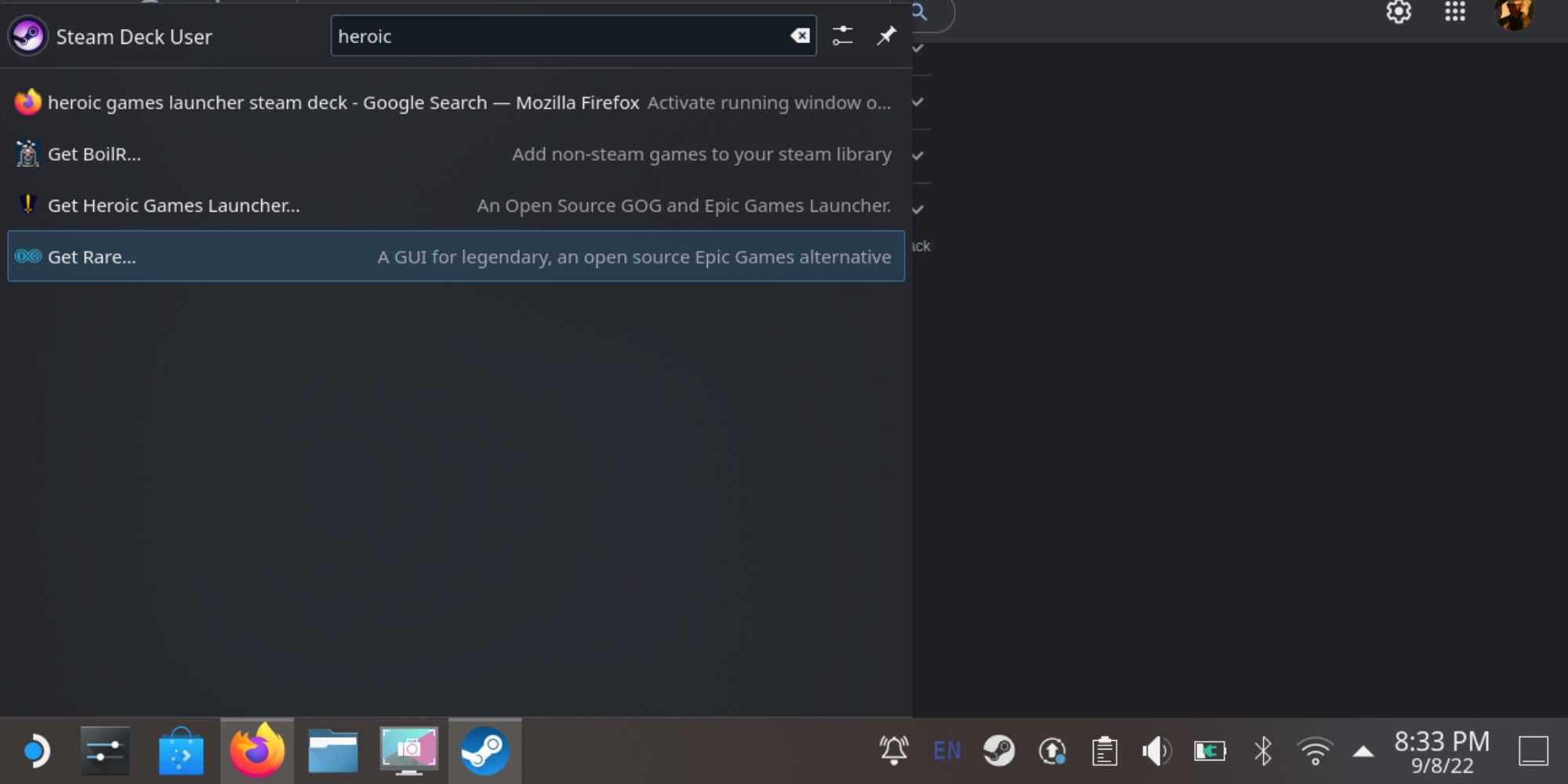 Open Steam Deck start menu
Open the Discover app
Search for Heroic Games Launcher
The easiest, least tedious way to use Epic Games on the Steam Deck is by installing Heroic Games Launcher. This is a launcher that encapsulates both the Epic Games and GOG applications for easy access and downloading.
All you have to do is press the Steam Deck icon at the bottom left of the desktop, open the Discover app (essentially the app store), and then search for Heroic Games Launcher. Install it, and on we go.
Log In To Epic Games From Heroic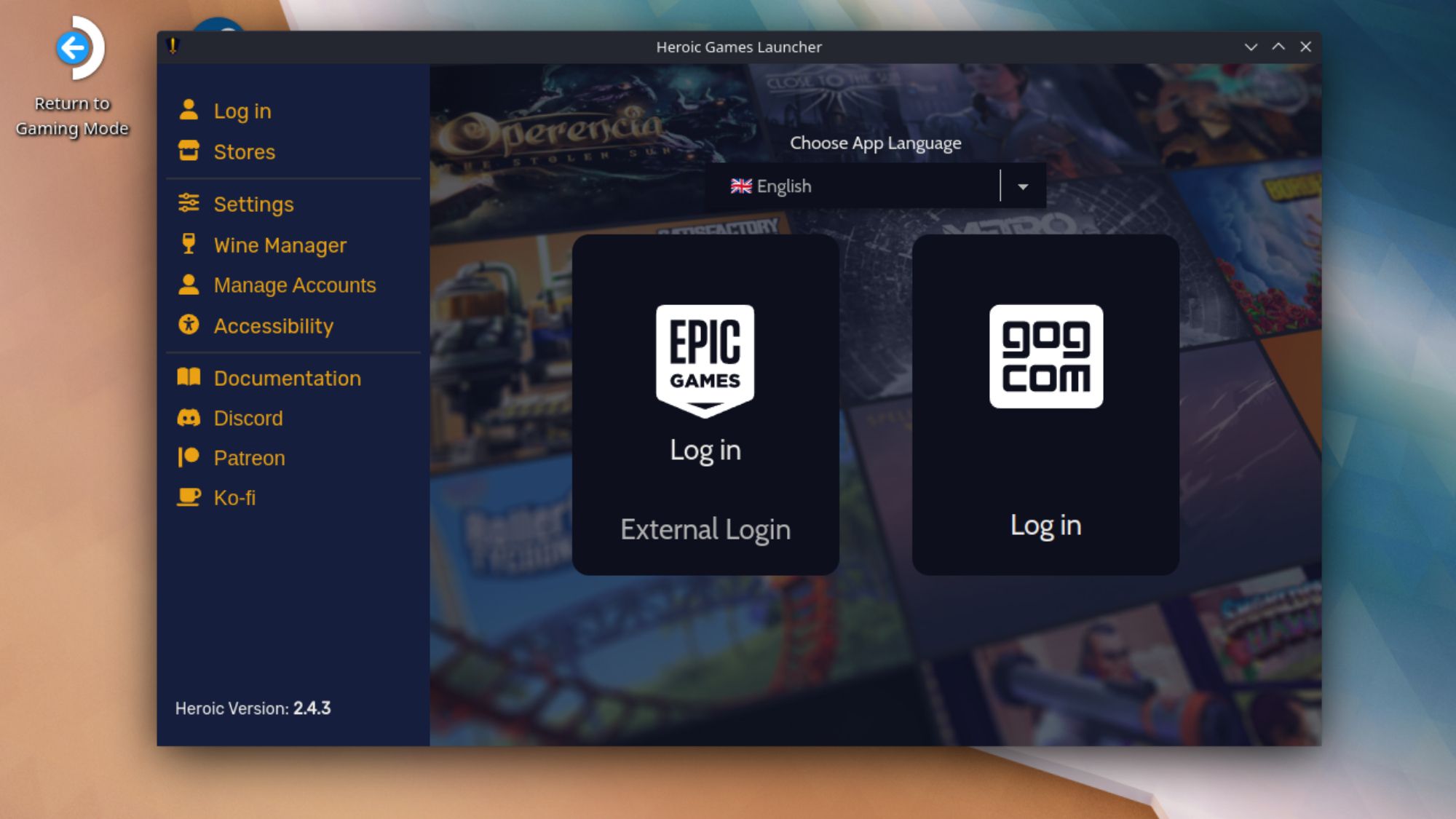 Launch Heroic Games Launcher and log in
Open Steam in Desktop Mode, and Add Non-Steam Game
Select Wine version in Heroic Games Launcher
Play your games!
Once the Heroic Games Launcher is installed, open it up. You'll be prompted to log in to Epic Games.
You'll then have to open the Steam application on desktop mode and add the Heroic Games Launcher as a non-Steam game to your library. Hover over Games, and select Add Non-Steam Game. Find the Heroic Games Launcher in the list shown, or Browse for it. Adding this to your Steam library allows you to open your Epic Games when in Game Mode, instead of having to open Desktop Mode and launch Heroic manually.
When you open Heroic Games Launcher from your library and try to boot up a game, it may not work. It will state that Wine is not found, or an acceptable version is needed. While Heroic should automatically choose the best version for each game, sometimes you will need to adjust the settings.
To do this, hover over the game's card in the Heroic library and select the cog icon to enter that game's settings. In the Wine tab, you'll see the Wine Version dropdown. There are multiple different Proton versions to select, such as Proton-Experimental, Proton 7.0, and Proton-GE. Try changing this to another version and see if the game works.
In the Wine Manager section of the Heroic Games Launcher, you can install other versions of Proton. You can check the game on ProtonDB to see what is compatible, and as a rule, stick to the most recent versions to be safer.
Remember, some games will require more complex workarounds in order to launch, and others just won't work, no matter what settings you try.
Once you have the right version of Proton installed, you should be able to launch the Heroic Games Launcher from Steam and access your games.
Alternatively, Manually Install Epic Games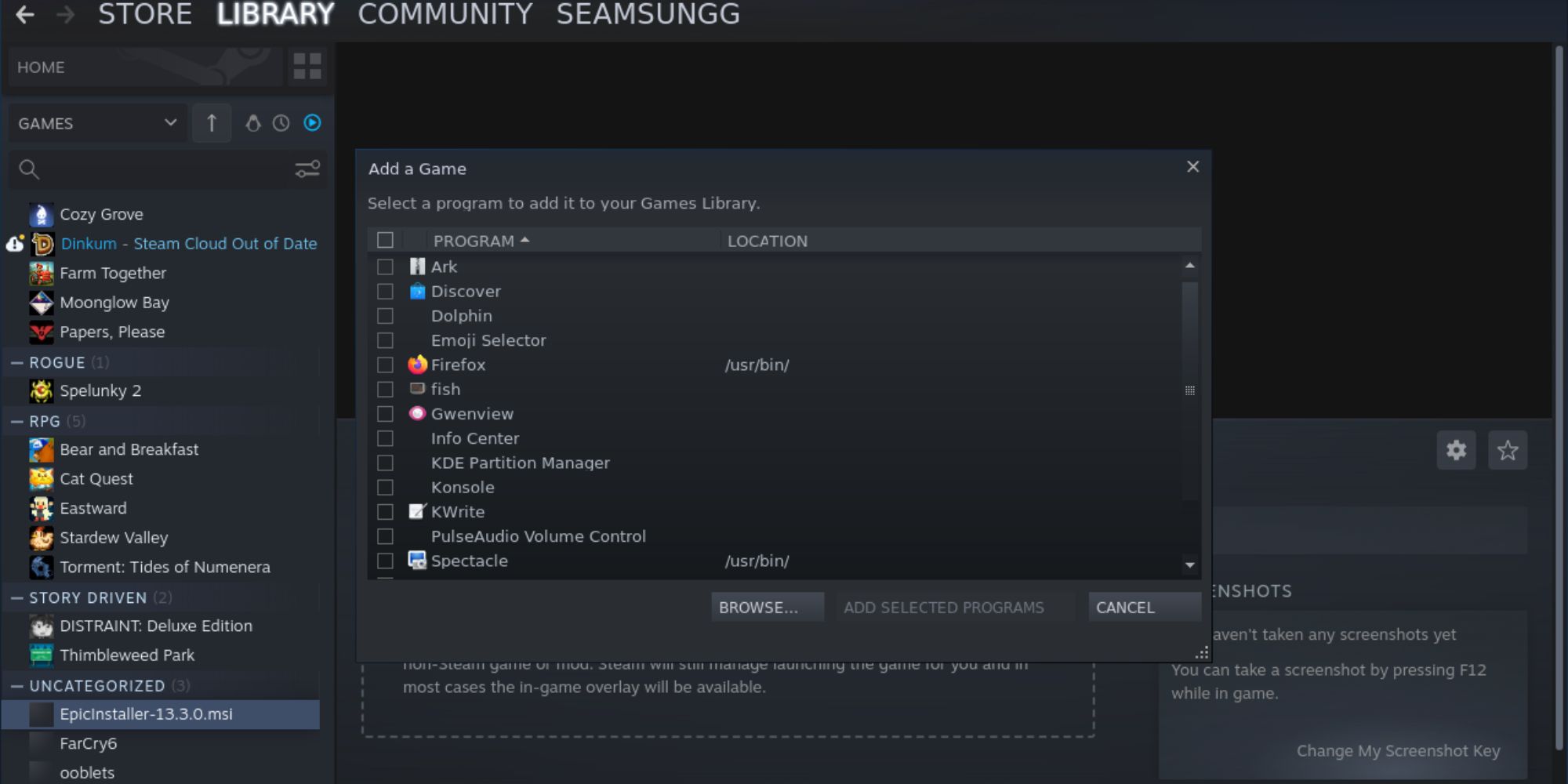 Download EpicInstaller and add it as Non-Steam Game
This is the alternative, more tedious way to add Epic Games to your library on the Steam Deck. The first thing you have to do is download the executable installer from the Epic Games website. You then want to open the Steam application while in Desktop Mode.
Once in Steam, like you would on PC, hover over Games and then Add Non-Steam Game to the library. You may not see Epic Games on the list of applications Steam has picked up, so press Browse at the bottom of this window and go to the folder where you installed the EpicInstaller file. Select and add this to your Steam library.
Note: If you cannot find certain files, they may be hidden. Click the three lines at the very top right of your Dolphin file manager. In the drop-down menu, select Show Hidden Files. The shortcut to show hidden files is CTRL+H.
Traverse The Epic Games Files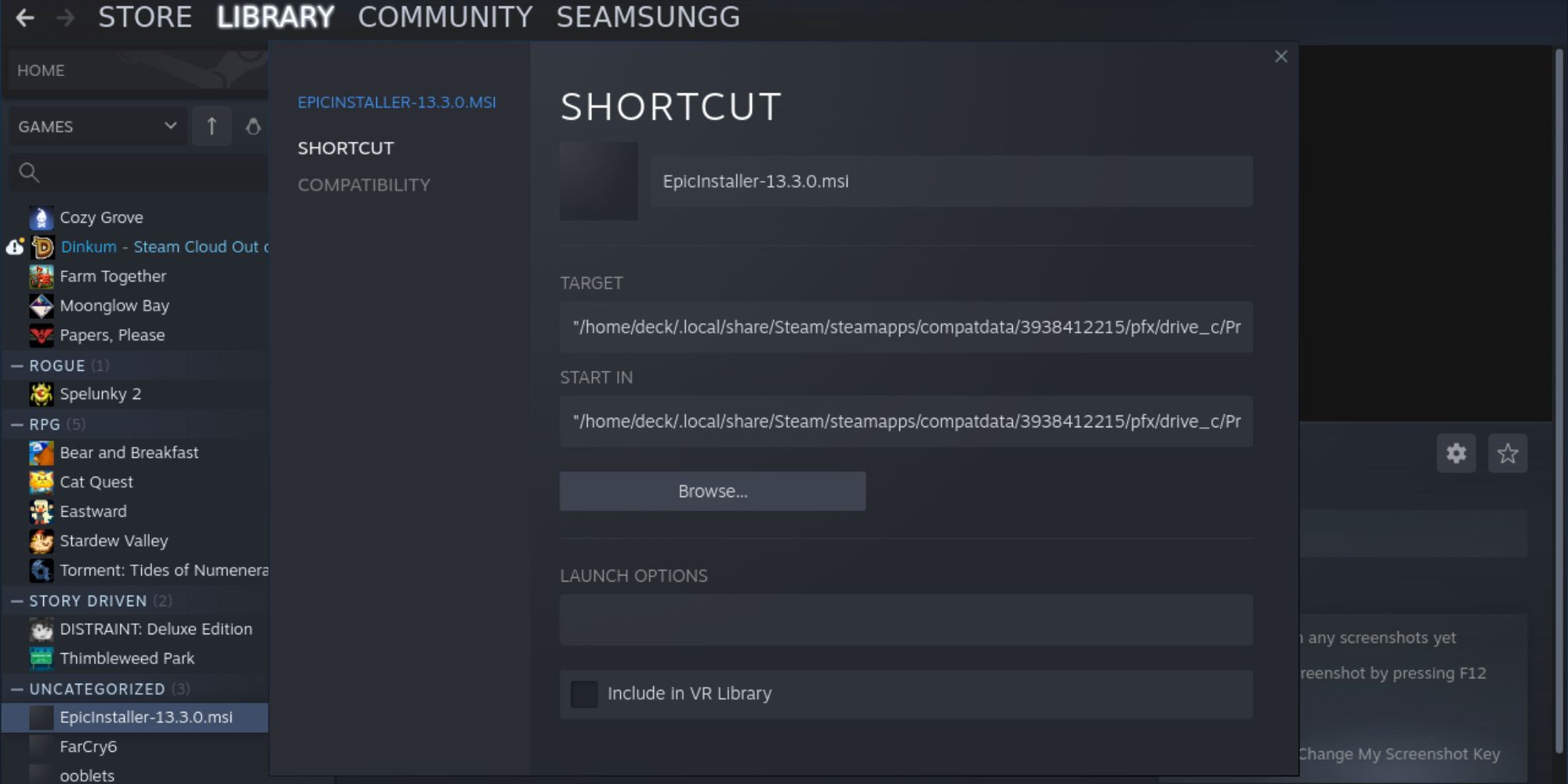 Find the EpicGamesLauncher.exe file
Paste it into the Target section of Shortcut Properties
Paste it to the Start In section, removing the end portion
Force compatibility
Once the EpicInstaller is in your Steam library, right-click it and go to Properties. You will have to fix the target and start file locations, as well as adjust compatibility, to be able to successfully launch Epic Games here.
First, head to Shortcut. The Target file location may be automatically filled out, but if not, manually find the file location by following this path:
Home/.local/share/Steam/steamapps/compatdata
Now comes the strenuous part. In this file location, you'll find a ton of folders with different numbers. You may go through them all until you find Epic Games, but the best way to figure out which folder you need is by selecting the one with the highest or longest number.
From here, you must follow this path:
/pfx/drive_c/ProgramFiles(x86)/EpicGames/Launcher/Portal/Binaries/Win32.
At the end of this path, you'll see a bunch of files. Look for the one that says EpicGamesLauncher.exe. Once you've found it, right-click it and select Copy Location. Go back to Steam and back to the EpicInstaller Properties and Shortcut. Paste the Epic Games Launcher path into the Target section.
The next few steps are easy, and spell the end of this tedious installation process. Copy and paste the same path into the Start In section. Here, remove the ending of the path that says "EpicGamesLauncher.exe".
Then, go into Compatibility on the left side of the window and "Force the use of a specific Steam Play Compatibility tool". You may also use the drop-down section below this to select different Proton versions. Selecting different ones will mitigate crashing and bugs, depending on which one works for you.
Now you're done, enjoy your Epic games!
Source: Read Full Article