The Jackbox Party Pack series is a classic go-to for any game night. Each pack has a selection of different mini-games, ranging from drawing games to mind-boggling trivia. With the release of Jackbox Party Pack 9, you now have even more options for fun, silly games to play with your friends. There are five games to pick from, each with its own style and sense of humor. These are Fibbage 4, Roomerang, Junktopia, Nonsensory, and Quixort.
To play these fantastic games, only one of you needs to own the pack on pretty much any console, from PC to the Switch. Everyone else just needs to grab their phones, and you can jump right into the fun. You can't go wrong with any of the games in this pack, but the Jackbox Party Pack 9 certainly has some highlights that guarantee everyone a fantastic time. So, if you only have time to play a few rounds at your latest game night, here is a ranking of all five games. There is also a description of each game, so you can determine what will be the best fit for your particular group.
5/5

Junktopia – Giving Backstories To Trash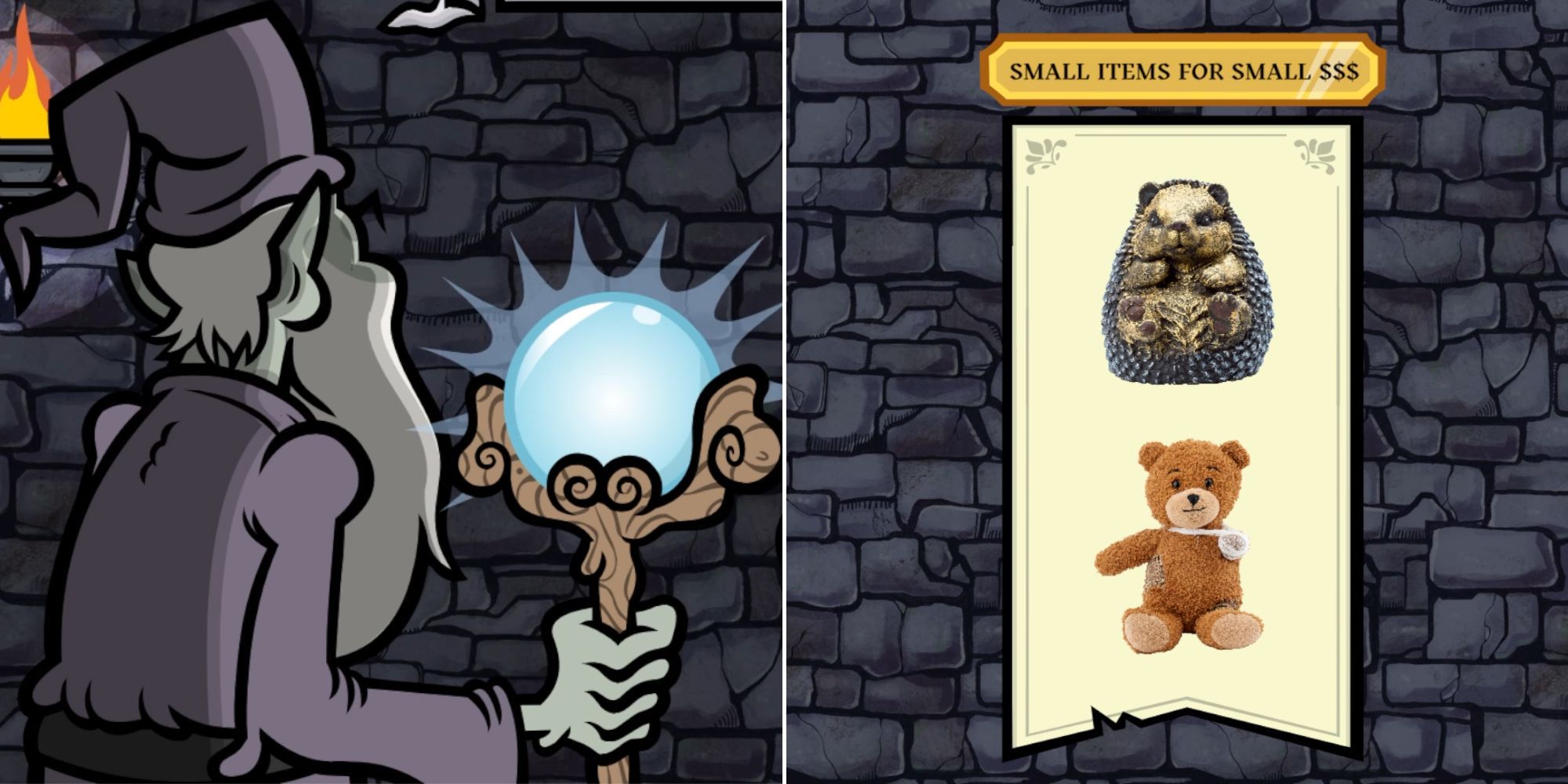 Players:
3 – 8

Average Playtime:
25 minutes
Junktopia sees you being kidnapped by a shady wizard who has turned you all into frogs. If you ever wish to be human again, you'll need to do his bidding and earn the most money by the end of the game. The wizard has tasked you with buying ancient artifacts (random junk). You'll then provide two made-up facts about the item, name it, and attempt to present it to the group. The more people like your "valuable antique", the more money you'll earn. After selling two items, you'll combine them into a collection, and everyone will vote on their favorite.
Junktopia is undoubtedly the weakest game in the pack. It is similar to previous games, such as Talking Points or Patently Stupid, but feels more restricted. You really have to work hard to be funny, as the pieces of junk available do not provide too much inspiration. The theme is fantastic, and you'll still get plenty of laughs with the right group. It really comes down to how comfortable everyone is with pitching their products and how creative they can get with their facts. As with all the games in the pack, accessibility options and a family-friendly mode make it an excellent choice for playing with kids or adults alike.
4/5

Nonsensory – Do Great Minds Think Alike?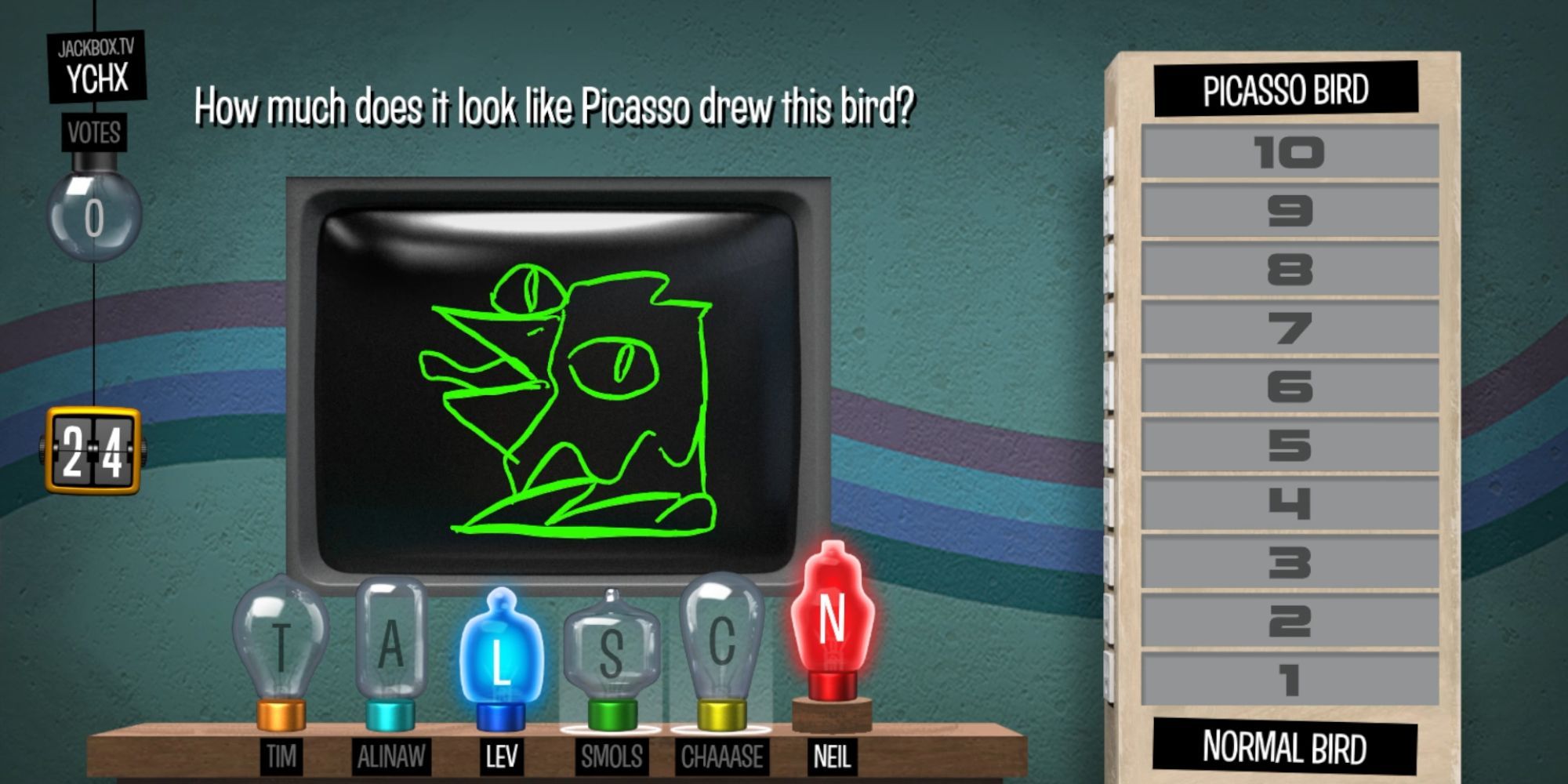 Players:
3 – 8

Average Playtime:
25 minutes
Nonsensory is very similar to Wavelength, a board game that you can also play for free on your web browser. In this scientific game, you are trying to see how in sync you are with your friends. One at a time, you will be given a scale with two distinct ends. You will have to come up with an answer that fits a certain percentage on the scale. For example, on a scale of not at all annoying to the most annoying thing in the world, you might be asked to write an answer that is 60 percent annoying. Your friends will guess what percentage they think your answer is on the scale and earn more points the closer they are to the truth.
Fans of drawing games will enjoy Nonsensory's later rounds. It makes it stand out a little more than the Wavelength board game. You will instead have to start drawing your answers, which adds this extra layer of interpretation and confusion to the game. Nonsensory is interesting but just not as exciting and amusing as the other packs in the game. It is worth a round or two, but you'll likely return to the other games more often.
3/5

Roomerang – If Quiplash Was A Reality Tv Show
Players:
4 – 9

Average Playtime:
35 minutes
Roomerang is basically an extended version of Quiplash. You play as reality TV stars all living together in a big house. Over five rounds, you'll be put into various scenarios and will write how you would handle them. Everyone votes on the funniest answer, and that winner gets a perk, such as immunity from being eliminated for a round. You'll all vote on who you feel should be kicked out of the house. Don't worry, though. Whoever is eliminated will return as a newcomer that happens to have just one letter altered in their name. For example, Ben might return as Bun.
Roomerang can be played with a big group of up to nine players, which works best for the elimination rounds. The theme of a reality tv show is pretty entertaining and allows you all to slip into the role of over-the-top characters. The more your group is willing to engage with the roleplaying side of things, the more fun you'll have with this game. It does drag on for a little too long, but there will be plenty of laughs. Roomerang is not quite as strong as other Quiplash-style games, such as Job Job from the previous pack, but it has enough cool ideas, such as the hidden points, and eliminated players' final words, that it is a delightful game.
2/5

Fibbage 4 – Lies, Lies, And More Lies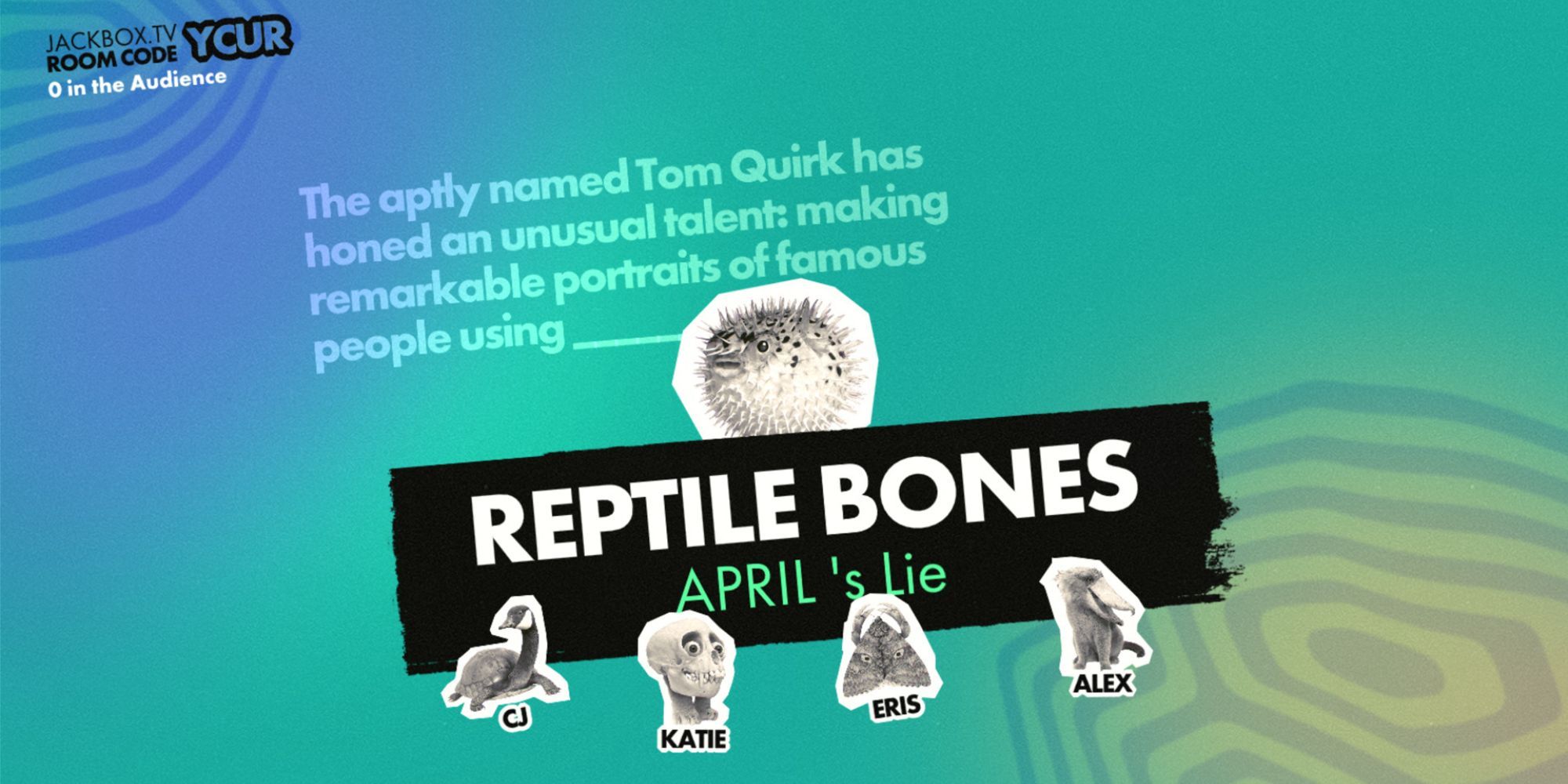 Players:
2 – 8

Average Playtime:
20 minutes
Fibbage is a classic party game. It is all about deception and deduction. Each round, you'll be given an incomplete fact for which you will fill in the blank. You need to create a convincing lie that your friends are likelier to pick than the truth. In Fibbage 4, there are also video rounds where you will be shown a clip from an old film and will have to explain what will happen next. The final round is also different from previous installments, as you must devise a plausible fake answer for two prompts simultaneously. Fibbage 4 also has the Enough About You variant for when you want to come up with fake facts about one another.
Being the fourth entry into the Fibbage series, it does not add anything groundbreaking to the format, but what it has added is certainly welcome. The video clips are entertaining, and the final round is a unique twist that certainly challenges everyone's bluffing capabilities. You can't go wrong with Fibbage. It's a fun, short game filled with silly facts to learn too.
1/5

Quixort – Trivia With A Twist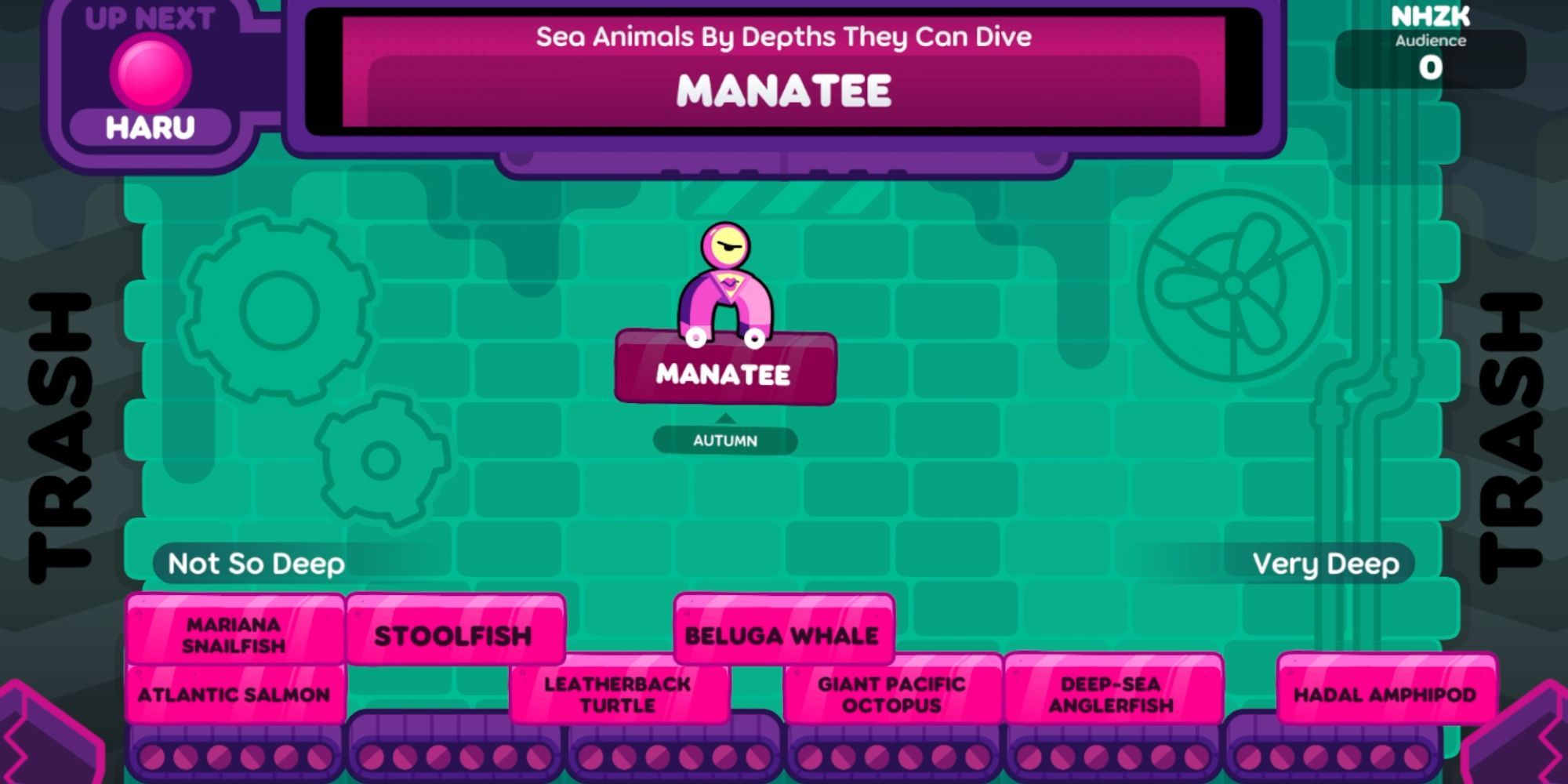 Players:
1 – 10

Average Playtime:
20 minutes
Quixort feels like an instant classic in the series. It is a trivia game where two teams compete against one another. You will be faced with a conveyer belt and will have to place down blocks in the correct order. For example, you might have to put famous actors in order of when they were born or put the lyrics of a random song in the order the artist sang them. There are three rounds in total — in the second round, it adds fake answers you need to look out for. In the final round, you are given two chances to get the order perfect. If you would rather play collaboratively, there is the Play Forever mode. This endless mode will keep giving you prompts to organize, but if you make mistakes, the blocks remain in future rounds. Once you run out of space, your run is over.
Quixort is a game you can enjoy with a big or small group — you can even play the endless mode solo if you want to. This trivia game is hectic and will encourage lots of discussions, even from those not on the same team. The prompts are often challenging or entertaining, so getting a streak of correct answers is always satisfying. All in all, Quixort is the best game in Jackbox Party Pack 9 by a long shot.
Source: Read Full Article