The future of the DCEU may have sunk into uncertainty for now – particularly Zack Snyder's SnyderVerse – but that hasn't stopped Arthur Curry the Aquaman from working on his second, solo outing. Aquaman 2 is currently filming, and the stars of Atlantis, Jason Momoa, and Amber Heard, certainly seem to have fun teasing each other on set.
There were many highlights from Zack Snyder's Justice League – which delivered four hours of epic battles and better character notes than the "Josstice League" – but everyone was thankful that Snyder kept Aquaman's iconic "My man!" line. As fans continue campaigning for the SnyderVerse to be reinstated, the sequel to Aquaman is currently filming under the ocean, and lead actors Momoa and Heard are keeping fans entertained with their on-set shenanigans.
Heard recently posted an image on Instagram of her reading Surface Detail by Iain M. Banks, tagging Momoa in the post. The caption reads "Before Aquaman took the last pages out of this book" with the hashtag "#gettingakindleforaquaman2". Momoa replied with a line of laughing emojis because this post is, in fact, related to his on-set pranks that Heard is frequently subjected to. Momoa is said to be rather restless on set, taking the habit of annoying other co-stars in good humor. His latest target seems to be Heard's book, as the actor ripped out the final pages to prevent Heard from knowing how the story ends. Disaster could also strike when she gets her kindle, as Momoa will probably think of an inventive way to get around that platform change.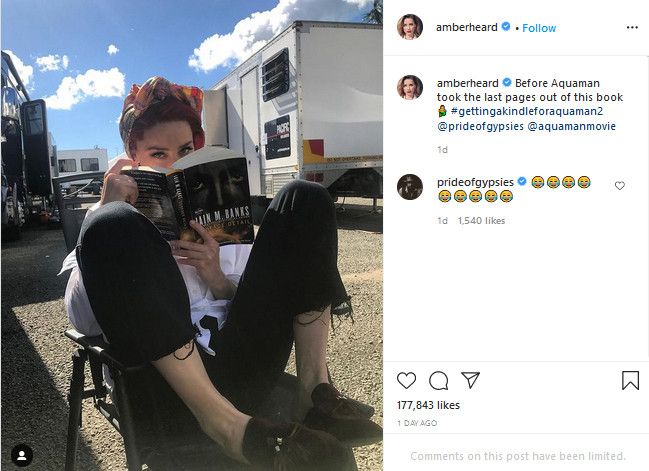 Aquaman 2 is currently scheduled to be released on December 16, 2022, returning James Wan to the helm. Producer Peter Safran has spoken about the length of time between the sequel and its predecessor, noting that the crew is happy to take their time with the project. The sequel is meant to harbor a more serious tone to the first, where Yahya Abdul-Mateen II and Patrick Wilson are set to return as Black Manta and King Orm.
While Aquaman 2 swims full steam ahead, the Atlantean's spin-off series has not had the same luck. At the start of the month, Warner Bros. decided to put a halt on Aquaman horror The Trench and a New Gods film but gave no reason behind the decision.
Next: Henry Cavill Nearly Had The Superman Mullet In Zack Snyder's Justice League
Jo recently got served a nostalgia trip playing Sony's Spider-Man, as it brought back the exhilarating feeling of web-slinging from the PS2 days. While the giddiness of gaming still remains, Jo has put the adult brain to good use by spending the last few years dissecting the games industry and marveling at its insides.
Source: Read Full Article