Sony has unveiled the selection of free games for PlayStation Plus subscribers next month and it's quite the odd pairing. On the one hand, you have the eternal PS2 classic Shadow of the Colossus in its PS4 remake glory. On the other hand, you have the somewhat functional Sonic Forces. Talk about yin and yang.
If you haven't played Shadow of the Colossus in one of its various forms over the years, you're in for a real treat. A game that makes a strong case for the whole "games as art" debate, this title led to a string of indie games attempting to copy its minimalist format and style. Maybe the remake didn't need to exist (backward compatibility would be nice, Sony), but developer Bluepoint did an excellent job with this version.
Sonic Forces, though…eh… It's basically a throwback to the Dreamcast days, blemishes and all. You've got lopsided pacing, a poor camera system, sloppy controls, and a tacked-on character creator. Forces is a bit of a hot mess. It can be occasionally enjoyable, but so can getting punched in the face.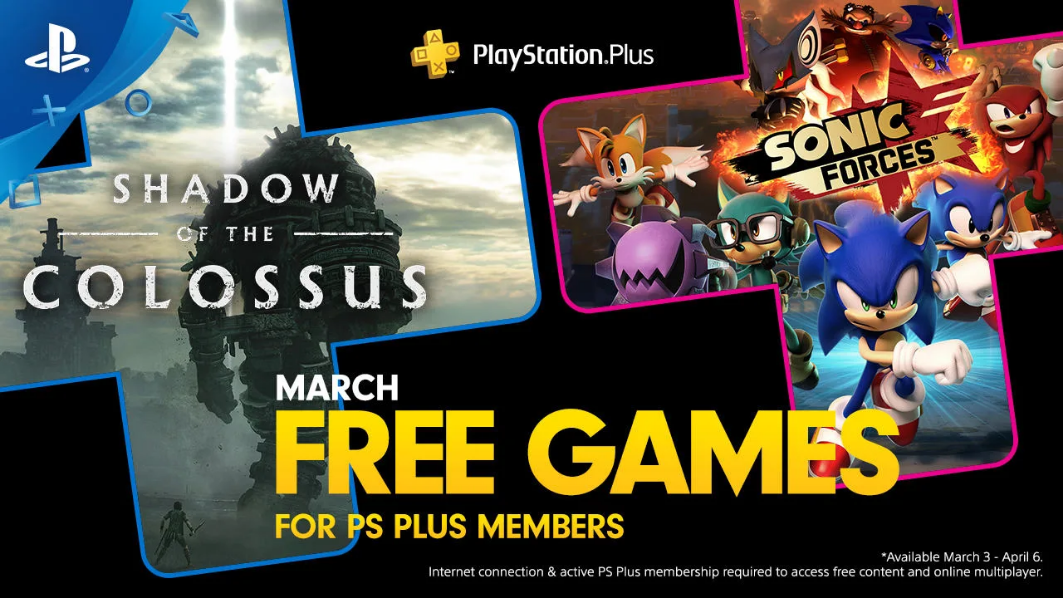 In addition to these two titles, PS Plus subscribers will be able to check out a trial of Predator: Hunting Grounds at the end of the month. Running for the weekend starting on Friday, March 27, the short demo will give players an opportunity to test the game ahead of its official release. It's not exactly another a game, but still something.
As with the last two months of 2020, Sony has been giving out remasters of classic titles on Plus. 2020 began with Uncharted: The Nathan Drake Collection and February brought us BioShock: The Collection. Many probably thought another trilogy of titles was coming, but Shadow of the Colossus is definitely a worthy addition.
It would still be nice to know what is happening with Plus for the PlayStation 5. Sony has been remaining vague on its next console despite a release planned for Holiday 2020. The company eventually needs to talk about what we can expect and it would be great to know that keeping a subscription to Plus won't be a waste.
Source: Read Full Article