Quick Links
As the years pass in Medieval Dynasty, you will eventually unlock the tavern. This is a building that brews a variety of juices, wines, and beers that can then be sold or consumed. Brewing can take a lot of resources, but we are here to help you become a master brewer.
In this guide, we are going to go over everything you need to know about brewing. This will include constructing a tavern, as well as gathering materials to craft your beverages. First, let's take a look at the requirements to construct a tavern.
Building A Tavern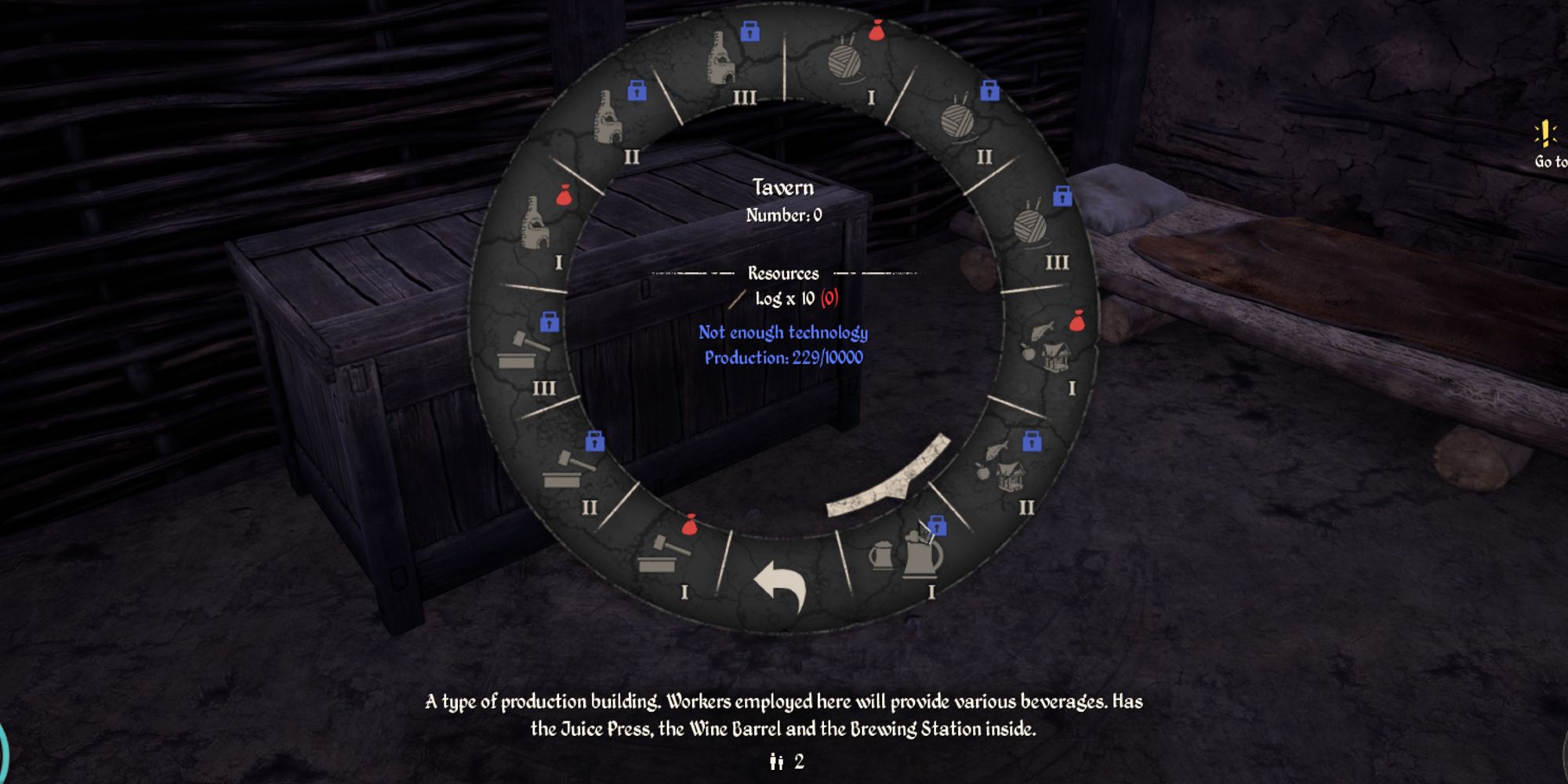 To build a tavern, you will need to have 10,000 production tech points. This is a lot, making the tavern a late-game build.
Production tech points can be gained by crafting and cooking items. Essentially, if you do anything involving the production of an item, you will gain production tech points. As you reach 10,000 points, all the schemes for tavern drinks will unlock as well; by spending some money, you will be able to purchase these schemes.
If you are in need of any beverages before you unlock the tavern, you can visit a village with a tavern, such as Gostovia. Here, you will be able to purchase all the items that can usually be crafted at the tavern.
After you have enough production tech points, you can immediately start constructing your tavern. Below, you can check out the building requirements for the tavern.
Foundation:
Walls and Roof:

64 Logs
96 Planks

This is a lot of material, so be sure to check out our guide on logging. Inside your newly constructed tavern, you will find areas to craft beer, wine, and juice.

Crafting Bottles

Prior to making drinks, you will need bottles. Fortunately, bottles are quite easy to make.

Bottles can be crafted at the Workshop II; this is a building where you can craft a variety of decorations and food-related items, such as bowls and bottles. To construct a Workshop II, you will need 250 production tech points, as well as the following materials.

Your newly constructed Workshop II will have a pottery wheel, where you can begin crafting bottles. Below, you can see the three bottles that you will need, as well as the required materials for each.

| Bottle Type | Required Materials |
| --- | --- |
| Wine Bottle | 5 Clay |
| Mead Bottle | 4 Clay |
| Beer Bottle | 4 Clay |

Brewing In A Tavern

There are three workstations in the tavern; the juice press, wine barrel, and brewing station. Let's take a look at each of these stations below.

Juice Press

At the juice press, you will be able to turn fruits into juice, which can either be sold, consumed or turned into wine. There are five fruits that you will use at the juice press, with four of them being grown in the orchard. For more information, check out our complete guide to making an orchard. You can find all juice recipes for the juice press below.

| Juice Type | Ingredients |
| --- | --- |
| Cherry Juice | |
| Pear Juice | |
| Plum Juice | |
| Berry Juice | |
| Apple Juice | |

Wine Barrel

With your juice, you can now craft a variety of wines. There is one craftable wine for each juice, which you can see below.

| Wine Type | Ingredients |
| --- | --- |
| Cherry Wine | 1 Cherry Juice |
| Pear Wine | 1 Pear Juice |
| Plum Wine | 1 Plum Juice |
| Berry Wine | 1 Berry Juice |
| Apple Wine | 1 Apple Juice |

Brewing Station

Lastly, we have the brewing station. From here, you can craft beer, meed, or ale. Each of these items will require a bucket of water, however, you will only need to have the bucket filled up to 1/10. The additional ingredients for these drinks can all be grown and harvested from a field plot.

Beer Type
Ingredients
Rye Beer

1 Beer Bottle
1 Bucket of Water
20 Rye Grain
10 Hops

Wheat Beer

1 Beer Bottle
1 Bucket of Water
6 Wheat Grain
10 Hops

Mead

1 Mead Bottle
1 Bucket of Water
2 Honeycomb

You can harvest honeycomb from the Apiary, which will unlock once you have 5,000 farming tech points

Oat Ale

1 Beer Bottle
1 Bucket of Water
8 Oat Grain

Oat Beer

1 Beer Bottle
​​​​​​​1 Bucket of Water
8 Oat Grain
10 Hops

Getting Drunk

After drinking wine, beer, ale, or mead, you will start to become drunk. Overall, there is no real benefit to becoming drunk, however, if you get drunk for the first time, you will be rewarded with the "I… am not… drunk" achievement. To get fully drunk, you will need to drink around six beverages; this will vary depending on the drink that you choose.

That's all there is to know about brewing. Don't forget to craft and cook so you can gain more production tech points and build your very own tavern!

Source: Read Full Article