People Can Fly studio is about to release its Destiny-like sci-fi game Outriders, set in a unique universe on the planet Enoch, where people gain supernatural abilities. The game is coming in April, but before that players can experience Outriders for themselves thanks to a free demo, coming in just a week on consoles and PC with crossplay support.
The Outriders dev team breaks down its upcoming demo, providing players with absolutely all necessary intel on Twitter. The demo will be available February 25 on PlayStation 5, Xbox Series X|S, PlayStation 4, Xbox One and PC on Steam. The size of the demo is approximately 22-24 GB with no pre-load planned. It was announced Outriders demo will support crossplay but in beta form, so the players will need to manually activate this feature with game settings. This feature will fully be present in Outriders at launch.
As for the gameplay side, the demo includes all four available classes — Devastator, Technomancer, Trickster and Pyromancer — with enough slots to replay available content for every new class. The players will gain access to Outriders` prologue and opening chapter until the first boss-fight with Gauss, but nothing about its length was spoken.
During the first hours some side missions will unlock for players to explore the world of Enoch more closely. Players' characters in the demo are capped to Level 7, which allows access to four unique superpowers for all classes to experiment with. All progress from the demo can be transferred to the full game, but only within the same platform. This also means players on PC cannot continue their Steam playthrough with a full Outriders game bought on Epic Games Store, which is something of a let-down.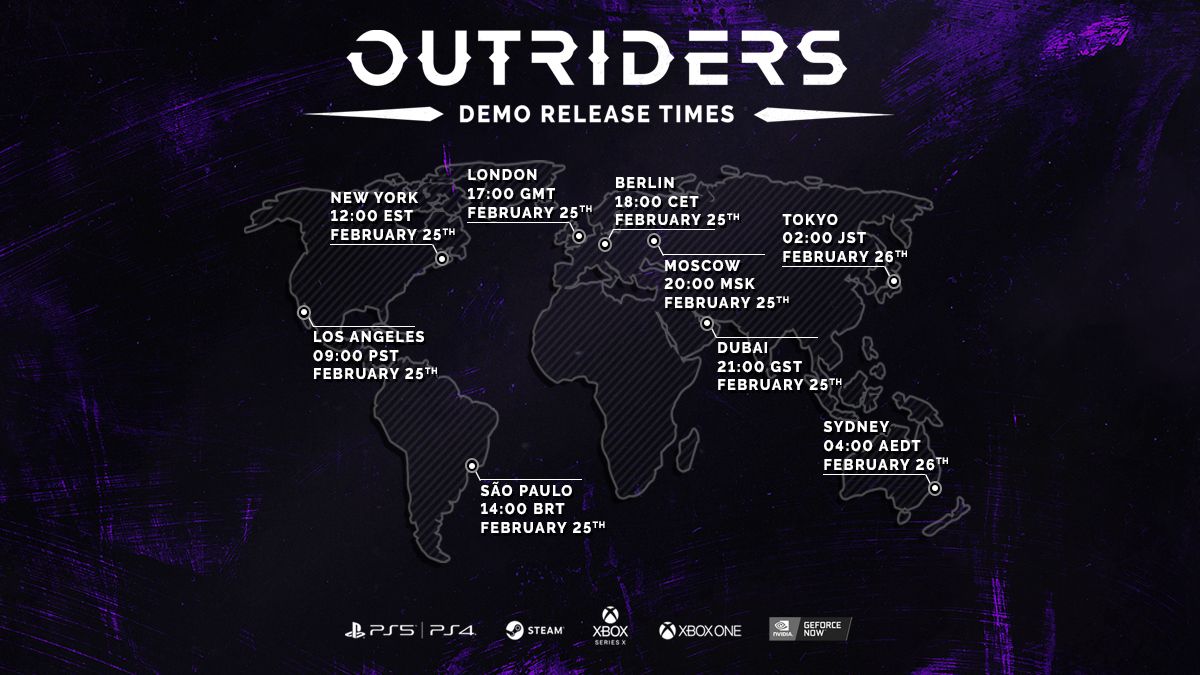 Last but not least, the new Outriders demo will have no time limit for the players, allowing them to replay the demo over and over again, properly test all available classes and their abilities to make a thoughtful choice for the full walkthrough afterward. Also, the team is planning to keep the demo live even beyond the full game launch on April 1, so there is absolutely no rush for those willing to try it sometime after February 25. The demo does not include any trophies or achievements on any platform.
Many players wonder if Outriders will truly live up to their expectations and will be closer to Bungie's Destiny 2 than to Bioware's Anthem, which received little to no updates after its initial launch. People Can Fly previously emphasized Outriders is no service game and players will get most of its content straight at launch. Still, there are plans for some post-launch updates called Expeditions. These challenges are meant to push the most hardcore players to their limits, so it's better to bring a full squad with powerful equipment and efficient character builds to survive.
Source: Read Full Article