Despite being 26 years old, Quake is still receiving regular updates from MachineGames. The biggest of course was the Remastered update that arrived last August, adding better models, improved lighting, 4K support, and various other graphical tweaks to make the game run on modern hardware. Then came an update last winter that added a brand-new horde mode to mow down waves of monsters with your friends (or bots, if you prefer).
Now, MachineGames is back with yet another update to overhaul Quake's accessibility features, which have come a long way in the two decades since the game first released. The new accessibility features will be outlined in a notification after players download the new update.
Starting with various multiplayer chat options, Quake now lets players either have text read out loud to them in a synthesized voice, or broadcasts typed text to other players in the same synthesized voice. There are quite a few different voice profiles to choose from, although that varies depending on the language. There's also an option to have your spoken words transcribed into written text in multiplayer, too.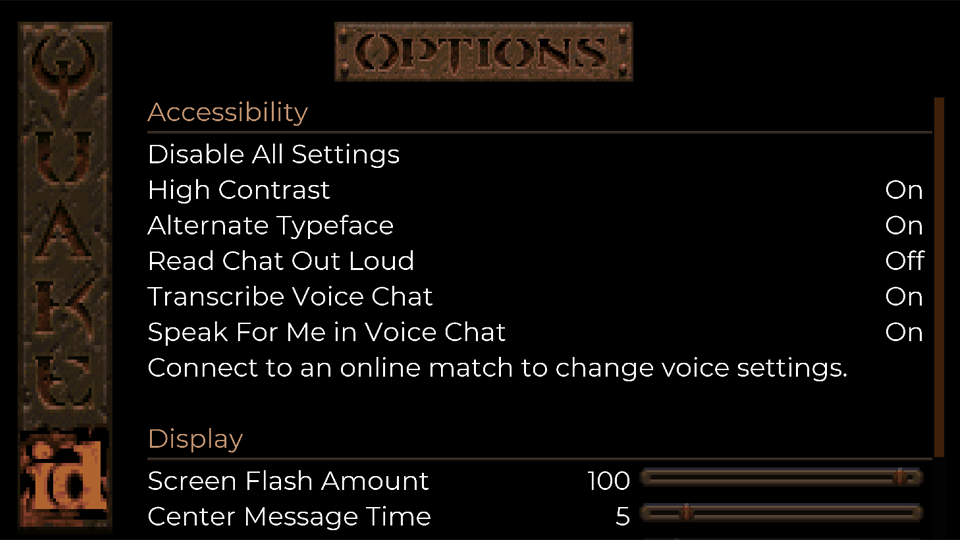 Several new UI options improve the contrast of the menu and change the typeface to be more legible if you find Quake's stylistic font a little hard to read (I know I certainly do). A few options let you adjust how long text messages appear on screen and how many lines of text appear before they fall off.
Another important feature for those suffering from light sensitivity is an option that reduces screen flash for on-screen effects. This increases the opacity of the effect so that the flashing is less intense. All these accessibility features can be accessed under Options/Accessibility from both the main and pause menus.
Other than the accessibility features, Quake's new horde mode received three new levels, there's a new option to disable auto weapon pickup, and there's a deluge of bug fixes and QOL improvements. You can check 'em all out over on the Steam update page here.
Source: Read Full Article