The exciting Marvel's Spider-Man: Miles Morales for PlayStation 5 is heating up the imminent launch of Sony's next-gen console. To celebrate its release, Marvel Comics has revealed its November comic book covers – for the Amazing Spider-Man and Miles Morales: Spider-Man series – which were designed by a handful of the game's artists.
The four cover variants were debuted on Marvel's official website, which all featured the game's protagonist, Miles Morales, with eye-catching designs. In total, there will be five covers featured in November's line-up, with one more cover to be debuted at a later date.
Each of the four featured designs have been created by artists who worked on the upcoming game, bringing their unique style to the comic book medium. The five covers as a whole will reflect Miles Morales at various stages of his web-slinging journey, which will all tie into the PlayStation title.
Related: PlayStation Shares Video Highlighting Peter Parker And Miles Morales Bromance
Marvel Games VP and head of creative Bill Rosemann highlighted the company's celebration of Spider-Man's next generation hero, who will share his story on Sony's next-gen console. He also commented on the enlightening motivation behind the collaboration of Insomniac Games, PlayStation and Marvel, which was to shine a light on the behind-the-scenes artists. Rosemann concluded that – if viewed in a particular order – the collection of variant covers will demonstrate the collaborative team's "commitment to storytelling."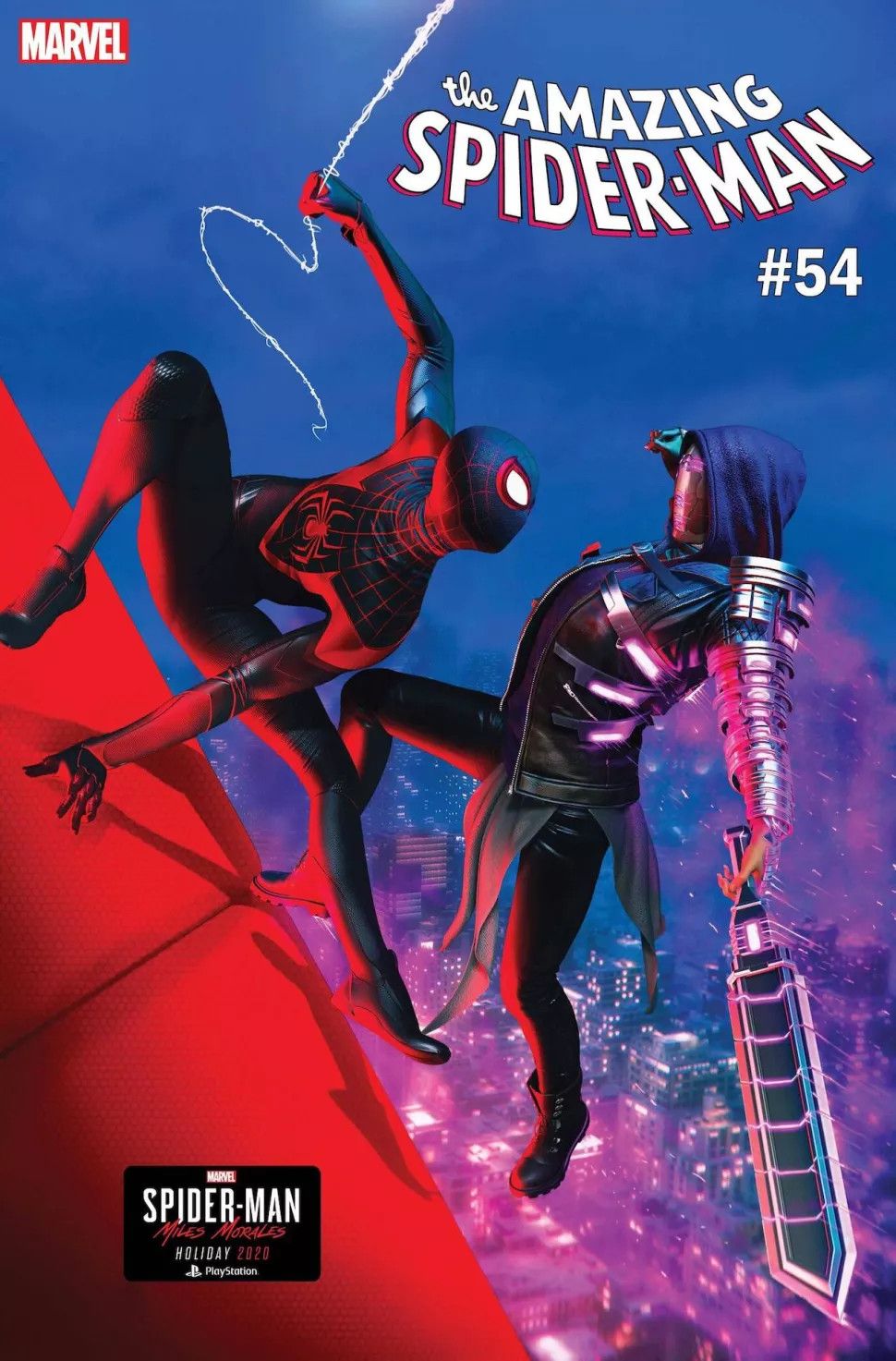 The first cover will be featured on issue #53 of the Amazing Spider-Man illustrated by Insomniac Games' art director Jason Hickey. The debut cover is a stunning display of neon colors as the titular character has a birds-eye view of New York City, which has been recently overrun by the Tinkerer; leader of the Underground. The second cover is an alternative #53 design by Marvel Games' creative director Tim Tsang, featuring the character's classic comic book design upon a red backdrop, as Miles dons the iconic mask and costume.
The third design will grace Miles Morales: Spider-Man issue #21 illustrated by Insomniac Games' senior concept artist Nicholas Schumaker, which features a faded print of Miles propelling into the foreground towards imminent danger, where he will rely on his powers to save the city. The fourth and final revealed cover will be for the Amazing Spider-Man issue #54 by Insomniac Games' art director Gavin Goulden, which depicts the upcoming battle between Spider-Man and the Tinkerer against a backdrop of the iconic red and blue palette.
Source: Read Full Article