Temtem's mid-term roadmap reveals the new Trading House, Dojo Wars, and much more.
Yesterday, we found out what developer Crema Games plans for Temtem over the next 9 months. We can expect two new islands, 50 new Temtem, revamped chat, clubs, and more. Dojo Wars and the Trading House were mentioned with a note to check back tomorrow for more info.
That info got dropped today, and Temtem players will have a lot to get excited for over the next year.
Starting in Winter 2020, yet another island will arrive called Arbury. This island will bring 30 new Temtem along with the second-ever mythical Temtem. Along with the island will come Dojo Wars, where players will compete against each other to conquer any if the island's Dojos. Once conquered, the victorious club gets to decorate the place to their liking and also gain unspecified rewards.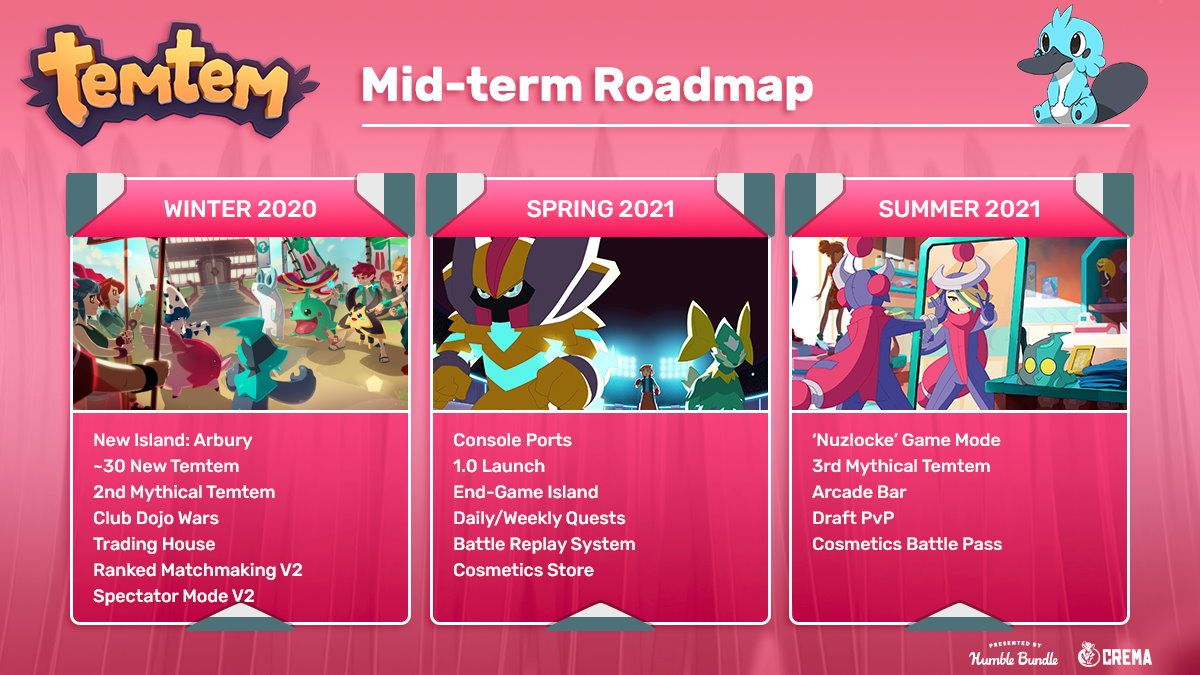 The Trading House is also going to be a big feature to arrive this Winter. Trading Houses are actually in the game right now, but they're inaccessible and have "WIP" signs hanging out front. Once activated, they'll serve as trading hotspots where players can go to post and accept offers from other players for trading Temtem. It will operate much like Pokémon's Global Trading System, so those familiar with Pokémon will find a lot in common.
Expanded leagues and medals in ranked matchmaking, as well as a more professional Spectator Mode, will also come in the Winter of 2020.
The next major milestone will come in the Spring of 2021 when Temtem has its official launch on all major consoles. A new end-game island will be added that will provide Temtem tamers with something to do once they've completed the main story quest. It will be a lot like Pokémon's Battle Frontier, with an endless series of battles to test a tamer's mettle.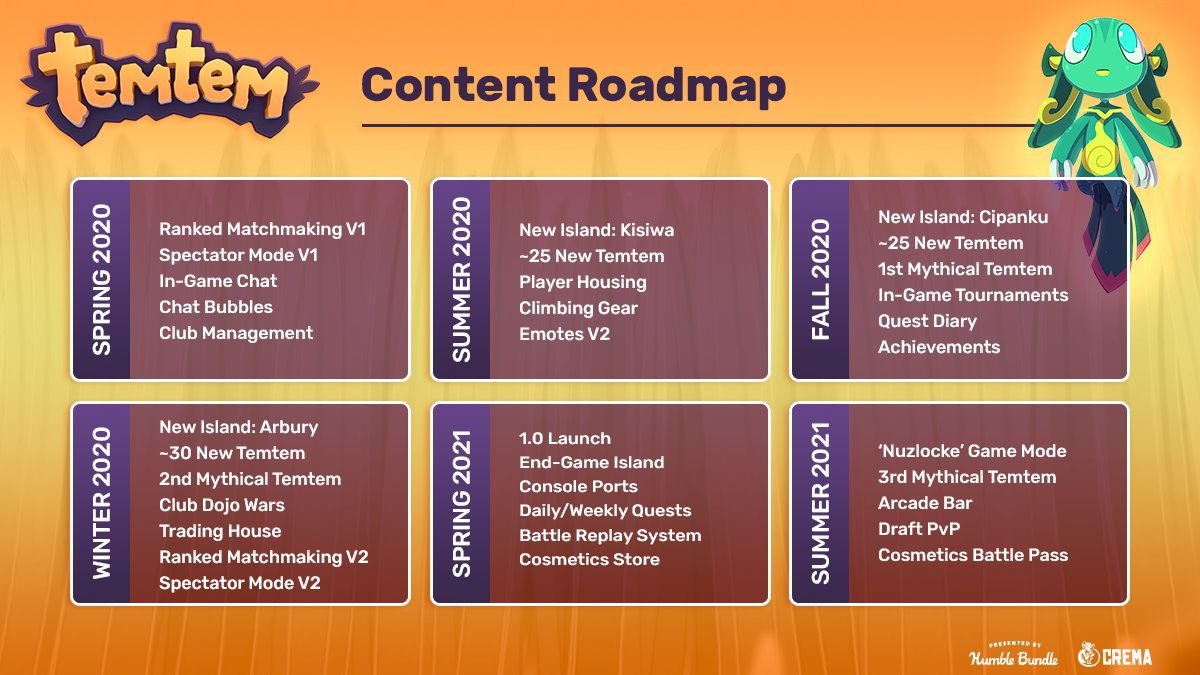 Daily and weekly quests will provide Temtem tamers with short-term goals, while a cosmetic store will launch that will help Crema fund further development.
Last stop on our roadmap is Summer 2021, which adds a cosmetic-based Battle Pass system, a third mythical Temtem, and a Nuzlocke mode. Nuzlocke is much like an Iron Man mode in other games where if a Temtem is knocked out it's considered "dead" and can no longer be used. In Temtem, Nuzlocke mode will also make it so only one or two Temtem can be caught per area, making each capture a carefully considered decision.
Nuzlocke players will be on a different server with PvP enabled, so taking on a challenger will almost certainly cause a loss in Temtem.
For the full details, head on over to Crema's website.
Source: Read Full Article