Match-3 games are an oft-overlooked but highly influential genre in the gaming market. They draw a huge audience of casual and veteran gamers alike, but they also generate a lot of money in the process. Unfortunately, the genre can get stale with so many copycats on the market.
So, what are some of the best, most unique Match-3 games you can play right now? We've gathered a list of some of our favorite games and the most influential titles in this genre's history. So jump in, and find your subsequent Match-3 fixation!
10

Spirit Swap: Low-Fi Beats To Match-3 To
PC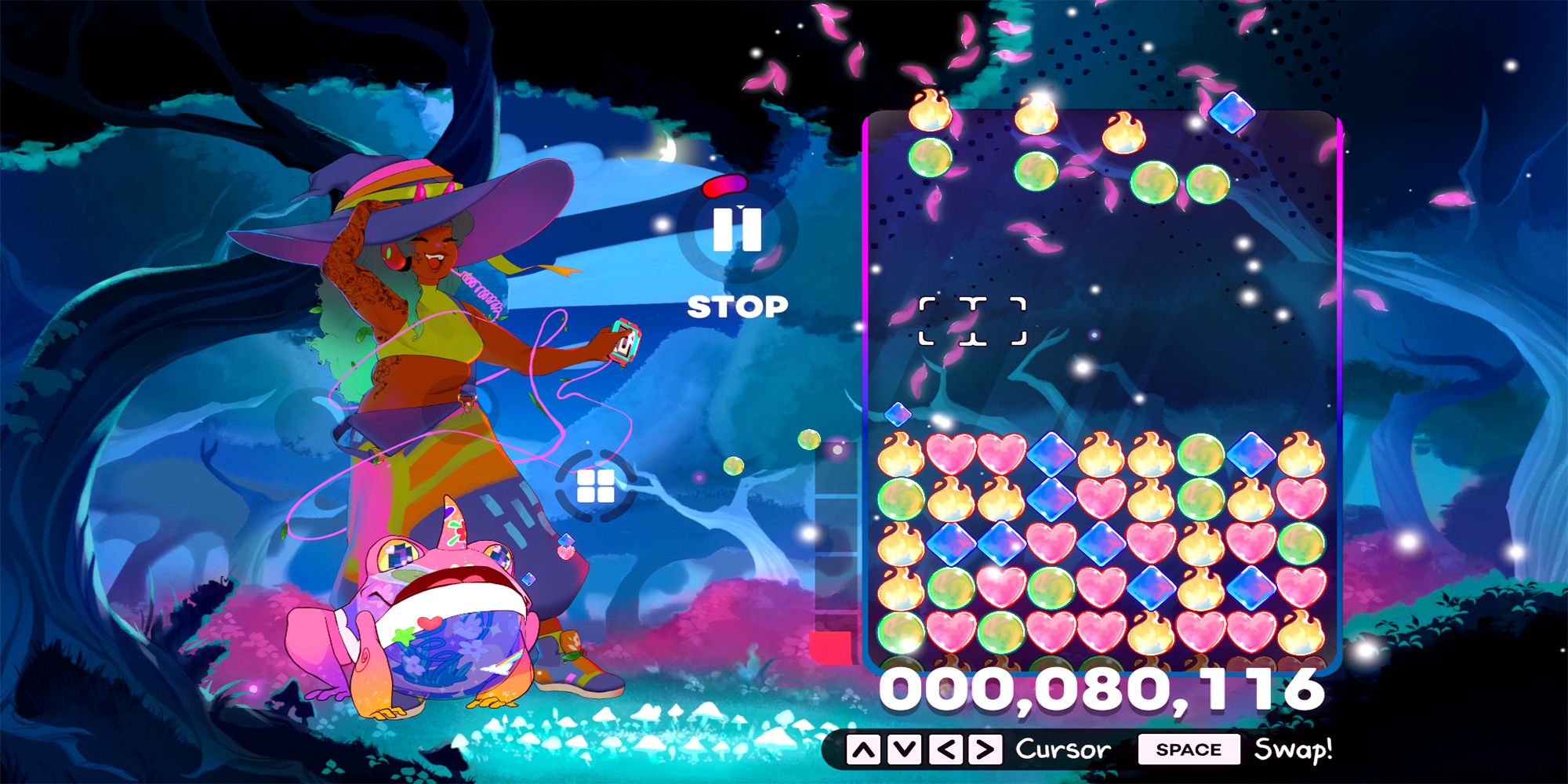 Spirit Swap is a new entry to the vast Match-3 games on Steam's catalog. Unfortunately, it's so new that it's still in development. However, the game's free demo displays how much innovation this title plans to deliver to a genre that can sometimes feel somewhat overplayed.
The game's developer, Soft Not Weak, describes Spirit Swap as an opportunity for gamers to "Cast spells, be queer, and crash the biggest concert of the year!"
The demo alone delivers on this promise with beautifully diverse characters, compelling puzzle mechanics (with plenty of inspiration from Panel de Pon), and a chill hip-hop soundtrack by Meltycanon. We're very excited to see what comes of this innovative project!
9

Hexic
Xbox 360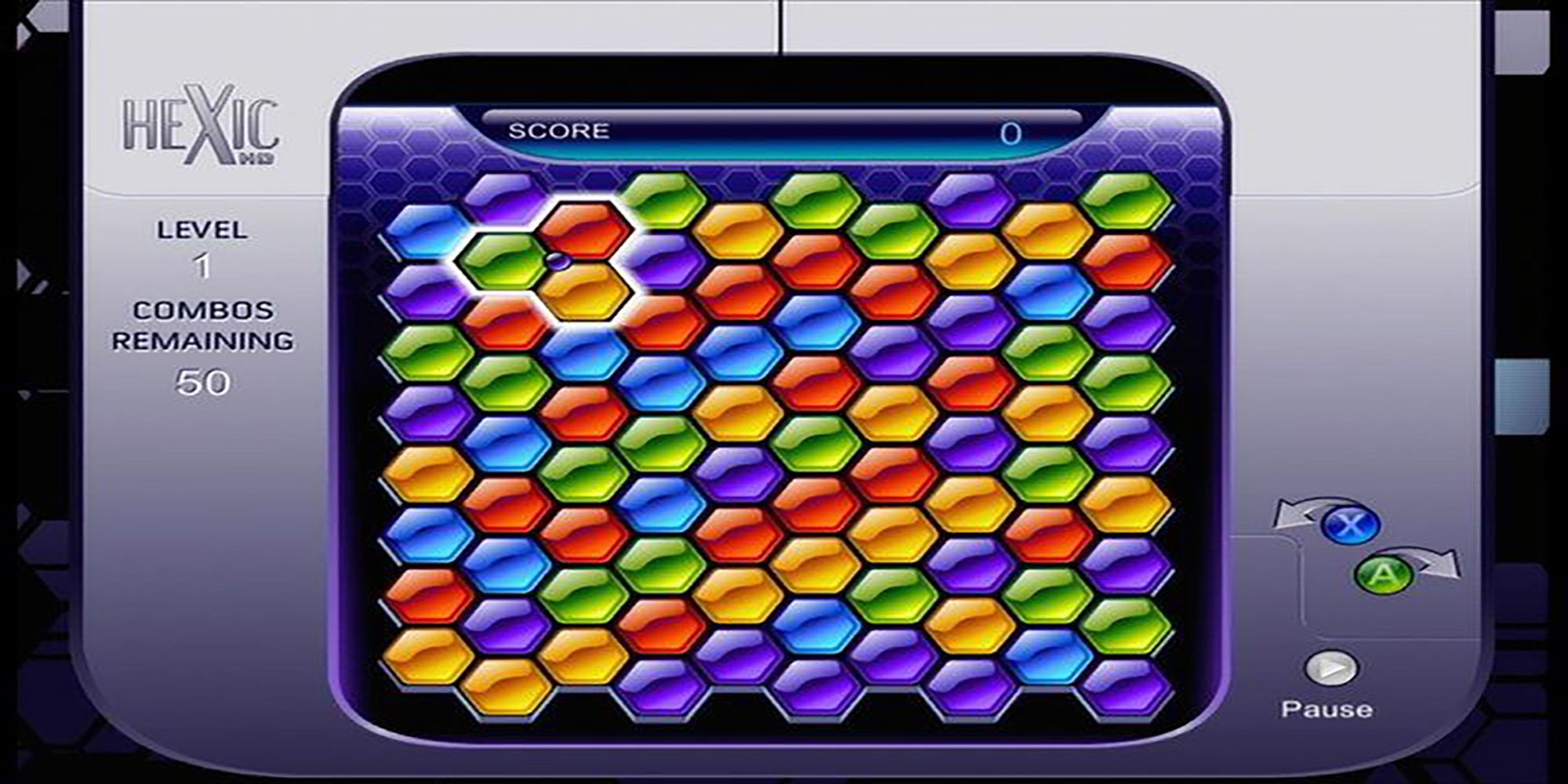 It's hard to find a port of Hexic on any current consoles. Furthermore, while the title has plenty of copycats, Microsoft launched the last mainline entry in 2014. Still, Hexic deserves mention for its innovative gameplay and role as one of the inaugural games on Xbox 360's Xbox Live Arcade service (Hexic HD, 2005).
Out of all the games on this list, Hexic's gameplay is one of the more unique. Rather than switching two tiles vertically or horizontally, players would turn clusters of hexagons in a wheel until three or more hexagons matched. Plus, if a player matched six hexagons in a flower pattern, they would develop a gold star. Players could gain additional points through chain reactions, clearing more than three pieces at a time, and finding bonus stars.
8

Chuzzle
iOS, Android, PC
PopCap Games, the same company that published the legendary Bejeweled, launched Chuzzle. Aesthetically, Chuzzle looks quite different from its gem-stoned peer. The game features big-eyed fuzzballs, called Chuzzles, that pop when three or more of the same color align with each other.
However, what makes Chuzzle feel distinct from Bejeweled is its gameplay mechanics. While Bejeweled has players swap individual tiles, Chuzzle has players move rows and columns of chuzzles until matches occur. In turn, players must consider how moving one chuzzle affects the rest of the chuzzles in its respective row or column (depending on if they move it vertically or horizontally).
7

Candy Crush Saga
iOS, Android, PC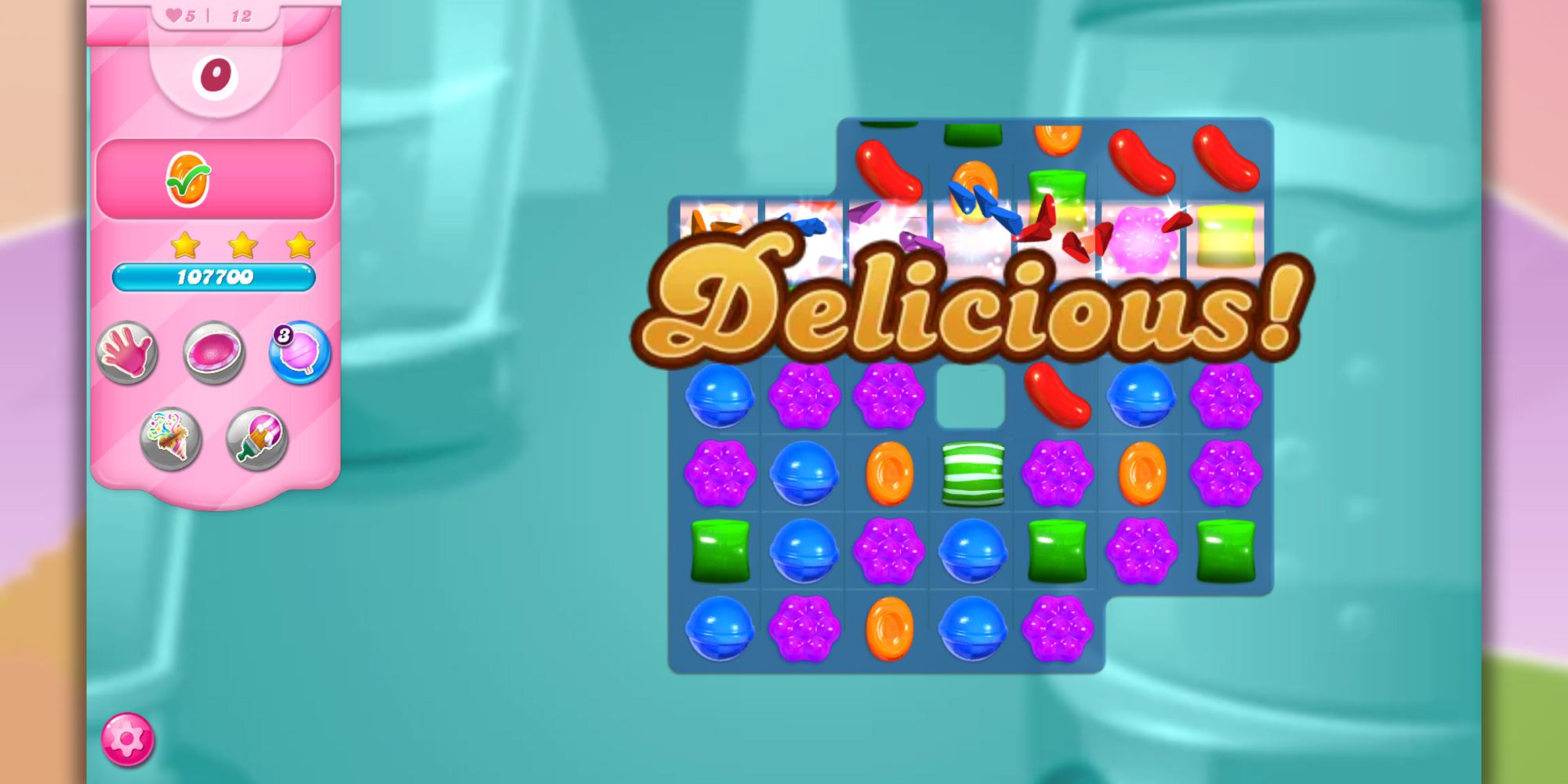 No Match-3 list is complete without mention of Candy Crush Saga. King's confectionary Match-3 series is arguably the most notable. Yes, more well-known than Bejeweled. While Candy Crush Saga's gameplay is unremarkable, its mark on pop culture is irrefutable. For instance, this game is the only one on this list with a failed game show hosted by Mario Lopez. If that doesn't say "zeitgeist," we don't know what does.
Candy Crush Saga is a splendid experience, with its frilly art style and a narrator that sounds adjacent to Sam Elliot. But unfortunately, this game is also one of the first significant pioneers in freemium mobile gaming. Even the UK Office Of Fair Trading investigated the game's compulsion loop structure. Still, whether you love it or hate it, Candy Crush Saga's legacy will live in the fabric of mobile gaming for years to come.
6

Homescapes
iOS, Android, PC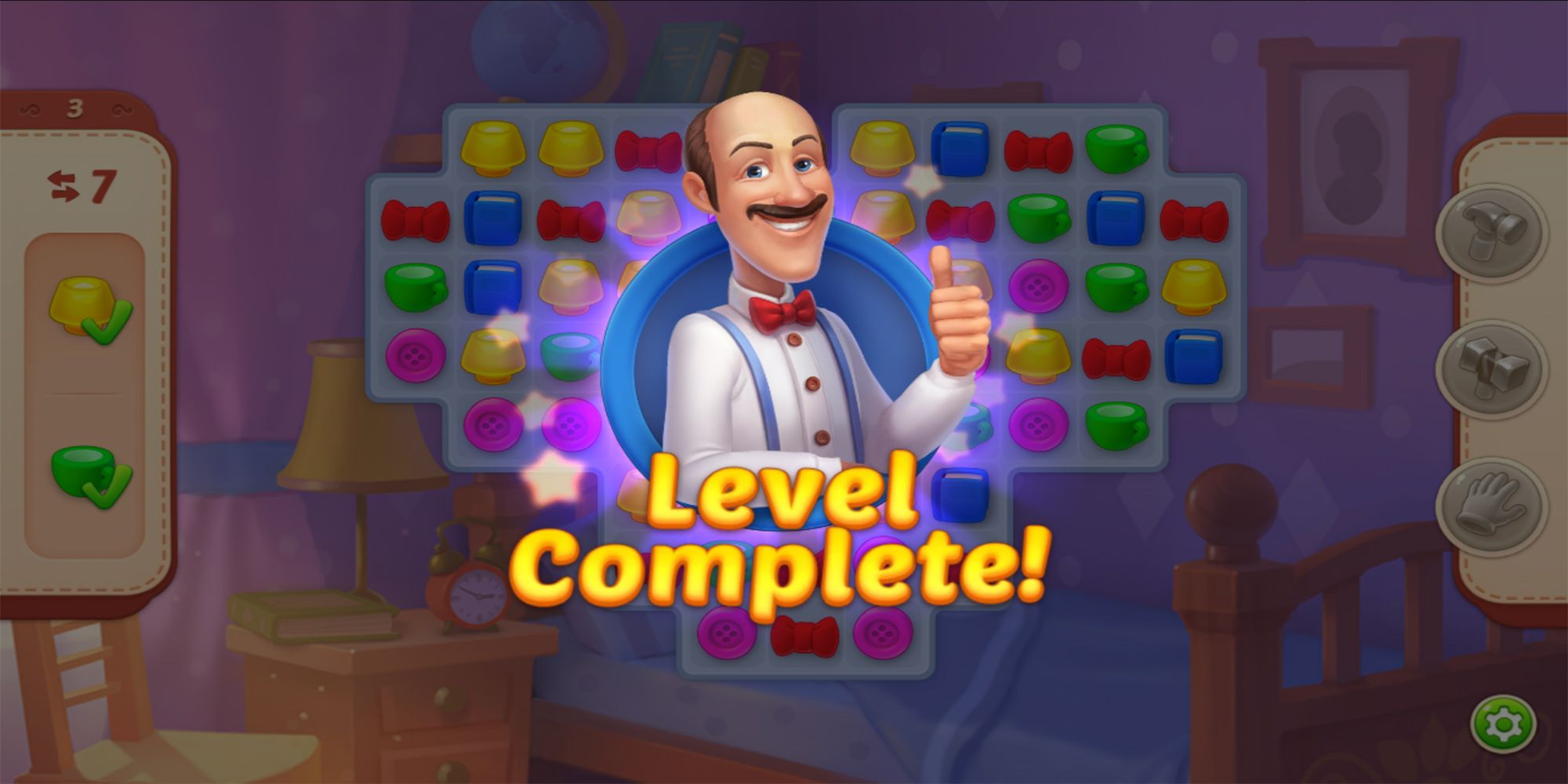 Homescapes combines the fulfillment of home improvement with the grinding of Candy Crush Saga to create a unique Match-3 sub-genre of interior-decorating puzzle game. The title is a sequel to Gardenscapes, an established Match-3 game in its own right.
In contrast to other titles on this list, one of the nice things about Homescapes is that it follows a storyline. The story campaign follows Austin, a butler remodeling his childhood home to convince his parents to keep it rather than selling it. As a result, you'll spend much of the game adorning a mansion's shambles with chic furniture matching your taste.
5

Puzzle And Dragons
iOS, Android, Nintendo Switch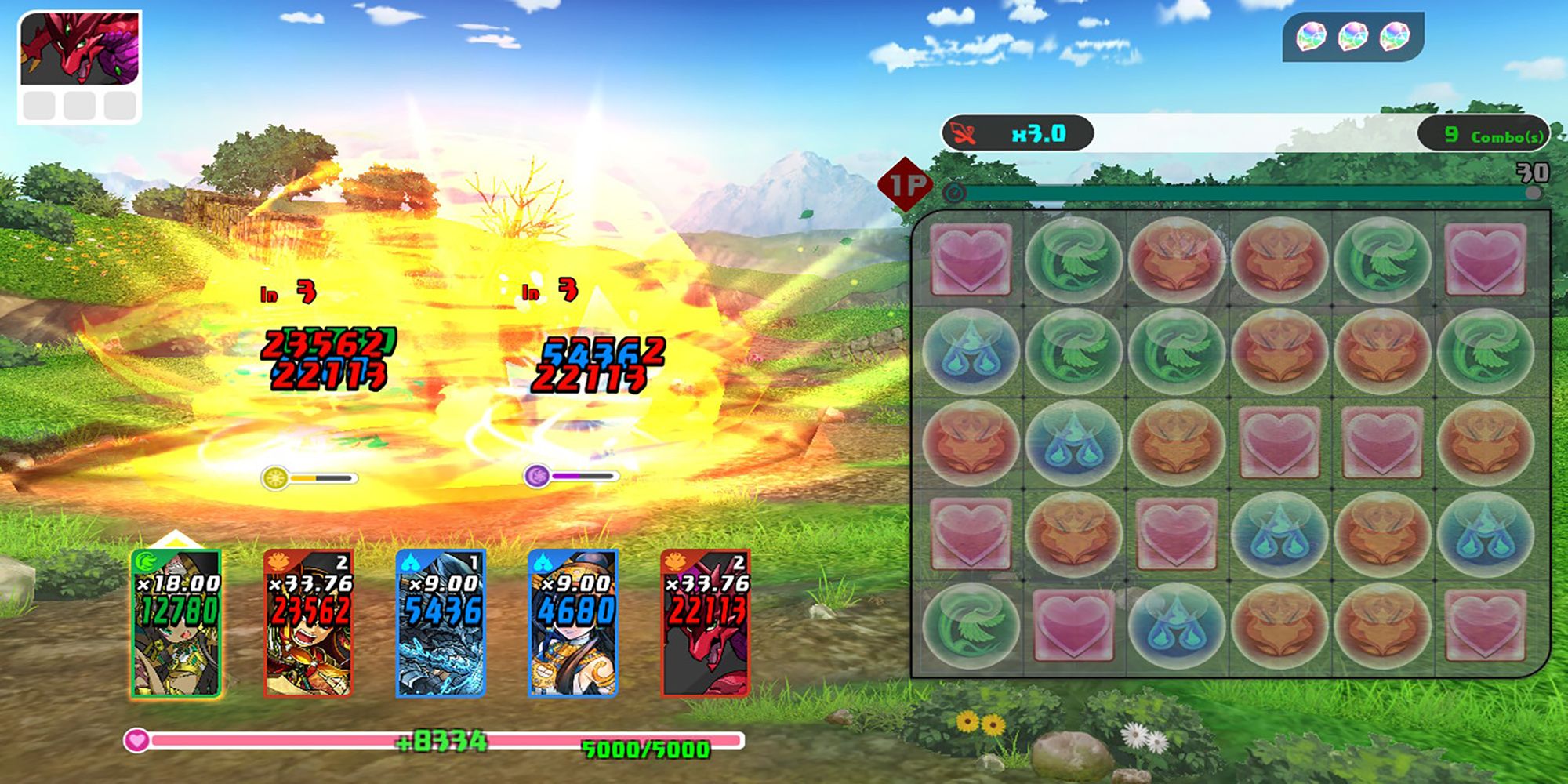 Puzzle And Dragons is not the first RPG/Match-3 hybrid. However, it has certainly set itself apart from its peers, like Puzzle Quest. While the latter emphasizes traditional one-on-one combat in an expanded world, Puzzle And Dragons test players with challenging dungeon battles against various monsters.
Like Homescapes and Candy Crush Saga, Puzzle And Dragons' roots are in mobile gaming. The game was the highest-grossing app globally on iOS and Android in 2013. However, it has also received criticism for hiding pay-to-win elements while marketing itself as a skill-based game.
4

Columns
PC, Xbox One, PS4, Xbox Series X/S, PS5, Nintendo Switch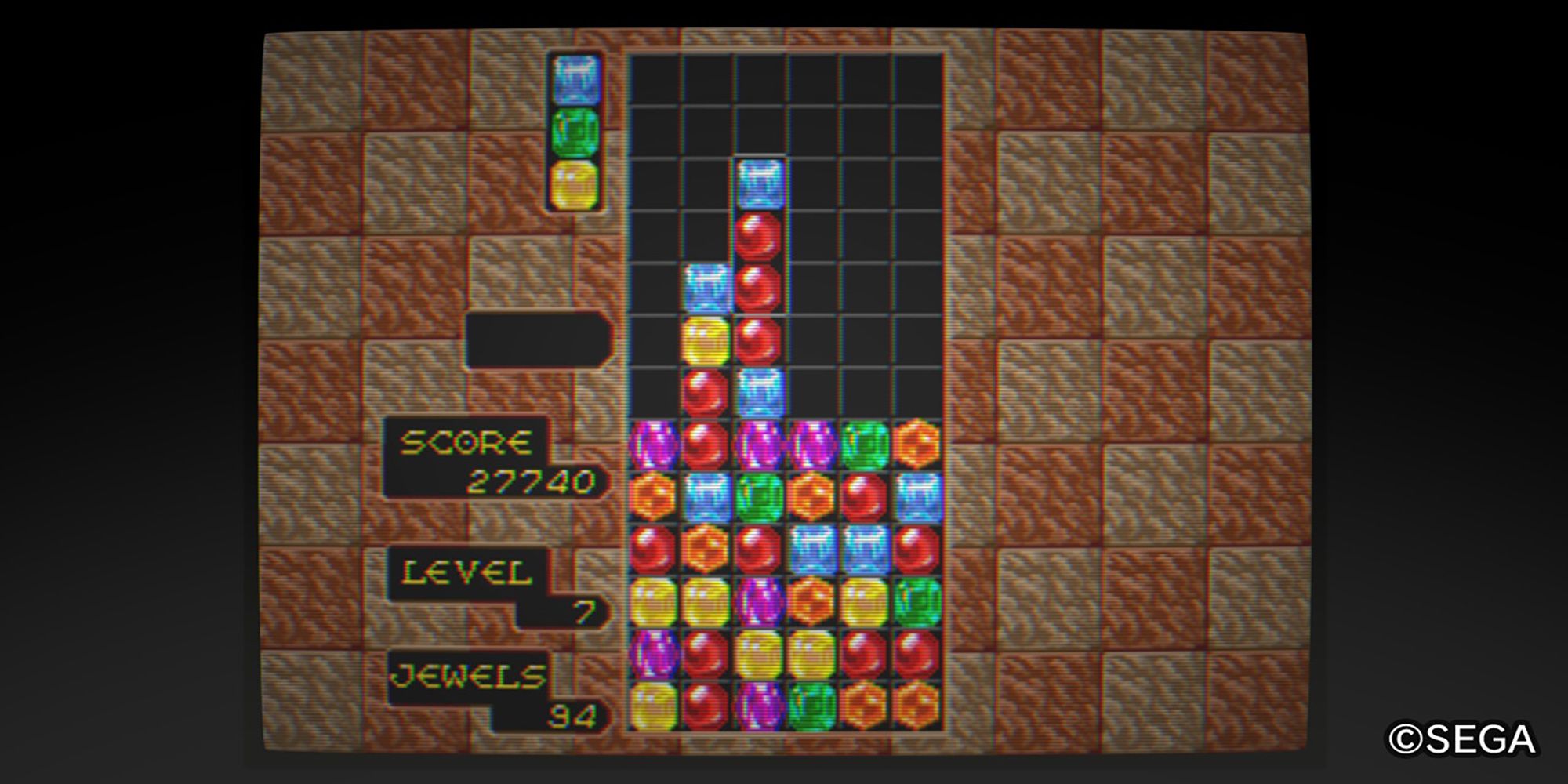 Sega's puzzle series, Columns, had stiff competition back in the nineties, like Puyo Puyo and Tetris. Therefore, you may not be as familiar with these games unless you grew up with a Sega Mega Drive (Genesis in North America). Still, in retrospect, this game uniquely combined tile-dropping and match-3 gameplay.
The object of Columns is to connect three jewels vertically, horizontally, or diagonally. And if you could develop chains from these matches, even better. However, what made Columns stand out is that you could not rotate the gems. On the contrary, you could only change the order of gems in the dropping three-gem column.
3

Panel de Pon (Also known as Tetris Attack, Puzzle League)
Nintendo Switch (Super NES via Nintendo Online)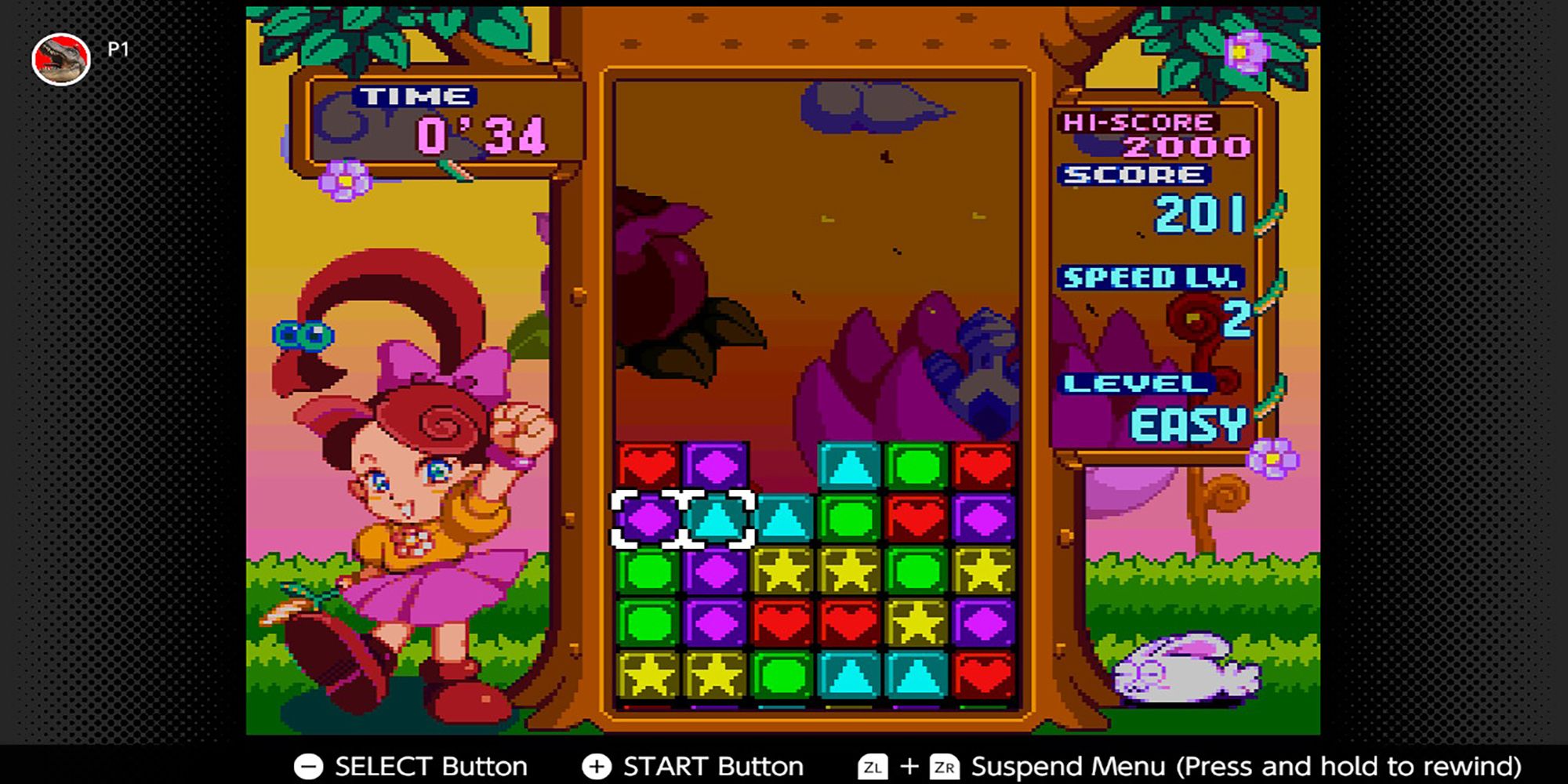 Panel de Pon is one of those series you may not recognize by name but by its various spin-offs. For instance, the game was first launched in 1995 as Tetris Attack internationally. Furthermore, millennials would recognize Panel de Pon's gameplay from Pokémon Puzzle League for N64. Finally, the series' latest outing in 2016 featured the cast of Animal Crossing. In short, Panel de Pon is likely Nintendo's most prominent puzzle game behind Dr. Mario.
There are a lot of familiar elements from other puzzle games in Panel de Pon. For instance, the game is a match-3 with tile-swapping mechanics. Furthermore, players are encouraged to make chain combos to gain extra points. However, unlike its peers, Panel de Pon adds an element of urgency by gradually raising blocks to the top of the screen. If these blocks reach the top, it's game over.
2

Puzzle Quest
PC, iOS, Android, PS4, Xbox One, Nintendo Switch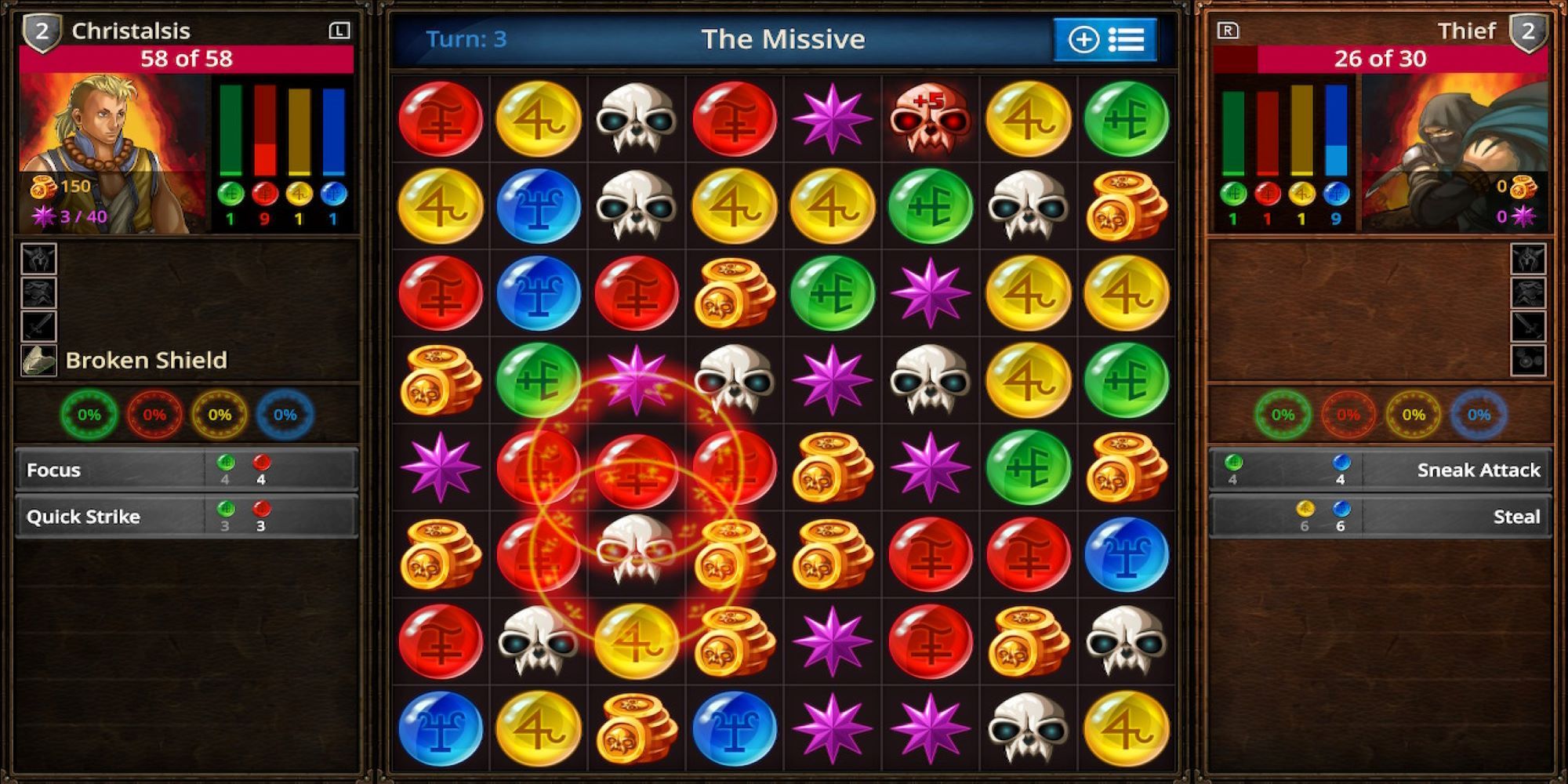 When it comes to Match-3 games, no series re-invigorated the genre like Puzzle Quest. This spin-off to the long-running Warlords series was the first RPG Match-3 game. Its inaugural installment combined elements from both gameplay genres seamlessly, developing a massive following of players. While the series has shifted towards the free-to-play model through the years, its original formula still holds up.
In Puzzle Quest's combat system, players match colorful orbs, called mana, to cast spells against their opponent. Additionally, if they can match three or more skulls, the player can directly damage the opponent.
While this system sounds simple on paper, it is a complex and fulfilling experience in practice, requiring players to think strategically and anticipate their opponents' moves. On top of its stellar combat, Puzzle Quest reaches beyond the casual Match-3 affair with an expansive world and storyline.
1

Bejeweled
iOS, Android, PC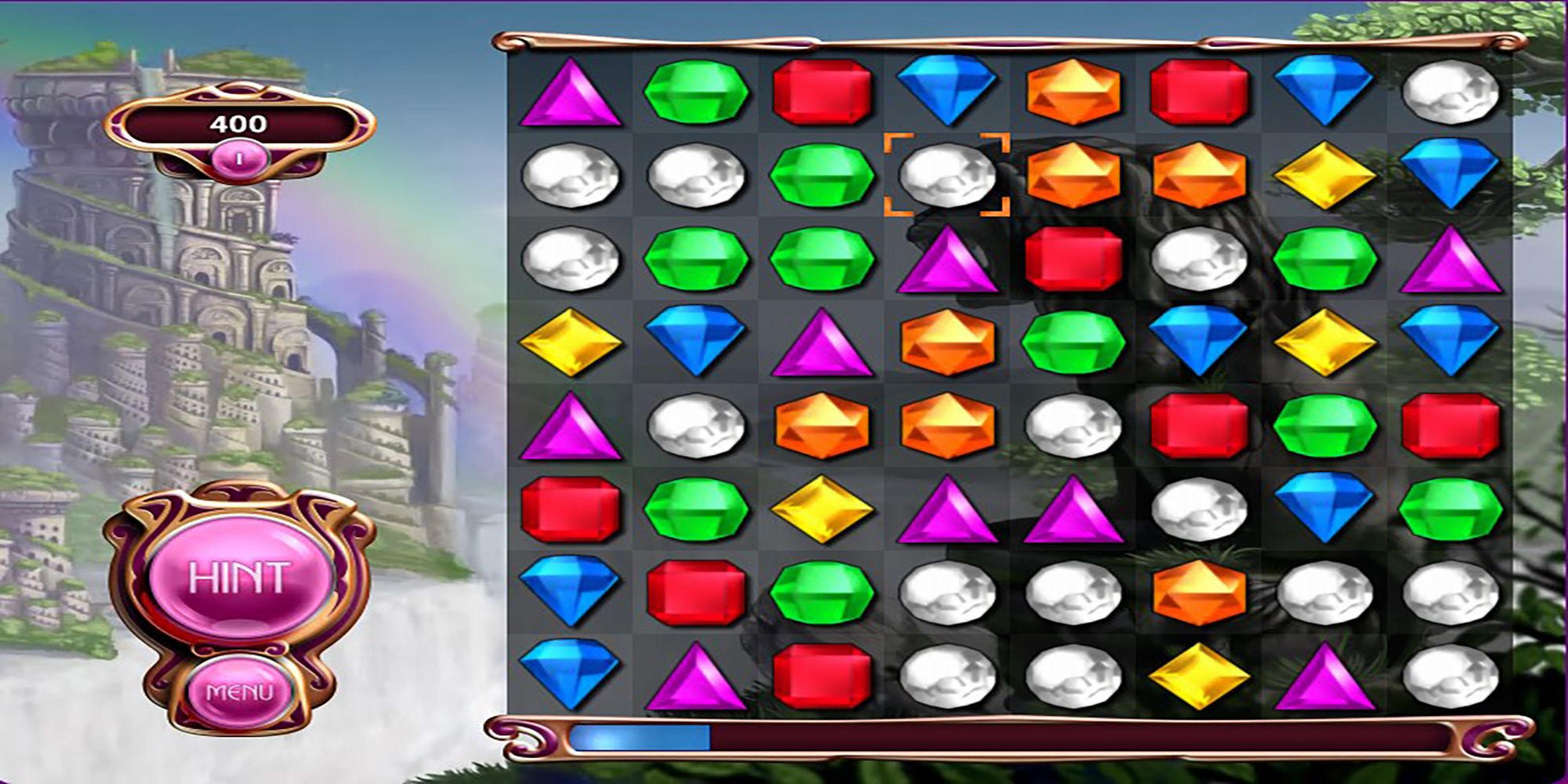 There's no denying it; the Match-3 puzzle genre would not be where it is today without Bejeweled. PopCap Games developed this title (originally named Diamond Mine) as a more appealing web-based version of the color-matching game Shariki. Besides being more color-blind accessible due to its incorporation of distinct shapes, the title also added a time limit to give it an arcade experience.
Microsoft was so impressed with Diamond Mine that it partnered with PopCap Games to create a complete game that it would host on its various websites. Additionally, Microsoft brainstormed the name that the game is known as today. More importantly, you could argue that Bejeweled's distribution through Microsoft spread the Match-3 genre to the masses leading to its popularity today.
Source: Read Full Article