After a grueling Winter featuring a lockout that threatened the entire season, the time has come. The 2022 MLB season is here! Whether your favorite team is in contention or it's more of a rebuilding year, fans of the sport can agree that the league is in a fantastic place when it comes to talent.
Exciting, young prospects are driving the league forward and adding a bit of flair to the everyday routine. But what do you do if your favorite players aren't on your favorite team? Easy, start up a franchise in MLB The Show 22 and run things the way you see fit. There are plenty of great options to start with this year that can make your World Series dreams come true and give you a head start on your baseball empire.
10

Los Angeles Dodgers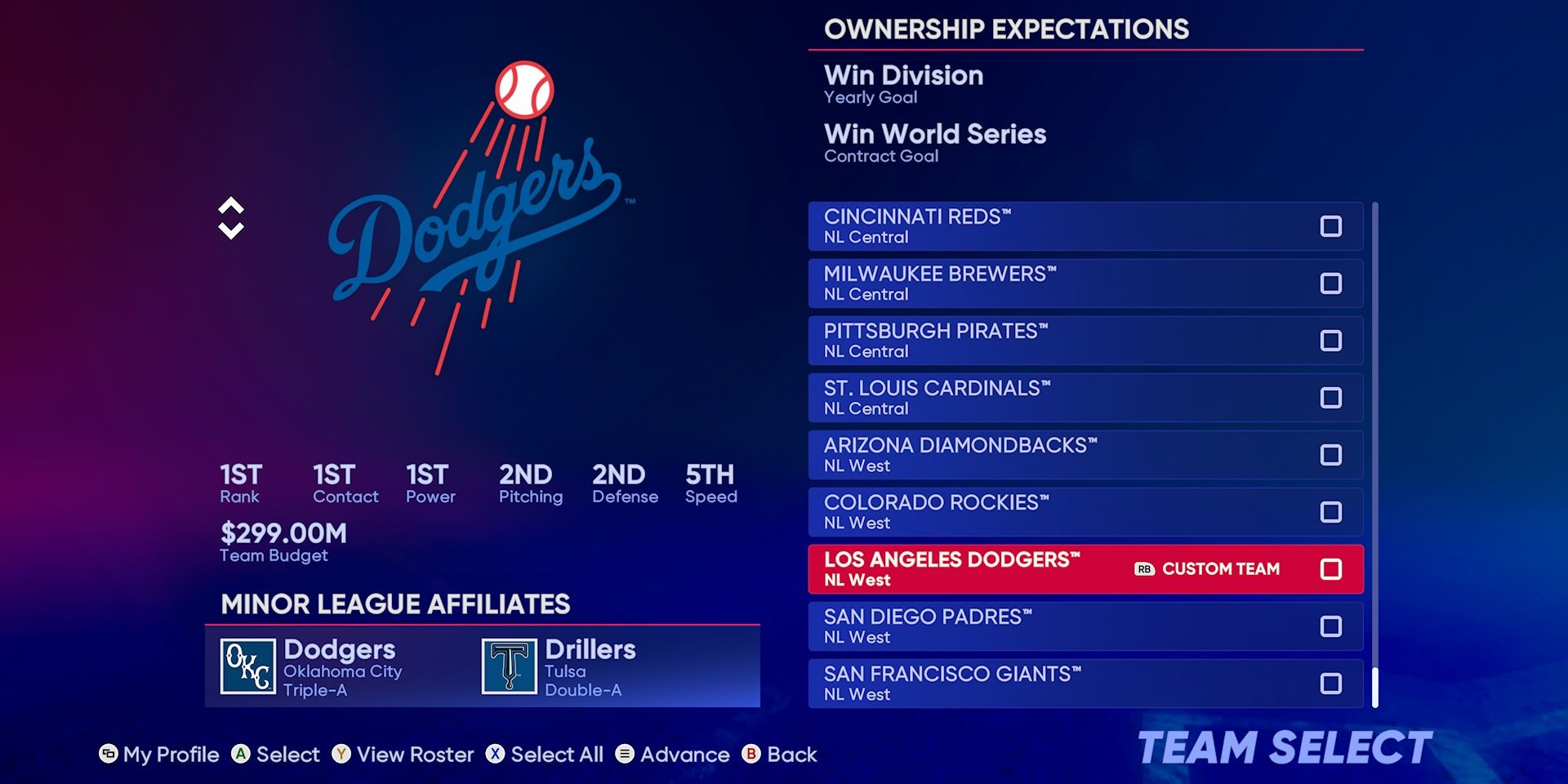 The Los Angeles Dodgers are an absolute juggernaut in MLB The Show 22. Sporting what some consider the greatest collection of offensive talent in league history, it's no surprise that they come in with such a high team rating. In addition, their team budget of $299.00M is the highest in the game, giving you plenty of cash to throw around as you sign and trade for star players.
The Dodgers are the favorites to win the World Series, and it shows in the game, as they are ranked first in contact and power, fifth in speed, and second in defense. Their second ranked pitching anchored by Walker Buehler (92 OVR) and Clayton Kershaw (93 OVR) is no slouch either, although it will hardly matter when you're cranking home runs at a rate your opponent simply can't keep up with.
9

Toronto Blue Jays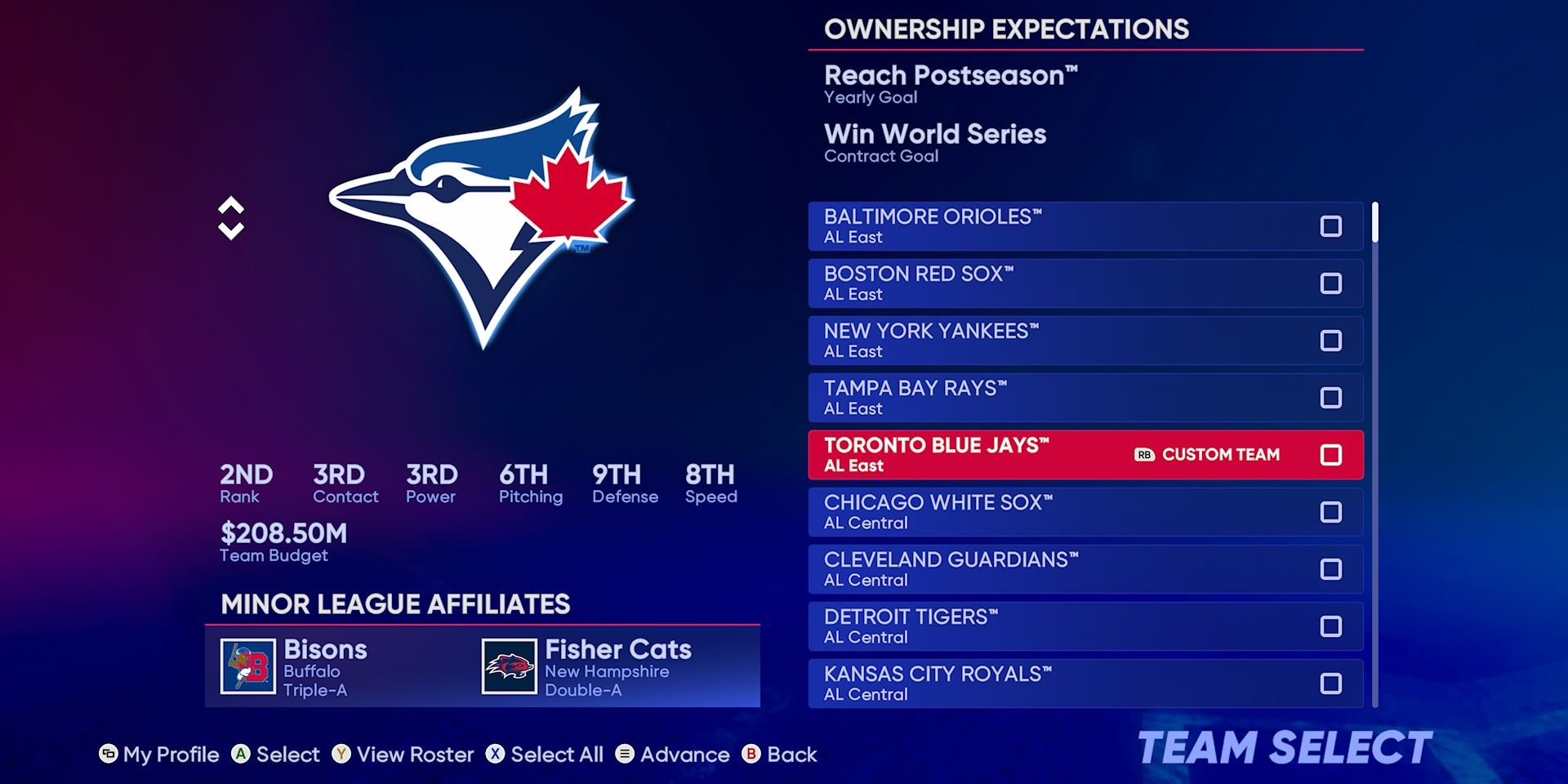 The AL East is the MLB's best division and its projected leader, the Toronto Blue Jays, is one of the league's best teams. If father/son major league duos are your thing, this is the squad for you.
Led by Vladimir Guerrero Jr. (96 OVR), Bo Bichette (87 OVR), and Cavan Biggio (73 OVR), the Blue Jays are stacked with the sons of former MLB stars. Their team budget of $208.50M is lower than many of the top teams, but they are ranked top ten in every category, including third in power and contact.
8

Houston Astros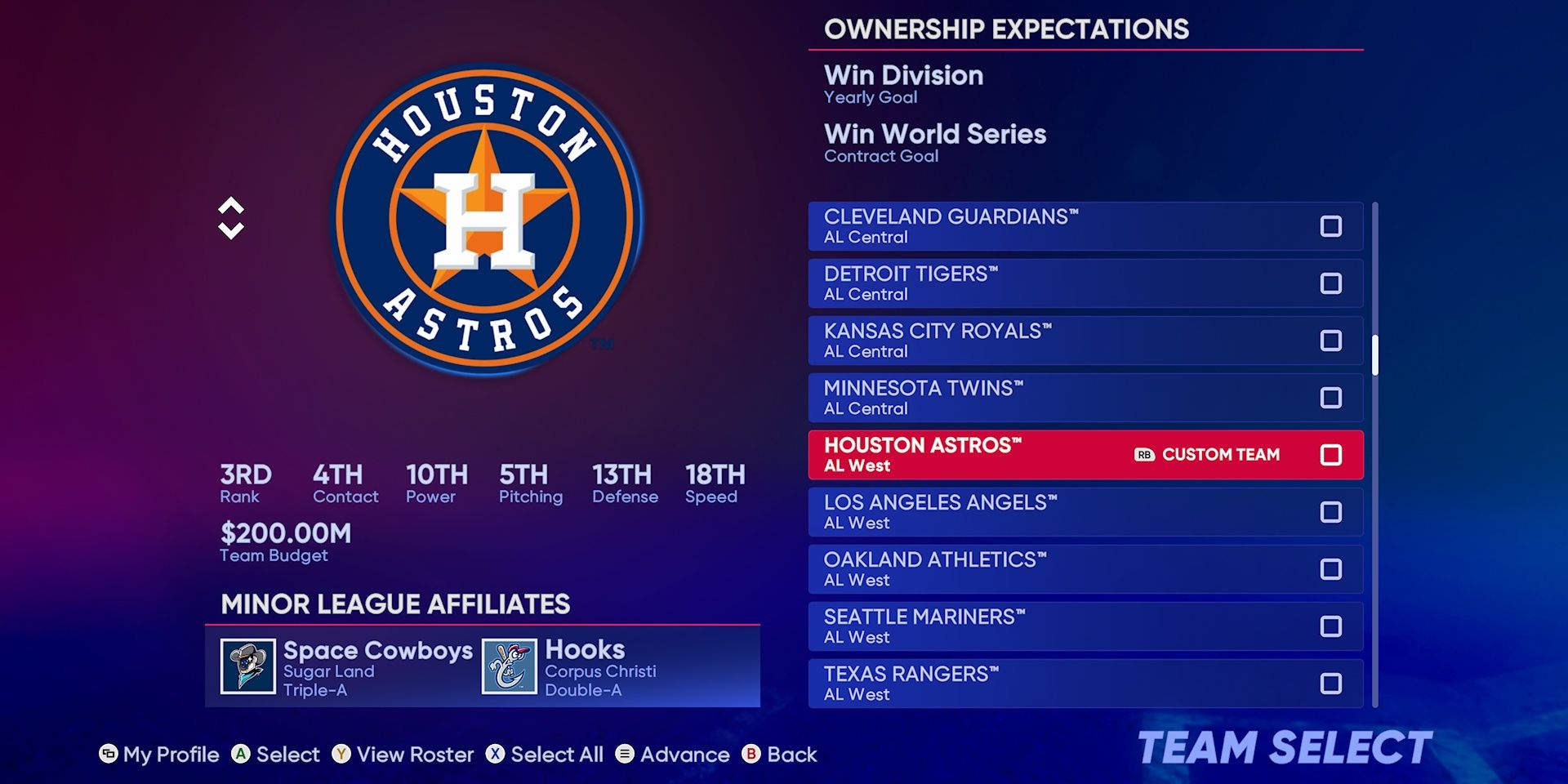 Despite their fair share of controversy over the last few years, the Houston Astros are still near the top of the league in terms of talent. Similar to the Blue Jays, they sport a lower budget of just $200.00M, but more than make up for it with their roster.
They are headlined by their second baseman Jose Altuve (92 OVR). On the mound, they're led by the veteran Justin Verlander (88 OVR), who helps bolster their fifth ranked pitching staff. They do rank 18th in speed, however, so be aware that stealing bases and tracking down fly balls could prove slightly difficult.
7

New York Mets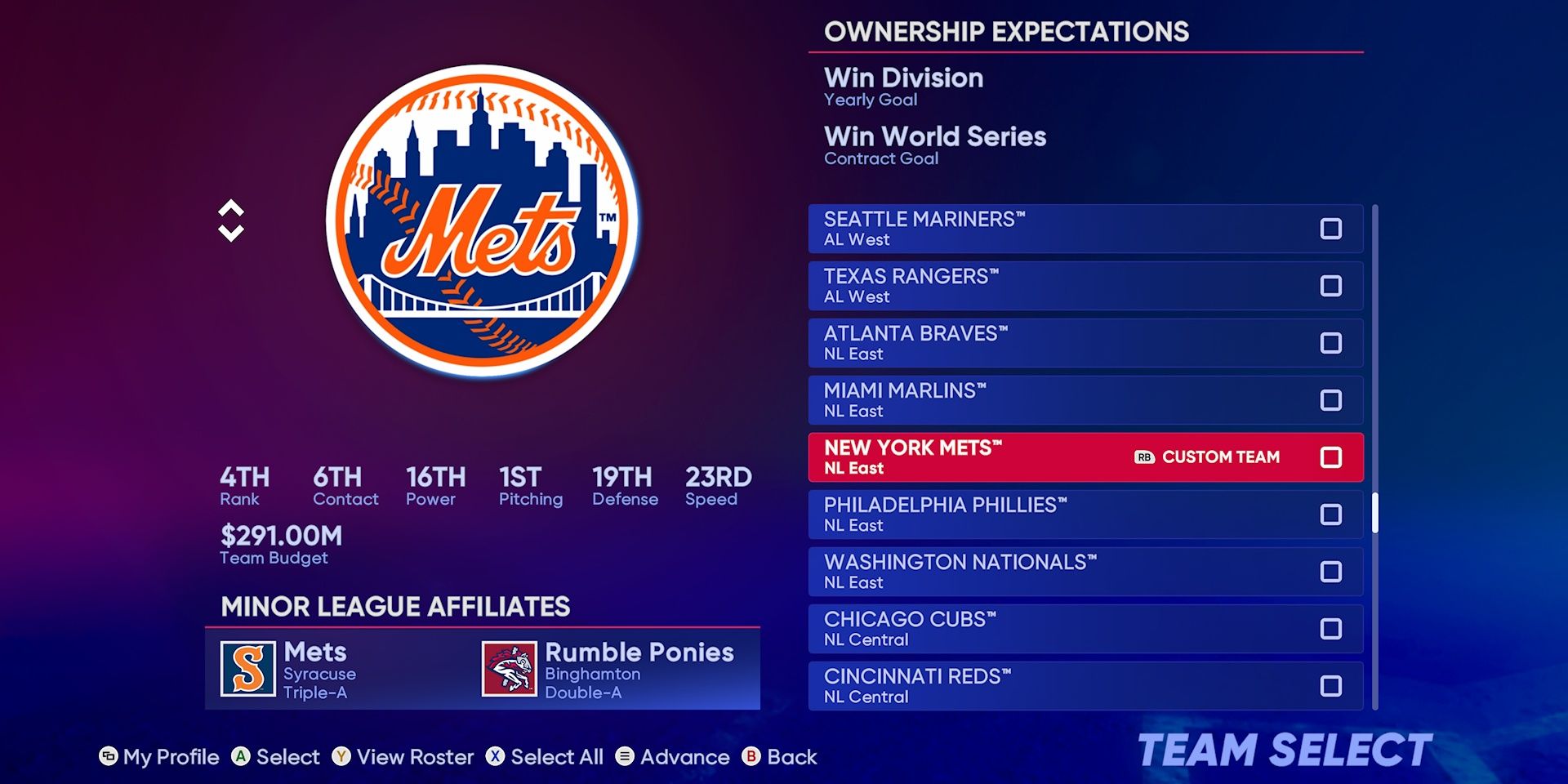 The New York Mets are the fourth ranked team in MLB The Show 22 and have the team budget to show for it. At $291.00M, this team embodies the bright lights and big city they play in. Behind the glitz and the glam is an elite pitching staff.
While their ace, two-time Cy Young winner Jacob DeGrom (99 OVR), was recently ruled out with a stress reaction on his shoulder, Max Scherzer (97 OVR) and Chris Bassitt (83 OVR) make for fine replacements as you begin your journey to the World Series. In addition to their first overall rank in pitching, the Mets are ranked sixth in contact, so you won't have to worry about getting on base with this squad.
6

Atlanta Braves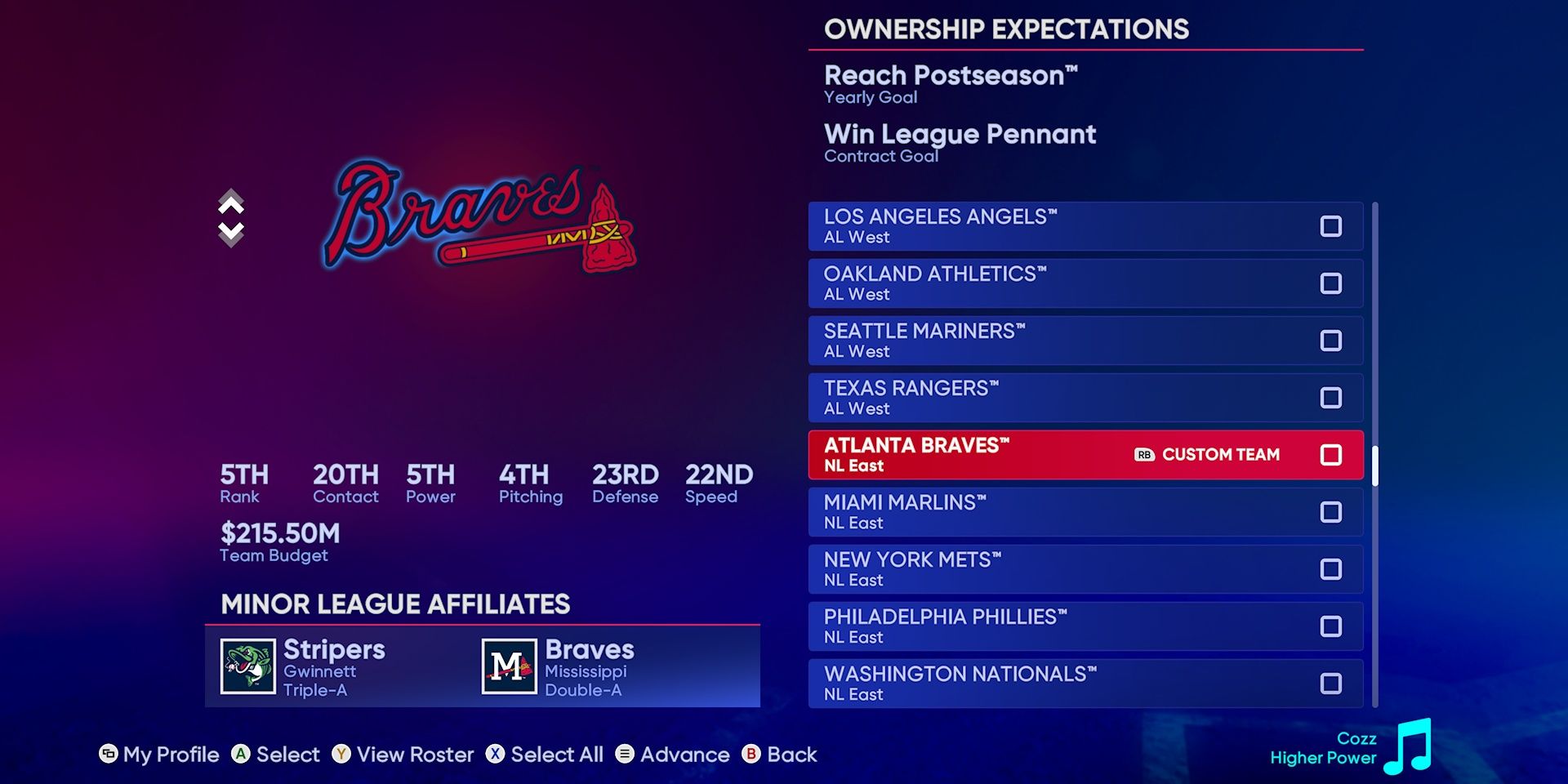 Coming in as the fifth ranked team in the game are the World Series champions, the Atlanta Braves. This may be viewed as a sign of disrespect for the champions, but losing a star first baseman like Freddie Freeman (93 OVR) and remaining in the top five shows how dangerous this team is. Of course, it helps to have one of the best players in the game, Ronald Acuna Jr. (99 OVR).
With a team budget of $215.50M, they may not throw money around like the Mets and Dodgers, but you will still be able to make big splashes to secure another title for the franchise. Their fourth ranked pitching will help you keep things close even on nights where you just can't seem to make contact.
5

Chicago White Sox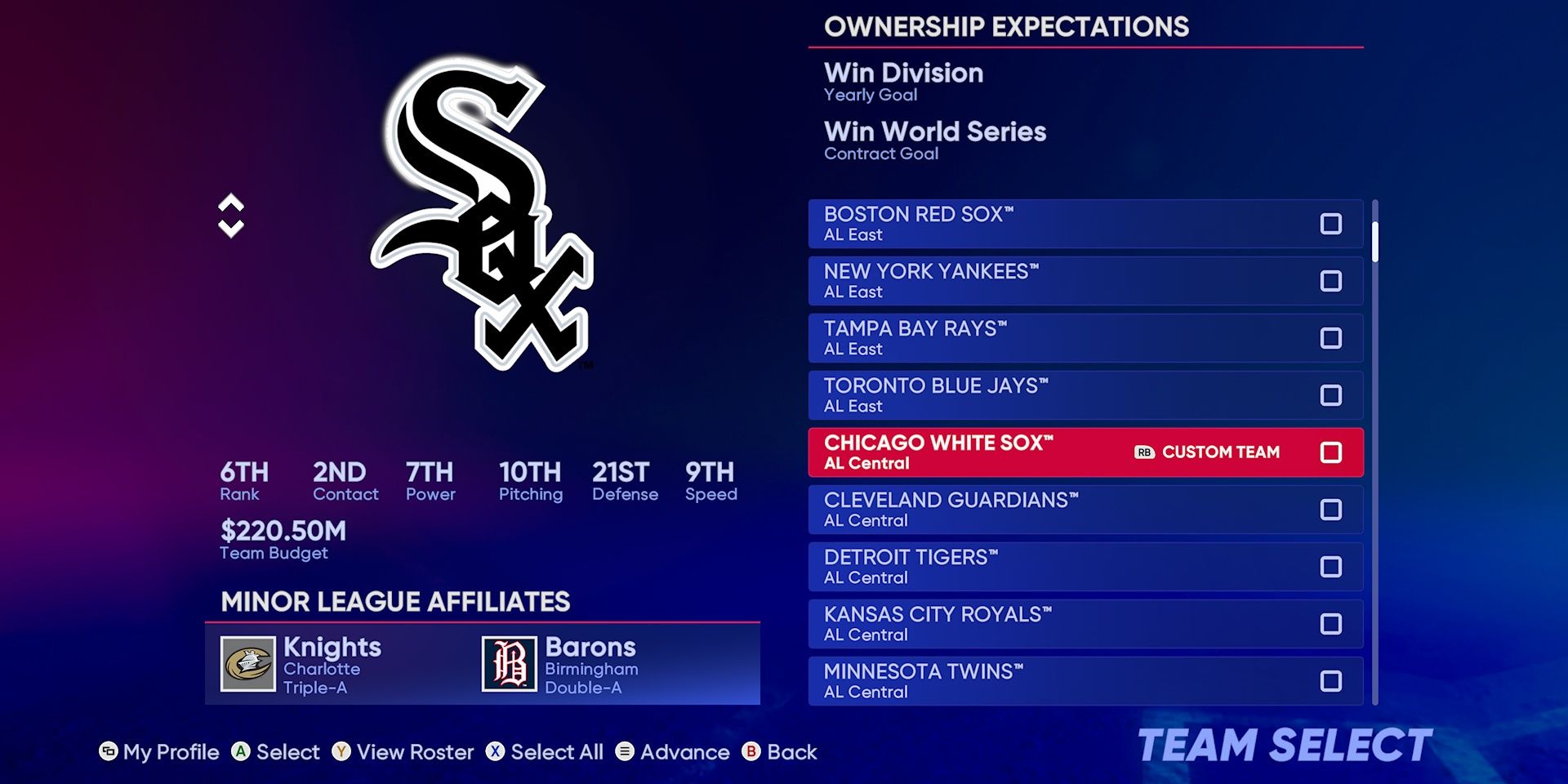 The Chicago White Sox come into this season ranked sixth overall and are the overwhelming favorite to win the worst division in the MLB, the AL Central. Their budget of $220.50M is respectable and will keep you in play with the big dogs, especially in such a weak division.
Offense is this team's bread and butter, as they rank second in contact and seventh in power. You should have no issues scoring runs. While Chicago's pitching ranks tenth, their 21st ranked defense could pose a problem as you try to make an error-free run to a title.
4

New York Yankees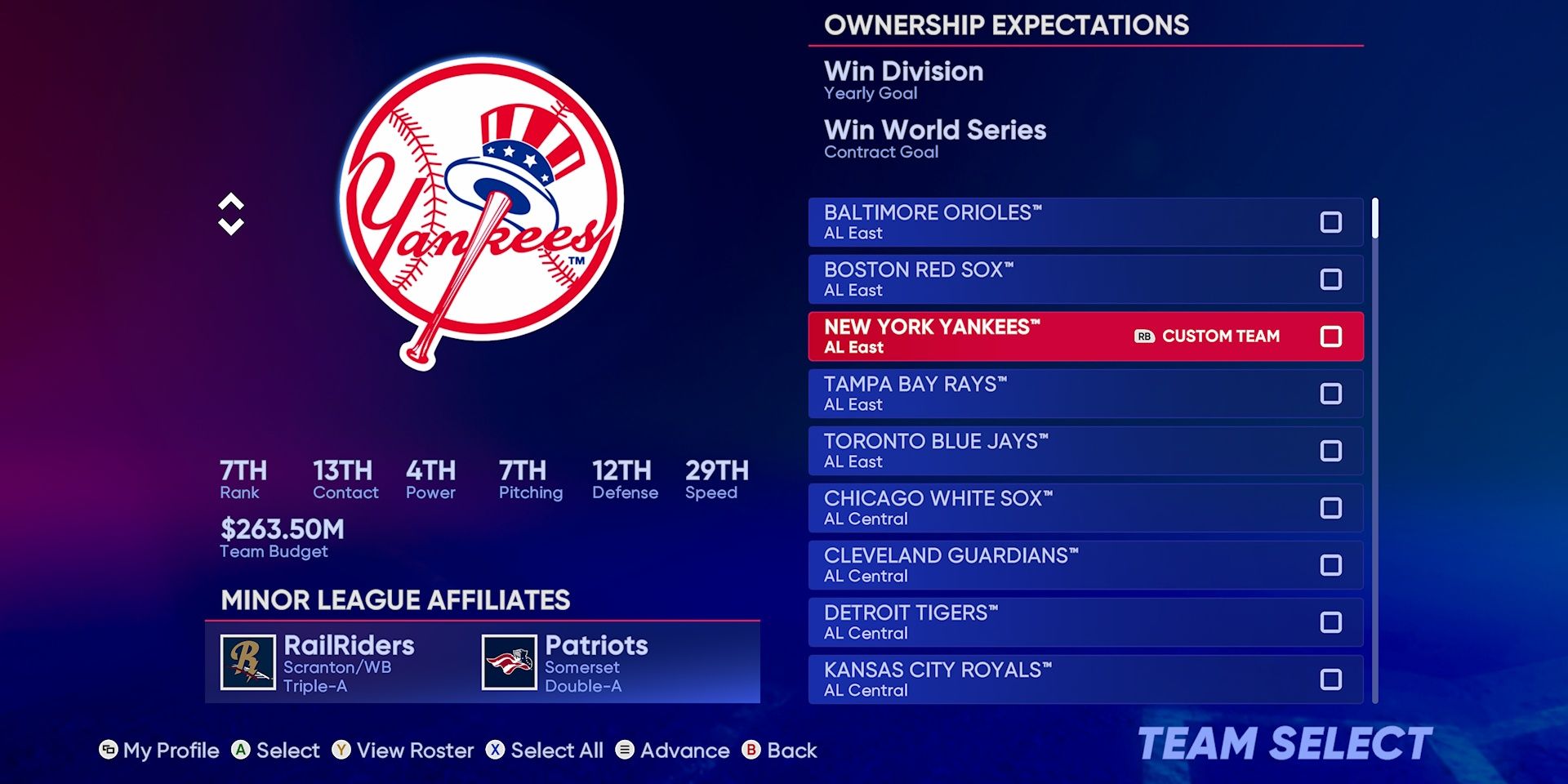 No list of the best teams to start a franchise with would be complete without the villains of the MLB, the New York Yankees. Ranking seventh overall, the Yankees are once again a contender despite playing in a loaded AL East.
It is only fitting that the Bronx Bombers rank fourth in power, led by their two sluggers, Aaron Judge (96 OVR) and Giancarlo Stanton (87 OVR). Gerrit Cole (92 OVR) leads their seventh ranked pitching staff, so you won't need to worry about giving up many runs. Finally, their team budget of $263.50M ranks near the top of the league and will make you blink twice just thinking about it.
3

Boston Red Sox
Wherever the Yankees are mentioned, the Boston Red Sox must follow. It's practically a law. Yet another team from the AL East, the Red Sox have an astronomical budget of $245.00M, giving you plenty of wiggle room to outmaneuver your in-division rivals, the Yankees and the Blue Jays.
Expectations are a bit lower with this team, as your contract goal will be to win the league pennant, rather than become the World Series champions. Ranking eighth in power and defense, tenth in contact, and 13th in pitching, Boston is a solid, if unspectacular, team that could surprise with a few key moves. Their only downfall is their 26th ranked speed.
2

Philadelphia Phillies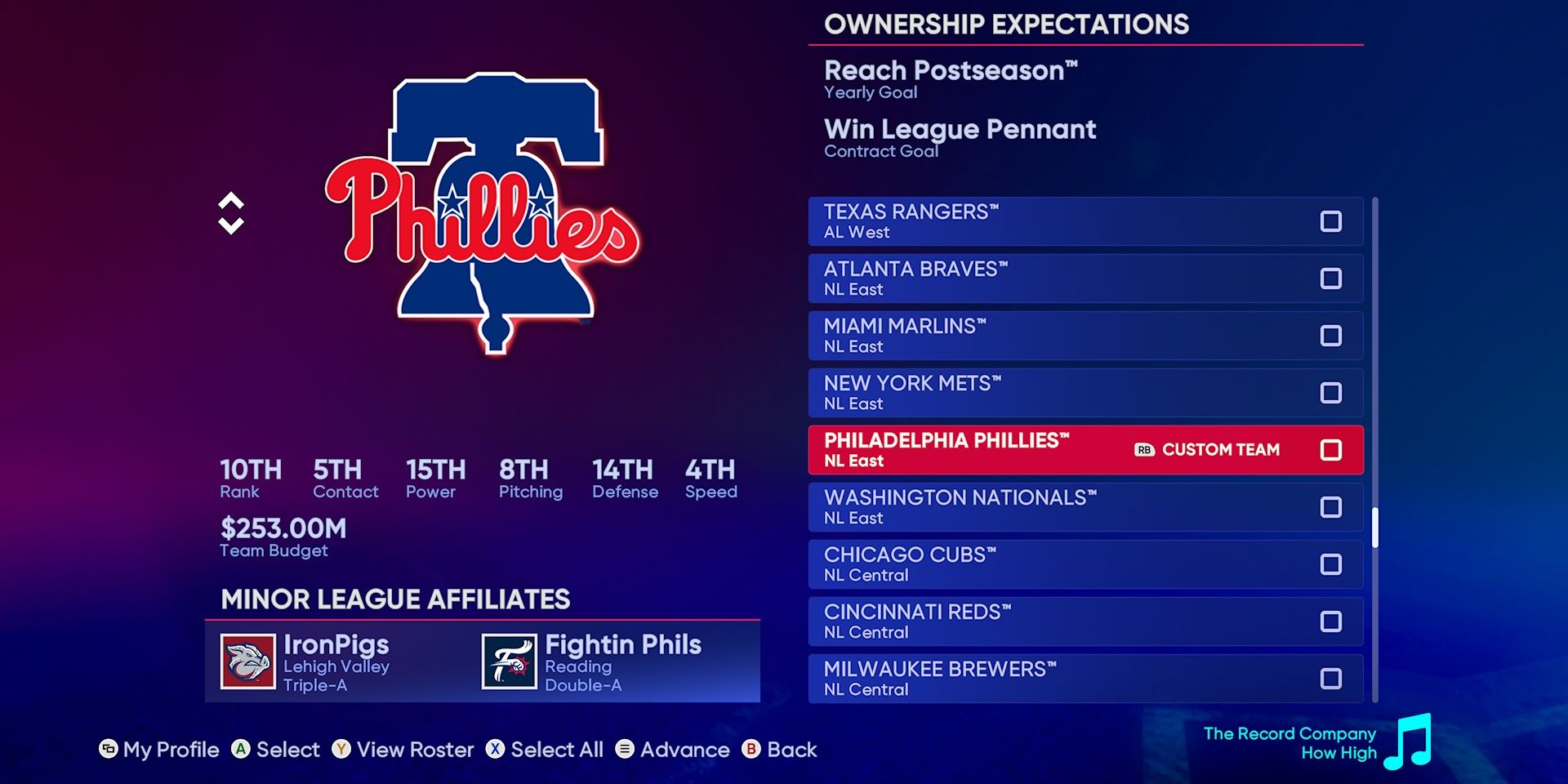 The Philadelphia Phillies may share a division with the defending champion Atlanta Braves, but this team has serious Wild Card potential. A staggering team budget of $253.00M goes a long way toward that goal and will help you outspend your rivals in Georgia. Although the Phillies were one of the MLB's worst defenses last year, they rank a respectable 14th in MLB The Show 22.
Contact and speed will be your best friends with this club, as they rank fifth and fourth there, respectively. The Phillies are perfect if you love an underdog, as they are looking to end an 11-year postseason drought on the back of Bryce Harper (95 OVR).
1

Los Angeles Angels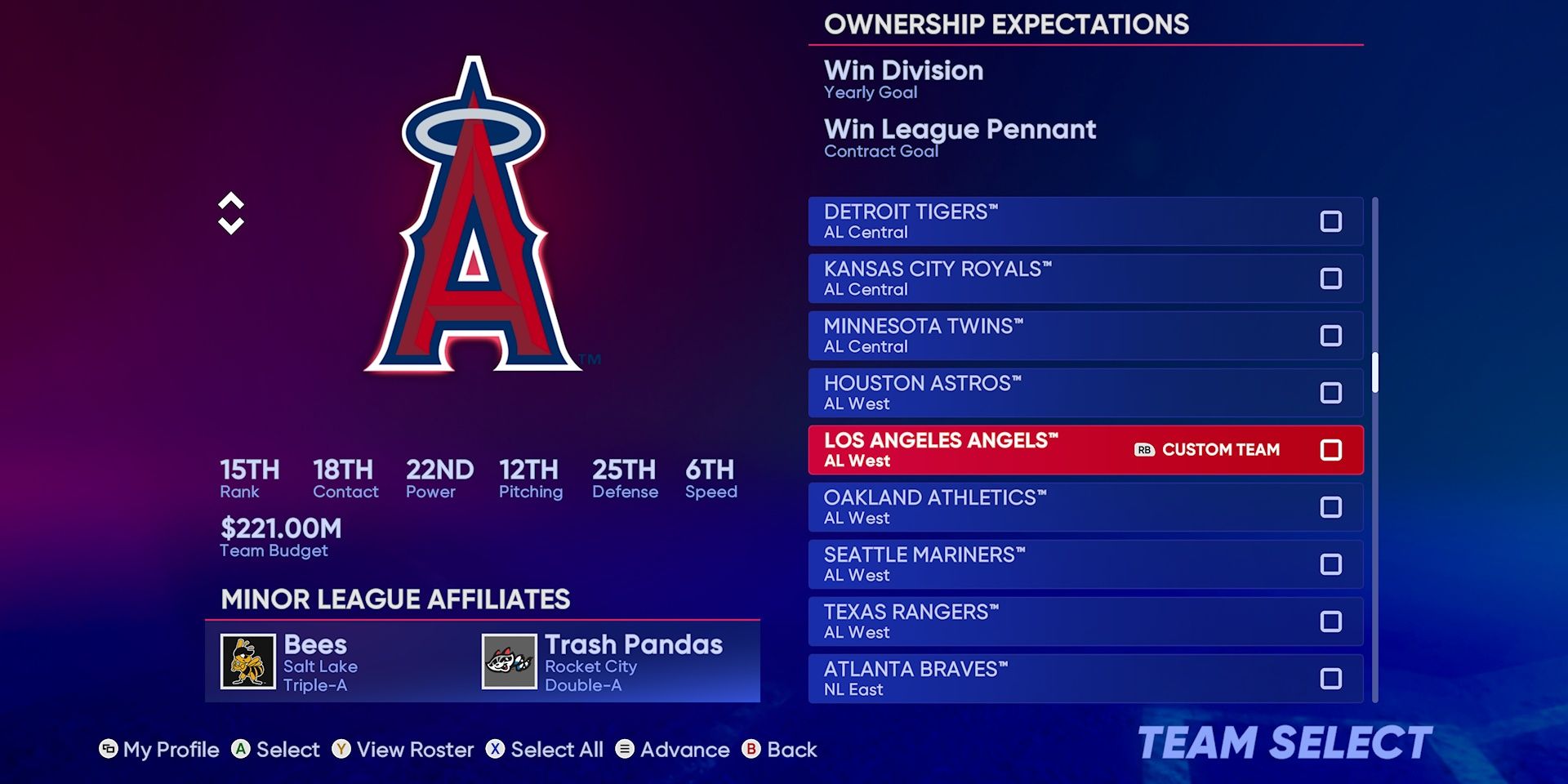 The Los Angeles Angels are about as attractive as it gets for a team that does not have high World Series hopes. They rank 15th overall and have to compete with the Houston Astros for the AL West crown. They do rank sixth in speed, but this is their only top ten category.
However, they are an exciting team to start a franchise with because of their large team budget of $221.00M and their two superstars, Shohei Otani (95 OVR) and Mike Trout (99 OVR). Otani is a do it all player: an elite pitcher and designated hitter who could be the next face of the MLB. Trout, on the other hand, is one of the best baseball players to ever live. The cherry on top comes from the Angels' Double-A team, the Trash Pandas, who have the best team name in all of baseball.
Source: Read Full Article