The Owl House panel at New York Comic Con this week was a bittersweet occasion. It is the show's first (and at least while it's on the air, last) panel where some creators and cast can gather to celebrate with fans about a story and characters that have captured hearts in a way few fictional universes have. Disney unfortunately didn't renew it for a third season, and thus the narrative will be concluded through three extended specials aiming to tell a single, overarching tale.
It is less than ideal, and comes under heartbreaking circumstances, but yesterday's panel exuded a passion, a drive, and a love for The Owl House that will endure long after the credits have rolled. Here's all the big news from the event, including a few choice quotes from Dana Terrace and the cast that exemplify exactly how much it all means to them.
Firstly, Who Exactly Was On The Panel?
The panel consisted of show creator Dana Terrace and was moderated by friend of TheGamer Cissy Jones, who plays Lilith Clawthorne. Other guests in the line-up included Sarah-Nicole Robles (Luz Noceda), Mae Whitman (Amity Blight), Zeno Robinson (Hunter), and Alex Hirsch (Hooty and King). Sadly the likes of Avi Roque (Raine Whispers) and Wendie Malick (Eda Clawthorne) weren't present, but to see so much of the cast in one place other than a zoom call was a rare treat, and something fans have been waiting for.
The First Six Minutes of Season 3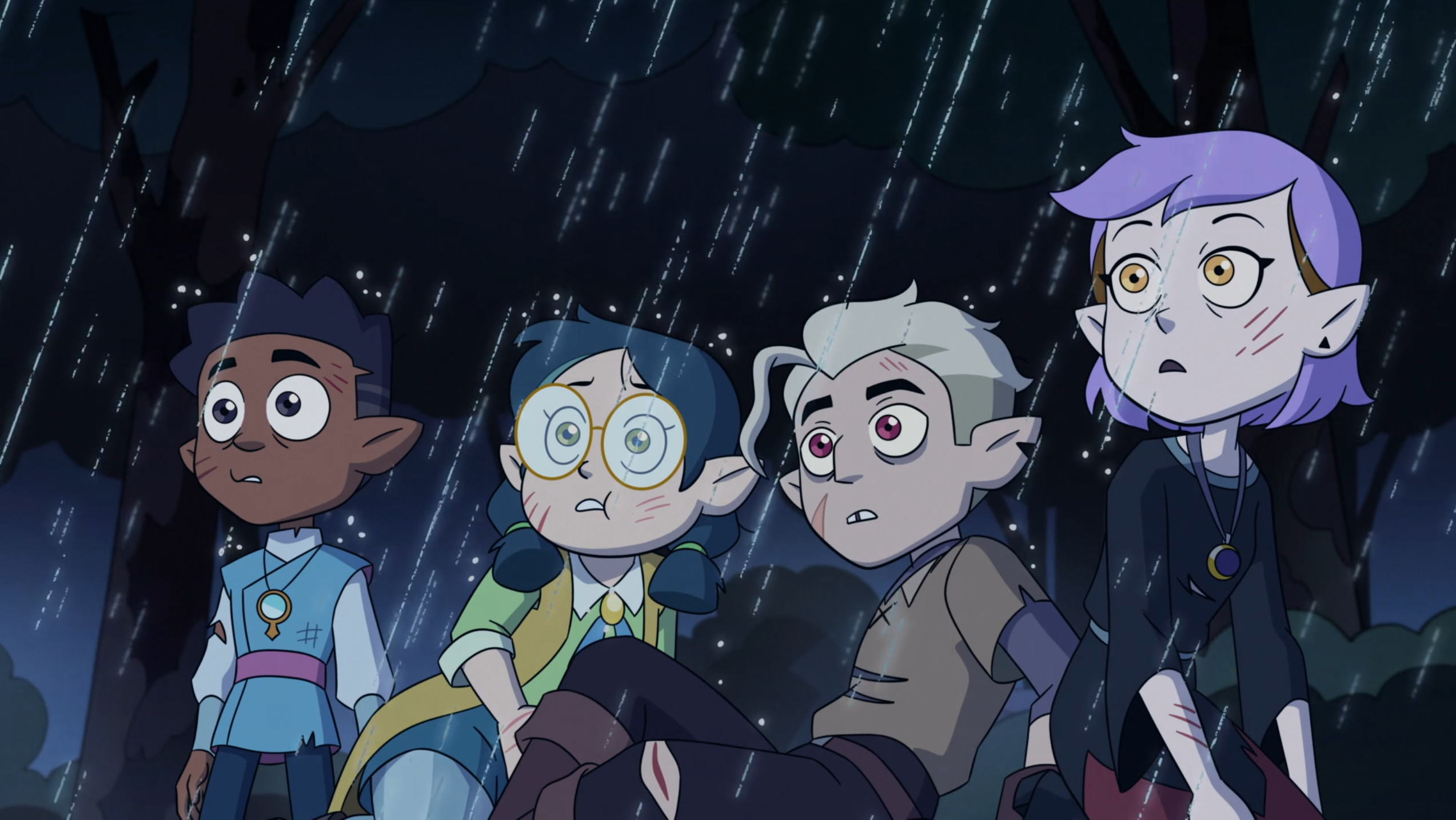 Like a number of major panels these days, Disney kicked things off by showing the first six minutes of The Owl House Season 3's first special, Thanks to Them. Set to premiere on October 15, Thanks to Them will largely focus on Luz Noceda and company in the human realm as they work together to find a way back to the Boiling Isles. There will be time for angst, reunions, and a few adorable scenes poised to offer some levity in a situation otherwise filled with drama. This includes a wonderful coming out scene for Luz and Amity, complete with a full montage featuring the crew buying new outfits, getting haircuts, and figuring out exactly how to open a new portal.
This first special has a lot of ground to cover given how far the narrative needs to go in a short space of time, but The Owl House has managed to squeeze in so much character development and so many cute moments we've been waiting for with a worthwhile impact. Granted, many of these instances are brief, but given the pressure and restrictions they were made under I still think it's better than any of us could have expected. I'd recommend picking up a pass to watch the full panel or heading over to Popverse to see it for yourself, otherwise the footage has already been uploaded to YouTube.
Concept Art Of New Outfits And Environments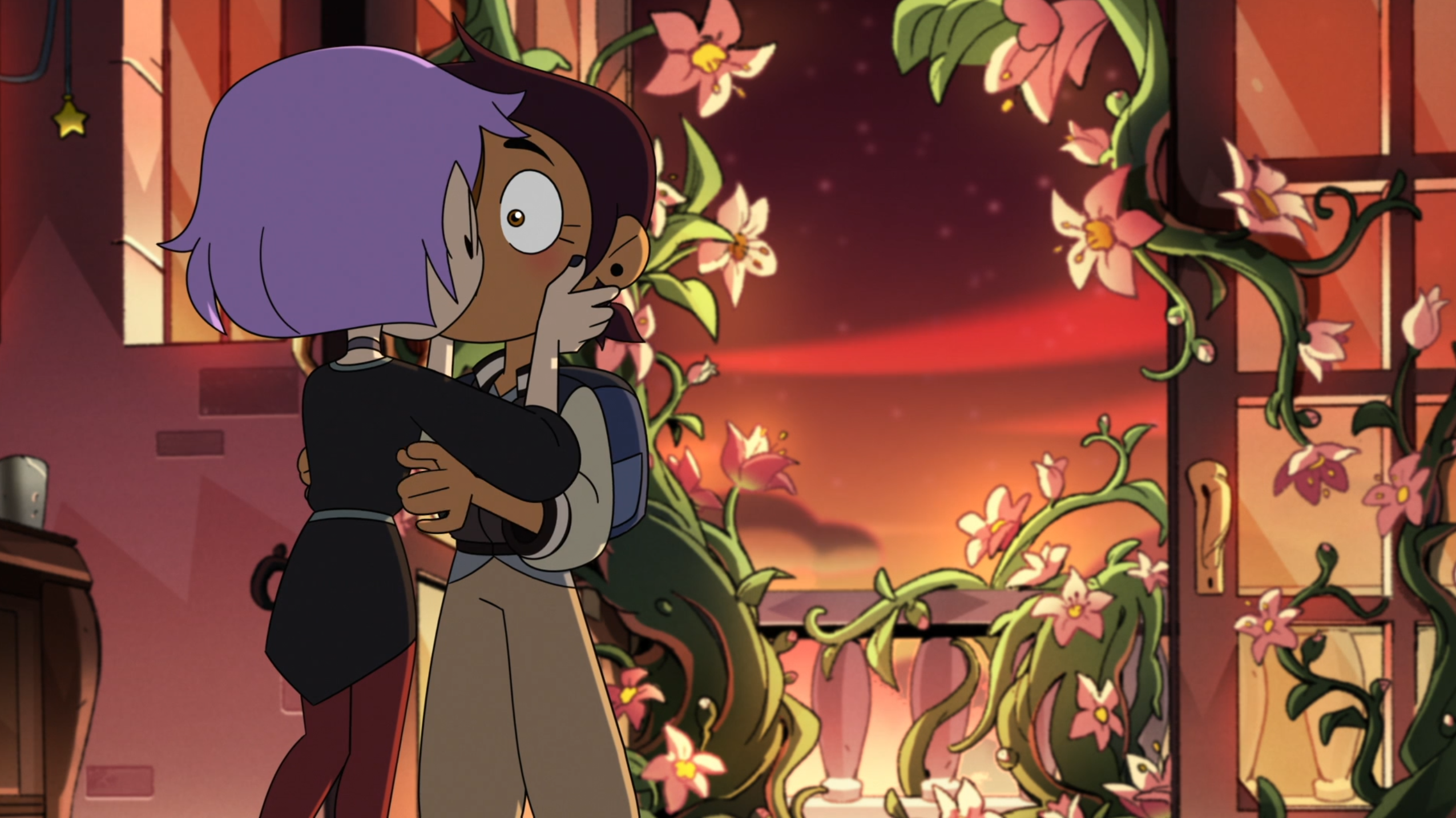 Showing any more footage would ruin all the first special's surprises, so the panel toned things down a little but still kept us on edge through the reveal of concept art for some character outfits and environments, including a gorgeous piece depicting Luz's hometown.
Other concept art included giraffes (an inside joke to end all inside jokes) and updated character designs previously teased in the announcement poster. As someone who has followed the show since its debut in 2020, it's fascinating to see the universe's evolution in real time, and how the lore bible first pieced together by Terrace has grown into something so different and unexpected. Much of the panel has been along for the ride from the start, and were more than happy to gush about how much this all means to them.
"I had the very rare privilege of watching the show from its inception from when Dana put together the series bible to now," Alex Hirsch said alongside a Hooty puppet he made specifically for the occasion. "It's rare and rewarding to be part of something so loved."
A New Theme Song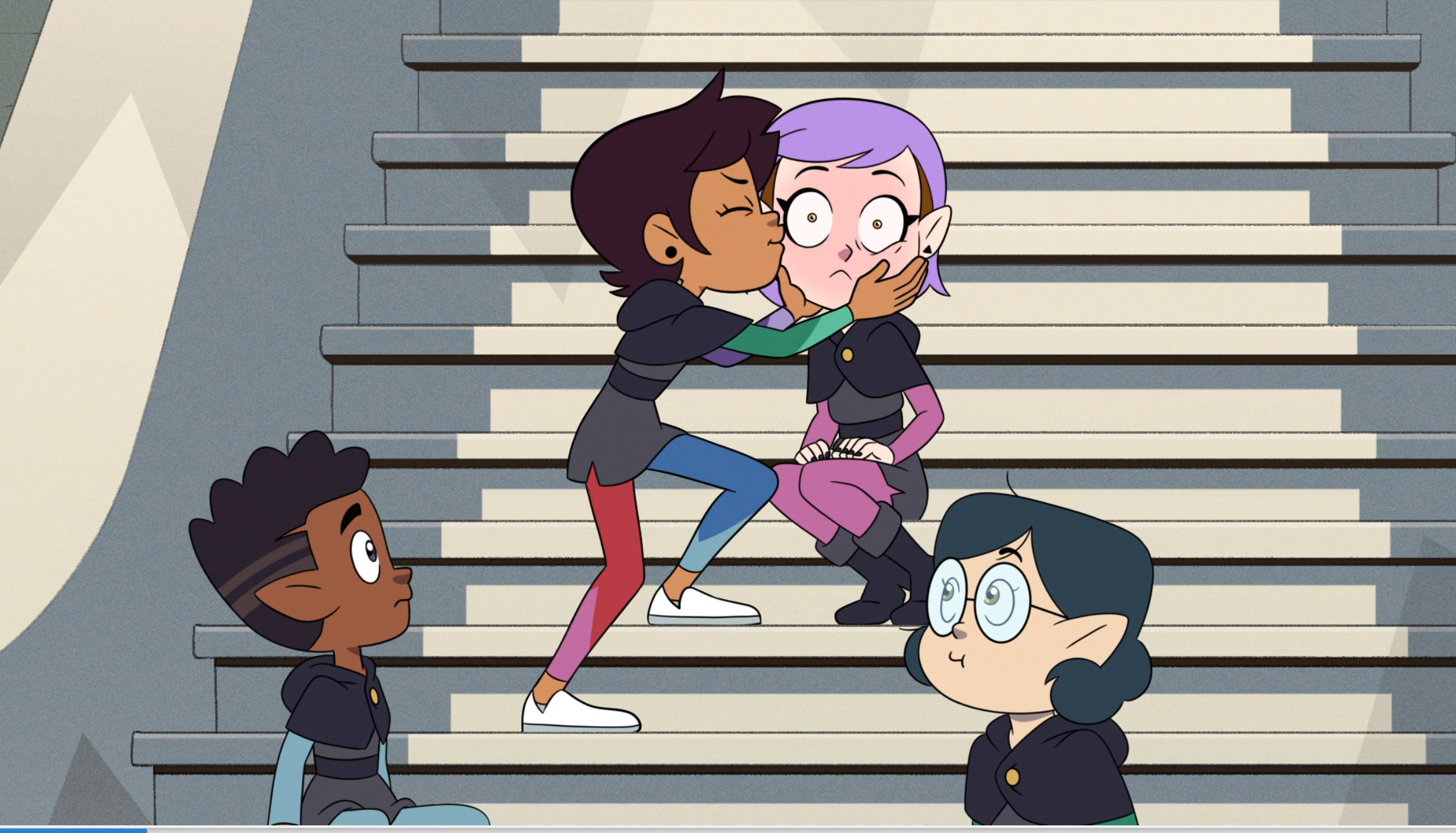 If you've watched the six-minute preview I mentioned above, you'll have noticed the theme song has been changed up dramatically. The core melody and beat remains, but the tune is far more urgent, dramatic, and almost whimsical. We are in the endgame now, so a new opening to match the more epic stakes is absolutely perfect.
The Moments We Won't Get To See
Dana Terrace and the cast weren't able to reveal too much, but the former did describe some character arcs and storytelling she wished were given more screen time, or what could have been if a full third or fourth season became a reality. The relationship between Eda Clawthorne and Raine Whispers is a favourite among fans, and one that Terrace loved to write given its emotional maturity and potential for thematic exploration.
I imagine the duo will appear in the three specials – there's even rumours of a wedding – but their arc will likely be truncated to account for everything else that needs to happen. Hearing what could have been really sucks, but to know that the story is being told out all gives me hope that everything on the horizon is going to be quite special indeed. Hooty's origin was also left on the cutting room floor, as was a deeper glimpse at reconciliation between characters like Amity and Willow who haven't been afforded the time they deserve. Despite all this, Terrace promises that the crew have put their everything into what's to come, and these limitations forced them to make decisions that might even come with unexpected benefits. Much like the time skip montage that opens the first special, everything matters.
Mae Whitman On Amity Blight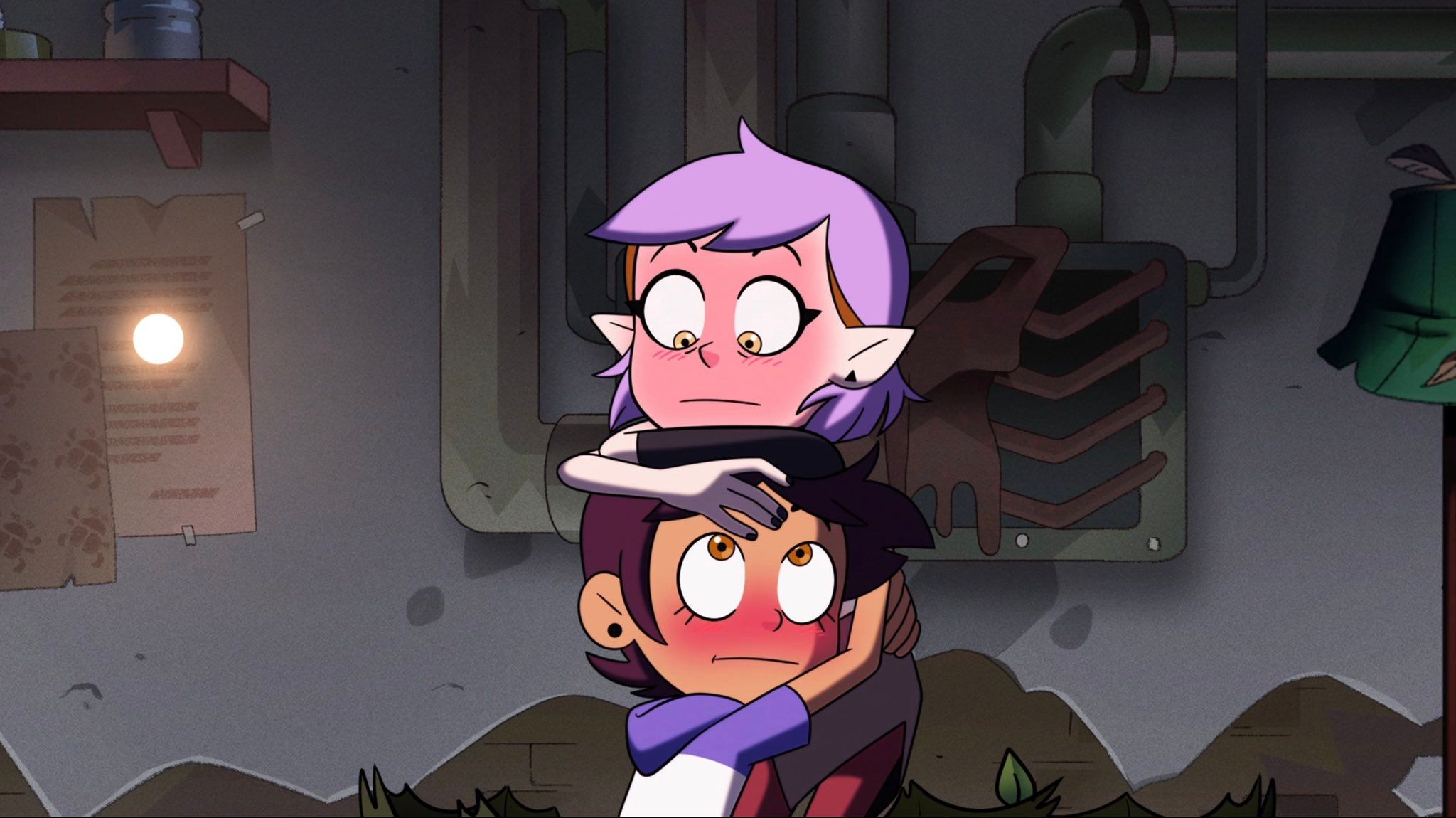 While she turned up a tinsy bit late for the panel, Mae Whitman was present to talk about the character of Amity Blight and how it feels to fill a role that really represents her. We saw this sentiment echoed throughout the entire cast, with this panel acting as an unintended farewell to characters I assume have now wrapped recording. Maybe I'm wrong, but the overriding vibe was one of melancholy and pride, lifted by screaming fans from all directions.
"Something I thought is so magical is that she is complex, she's complicated. She has issues. She is dealing with some stuff. You didn't really get to know her vulnerable side for a while," Whitman said. "When she met Luz she realised she didn't have to be that way, she could tap into her softer side, her more vulnerable side."
Amity's own sexual identity being pushed to the forefront also coincided with Whitman coming out as pansexual on social media, which not only caught fans by surprise, but showed that The Owl House gave her the bravery to share that part of herself. "For me, coming out as pan, I felt even more strongly and passionately about this. Having a show like this when growing up would've been really cool. I think it's great for everyone to have that visibility." What an absolute mood, and Whitman is a total sweetheart.
Two New Clips From The First Special
A lot of the panel's content and discussion is something you'll need to uncover for yourself, but Disney Channel released two clips online that weren't a part of the six-minute teaser I mentioned earlier, and both of them are essential viewing for fans. Check them out below.
The first clip is short and sweet. Camila Noceda is providing Hunter and Gus with blankets to fill out their shared room in the basement, while our cringe little Grimwalker bows to thank Luz's mother with a blush on his cheeks. Gus meanwhile is playing with bubble wrap and obsessing over the cool new human stuff that surrounds him. In their room, Vee is showing Amity and Willow that alarm clocks outside the demon realm aren't screaming monsters, but fairly simple devices designed to wake people up instead of murdering them. That's a big red flag apparently, since moments later the alarm clock is thrown against the wall in protest.
This one is way juicier, and features a bit of meaningful exposition between Luz and Hunter as she grabs a plaster for Amity, who is in the kitchen with Gus and Willow explaining exactly what is going down in the Demon Realm. What piques my interest is that these two scenes appear to take place before the time skip featuring in the first six minutes, so perhaps that montage isn't the opening after all. The panel answered so many questions but raised even more.
Cheering For Cosplay
Cissy Jones and the rest of the cast also took a few precious moments to cheer on the fans, many of which had decided to attend the panel in some truly extraordinary cosplay. There was even a meticulously crafted Harpy Eda and so many others wearing handcrafted costumes and Hexside uniforms.
A Farewell From Dana Terrace And The Crew
I am a very sentimental gamer, and I'd be lying if Terrace's words throughout the panel didn't get me a little choked up. The Owl House was my big break into the world of covering animation, and through it I've met a bunch of friends in the industry I couldn't picture myself without. This show means a lot to so many people, and some choice words uttered by its creator distil that significance.
"The times that I hold dearest to my heart are the crew screenings we've tried to do over Zoom, or the few times we've tried to watch the finished show… totally legally on the channel," Terrace remembers. "To be able to sit there with the crew and be like damn we pulled it off!"
As for its shortened life, it seems the hand it was dealt has long been accepted: "What can you do at this point? We did our best."
The Owl House returns to Disney Channel on October 15 at 9pm EST.
Source: Read Full Article