HexGaming today announced the uber-expensive Hex Rival PS5 controller. Made with a unique modular design for customizable performance, the gamepad is hoping to become a must-have gamepad for professional esports athletes – although its $250 price tag might make it a hard sell.
If you look past all those digits, however, you'll find a PS5 controller filled with impressive features. Remappable buttons, interchangeable thumbsticks, various thumb grip designs, and an overall focus on flexibility make it sound like an interesting option beyond the standard PS5 controller. Here's a bit of what the Hex Rival PS5 Controller brings to the table:
6-in-1 interchangeable thumbsticks with 3 different heights
2 ergonomic thumb grip designs (Domed or Concave)
Remap buttons (Even while in-game)
More than 15 designs available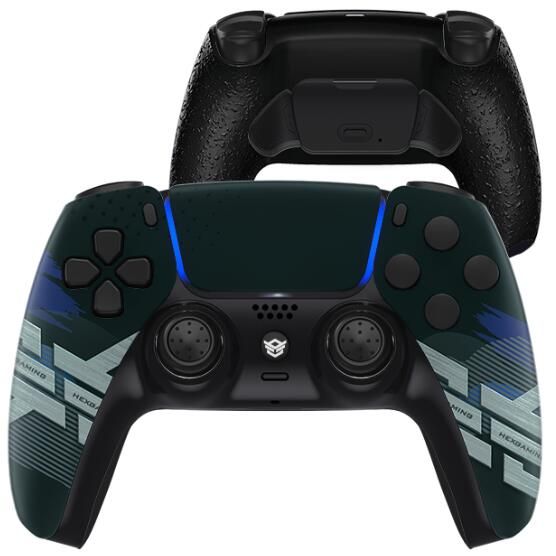 "With competitive eSports continuing to grow in popularity and even regular gamers playing with friends and family online, having the right controller is crucial for players of all skill levels," said Ray Zhu, CEO of HexGaming. "Whether playing for big money prizes or simply trying to get bragging rights, the Hex Rival for PlayStation 5 can help put you on top of the leaderboard."
The Hex Rival's big selling point might be the mappable rear buttons, giving you easier access to your most-used buttons. You can also remap them on the fly, making it easy to rework your layout and find one that works best for your play style.
The PS5 triggers have also been reworked, and will now activate after traveling 0.5mm and 2.0mm, instead of the usual 1.2mm and 7mm. In theory, that should translate to faster in-game reactions – and Hex Gaming is hoping that means better performance.
Faster triggers, mappable rear buttons, and a whole lot of customizable pieces – the Hex Gaming controller certainly has a lot to offer, but it's up to you to decide if that's worth the massive price tag.
The HexGaming Hex Rival PS5 controller is now available, with pricing starting at $249.99.
Source: Read Full Article