Quick Links
Required Money Wrangling Equipment
From covert to clownish, high-tech to historical, and subtle to supernatural, Two Point Campus knows that it takes all sorts to make a world, with a fantastic range of clubs, classes, and college goers to build the campus of your dreams.
It's also said that money makes the world go round, at which point Two Point Campus figured that it takes all sorts of money to make a campus, thus the Money Wrangling course was born. In this guide, we'll be going through what the lecturers are teaching, what the students need to learn it, and how to get those elusive top grades.
What Is Money Wrangling?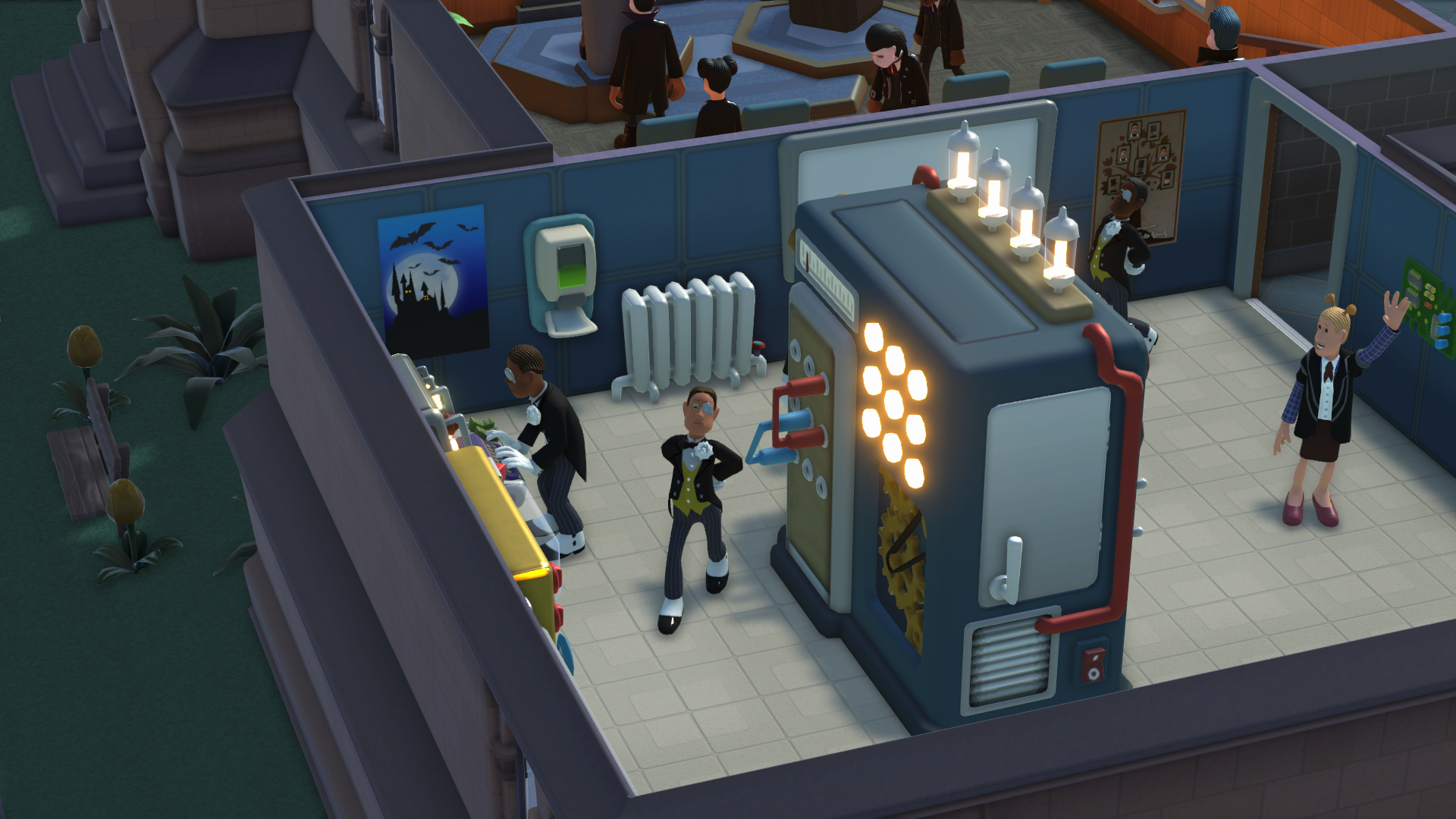 Money Wrangling, as the name suggests, is about teaching students how to make, save, spend, and scrimp money in any and every way possible. The modules range from the mundane, such as Introduction to Senior Management, to the outright criminality of Nobody Cheques: Pay What You Want. It's primarily tuxedo-wearing students staring at spinning top hats in lecture theatres, and monitoring computers as they walk around in spats, but they're learning something.
Money Wrangling is unlocked after getting the first star in Noblestead, just after Knight School. But be warned — this course is considered hard for students. Meaning it will be a drain on any private tuition and Pastoral Support facilities you have.
Otherwise, the minimum course requirements are fairly easy: A Lecture Theatre, Computer Lab, and a Library — most of which you'll have built for other courses anyway. Not to mention the Money Wrangling Teachers you'll need to hire too.
Money Wrangling Details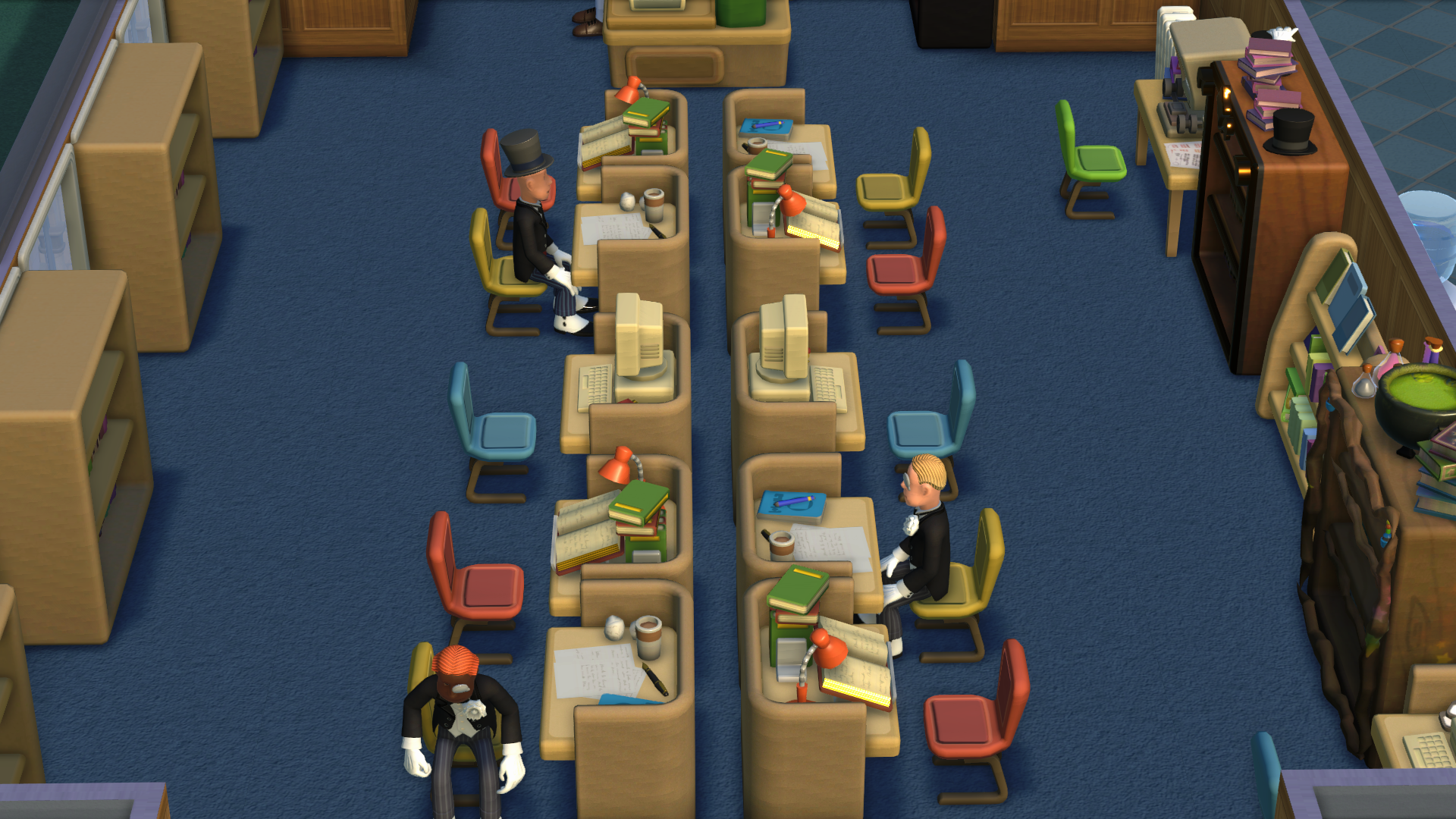 As mentioned before, this is a hard course, with average tuition fees of $7,500, lasting two years, that only Poshos will attend. The modules for the course are:
1st Year
Introduction to Senior Management (Lecture Theatre)
Making an Investment: Choose Your Fighter (Computer Lab)
Pebberley Island & Offshore Accounting (Lecture Theatre)
2nd Year
Taking it Slow and Watching it Grow (Computer Lab)
Failing Upwards: You Can't Go Wrong (Lecture Theatre)
Nobody Cheques: Pay What You Want (Computer Lab)
When not attending classes, students will spend their time studying in the Library and fulfilling their needs, like food, healthiness, and entertainment. Make sure you build these facilities nearby to where your staff and students are working. They don't want to go to the other side of campus to fulfill their needs; plus, they'll most likely end up queuing behind other campus-goers who are closer to the amenities.
At the start of each year, you can upgrade the course level in the course overview menu, and the game will make sure you can meet the course requirements with a checklist. If you don't meet these, students are likely to fail and drop out at the end of the year, or straight-up leave in disappointment. The requirements for each level are:
| Level | Students (Default) | Computer Room | Lecture Hall | Teachers | Max. Qualification Level |
| --- | --- | --- | --- | --- | --- |
| 1 | 10 | 1 | 1 | 1 | 3 |
| 2 | 15 | 1 | 1 | 1 | 4 |
| 3 | 20 | 1 | 1 | 2 | 5 |
| 4 | 25 | 1 | 2 | 2 | 6 |
| 5 | 30 | 1 | 2 | 2 | 6 |
| 6 | 35 | 1 | 2 | 3 | 7 |
| 7 | 40 | 1 | 2 | 3 | 7 |
| 8 | 45 | 1 | 2 | 3 | 8 |
| 9 | 50 | 2 | 3 | 4 | 9 |
| 10 | 55 | 2 | 3 | 4 | 10 |
New first-year students will turn up alongside your returning final-year students, effectively doubling the number of course-takers after the first year. Make sure to have enough money and space to support this new influx of undergraduates.
Like other courses, you can lower or increase the tuition fees to get more or fewer applicants each year. Fewer students means more time to focus on them, resulting in potentially higher grades, but at the cost of making less money.
If you're making a healthy profit, but your campus isn't ready for a massive expansion, raise the tuition fees and start small — you can always increase demand later.
More students also means more fees, but now you're at risk of overloading your campus' services. We recommend running the course at the standard admissions rate for two years — a full course in Money Wrangling, then adjusting to your personal preference from there.
Required Money Wrangling Equipment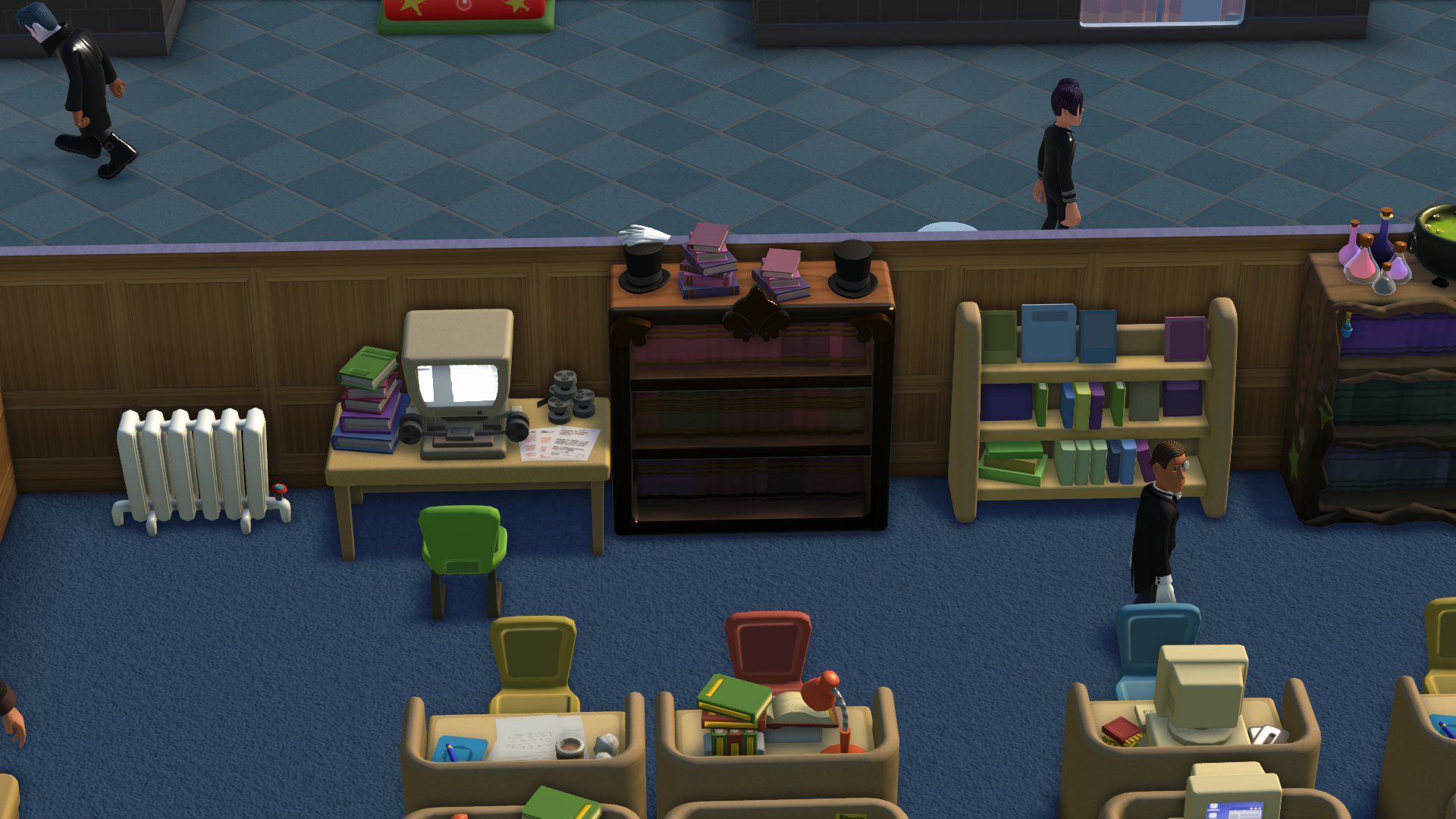 The most basic requirements you'll need to run the course are:
| Room | Cost | Space Required | Minimum Item Requirements |
| --- | --- | --- | --- |
| Lecture Theatre | $21,300 | 4×4 | Lectern, Lecture Seating, Door |
| Computer Lab | $26,700 | 4×4 | Whiteboard, Door, Analogue Computer, Analogue Console |
| Library | $11,900 | 3×3 | Library Reception, Bookcase, Study Cubicle, Door |
Computer labs require a computer and a console; and items are separated into three tiers: analogue, digital, and super. Analogue equipment provides the bare minimum needed to meet the room requirements. Whilst a digital computer will increase learning power by 5 percent, with the digital console, digital server, and monitor increasing learning power by another 1 percent each. On the other hand, the super computer increases learning power by 10 percent, with the super console, super server and super monitor increasing learning power by 2 percent each.
The catch is that the digital and super tiers need researching in a Research Lab, but they also cost a lot more than their analogue counterparts. For example, a digital computer will set you back $35,000 and a super computer will cost $50,000, compared to the standard analogue computer at $20,000.
Eventually, second-year students will need specialist equipment to complete their assignments and improve their grades. Students will let you know what equipment they need via your inbox; you just need to keep some Kudosh spare to unlock the items as they're needed.
The items you might get asked to buy for an assignment are:
Room
Item
Cost
Kudosh
Computer Lab
Super Console
$6,000
None (research required)
Super Monitor
$3,000
None
Super Server
$40,000
None (research required)
Battle Ground/Jousting Field
Prince/Princess Dummy
$200
None (research required)
Library
Bookcase
$3,500
None
Money Wrangling Bookcase
$6,000
100
Internet History Bookcase
$6,000
100
Computer Cubicle
$800
None
Textbook Cubicle
$400
None
Study Cubicle
$300
None
Records Cubicle
$4,000
5
Tips For Money Wrangling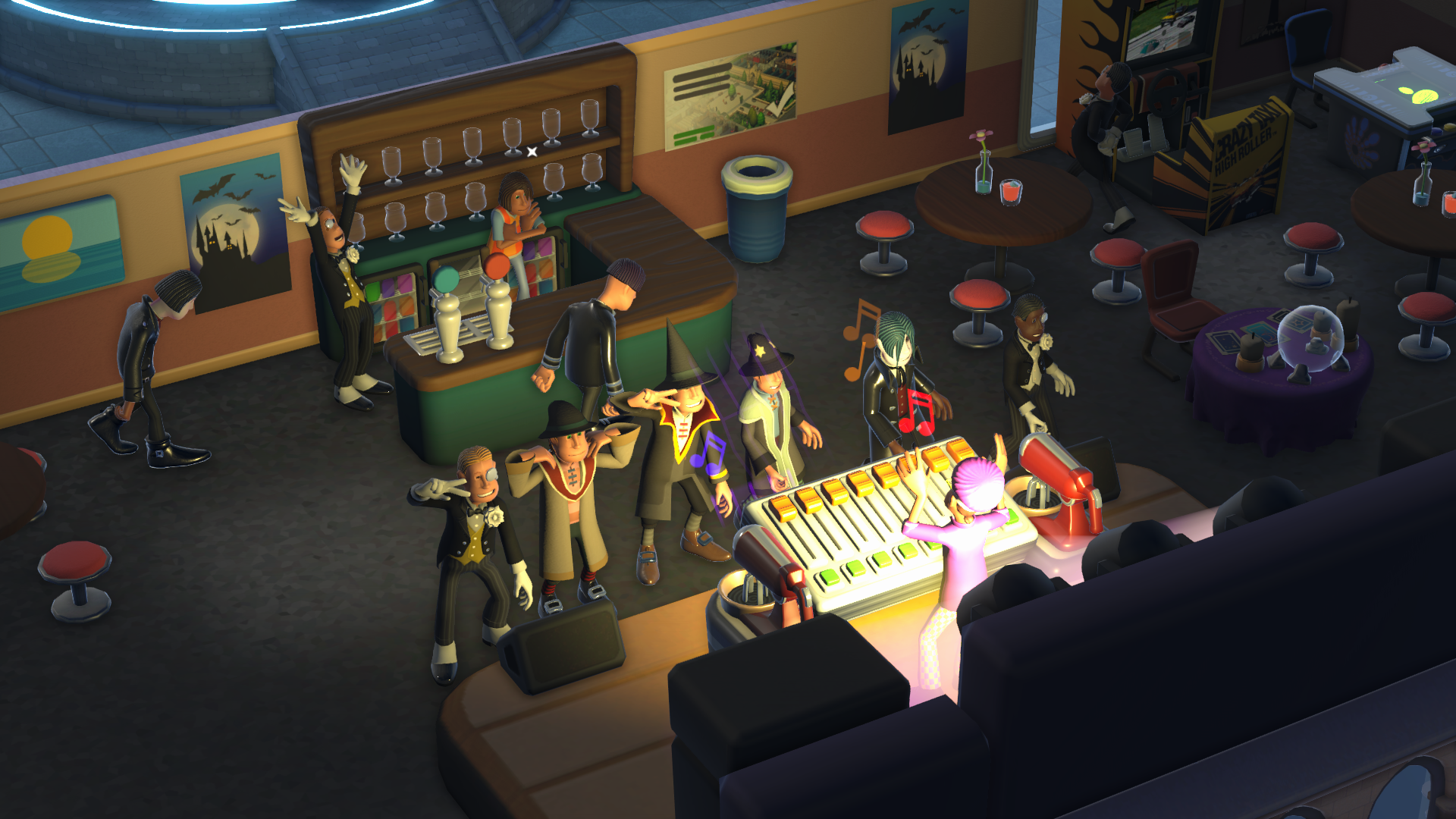 Only Posho students will want to take this course. So, plan any social spaces and dormitories with them in mind. For example, placing Fancy Hatstands and Posh Paintings.
If you want to save on room costs, try running an Internet History, Musicality, or Archeology course alongside Money Wrangling, as they all require a Lecture Theatre and Computer Lab too.
Because Money Wrangling is a hard-difficulty course, students will most likely need private tuition alongside their usual classes. Make sure your campus can support this amount of extracurricular support before setting up Money Wrangling. Otherwise, you risk clogging the system for all campus-goes.
Source: Read Full Article