The last Hearthstone expansion I played was 2020's Madness at the Darkmoon Faire, but I haven't been really invested into keeping up with the game since the Descent of Dragon's expansion in late 2019. I pre-ordered the spin-off Mercenaries last year and I enjoyed it for what it was, but my days of grinding gold and farming Arcane Dust are long behind me. Like most CCGs, Hearthstone is a ludicrously expensive game to keep up with, and after six years, 18 expansions and adventures, and (deep breath) many thousands of dollars, I decided to move on and never looked back. Until this week that is, when Ol' Dirty Blizzard dumped 150 packs into my account.
Not everyone got 150 packs for free this week, but this isn't the first time Blizzard has done such a thing. This past July, lapsed players in the UK and France were part of a test which a Blizzard spokesperson told PC Gamer was one of several "limited and targeted" ways that the company uses to try to "better determine what drives former, new, or current players' interest." That test has apparently expanded to the US and Canada this week, as former players are reporting that they've received anywhere from 20 to 150 packs. It's not clear how it's determined how many packs you get, but speaking as a former whale with whaleish friends who all got 150, I have a pretty good idea what metrics were used.
There wasn't a moment of hesitation before I reinstalled Hearthstone on my PC, my phone, and my tablet. I didn't stop for a second to think, "Gee, do I really want to go down this very expensive road again?" I saw packs that needed opening, and you better believe I'm going to open them. Maybe my newfound love for Marvel Snap and its very anti-Hearthstone design gave me a boost of confidence, or maybe I'm just a greasy little pay pig and I always will be. In any event, my very fun and very abusive ex offered to buy me dinner, and I accepted.
Launching Hearthstone for the first time in years was unsurprisingly overwhelming. I was immediately hit with a barrage of more freebies: free Legendaries, free Mercenaries, and even more free packs. As I basked in the glory of all these gifts I so rightly deserve, I started poking around the menus and game modes to see what I had missed, which it turns out is a whole lot.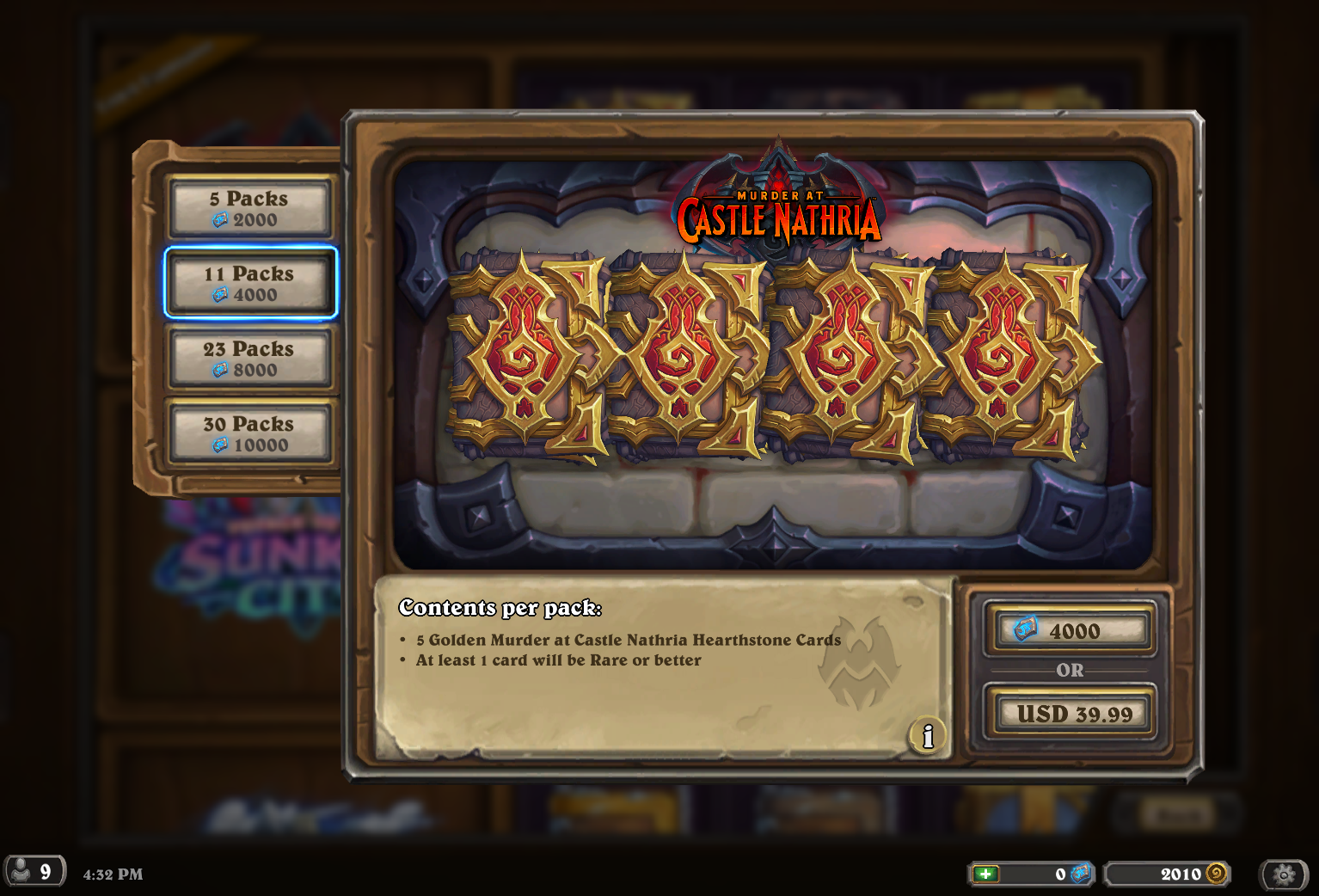 Since I stopped playing Hearthstone a few years ago, Blizzard has added a battle pass, a new currency called Runestones, and an entire new class, Demon Hunter. Classic cards have been removed from Standard Format and replaced by Core, a rotating set of free cards that changes every year. There's also new Solo Adventures, but not as many as I expected. Those campaigns were always one of my favorite parts of Hearthstone, but I guess attention has shifted to the other game modes, like Battlegrounds, Mercenaries, and the new Duels.
It's also gotten a lot more expensive. Packs are the same price they've always been, but each expansion now has its own Mini-set, a $15 (or 1500 Runestone) collection of cards released mid-expansion. When the next expansion launches December 6, another $15 set is launching alongside it made up of Death Knight cards, yet another new class.
And of course, the battle pass isn't free either. Tavern Passes, as they're called, are $20 and last for one entire expansion. This gets you a Diamond Legendary Card, cosmetic items like skins and card backs, and Battlegrounds items. There is a free track of the Tavern Pass as well that rewards gold, packs, and cards, but paying for the premium track provides bonus XP to help you finish it faster. Common knowledge says the XP Boost will earn the paying player an extra 2000 gold over a free to play player. That's enough to pay for each expansion's mini-set. What value!
Despite all these changes, so much of what I loved about Hearthstone has stayed the same. Searching through impeccably designed cards featuring Warcraft's greatest heroes and villains still makes deckbuilding a joy. Matches – though overwhelming now with so many new keywords and mechanics to learn – are still a thrill. Just hearing its folksy theme song made me want to pull up a stool, grab a flagon of ale, and sling some cards. And yeah, I still love the spectacle and excitement of popping open back. Oink oink, I can't help myself.
Before I bowed out a few years ago, I turned all my non-standard cards into Dust. I was already barely playing the game, and I figured there was no chance I was ever going to get into Wild Format, so as a last ditch effort to entice myself to craft new cards, I crushed my entire old collection down into roughly 55,000 dust. Logging in this week, I still have 35,000 of that haul, and now I've got three more expansions to burn. I haven't opened all 150 of my free packs yet, but between those cards and my huge crafting supply, I shouldn't have a hard time diving back in and making a few solid meta decks. At that point I might as well pre-order March of the Lich King expansion right? I mean, it's right around the corner. The pre-purchase is $50, but if you opt for the $80 Mega Bundle, you get the entire Death Knight set for free! Hey, does anyone else smell bacon?
Source: Read Full Article