An early treat for 2020 has arrived with the release of Double Dragon & Kunio-Kun Retro Brawler Bundle. Fans of retro brawlers will have a great time diving into all 18 games jam-packed into this bundle, featuring 15 Kunio-Kun titles, 11 of which were never officially released in North America until now and featuring English translations for the first time. With a great sense of attention to detail in the localization of each game, and small touches added to various aspects of the UI and gameplay, this is a retro bundle that no player should miss.
The Double Dragon Trilogy & A Broad Range Of Kunio-kun Titles
All three of the original Nintendo Entertainment System games are included in the bundle, and they're excellent ports. The same can be said of the entire Kunio-kun selection of games. While they range from straight brawlers like River City Ransom, at the heart all of the options are brawling games, even the Soccer, Dodgeball, and Basketball titles with their full-contact rules that often send players flying across the screen.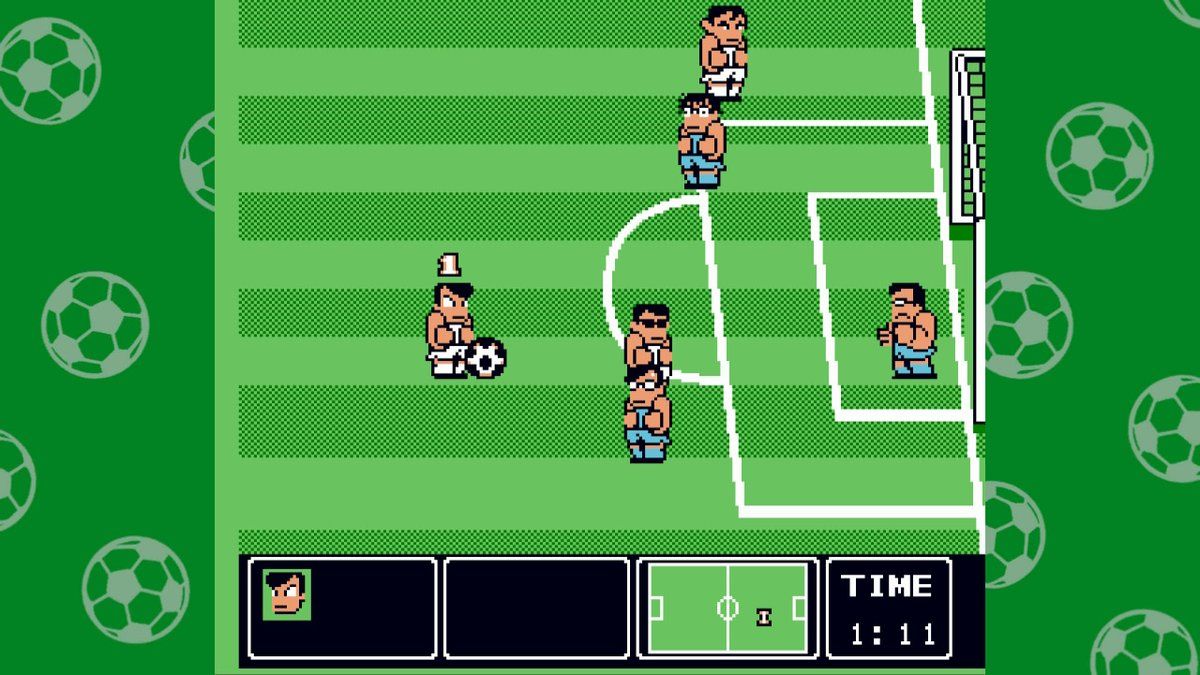 Original And Quality Up
An unexpected but welcome surprise is the addition of the Quality Up option for some games. The Double Dragon trilogy and some of the Kunio-kun titles have Quality Up included, which will improve on both the game mechanics and game commands from the original. For those who want to original experience, this mode can be switched off for the authentic experience.
Playing these games on the original Nintendo Entertainment System brings back a lot of memories, and the decision could have been to simply port these games exactly as they were decades ago. Instead, there are so many small extras jam-packed into this bundle that no one asked for, but absolutely work in taking the presentation to the next level.
For starters, the Display Settings allow players to experience the original 4:3 aspect ratio, or select from other modes like Standard Zoom, Standard, 4:3 Zoom, and Full Screen Mode. Players can choose between Scan Lines or Sharp, depending on how much nostalgia they want pulsing through their veins. All games are available in English, as mentioned above with brand new translations for 11 of the games, or the original Japanese.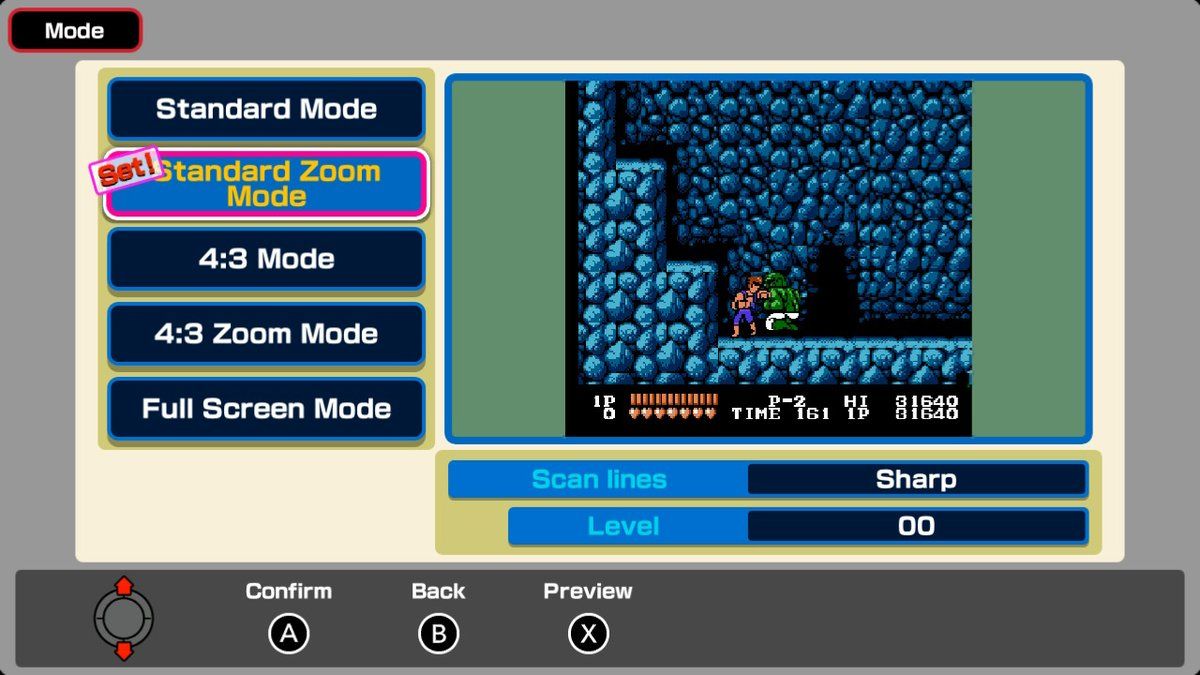 Online Play
Perhaps the best part of Double Dragon & Kunio-Kun Retro Brawler Bundle is the inclusion of Online Play where players can choose from Quick Play, Create a Room, and Find a Room. Unfortunately, this was not a feature that could be tested as the review copy used was provided before the official launch of the bundle worldwide. Still, knowing that players can instantly jump into an online match of Double Dragon in 2020 is a dream that our younger selves would not have believed.
Achievements For Added Challenges
On the PlayStation 4, players have Trophies to chase, but on the Nintendo Switch, developers needed to be more creative since there is no formal achievement system. In this case the developers have chosen to go via the same route as Ori and the Blind Forest, meaning that there are plenty of achievements to unlock tracked within the game.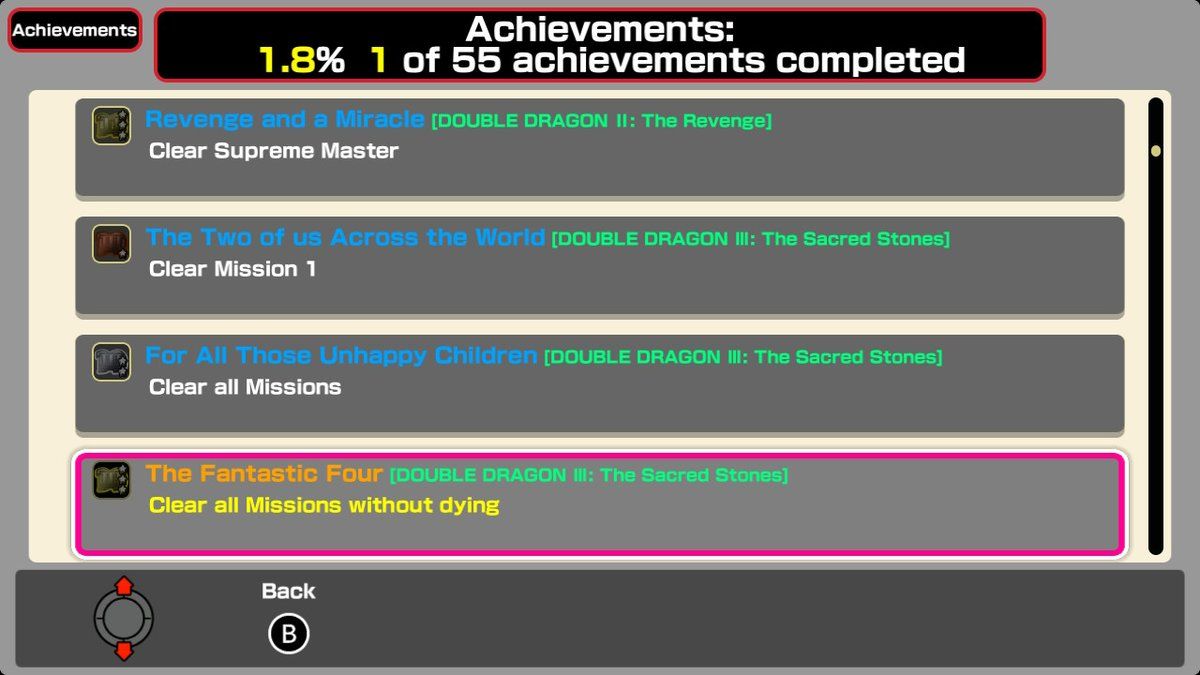 Apart from acquiring Achievements for their own sake, both consoles have hundreds of character avatars and nicknames to unlock that will be displayed in Online Play to other players, and each has their own unlock condition that typically can be summed up in defeating every game on all modes of difficulty, giving players a lofty target to reach.
Although many of the included titles share similar styles of combat, and most of their sound effects, there are specific techniques that are particular to each game. Instead of having to look up each individual set of moves online, pausing the game allows for the selection of the Control Manual, which provides detailed lists of exactly what each character can do, and how to do it.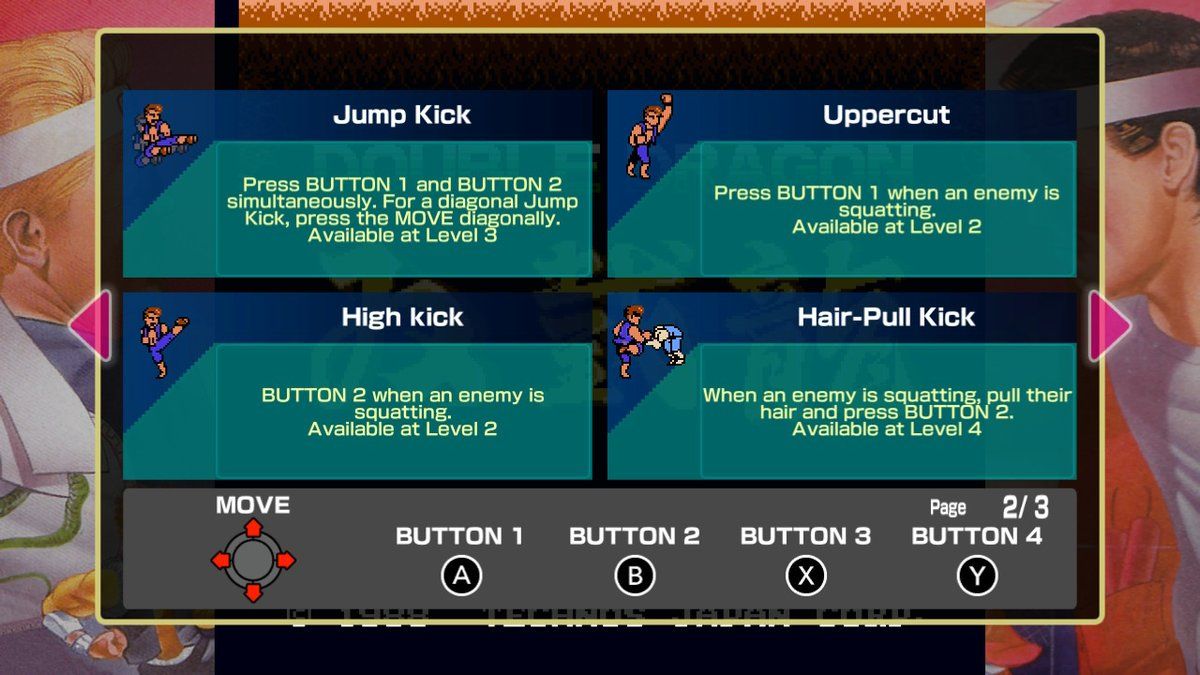 This Bundle Puts Nintendo Switch Online To Shame
While it's great to see this massive bundle with 18 games, it should be noted that some of the games are available right now on the Nintendo Entertainment System App that comes included with Nintendo Switch online. These include Double Dragon, Double Dragon II: The Revenge, and River City Ransom. It seems odd to have this redundancy, and this might have occurred because the bundle was in development when Nintendo licensed these games for their online service.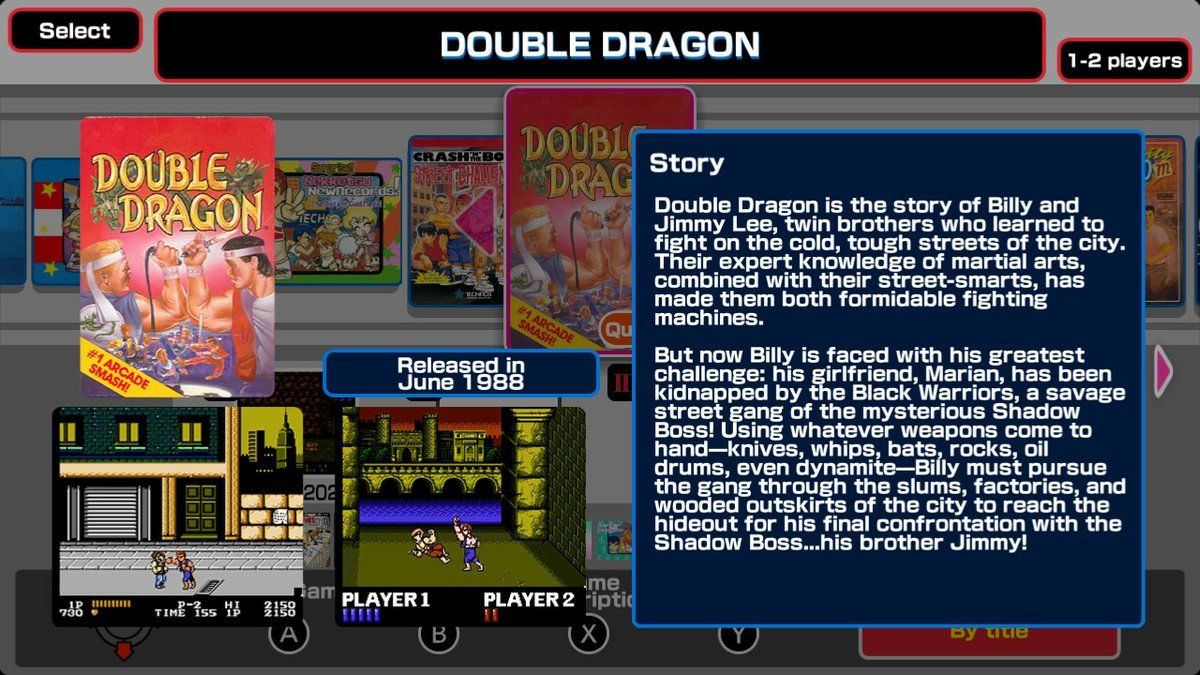 With that said, Double Dragon & Kunio-Kun Retro Brawler Bundle is the far superior option to experience all of these titles. Thanks to the extras listed above, including Screen Modes, backgrounds, avatars, nicknames, Control Manuals, and a list of Achievements only available in the bundle, the Nintendo Switch Online versions of these games suddenly feel extremely lacking in quality because the bundle has been so well made.
By comparison, the presentation of the Nintendo Switch Online games looks like a cheap bootleg, while Double Dragon & Kunio-Kun Retro Brawler Bundle looks like the fitting tribute that some of the best games from the past deserve. Those in charge of Nintendo Switch Online should take note, as this is exactly how older games should be treated.

A Switch review code for Double Dragon & Kunio-Kun Retro Brawler Bundle was provided to TheGamer for this review. Double Dragon & Kunio-Kun Retro Brawler Bundle is available on Nintendo Switch and PlayStation 4
Source: Read Full Article