At this point, platforming is platforming. There aren't a lot of new mechanics that can be successfully added to a genre with a gameplay formula that has withstood the test of time. That doesn't mean developers aren't trying though. Mechanics such as rotating the screen around the player-controlled character to get them to move, or "jumping" through the use of magnets or anti-gravity abilities are just some of the recent ways that developers have put a spin on the classic genre. Get-A-Grip Chip follows a similar style of gameplay as the latter, putting a refreshingly delightful spin on the "no jumping" sub-genre of platforming games.
Originally released on PC via Steam last year, Get-A-Grip Chip has officially launched for Nintendo Switch, successfully bringing its high flying, magnetic platforming action to the portable device. While there's not a significant story to be told – Chip is on a mission to rescue its friends from a dangerous robot factory – what makes the game stand out from the hundreds of other platformers available is that instead of jumping, Chip uses the grappling hook that's affixed to the top of its head to swing over obstacles and enemies as it makes its way through each level. The hook can only attach to certain objects, though, requiring you to navigate each level wisely as you search for your lost robot companions.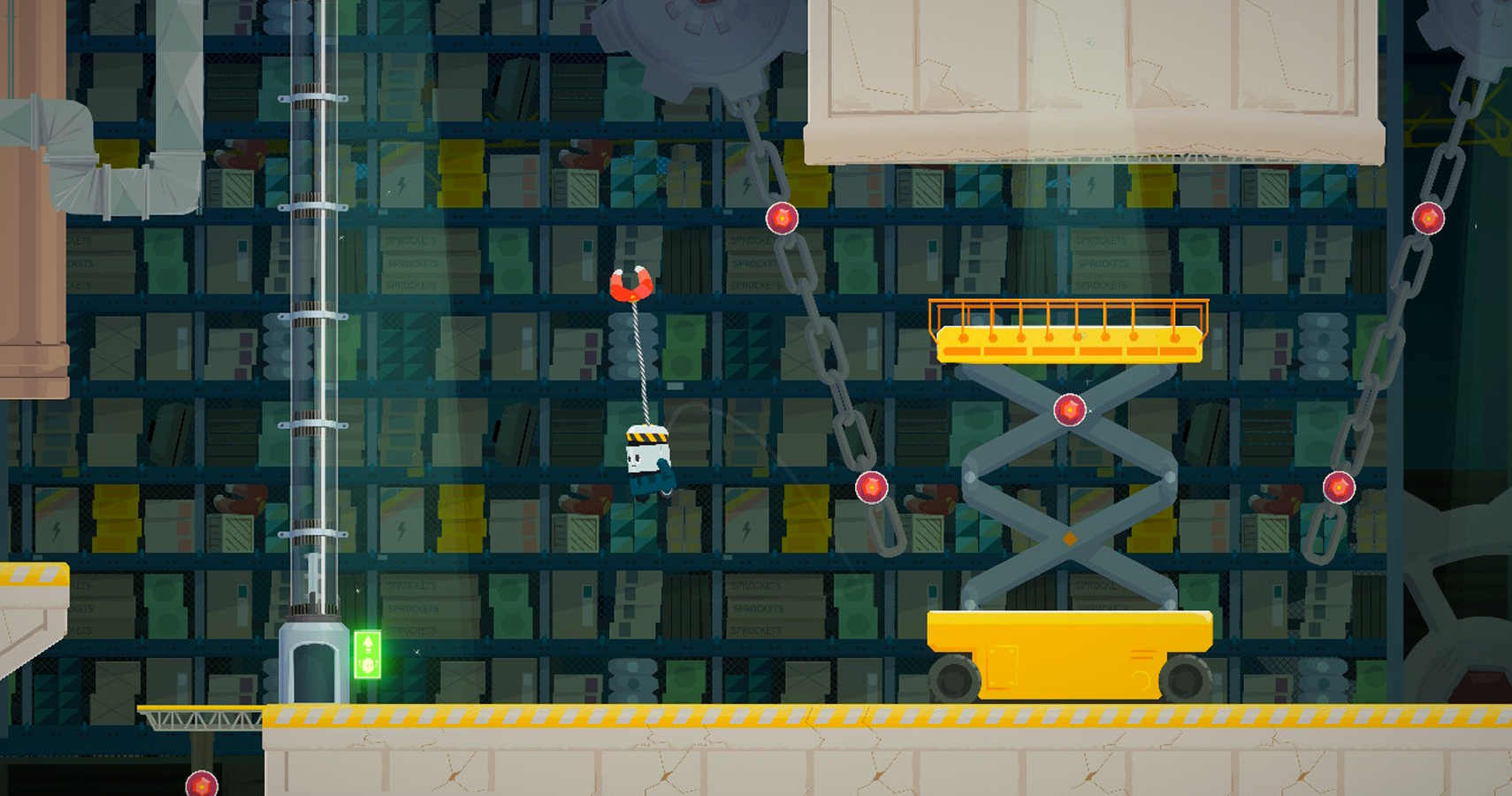 Despite Chip's lack of jumping ability – something that most people would agree comes as a major staple of the platforming genre – I found the grappling ability to be surprisingly easy to pick up. The game does well to introduce the mechanic in the opening tutorial, but it truly felt like it became second nature before I even finished the level. I was definitely not expecting to pick it up so quickly.
As you progress through the game's 30 levels, secret areas and new obstacles are presented that make things a bit trickier to overcome. Environmental hazards, projectiles, and enemy robots stand in the way of Chip making it to its destination. The increased challenge is definitely felt, but thankfully, checkpoints are scattered throughout each level allowing Chip to return any of its found robot friends while having a nice starting point should Chip fall victim to any of the hazards along its journey.
Overall, the difficulty factor isn't too intense, though, admittedly, I did find myself having to restart a handful of times in a single section from trying to do things too fast and carelessly. For instance, the grappling mechanic itself gets tougher as Chip makes its way through the defunct factory, with some of the grapple points breaking after a second or two, requiring quick and decisive movements. This feature lends itself well to completionists and speedrunners, especially with the game's online leaderboard (which I have already found myself ranked low on). In fact, there's a very SpeedRunners (the game) type of feel in Get-A-Grip Chip. Stringing together a successful combination of grapples feels pretty satisfying. I can only imagine how fast speedrunners will be able to finish a level that took me three or more minutes to complete.
Control-wise, Get-A-Grip Chip feels great on Switch. Though I think that it might be a bit easier on a keyboard, grappling and aiming Chip in any direction with the Joy-Con controllers is pretty solid. I never really feel like I have to contend with any of the shotty awkwardness that I generally feel with the Joy-Cons. And other than experiencing a few dropped frames here and there, Get-A-Grip Chip feels like a game that was made to be played on-the-go on the Nintendo Switch.
Whenever I review a platforming game, it's rare that I don't say something along the lines of, "This game doesn't offer up anything new for the genre." That, however, is not the case with Get-A-Grip Chip. I came in expecting a pretty big learning curve in figuring out how to not jump in a platforming game, but developer Redstart Interacting did well to squash any of those concerns pretty much immediately upon starting the game. To put it plainly, Get-A-Grip Chip has me hooked.

A Switch code for Get-A-Grip Chip was provided to TheGamer for this review. Get-A-Grip Chip is available now on PC, and releases for Nintendo Switch on March 25.
Next: Story of Seasons: Pioneers Of Olive Town Review: Blooming Love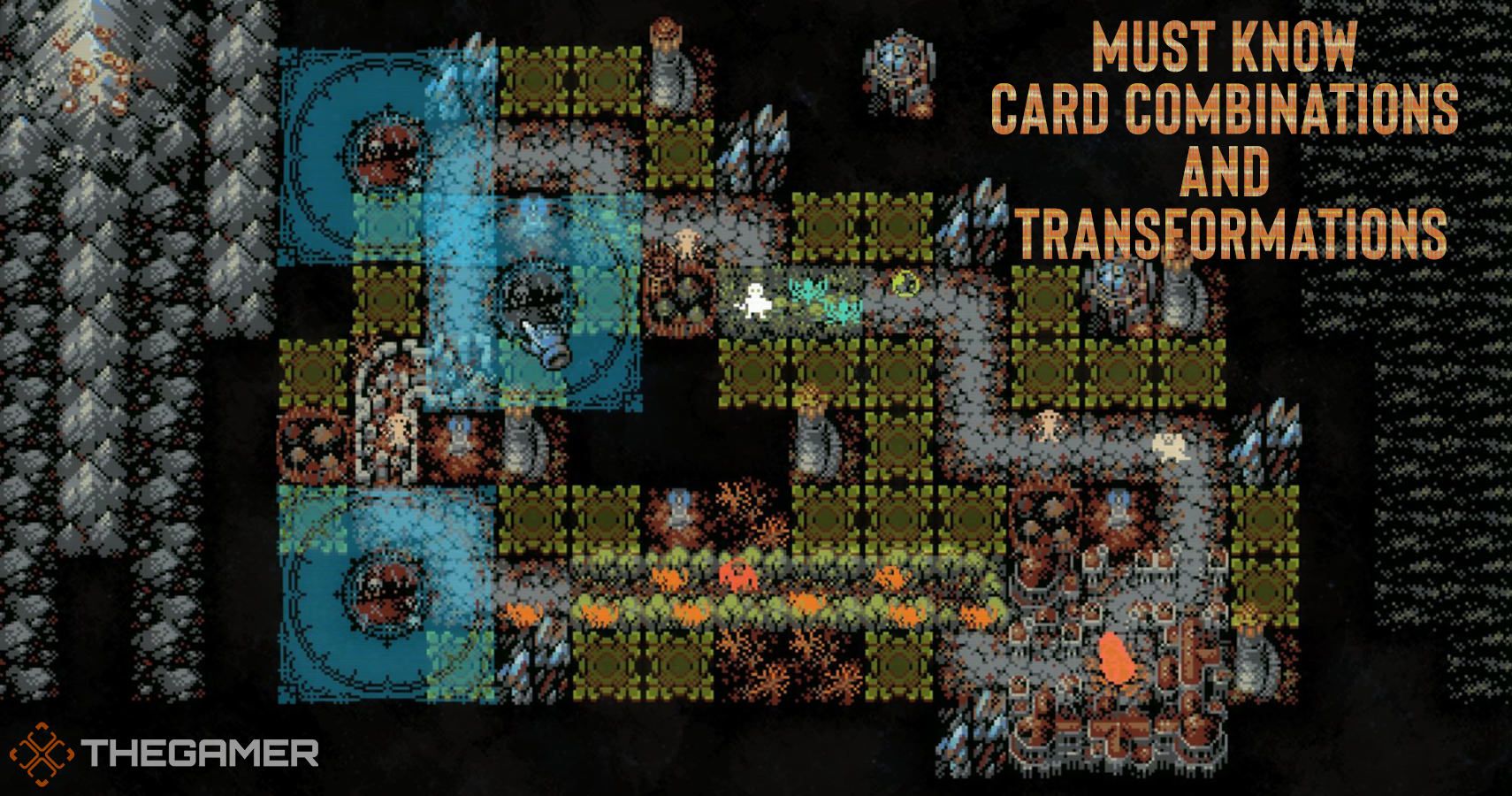 Game Reviews
Nintendo Switch
Indie Games
Sam has been writing for TheGamer since early 2018, earning the role as the Lead Features & Review Editor in 2019. The Denver, Colorado-native's knack for writing has been a life-long endeavor. His time spent in corporate positions has helped shape the professional element of his creative writing passion and skills. Beyond writing, Sam is a lover of all things food and video games, which – especially on weekends – are generally mutually exclusive, as he streams his gameplay on Twitch (as well as TheGamer's Facebook page) under the self-proclaimed, though well-deserved moniker of ChipotleSam. (Seriously…just ask him about his Chipotle burrito tattoo). You can find Sam on Twitter, Instagram, and Facebook as @RealChipotleSam.
Source: Read Full Article