Playing Alien: Isolation on an iPad Mini became a nightly ritual for me over the past few weeks, and it's a miraculous experience with the occasional annoyance that only served to underline the superb porting job Feral Interactive has accomplished.
Originally released in 2014 for the PS4, PS3, Xbox 360, Xbox One, and PC, the game has gone on to achieve cult status. Fans adore the detailed and atmospheric recreation of the Alien universe while the AI of the xenomorph, which made it a terrifyingly clever foe, created an incomparably tense and suspenseful survival horror outing.
From the crackling FMV to the cinematic prelude, Alien: Isolation is a case study of an extremely successful transplantation of a movie universe to the medium of video games. Close attention has been paid to the retro-futuristic aesthetics of Alien, from the green '80s-style computer monitors to the stylishly gray interiors of the spacecraft, while the sound design remains one of the best in the entire medium.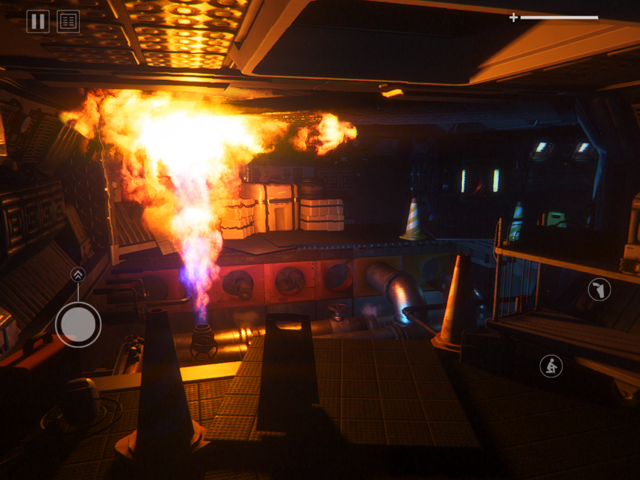 I'd highly recommend playing Alien: Isolation's mobile version on a larger screen. A tiny mobile phone screen, even the biggest among them, fails to do justice to the superb visuals on offer, especially as your fingers will be obscuring part of the screen. Instead, opt for a tablet. The touchscreen controls work well, with only the occasional annoyance around inputting puzzles and fiddling about trying to enter vents as one's heart is in one's mouth trying to escape dastardly androids and the Alien.
The graphics are among the best I've seen on an iOS game. Smoke, light, and fire were all rendered brilliantly, while character models looked convincing without falling into the trap of trying to be too realistic. But the most impressive thing was how smooth it all was. My iPad Mini dates from 2019, but playing Alien: Isolation on it I never felt like I was getting a compromised experience.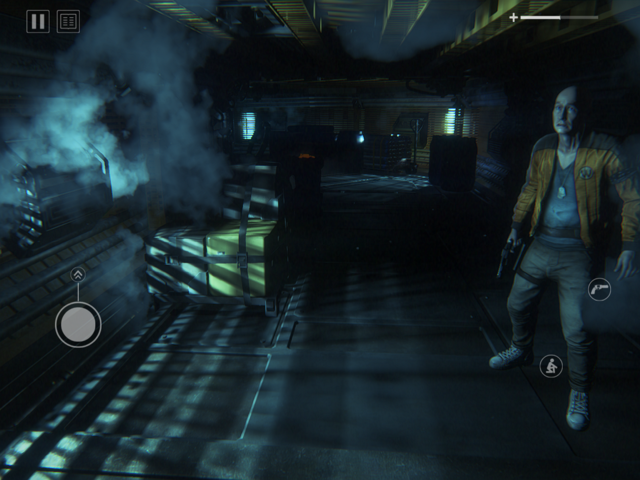 Speaking to TheGamer, the devs at Feral Interactive say the main challenge in porting the game was, firstly, to "maintain the quality of the visuals as they were on other platforms and if possible better them.
The second challenge was to achieve the first while keeping a smooth performance. That was more straightforward on iOS than on Android, but both threw up plenty of meaty problems. The third main challenge was to implement touch controls that are intuitive and as easy to use as a gamepad".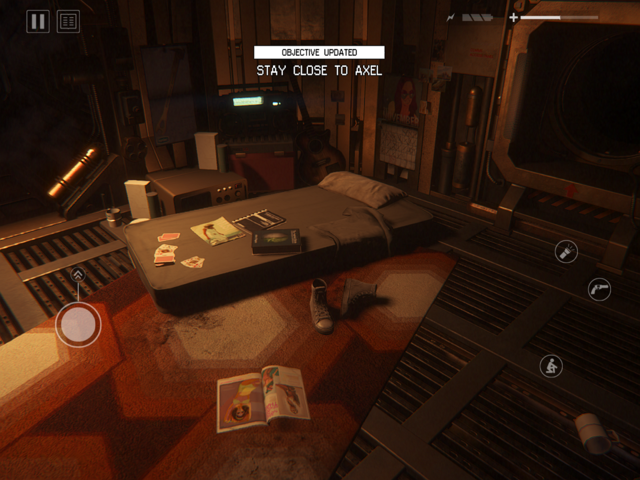 The touch controls are indeed a pleasure to use. Although flipping through different menus could be a tad confusing, especially the crafting ones, moving through the game is intuitive. Feral also added haptic feedback, so, for instance, a vibration is triggered when you reach maximum walking speed. This feature will depend on the device you are using, of course.
Ports can sometimes be disastrous, and when it does go wrong gamers are quick to point it out. The recent GTA Definitive Edition debacle is a major example of this, with players still highlighting bugs and inconsistencies. What did Feral make of such incidents?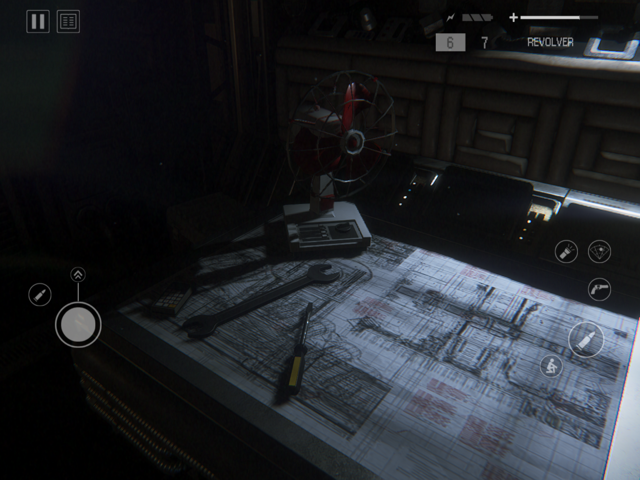 "We do not comment on ports done by other studios," the devs say. "However, from first-hand experience we understand just how difficult it can be to bring a big game successfully onto mobile. It is never a simple process.
"We are fortunate to have partners who trust us to get on with the job and who offer constructive support rather than interference. They know that we won't release until a game is pretty much as good as it can be. That partner confidence lets us focus on making the port just as good as it can be."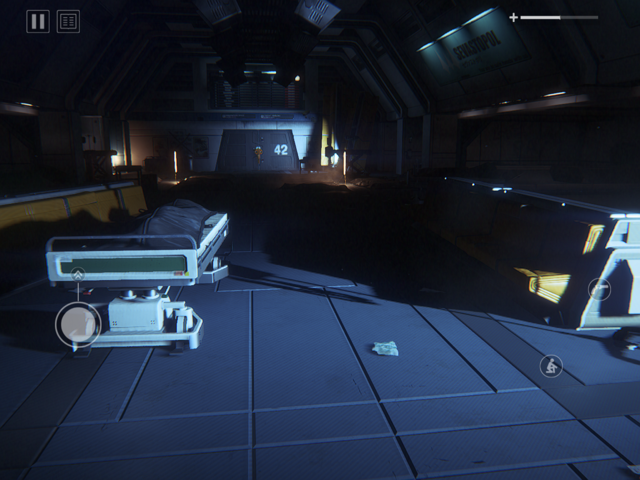 Alien: Isolation is not without problems. The endgame drags. It can be obtuse – I found I got stuck quite early on, only to discover after a quick Google search, that I was not the only one to have stumbled. The steep difficulty of the game remains, although much of this is by design – Alien: Isolation sticks closely to realism. There's no getting up from being shot a few times and running away, as in other games.
But these issues are as true to the port as they are to the original console versions. Feral has done excellent work in adapting the atmosphere, sound design, and AI of the xenomorph to these mobile versions. So how did this come together?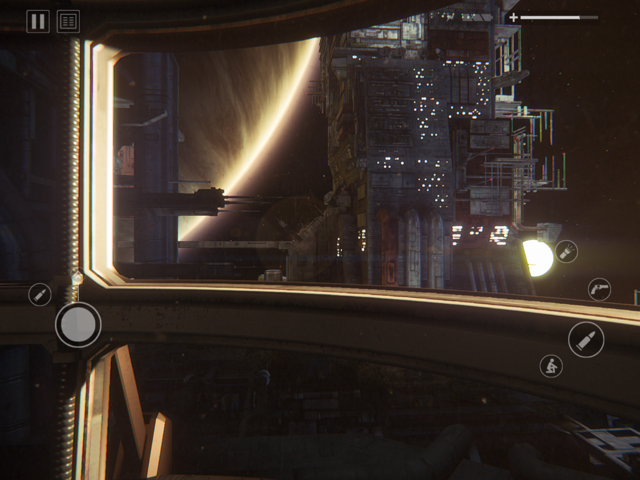 "Put simply, we didn't cut corners", they say. "The lighting, sounds, and AI are all as they were in the original release of the game. We just had to make sure that the added touch controls did not detract from that experience, and many user reviews say how playing with headphones in a dark room is just as exhilarating and atmospheric as on any other platform."
I can vouch for this. Lying across an armchair, with the screen of my iPad held closely, with headphones on in the evening gloom, I was transported to Sevastapool, trying to evade the monster, the sentient creature, as it stalked me. The experience remains special, highly memorable, and to be treasured.
Alien: Isolation is available on the App Store and Google Play. A list of supported devices can be found here. Code for the iOS version was provided by the publisher. The mobile game includes all seven DLC packs.
Source: Read Full Article